Welcome to 'In A Vase On Monday' when I am linking up with Cathy at Rambling In The Garden to share a vase of flowers picked from my garden every Monday.
I have been away from home for the last week on a trip back to my childhood home in the Rossendale Valley in Lancashire with my mother. We had a lovely week – catching up with friends and family and visiting many shops and eateries. I returned home this weekend to immediately head off on an AGA demonstration day – more of that later this week. As a result, today has been a catch up day and I was very hasty in picking and photographing todays flowers for 'In A Vase on Monday'. The first thing I did when I came in from the garden was to put the kettle on, hence the flowers made their way into a teapot!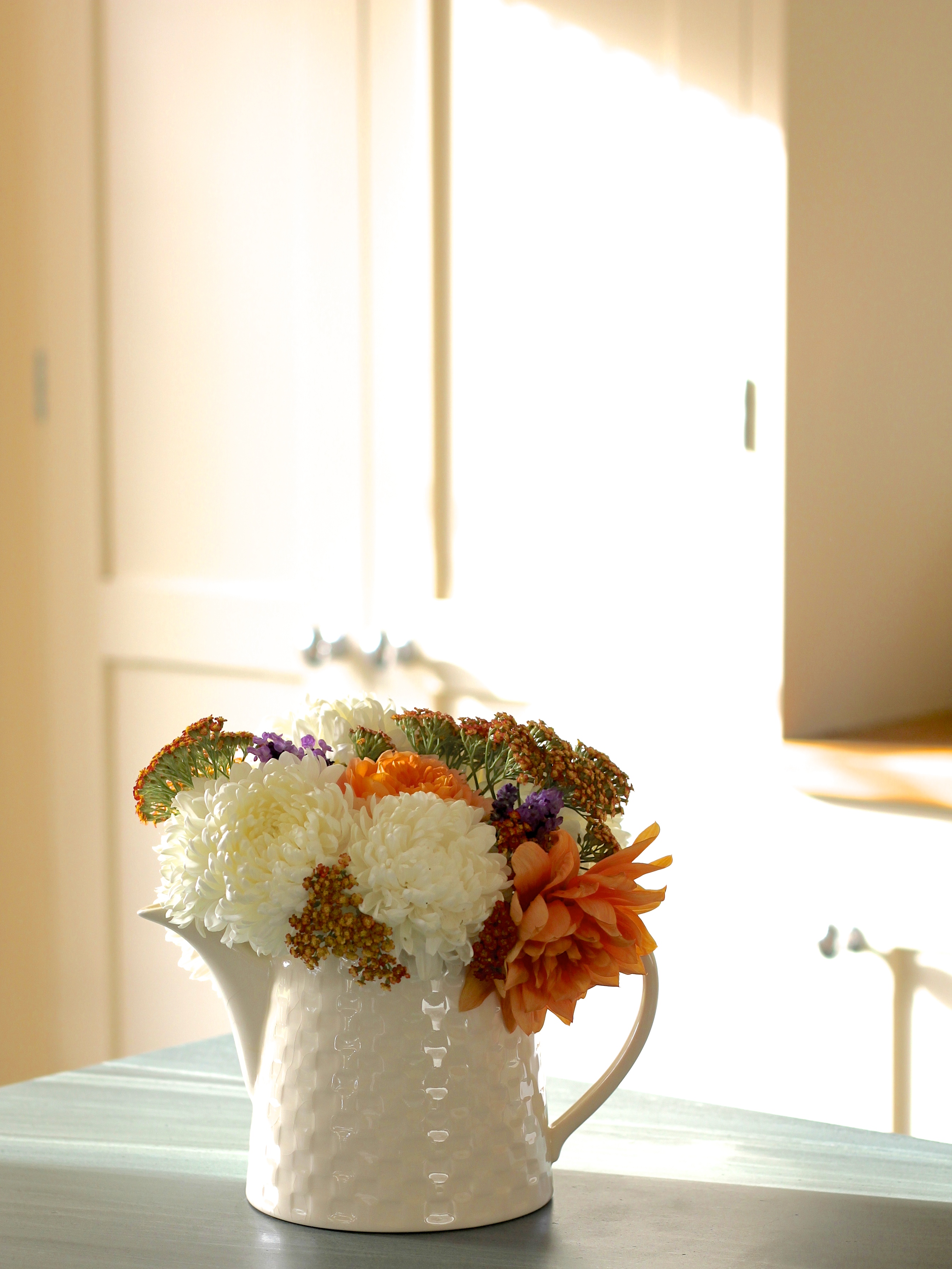 Now that much of the garden is fading the first stop for flowers from the garden has to be the greenhouse. Today I found these lovely blooms of Chrysanthemum Allouise White, as well as a few sprigs of lavender from some very young plants that I have brought inside for the winter. Just behind the greenhouse I also found the last bloom of the orange dahlia Mrs Eileen, a solitary flower on the rose Crown Princess Margareta and a few newly flowered heads of achillea Terracotta.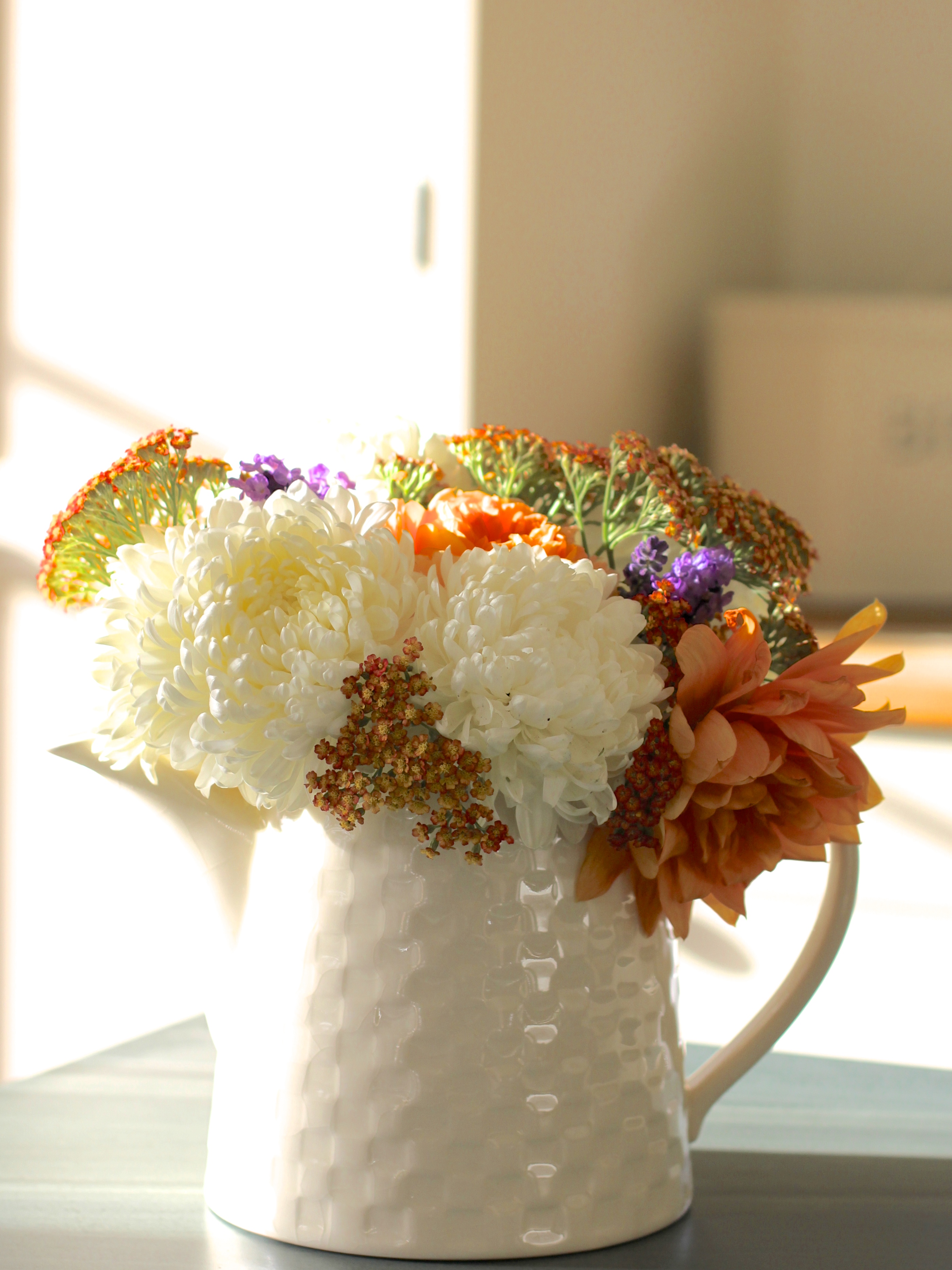 As I was in the process of making a cup of tea, a casual arrangement in a teapot appealed today. Looking at the photos I regularly take in my kitchen I realise that you may be getting the idea that I have a penchant for cream – cream walls, cream fabrics, cream china – I love it all! Today I used a cream teapot that I have had for quite a few years – I love its textured pattern. There is a sad end to this tale of flower arranging however – after making this arrangement the handle cracked against the kitchen tap and the teapot is no more. I am always sad when things get broken, but I would rather have the joy of everyday use and accept the odd breakage than keep everything for best.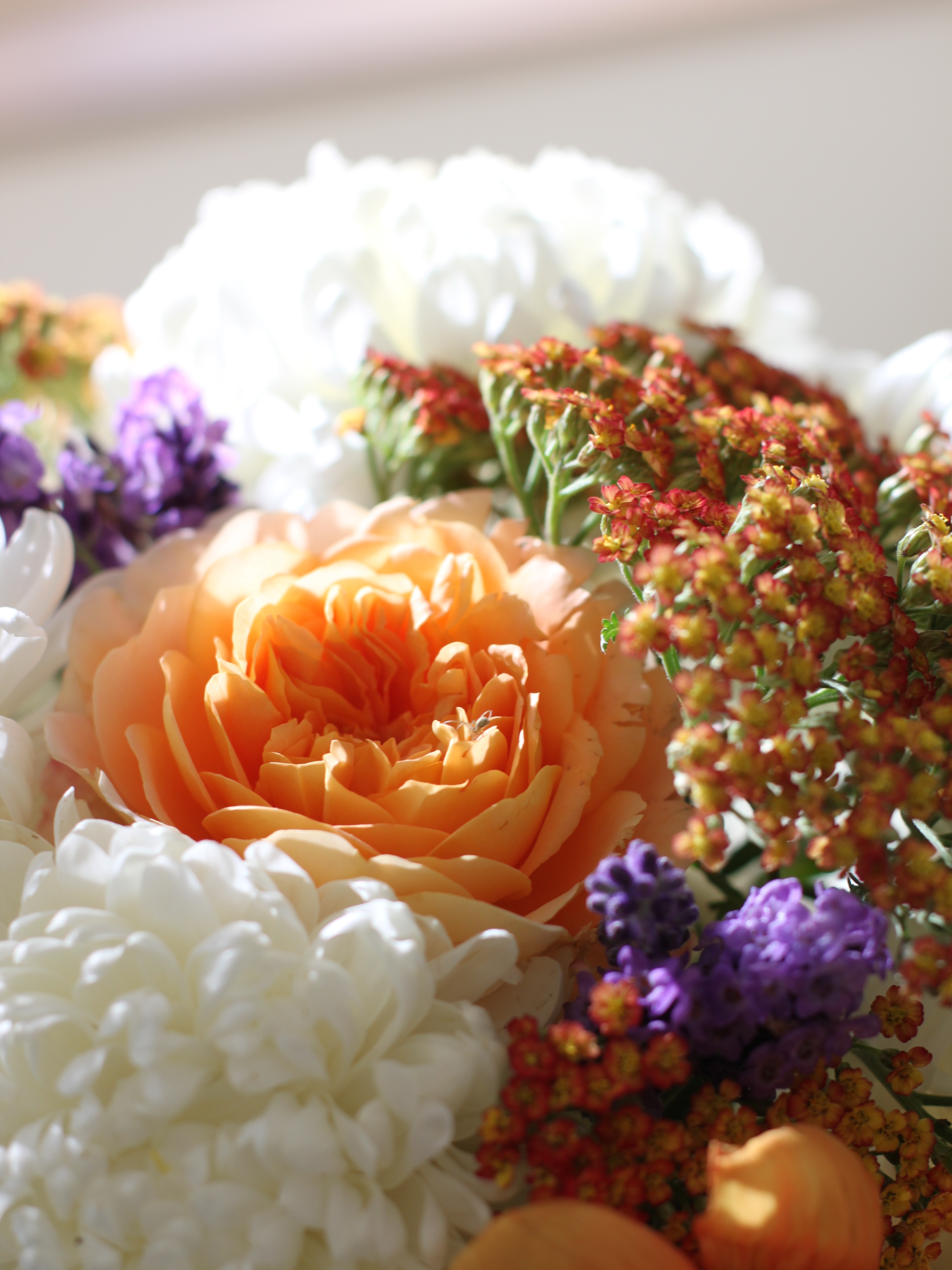 This was the last flower on rose Crown Princess Margareta – still a lovely colour but a much smaller flower than earlier in the year.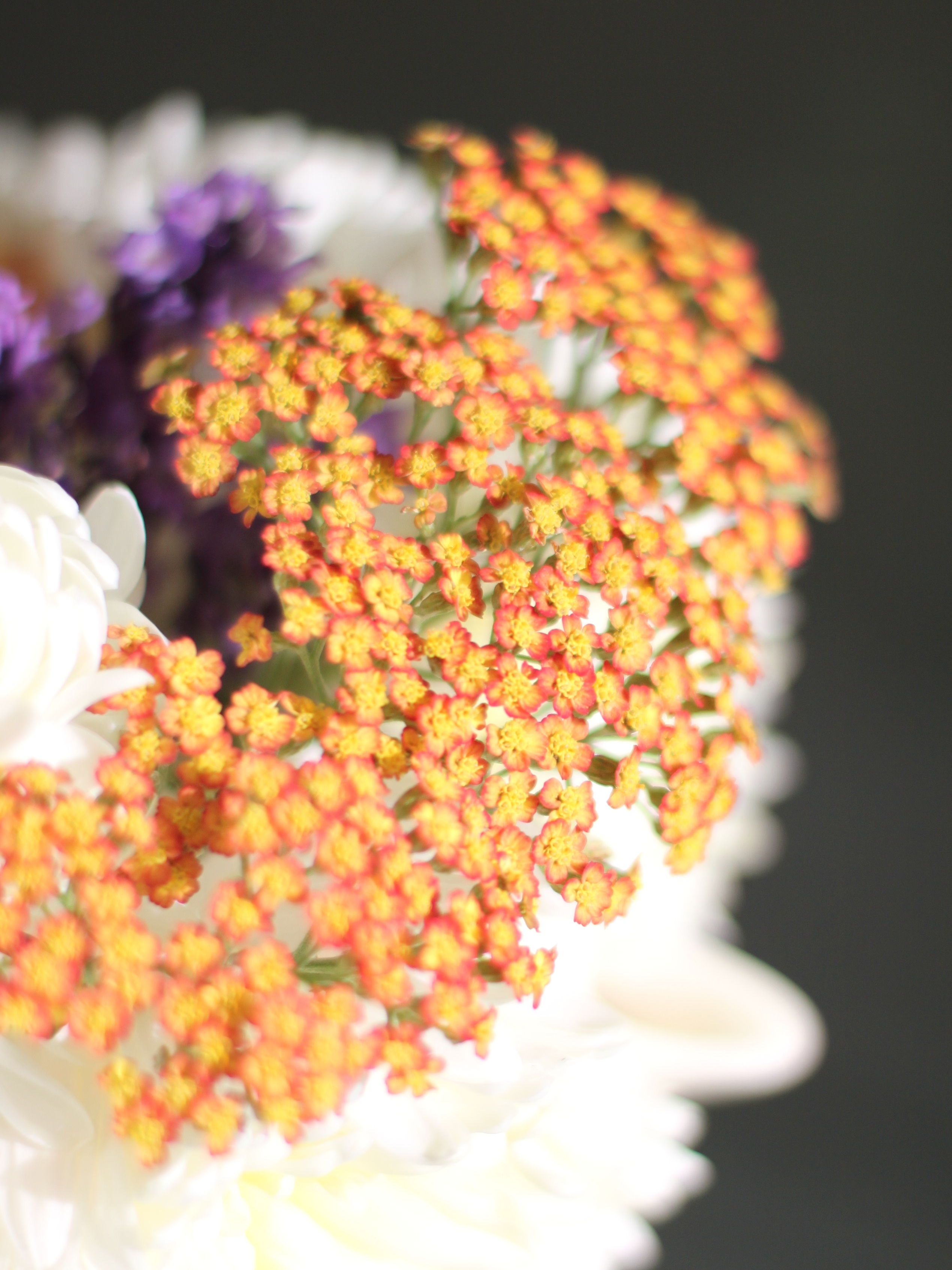 Achillea Terracotta is one of my favourite of the flat headed flowers. The colour and shape works with so many other flowers in the border and, provided I cut it back after the first flush, I get lovely long stemmed flowers late into the autumn.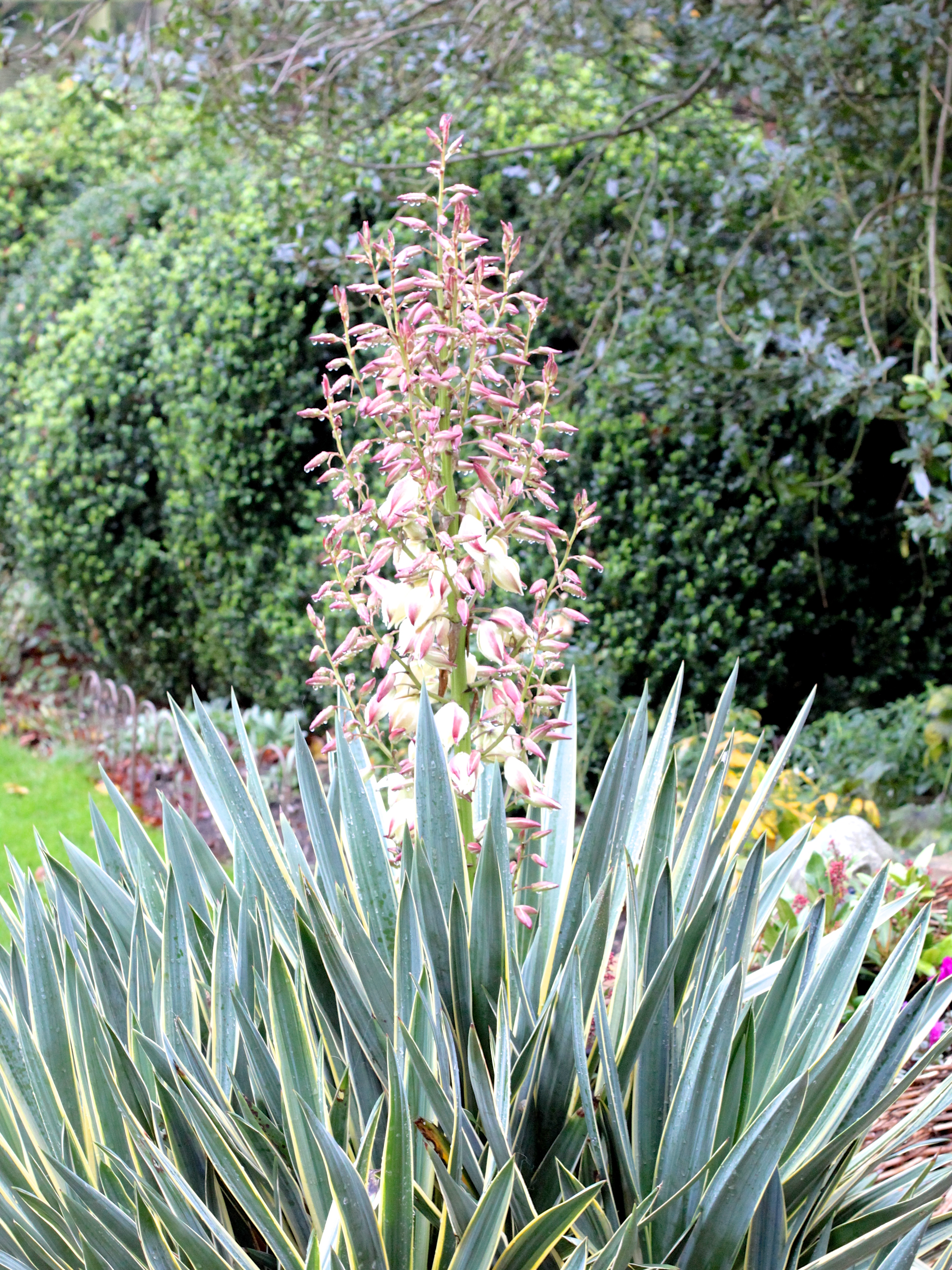 Whilst sharing my vase today I thought I would also show you this extraordinary flower. I believe it is a type of cordyline and it grows in the gravel outside my south facing kitchen. It has been there since before we moved in and for the first few years was just an evergreen plant adding good winter interest. Last year it sent up its first flower stalk, but the flowers never actually opened. This year the flower stalk is much bigger and it is very exciting to watch the flowers opening. My knowledge of cordylines is very limited, so if anyone knows any more about this plant I would love to hear it.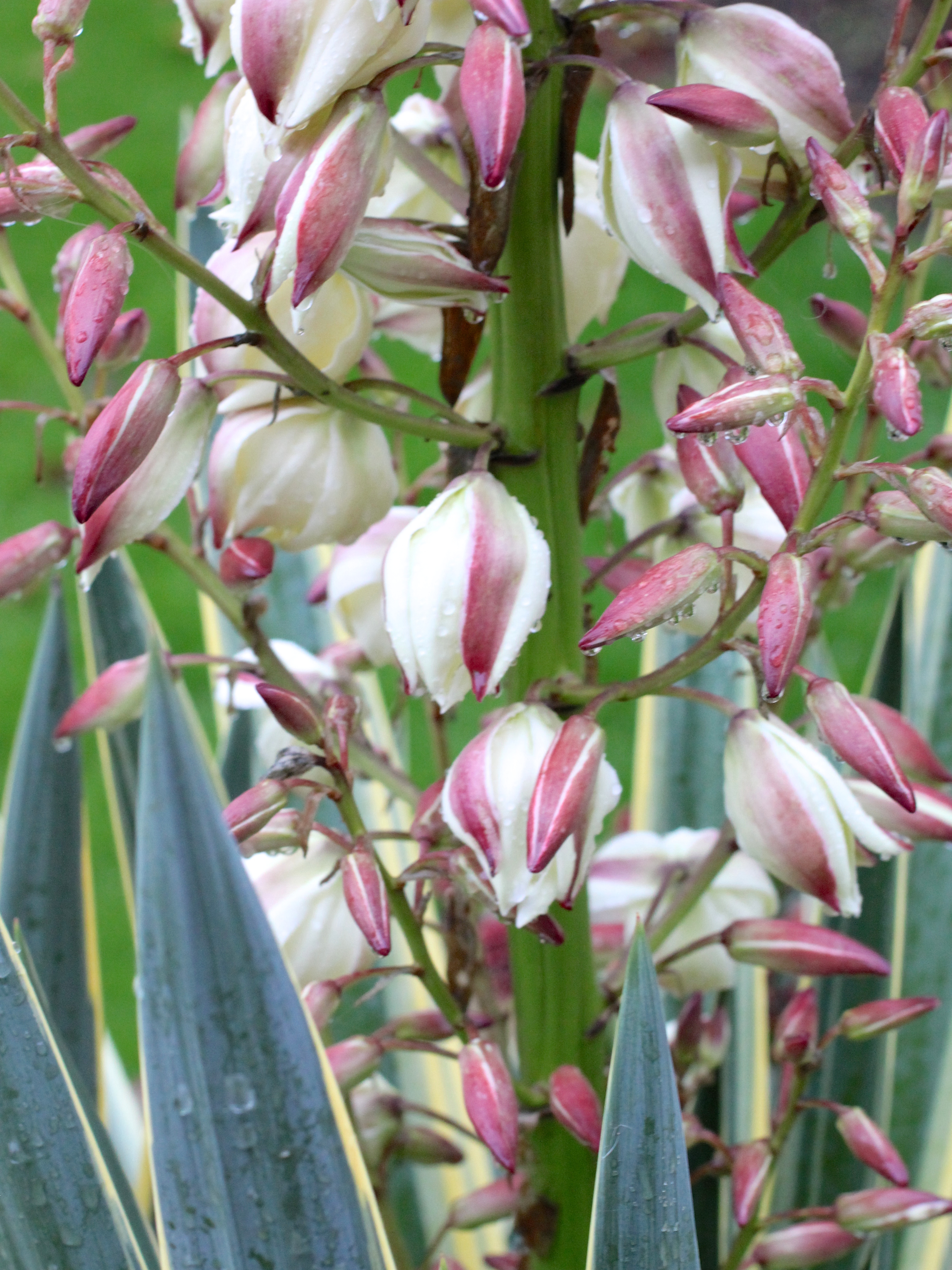 As I mentioned earlier I am planning to be back here on Wednesday with a post inspired by the AGA demonstration I went to yesterday. On Thursday I am off to London for a whirlwind 2 day trip to take in Borough Market, the Covent Garden Flower Market, a flower arranging display and dinner in the West End. My guide for the trip is the inspirational gardening and food guru Belinda Grey, so I am very excited about this trip and looking forward to sharing lots of photos. I am also planning to join in with the Garden Bloggers Foliage Day later this week hosted by Christina at Creating My Own Garden of Hesperides on Saturday 22nd November.
I will be back next Monday with another vase and hope that you will pop over to Cathy's blog tonight to see what she and the others have made this week.