As promised this is the first in my new series of Flower Focus posts, where I am planning to share my growing experiences along with lots of photographs of the flowers in focus.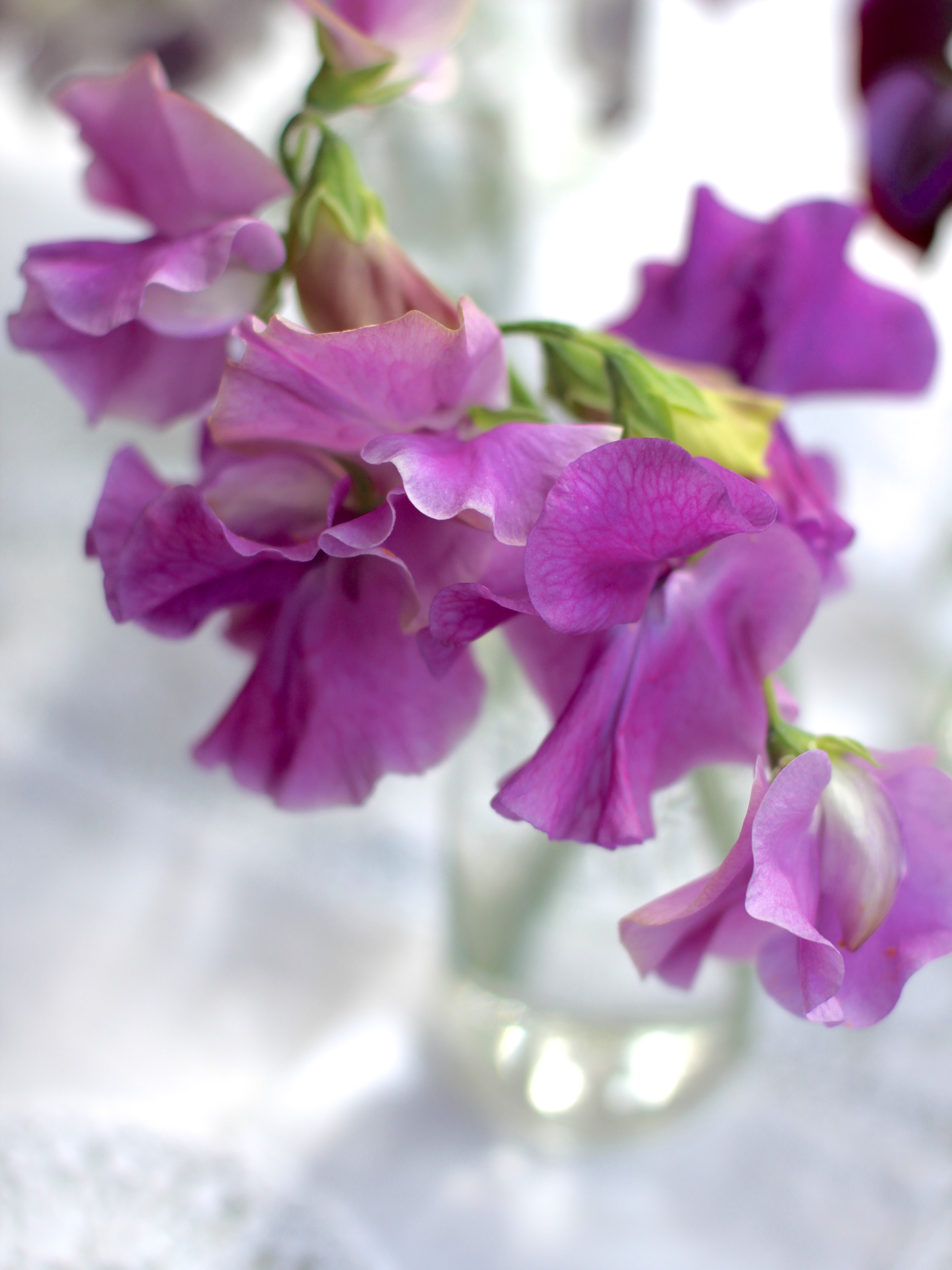 Today I am taking a look at sweet peas. Although it is a long time until we will see the first blooms, January is a good month to order seed and start to sow sweet peas in a cold greenhouse or on a windowsill in a cool room.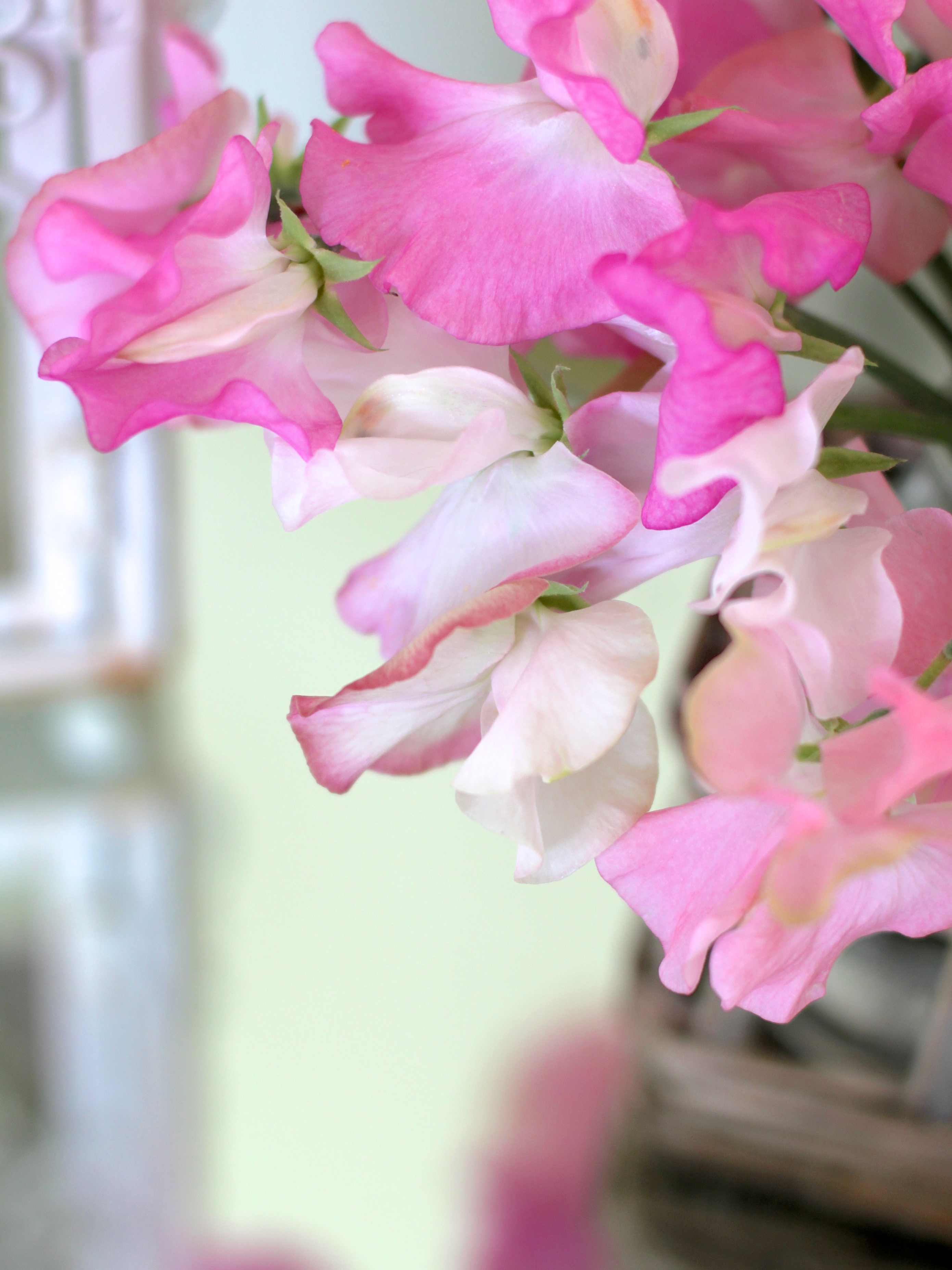 Sweet peas are a flower that take me right back to my childhood. My father always grew the very best sweet peas – long stemmed and sweetly scented. He was rigorous about cutting the flowers regularly, so our house was full of posies in the summer and his plants always seemed to continue producing for far longer than mine ever do.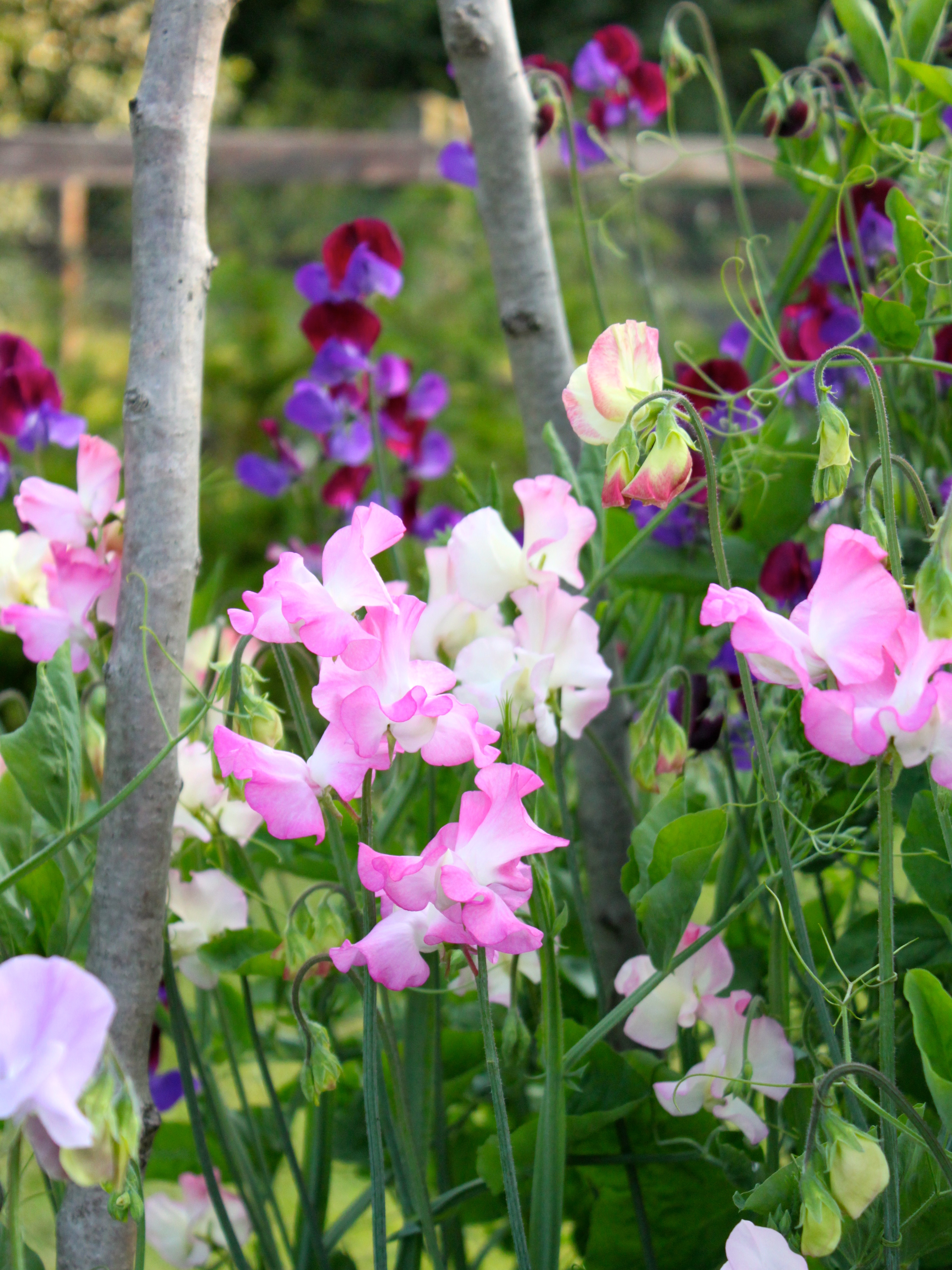 Sweet peas are an early summer staple in my Cutting Garden. They look beautiful on their supports, flower abundantly and have that unmistakable scent when gathered together in a posy. My favourite colours are the pastel shades, but I always grow a few dark varieties for contrast in the vase. Sadly 2014 was a bad year for me – for the first time my crop was covered in tiny black pollen beetles making the flowers unusable inside. Apparently the beetles love the yellow flowers of the oilseed rape crop and as these flowers fade they fly off in search of a new home – in this case my sweet pea crop. Hopefully the farming field next to my Cutting Garden will have a different crop this summer, but as a back up I will be growing a batch in the greenhouse where they are relatively safe from infestation.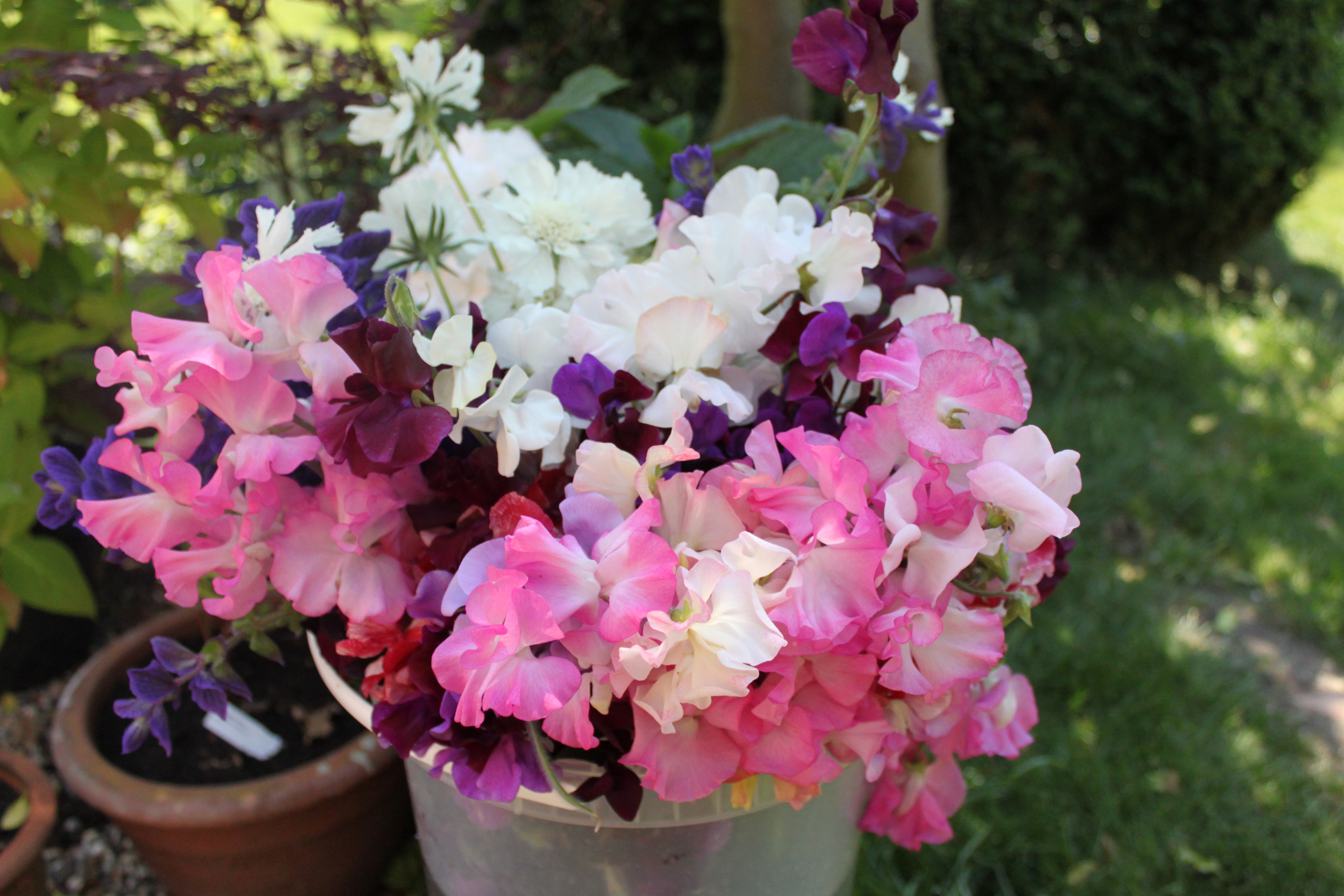 I tend to favour the long stemmed Spencer sweet peas as these are the best for flower arranging. My supplier this year is Owl's Acre Sweet Peas. I had a 100% gemination success rate last season with their seeds and the flowers were long stemmed, scented and bountiful. By regular dead heading I kept the crop going until September.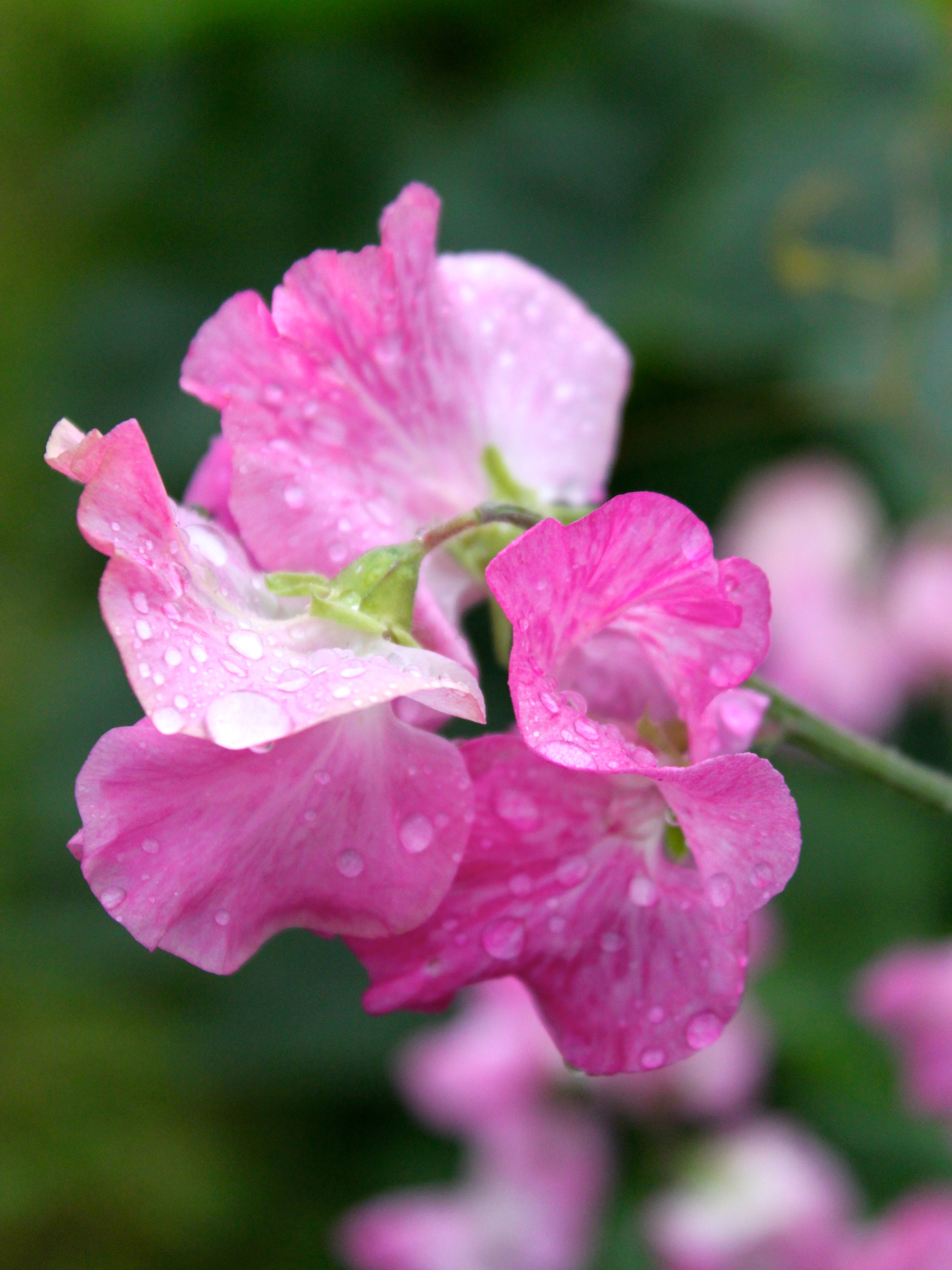 There are 3 main types of annual sweet peas – modern, heirloom (grandiflora) and Spencer. Many of the modern sweet peas produce beautiful long stems but with little or no scent, so those are out for me. The heirloom varieties have much smaller flowers, although the scent is fantastic. I find these are best in the garden as the stem length and flower size is not ideal for bouquets. They do make a lovely posy for the house though! My favourite heirloom variety is Cupani and I will sow a number of seeds to grow over my arches this summer. That leaves me with the Spencer varieties – these have beautiful scent and large flowers on long stems – they are the ones that float my boat!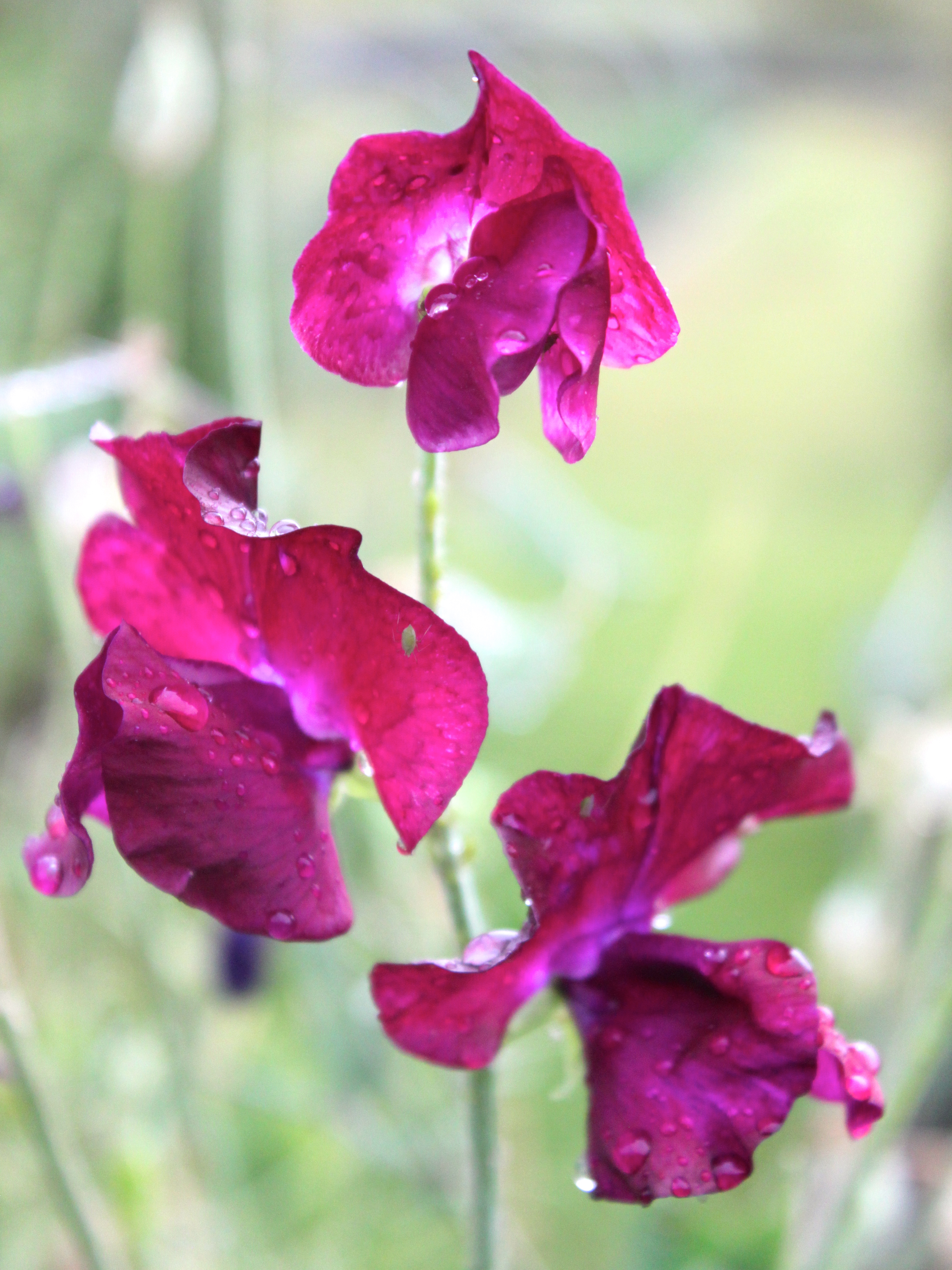 For the first time last year I soaked all my sweet pea seeds overnight before sowing – this seemed to speed up germination considerably. After soaking overnight the seeds were sown 1cm deep, two to a plug in rootrainers and covered with compost. Rootrainers are ideal for sowing peas, beans and sweet peas, which all have long root growth.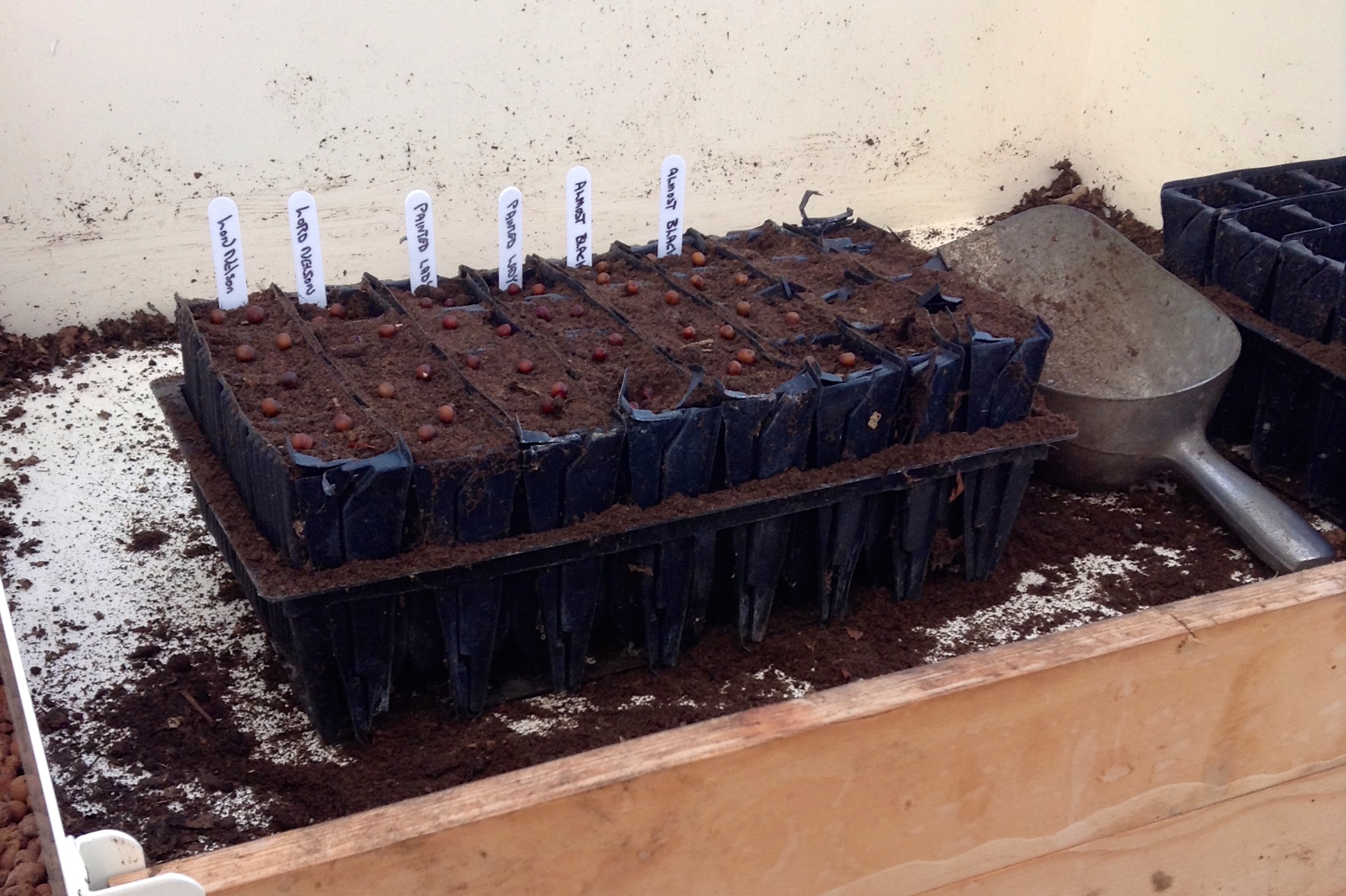 After sowing, the seeds are well watered and then placed in my heated propagator to germinate. They would germinate just as well without heat, but the propagator speeds things up. As soon as they germinate I will move them onto the greenhouse staging and then into the cold frames to harden off before planting out (hopefully in late March). When the plants are about 6 inches tall I will prick out the growing tips just above a set of leaves to thicken them and create bushy growth. I will sow 10 seeds of each variety with the intention of planting out the 5 strongest plants of each variety in the early spring.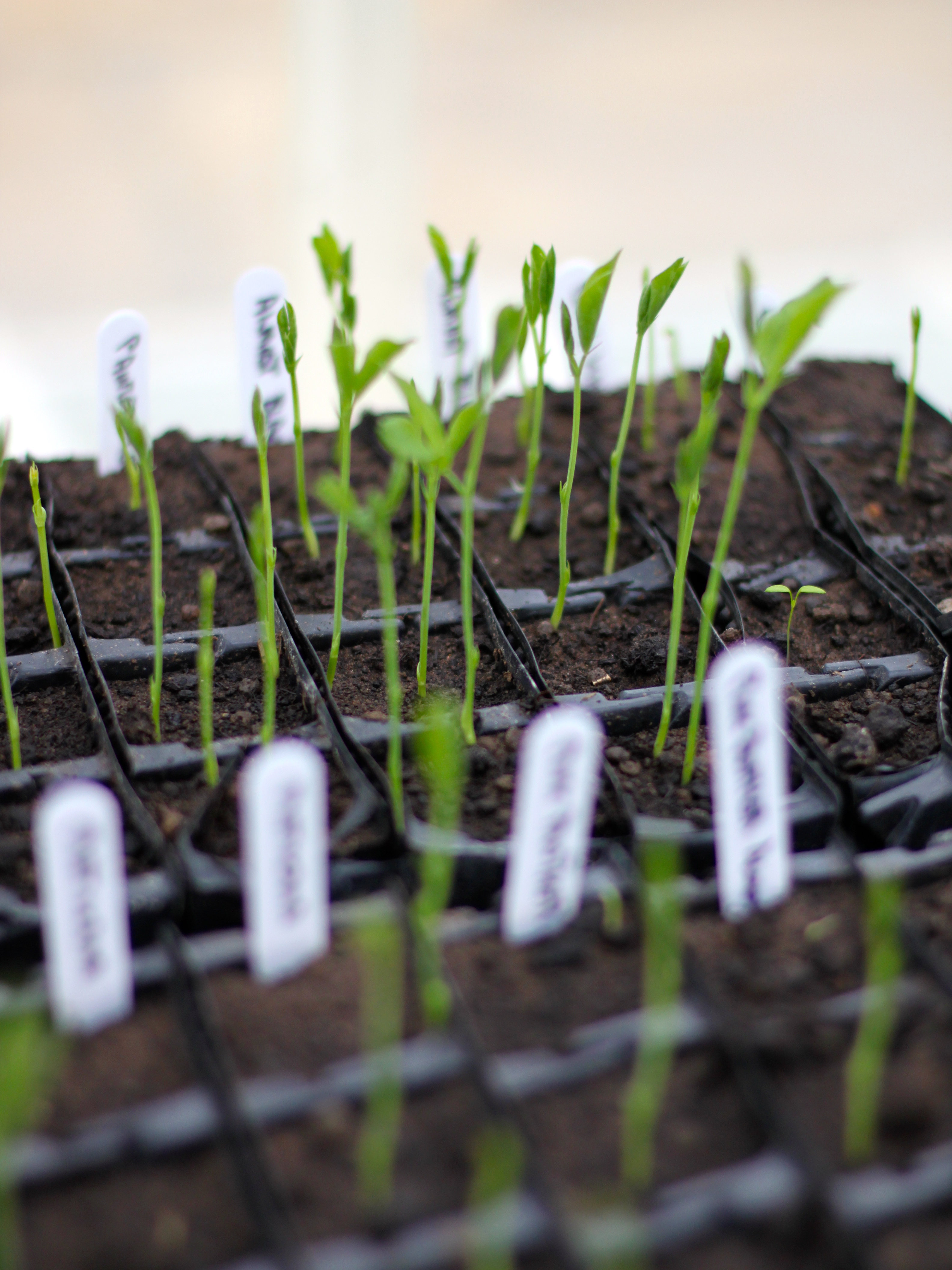 The varieties I will be growing this year are:-
Anniversary – pink picotee
Cupani – maroon/violet bi colour
Dark Passion – dark blue
Eclipse – rich mauve
Ethel Grace – lavender
Gwendoline – magenta pink

Sir Jimmy Shard – lilac stripe

White Frills

White Supreme

Windsor – Maroon
Many growers start their sweet peas before Christmas. I have always chosen January as it reduces the length of time that I have to look after the seedlings and it is what my father always did. In a Gardeners World trial last year Monty Don sowed seed (as I remember) in November, January and straight into the ground in April. His January sown sweet peas were the most successful and flowered well into September. Following the trial he said he would be changing his life long habit of sowing before Christmas and moving to a January timetable.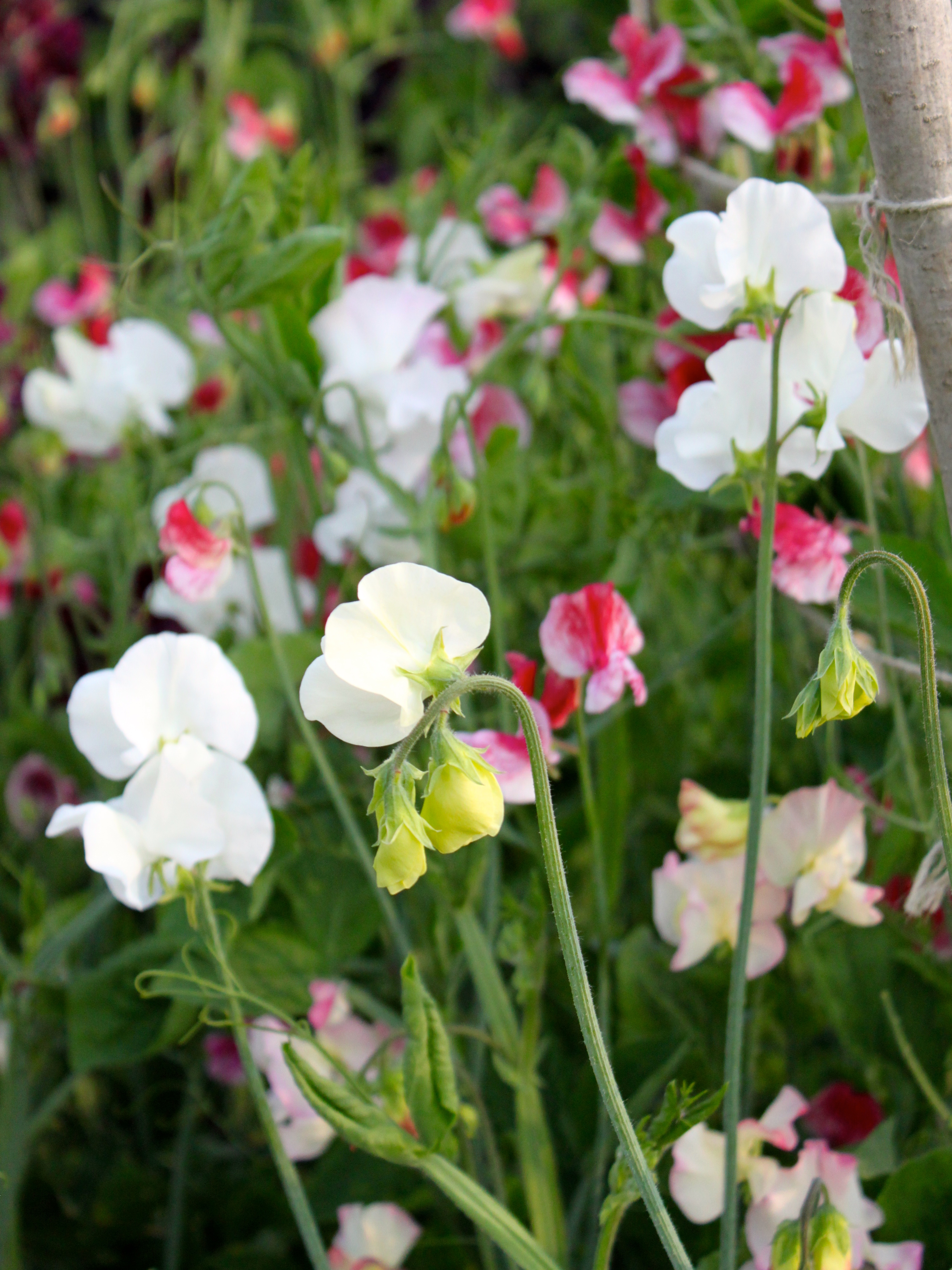 Sweet peas love a rich moist soil in a bright sunny position and they are hungry plants (you cannot expect huge growth and mountains of flowers without generous feeding). Whilst they are in their pots the compost will feed them for the first 6 weeks or so of growth. As they will remain in their pots for a few more weeks until conditions are suitable for planting out (they are hardy down to -5) I will start to add liquid seaweed to the watering can once a week.
During February (weather permitting) I will prepare their planting space. Last year I adopted a metal runner bean frame covered with jute netting to support my sweet peas and this proved very successful. I ordered the jute netting from Agriframes last year for my sweet peas, peas and beans and have plenty left over for this year. It is much nicer to use than pea netting, which drives me to distraction as it knots itself around everything except my supports. At the end of the year the jute netting can be composted, which saves the frustrating task of trying to store unruly pea netting in a tidy way.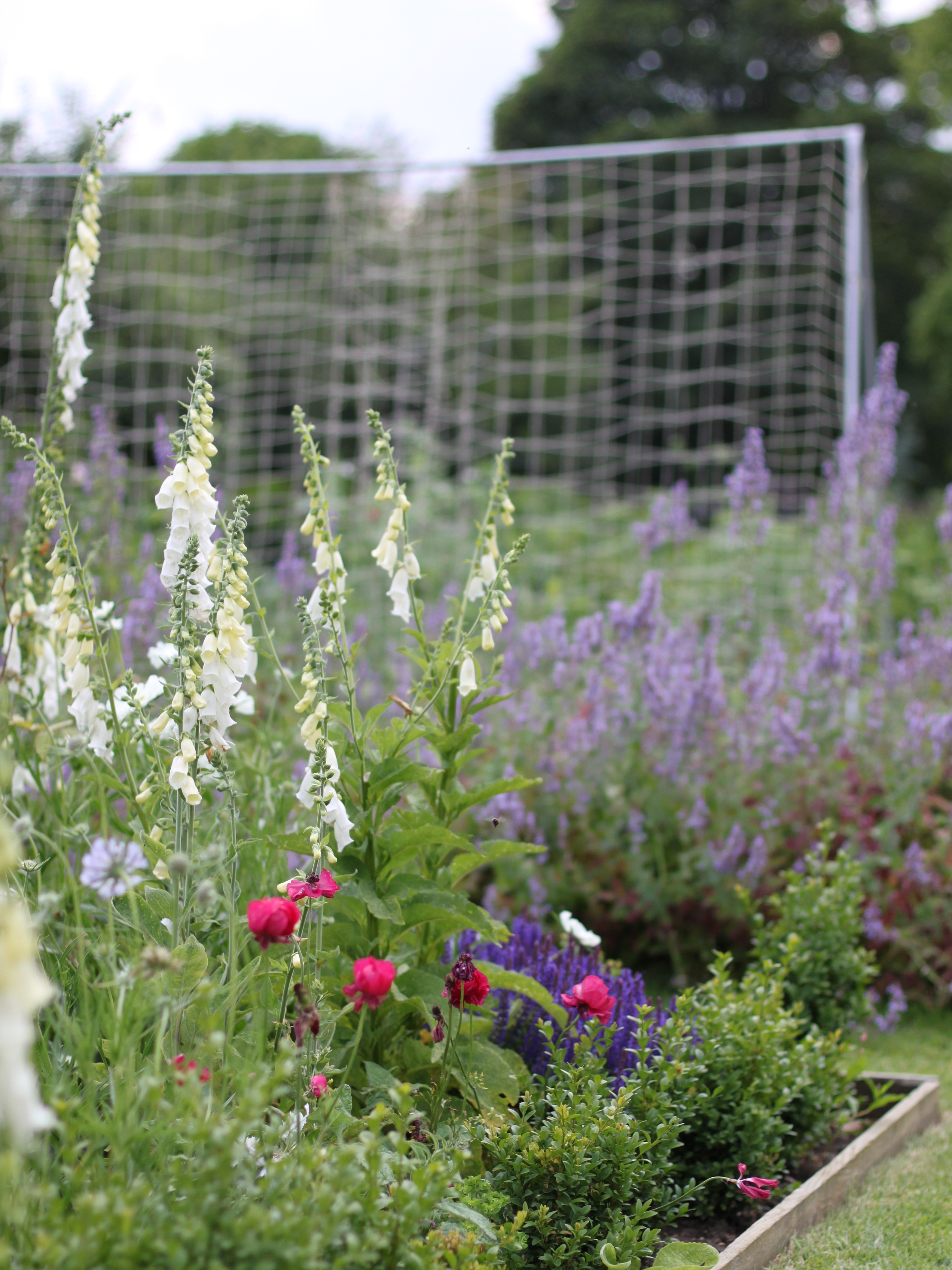 I will add plenty of garden compost and fish, blood and bone to the soil before planting the young plants 6 inches apart. After the plants have been transferred to their growing site I will continue with regular watering and a weekly feed – I use maxi crop on all my flowers and vegetables. A few weeks after planting I tie the young plants to the jute netting to keep them in an upright position and then check weekly that the stems are climbing up the supports and not lying on the ground. If a hard frost is forecast I will throw a fleece over the young plants just in case, but really they are quite hardy and cope well with the cool spring weather. Once they start to flower I will continue feeding and watering, making sure that all the flowers are cut off the plants at least once a week to stop them running to seed. With this regime they should be flowering from mid June until September.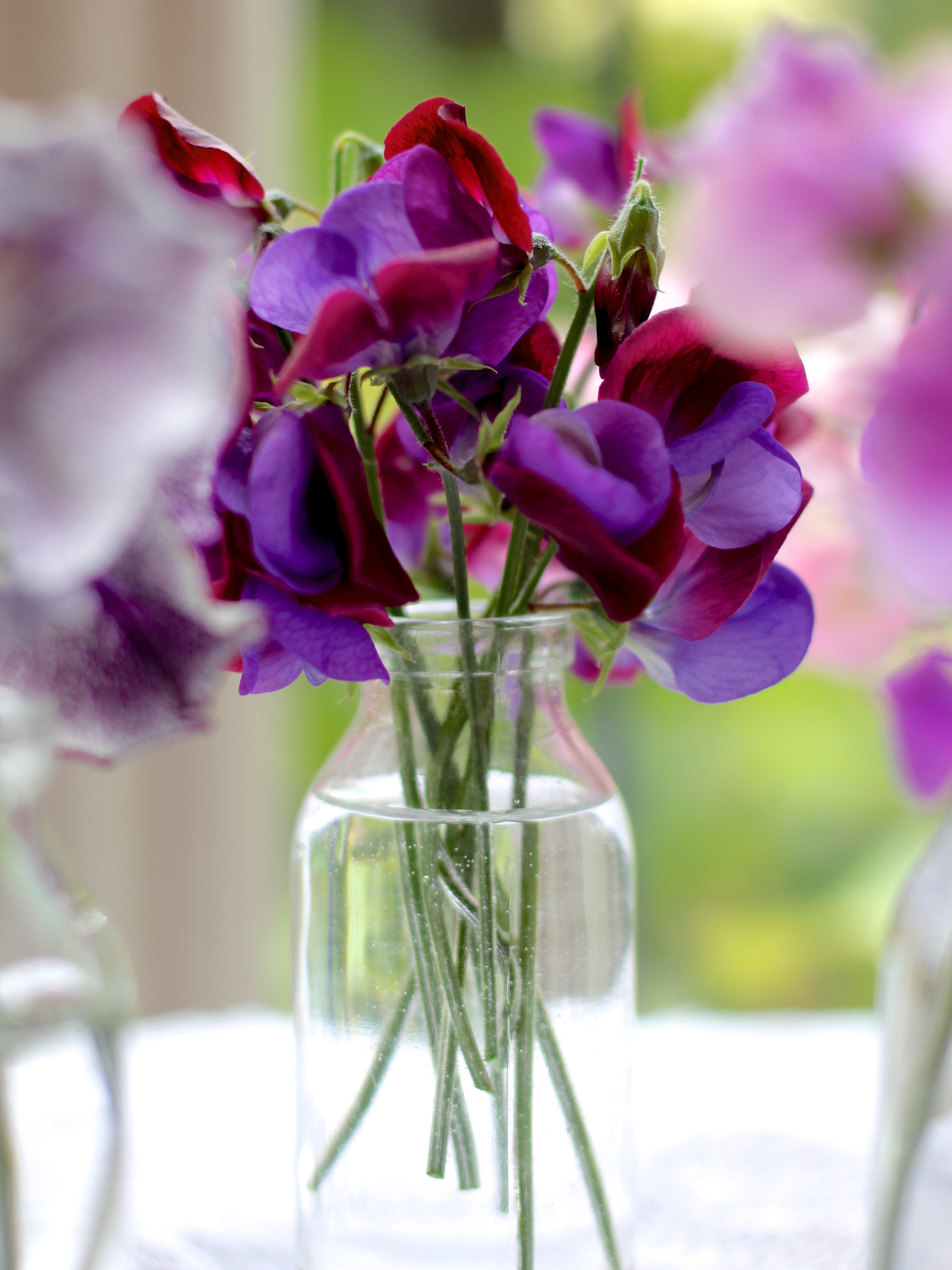 I have mentioned before that I have sown an early variety of sweet peas called Winter Sunshine for the first time this year. Sown in November they are now small plants that I will be planting under cover into the greenhouse bed later this month. I am not sure how they will perform, but am hoping to have a small supply of flowers during April and May. I will keep you informed about their progress in my monthly greenhouse reviews.
If you have any questions about growing sweet peas, or would like to share your own growing experiences, please do leave a comment. My favourite posts are those that result in us sharing information – genuine growing experience is the best way for us all to learn and there will be many more tips for success with sweet peas in other growing situations.