I am starting my Cutting Garden post this month with a slight feeling of disappointment – I had hoped to have lots of progress to show you since my last review at the end of February, but spring is hesitant to stay here in East Anglia –  temperatures have remained quite low and the wind has been exceedingly chilly throughout March.
Looking back at the same time last year, things were very different! My hyacinths had been in bloom for weeks, the borders were full of muscari and tulips about to burst and my Monday vase was made up of tulips and forsythia. This year the only flowers I have in the Cutting Garden are these few hyacinths that are just beginning to open up.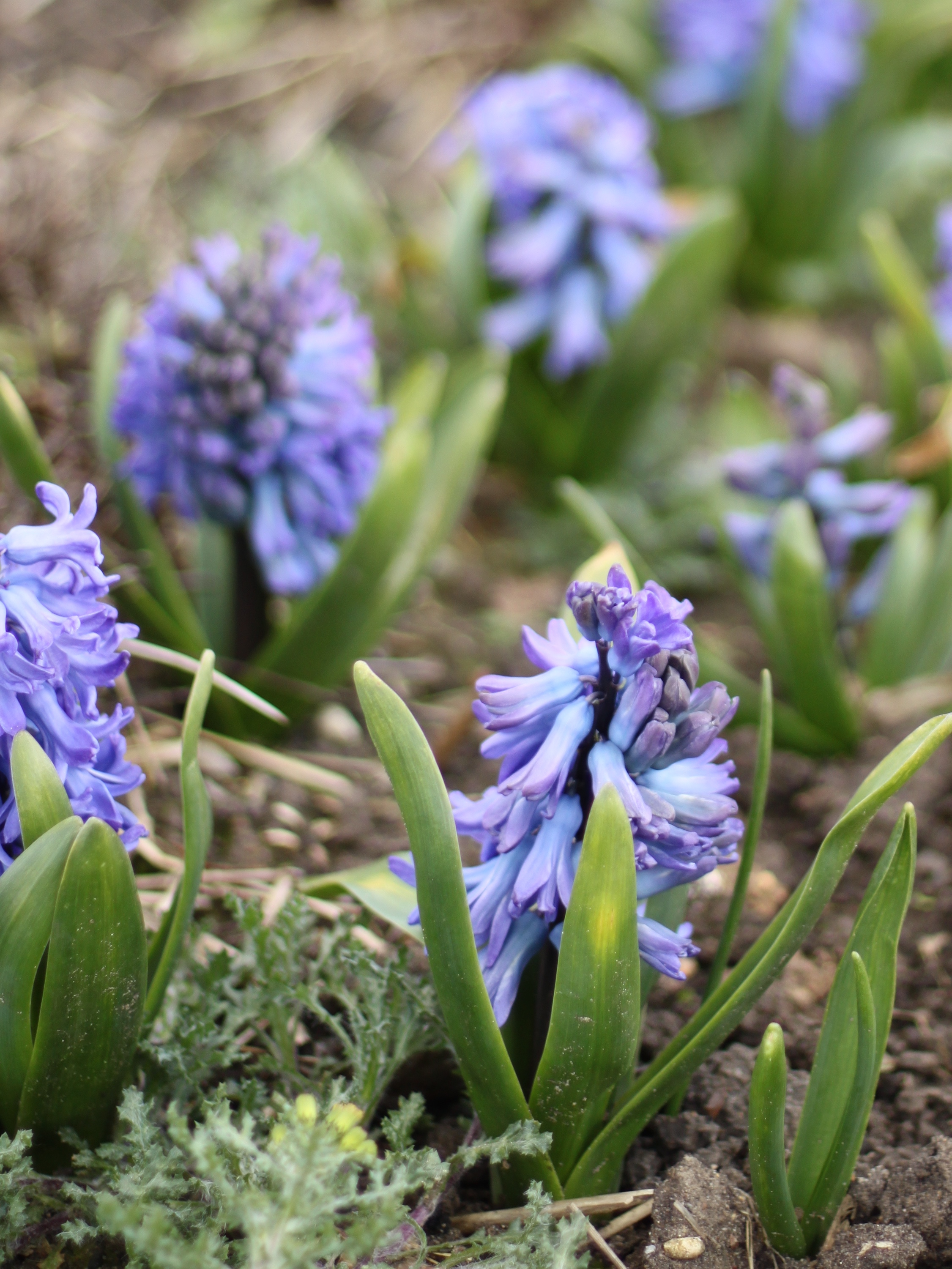 The photos this month look very similar to last month. The only difference is that the ground has finally drained and is starting to dry out. I have spent today working in the borders, getting them ready for the season ahead.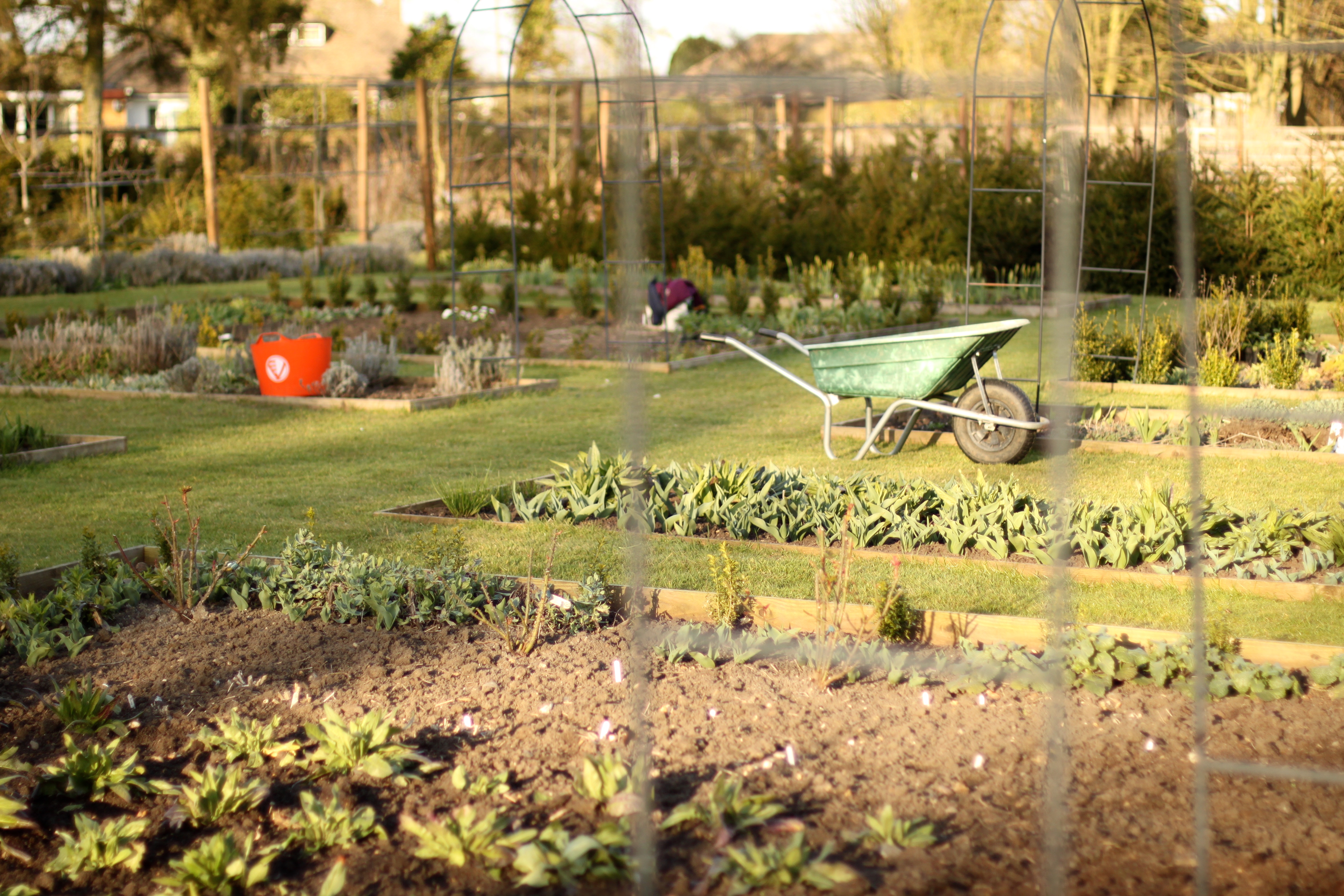 Whilst very little is flowering this week, there are plenty of tulips just waiting for some warmer temperatures to tempt them into flower.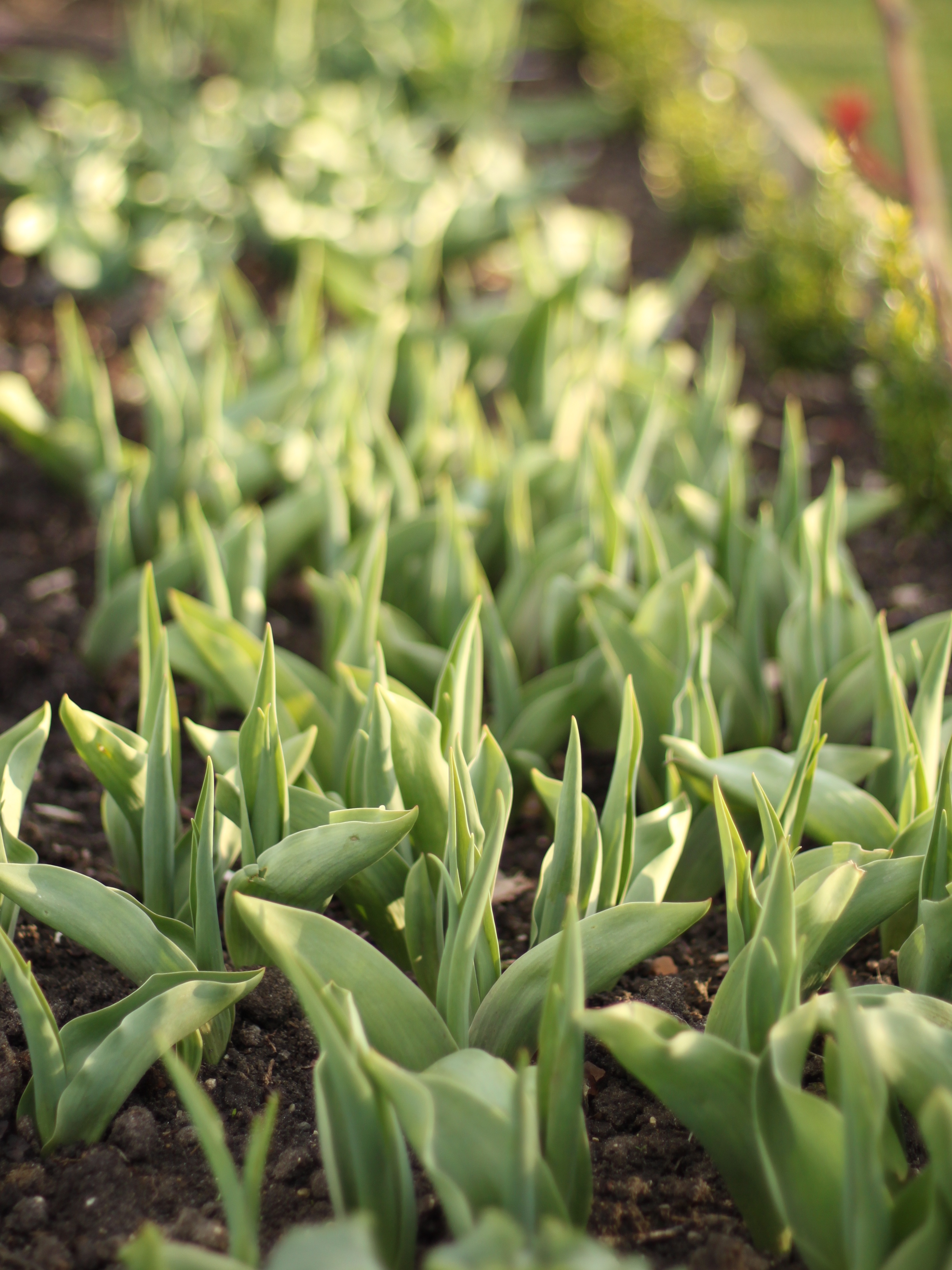 My biennials sown last June and planted out in the autumn are looking very promising! Below you can see sweet rocket – in other beds I have foxgloves, honesty, wallflowers and sweet williams and I am hoping that all of these will be flowering soon. I will be making my order for this years biennial seeds later in April and sowing them in June in a seedbed in the vegetable garden. They should be strong little plants by the autumn and I will transplant them to their final flowering positions as I clear the Cutting Garden borders.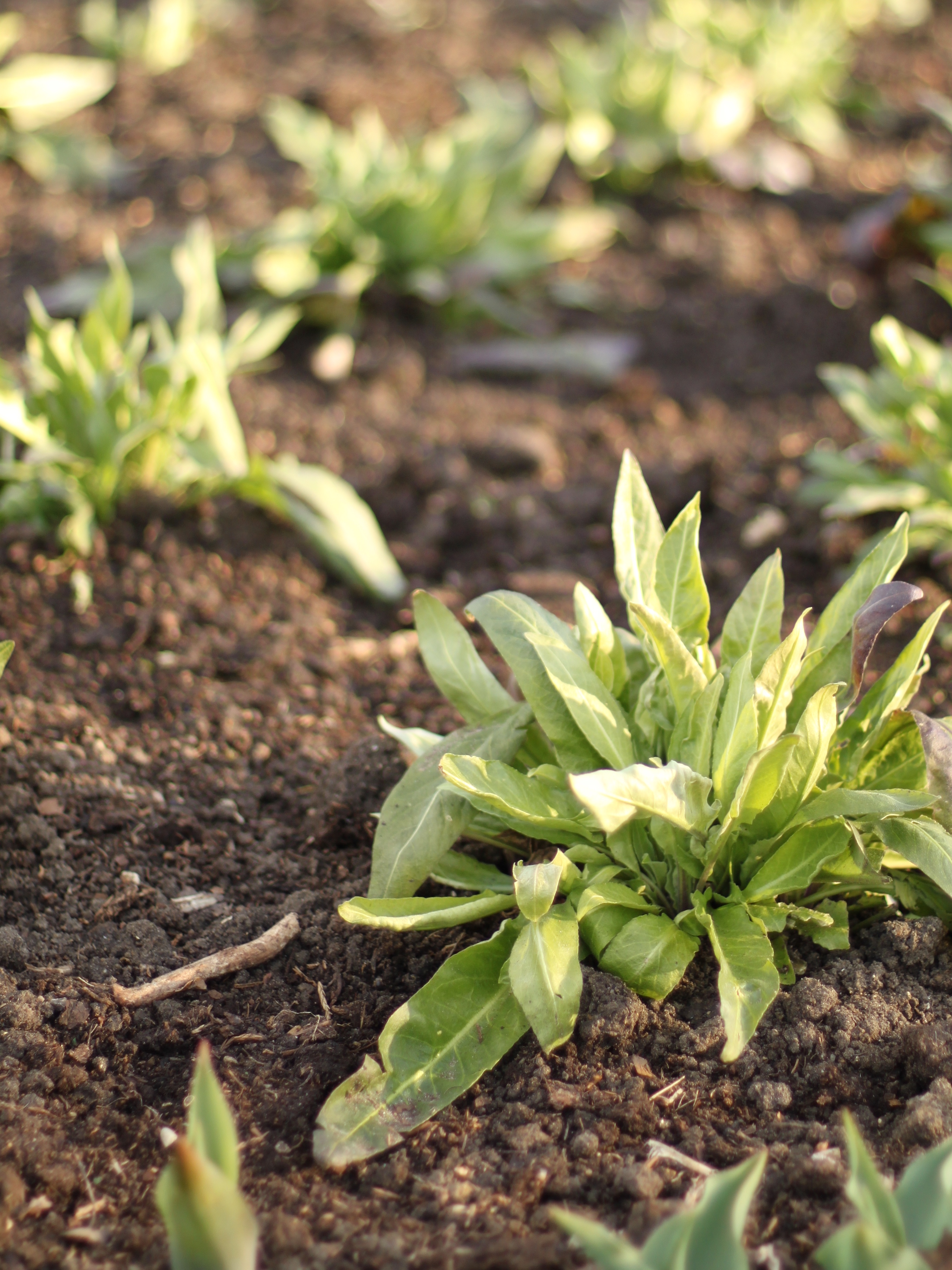 If you have been following the Cutting Garden series you will remember that I direct sowed a few rows of hardy annuals in late September and they were protected with hoops covered with fleece throughout the winter. The fleece is now off and I am pleased to report that the rows of ammi majus and nigella germinated and made it through the winter. The cornflowers and larkspur did not survive. I have thinned out the seedlings and it remains to be seen how well they flower compared to the much larger plants that were sown and grown in the greenhouse and have now been hardened off and planted out in the Cutting Garden beds.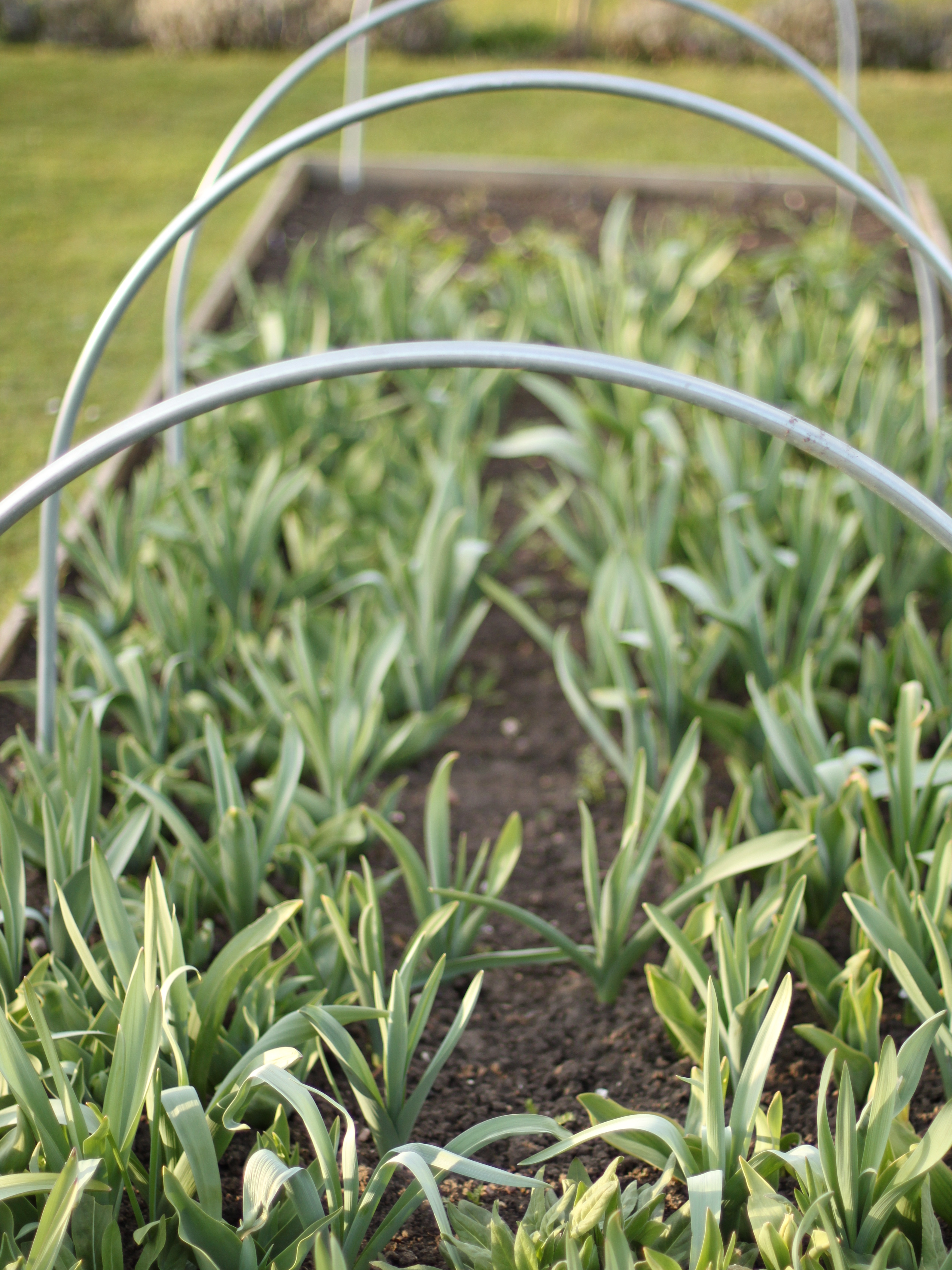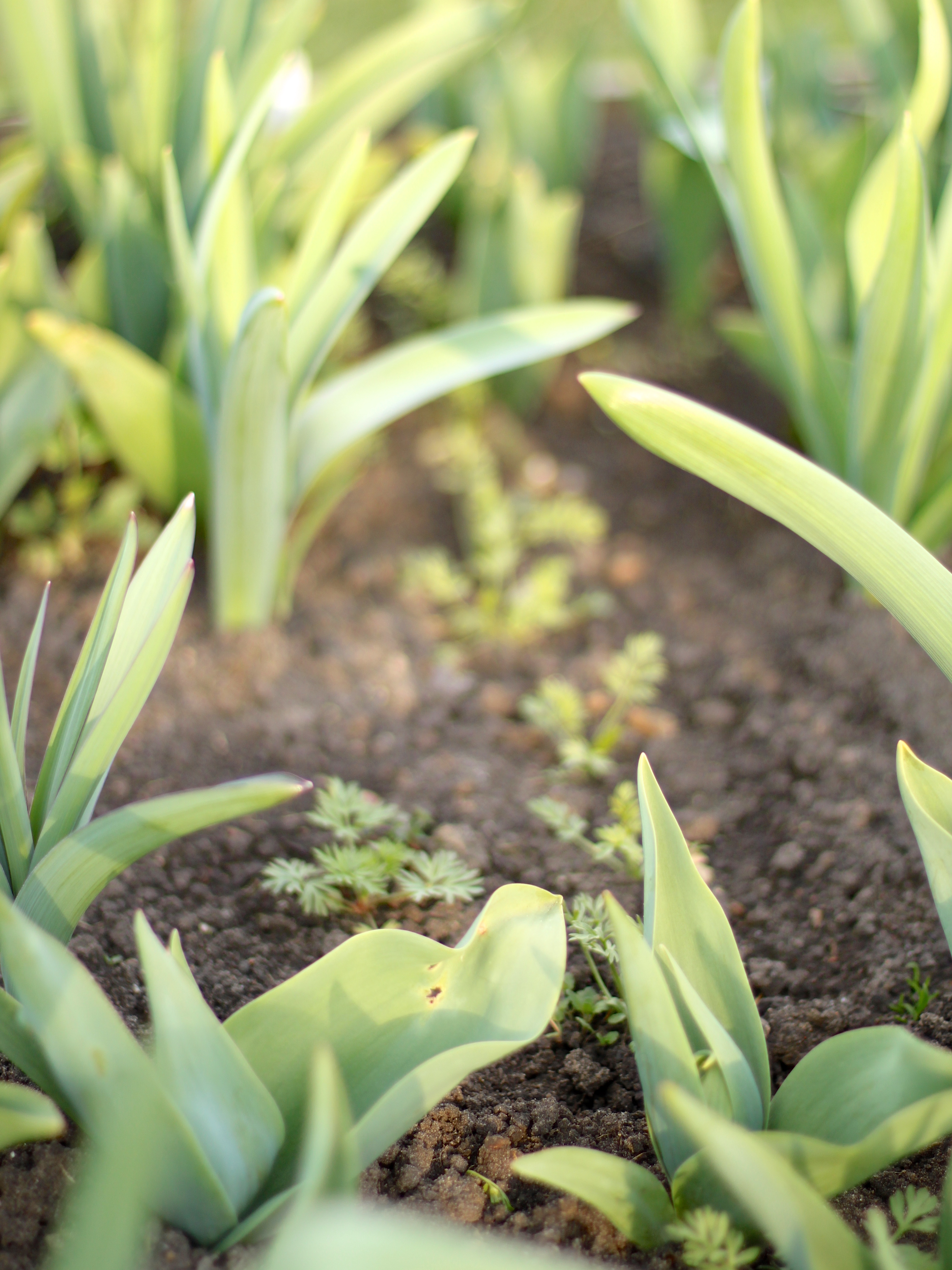 Whilst I am waiting for the tulips to flower, these narcissi planted last October look ready to pop in the next few days – possibly a candidate for Monday's vase! The empty bed behind these flowers is my asparagus bed – the chickens are laying again and I cannot wait to dip those first spears of asparagus into a freshly laid poached egg later in April!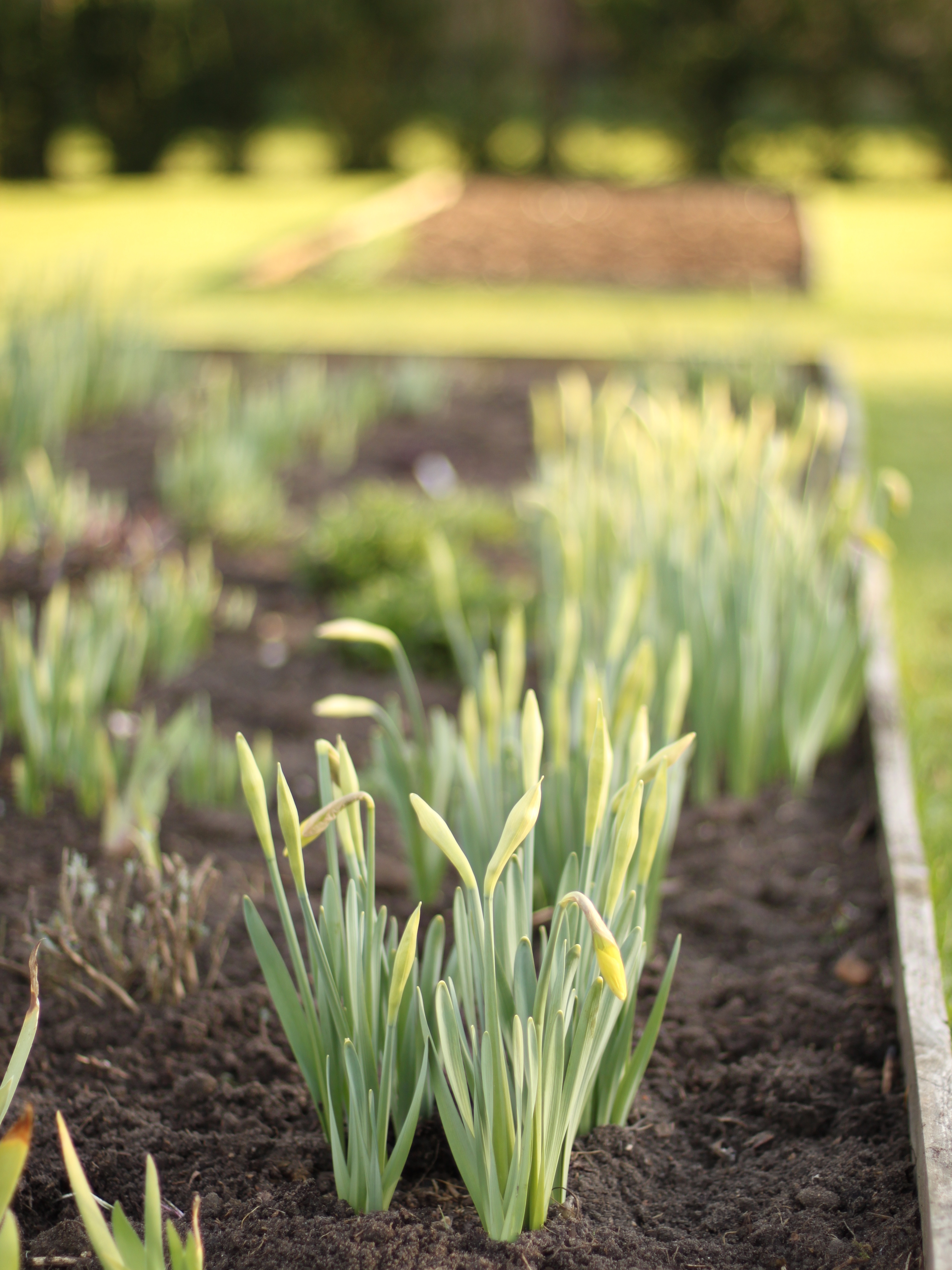 Earlier this month I planted lots of new roses in the Cutting Garden. Today I have been pruning and feeding the roses that I planted last year.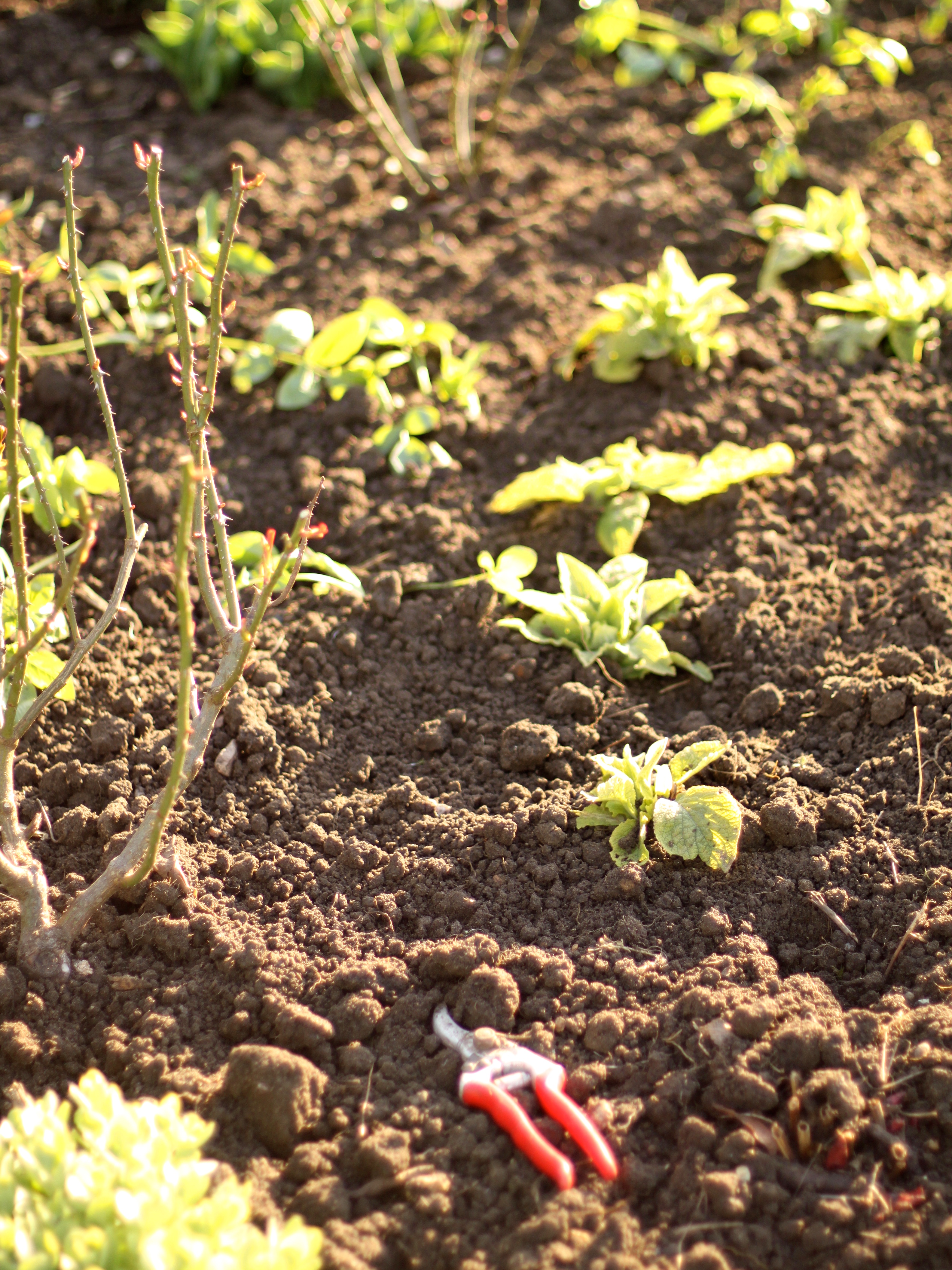 Over on the other side of the path in the vegetable garden I have been planting some new peonies to bulk out the peony beds. These beds were mulched with garden compost in the autumn and have now been weeded and the peonies fed with rose food. I leave the peony foliage standing throughout the winter, cutting it back after this spring weed and feed. I have found that if I cut the foliage back as it browns in the autumn I lose the placing of the peonies and end up damaging those precious buds as I weed the beds in spring.
The posts running through the beds are used to wind string around to support the peony foliage. This year I am going to plant my gladioli bulbs in amongst the peonies as the string will help support these tall flowers. I will be planting these bulbs shortly after Easter and then the string will be added ready to support the growing peony foliage.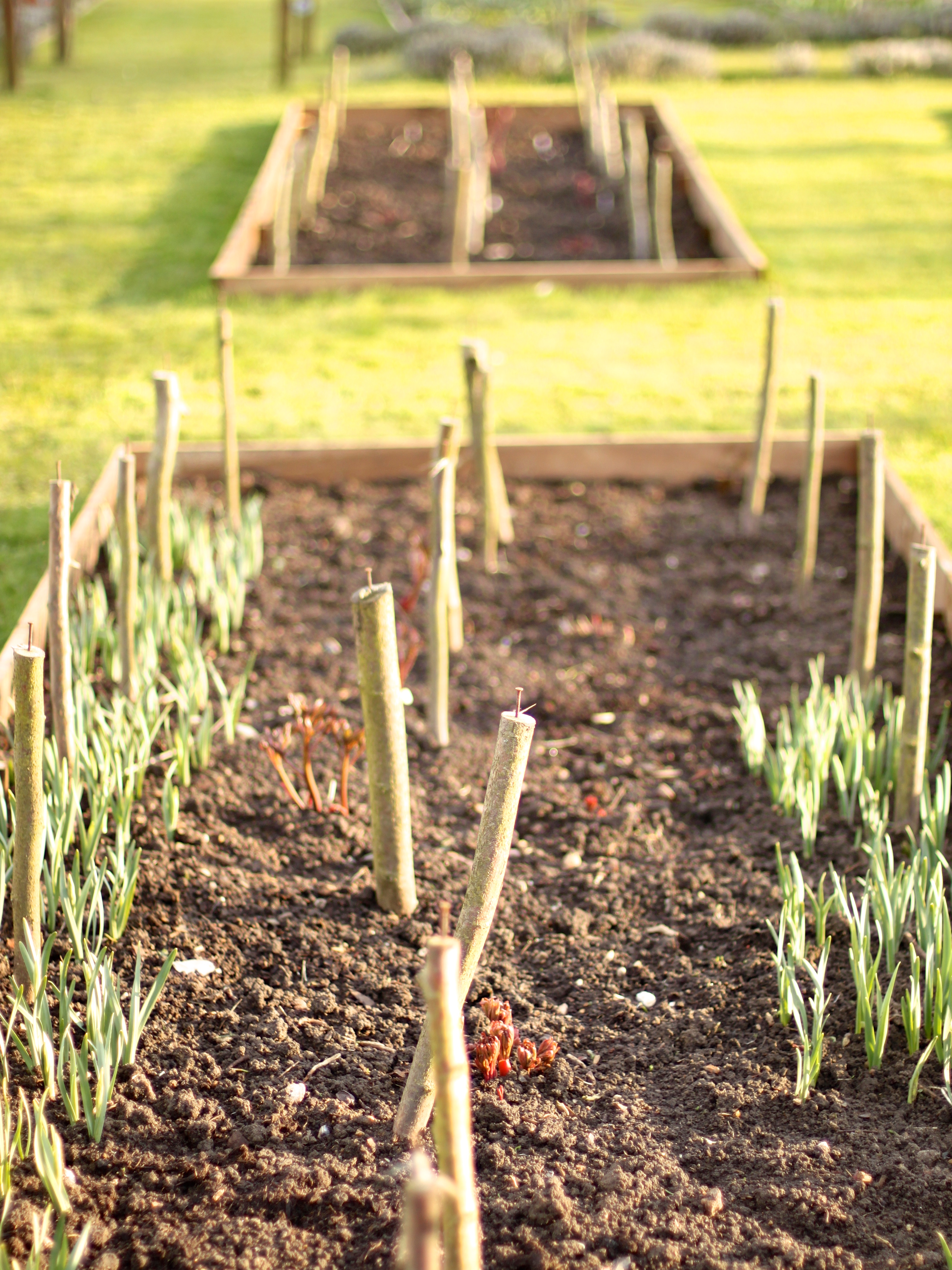 The sweet pea frame is in place ready for the netting to be attached. I have just moved the January sown sweet peas out of the cold frame to finish hardening off and plan to plant them after the Easter holidays.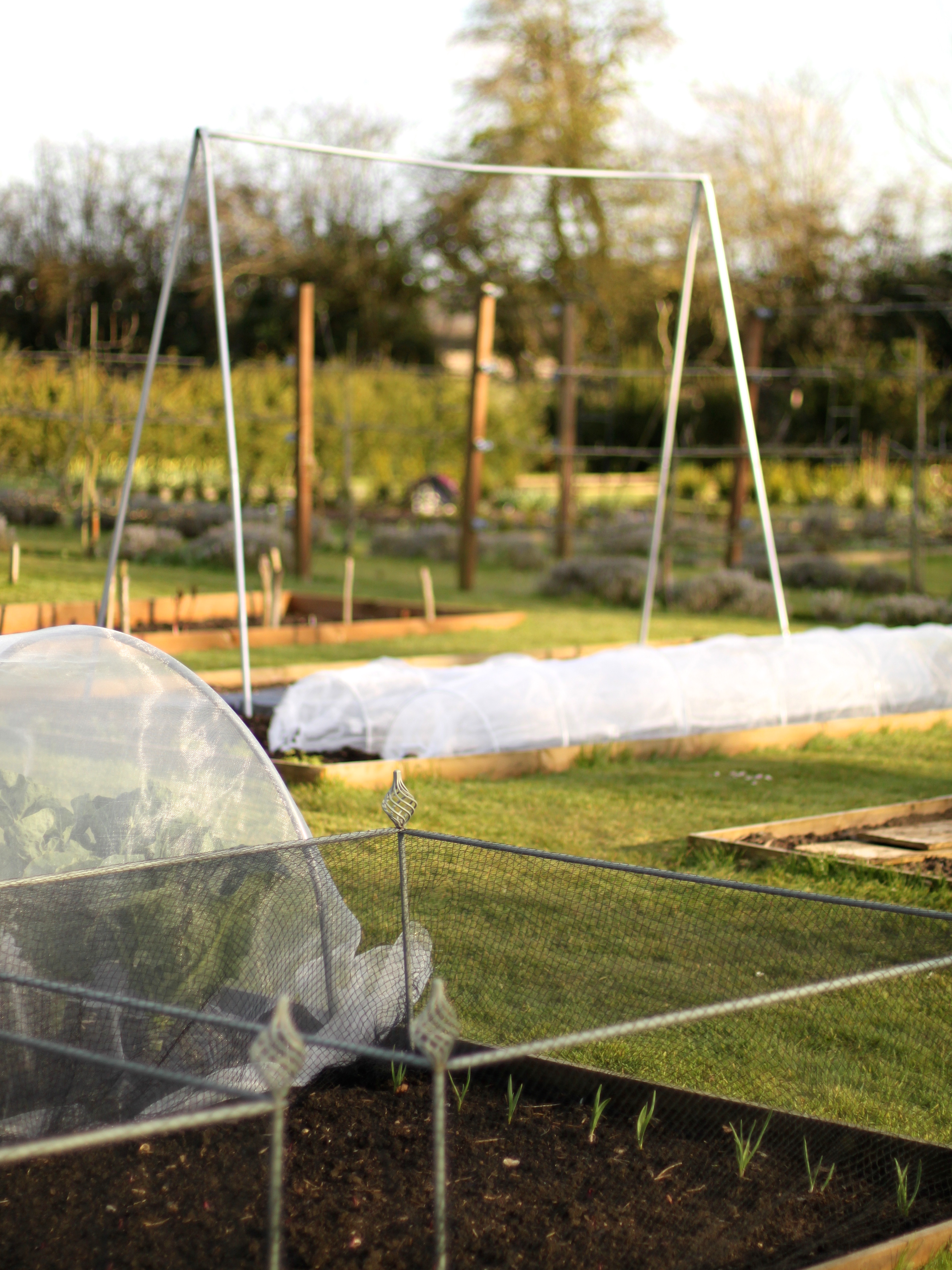 Whilst writing I thought I would quickly show you how the vegetable garden is progressing. I have 4 beds like this one and after years of losing crops to the birds I am making sure to cover everything I plant this year. The square frames are from Agriframes and have proved a perfect way to cover a variety of crops. Under the tunnel I have cauliflowers almost ready to eat (I am planning a home grown cauliflower cheese to accompany the Easter Sunday roast) and rows of newly sown carrots, spring onions, beetroots and turnips. At the back you can see two pea frames, complete with jute netting, also from Agriframes.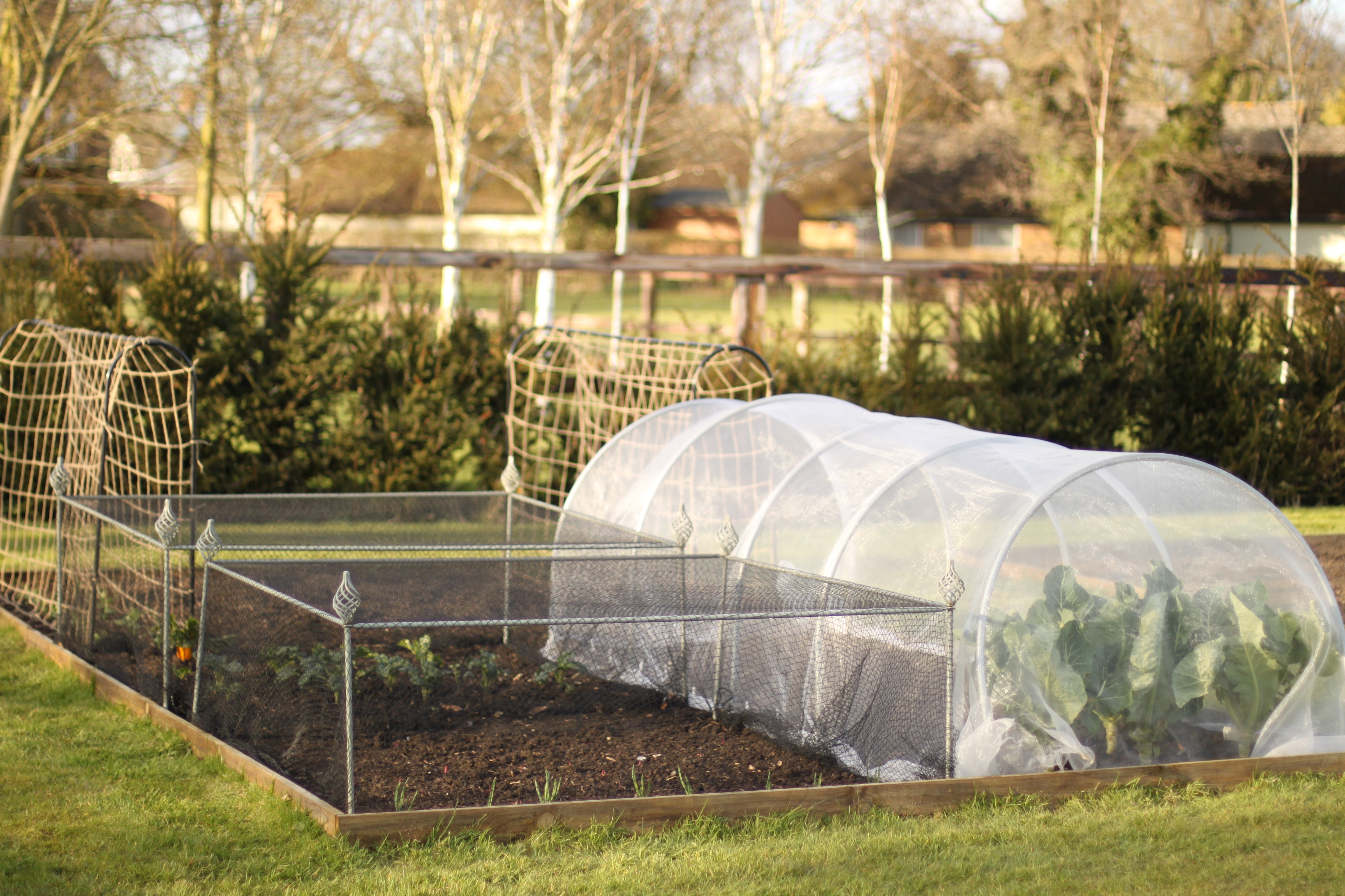 The peas were sown in the greenhouse in February and planted out yesterday. I also have a couple of rows of broad beans in another bed.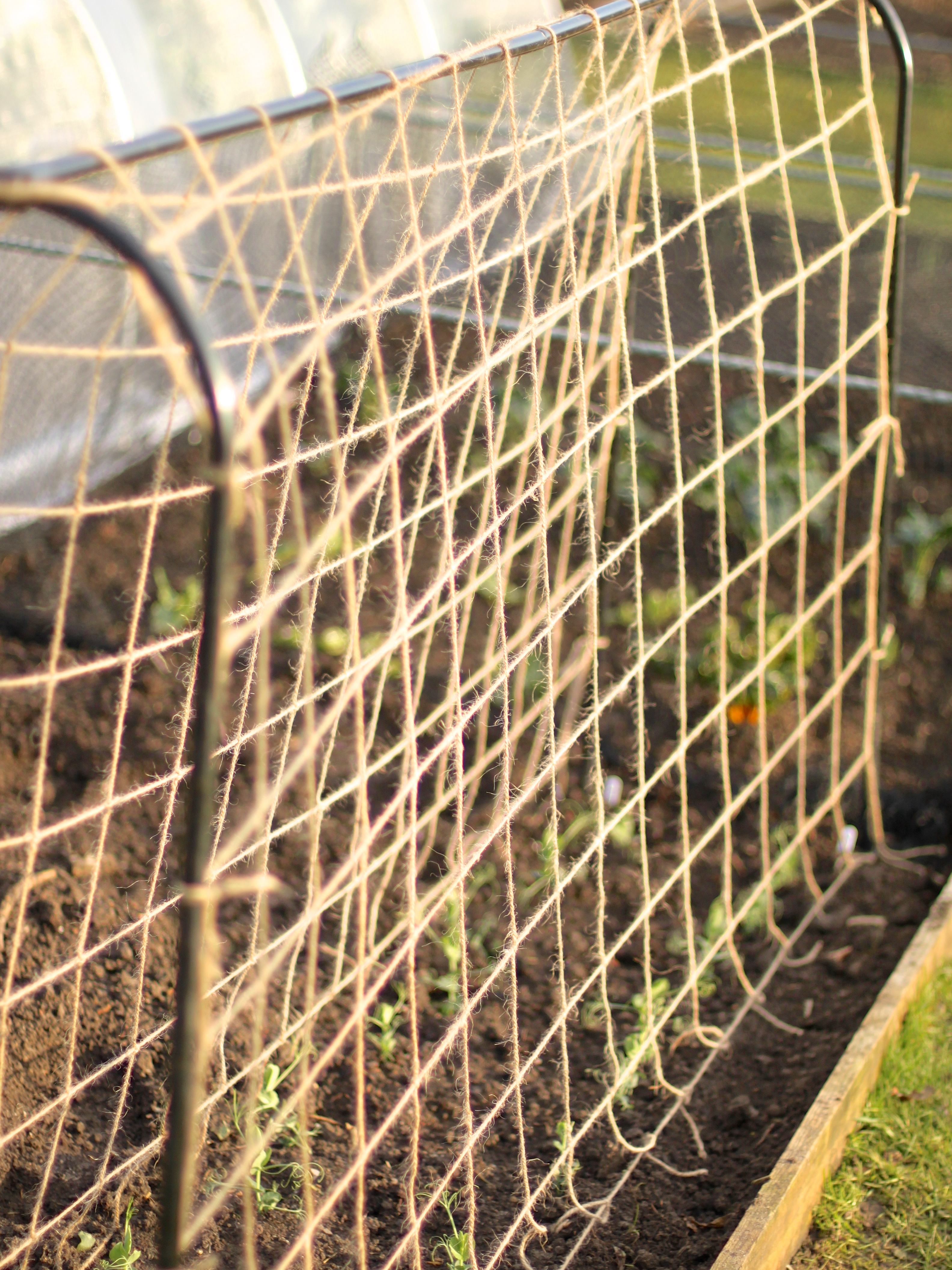 Looking back across the vegetable garden I am really excited to finally be able to show you my fathers greenhouse – now finished and being used in my garden. I also have 2 new raised beds, which I hope will allow me to grow crops throughout the winter. I have mentioned before how wet this land is in the winter, so I am planning to install 5 raised beds to improve the growing conditions. These first two have yet to be filled – it will be quite a project and not something that will happen in a hurry.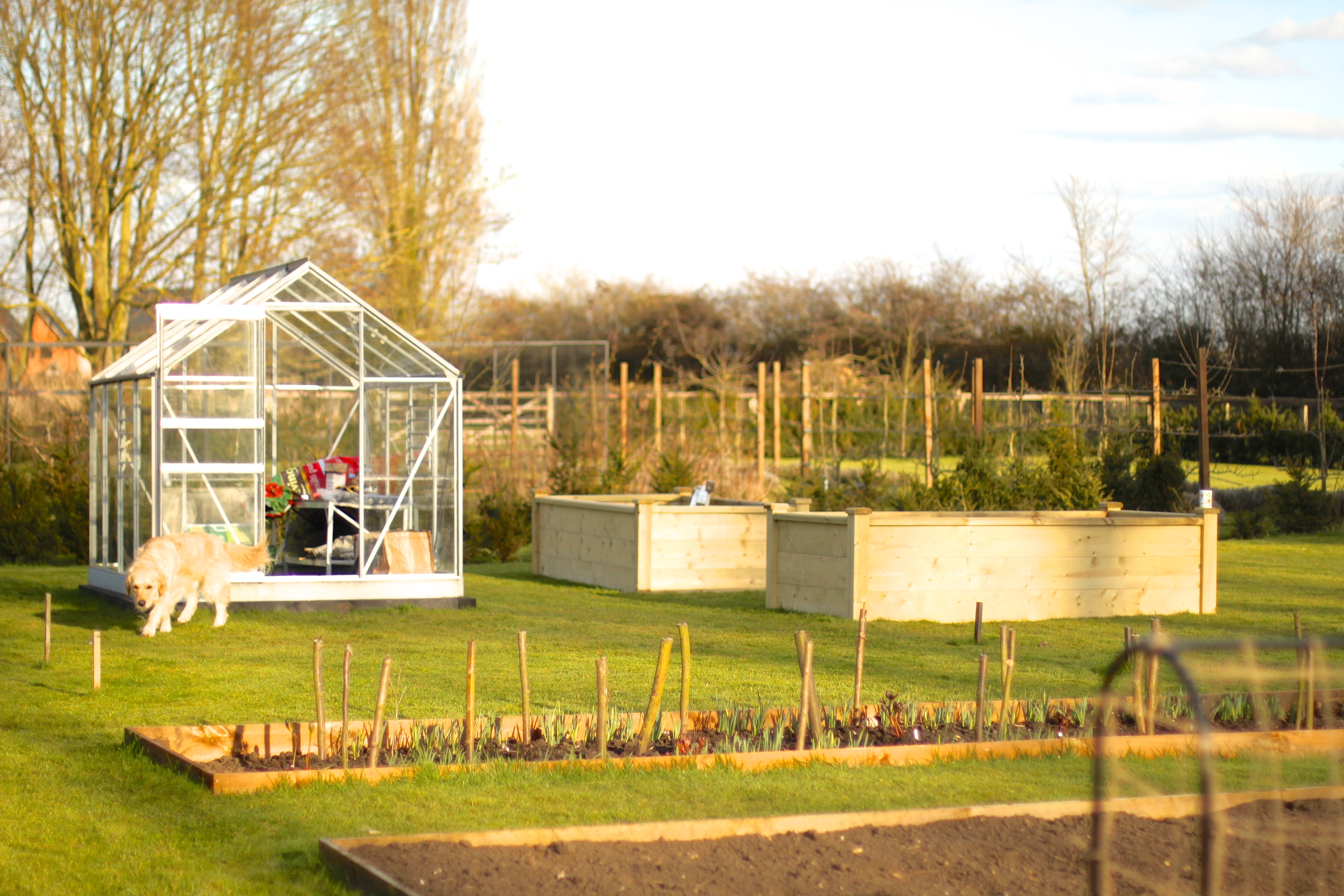 I chose these very deep raised beds as they are a perfect height to sit on whilst enjoying a cup of tea!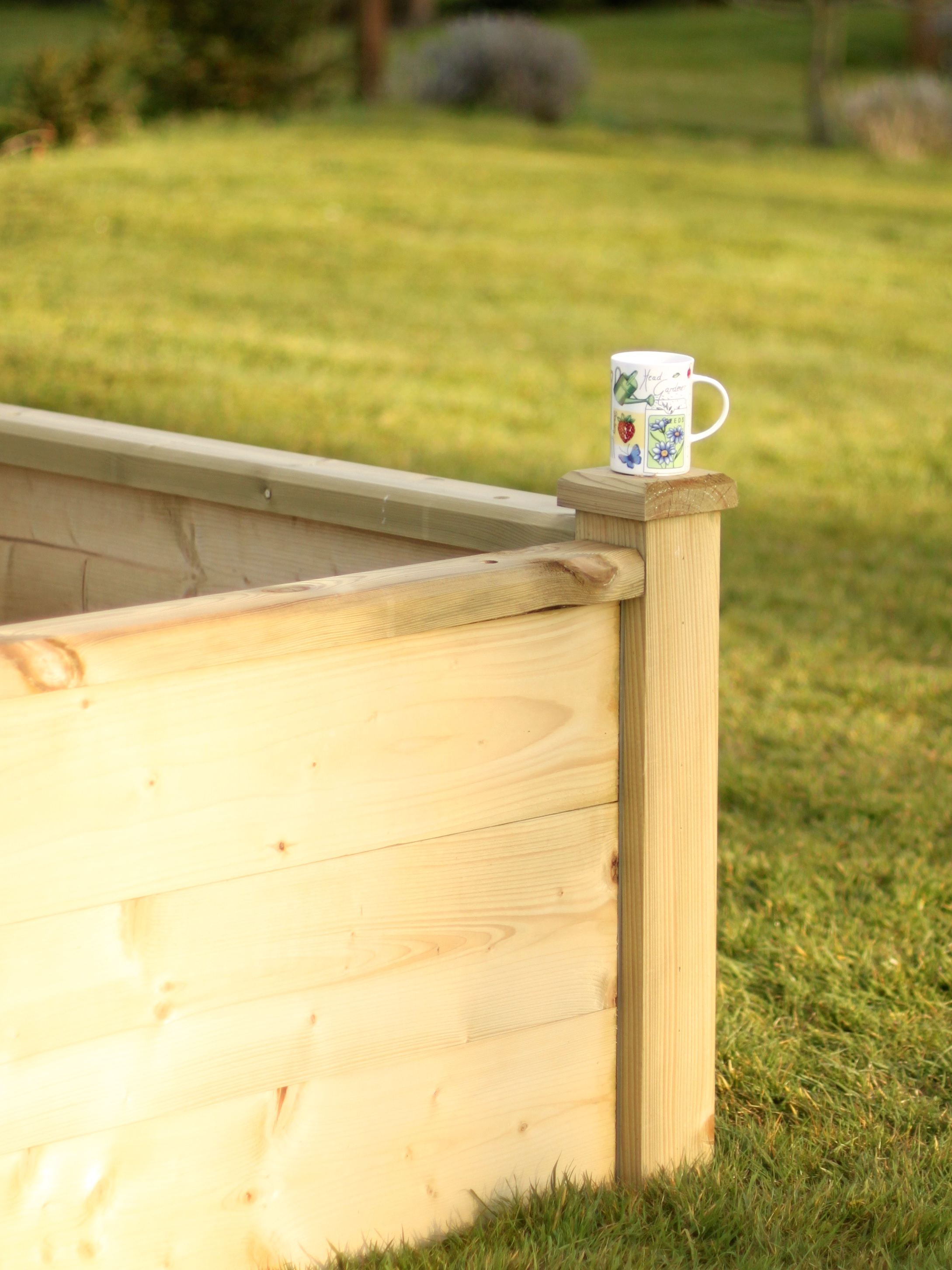 The first crops to be grown in my new little greenhouse are some 1st early potatoes in bags. They were planted yesterday, at the same time as the outdoor crop, so it will be interesting to see if the potatoes mature more quickly in the protected environment of the greenhouse.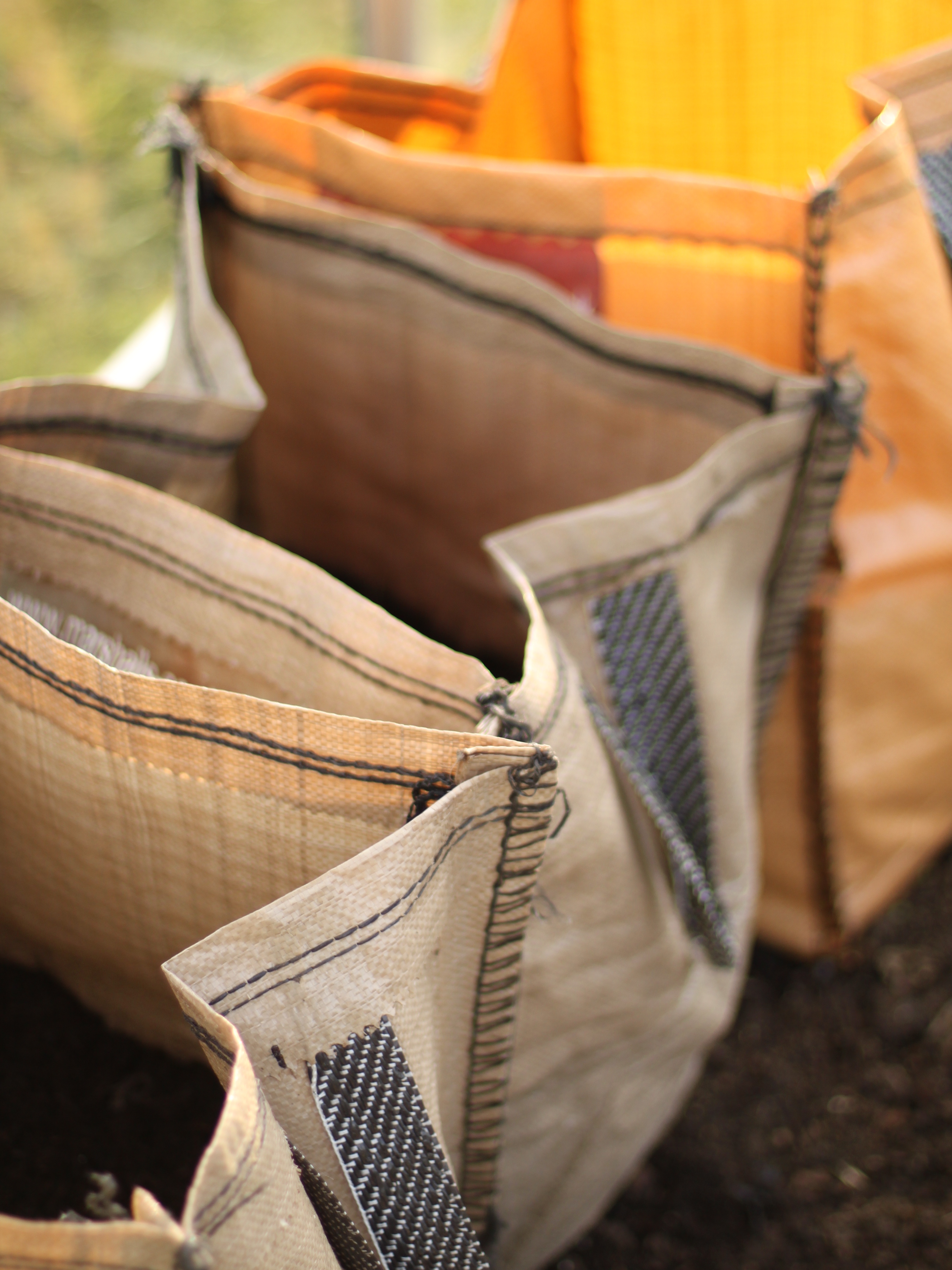 I have also mentioned in previous posts that we have been installing a fruit cage to protect the fruit bushes from the many birds that feed in my garden. For a variety of reasons work has been held up, but it is nearly finished and I am hoping that the easter weekend will give us the time to secure the netting. Both my raised beds and the fruit cage came from Harrod Horticultural and have been very easy to install. If you are thinking about a fruit cage I would recommend you purchase the additional ground sockets as these made it much easier to put the uprights in place. Also make sure that you are very careful with the measurements – double check everything as you go.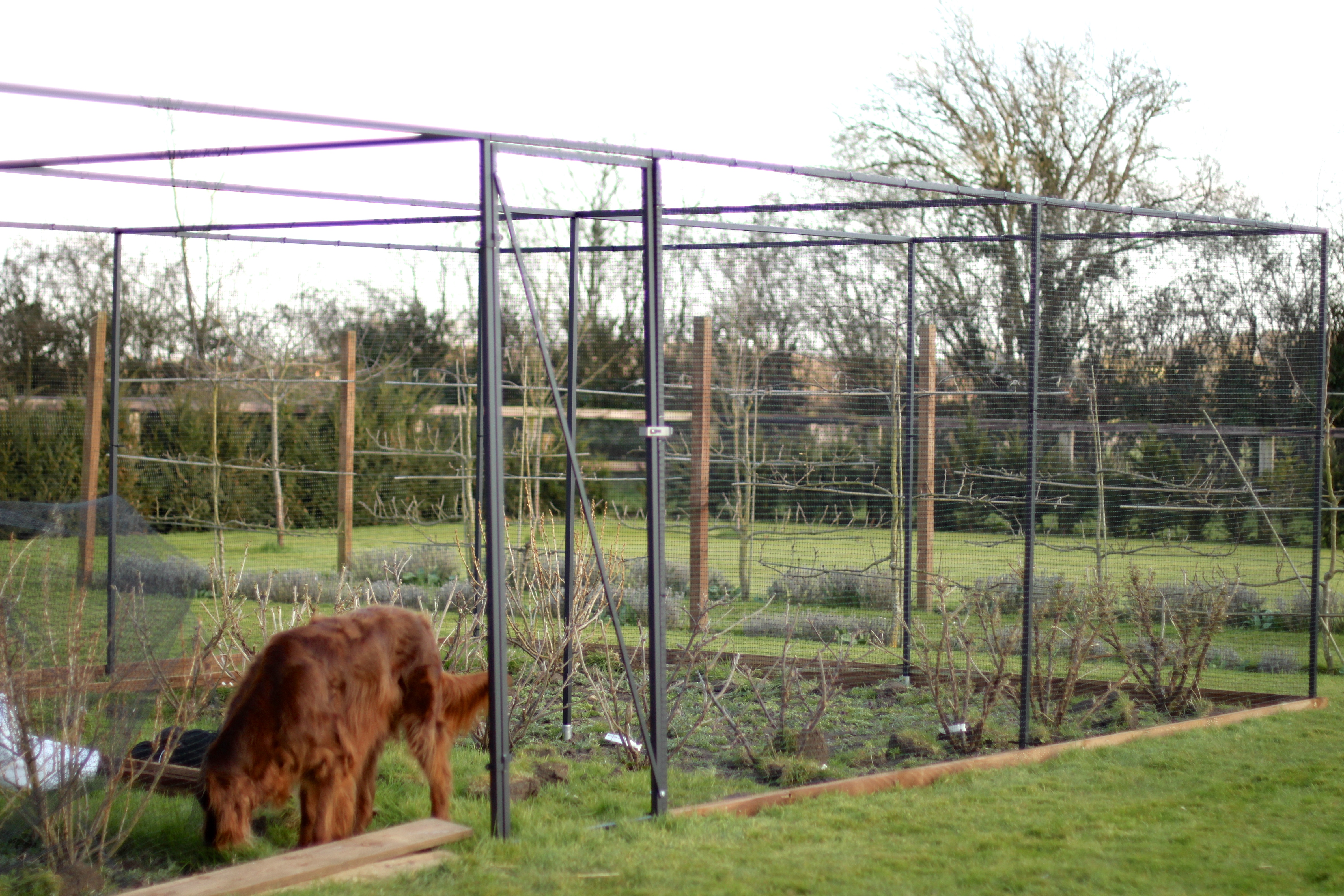 Whilst I was taking photographs tonight, Nelson asked if he could say hello!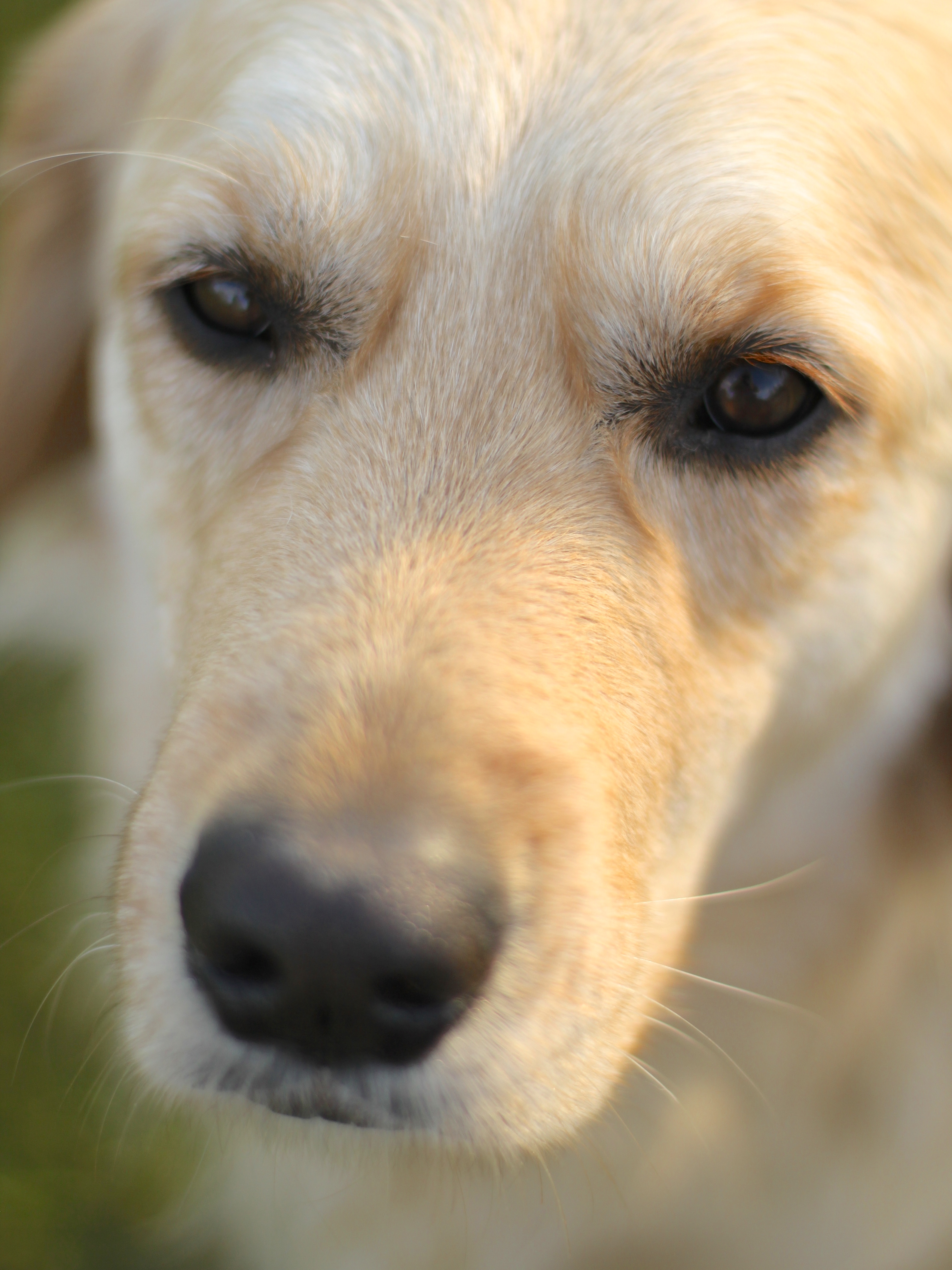 Hardy noticed that Nelson was being photographed and rushed over to join in the shoot!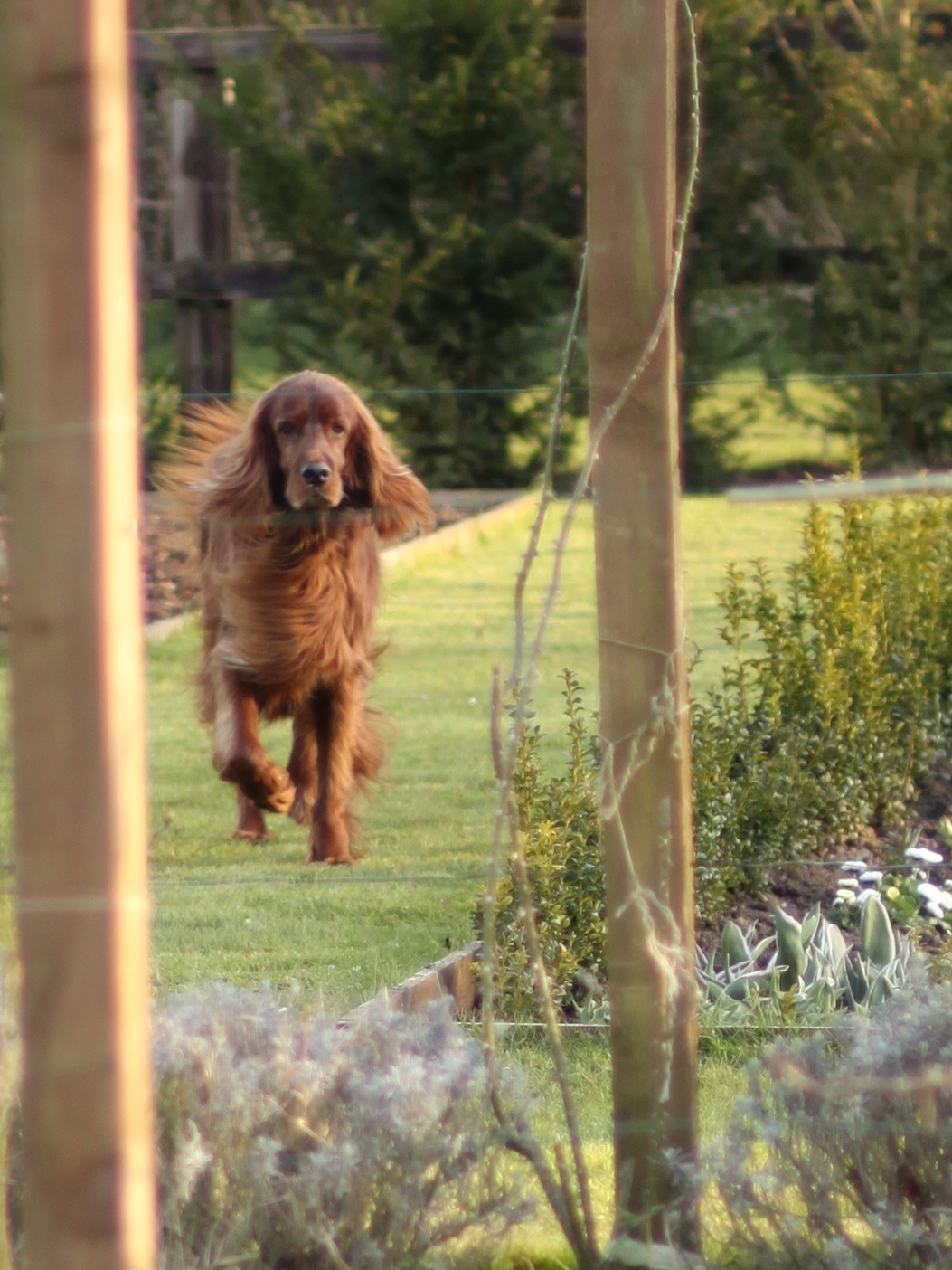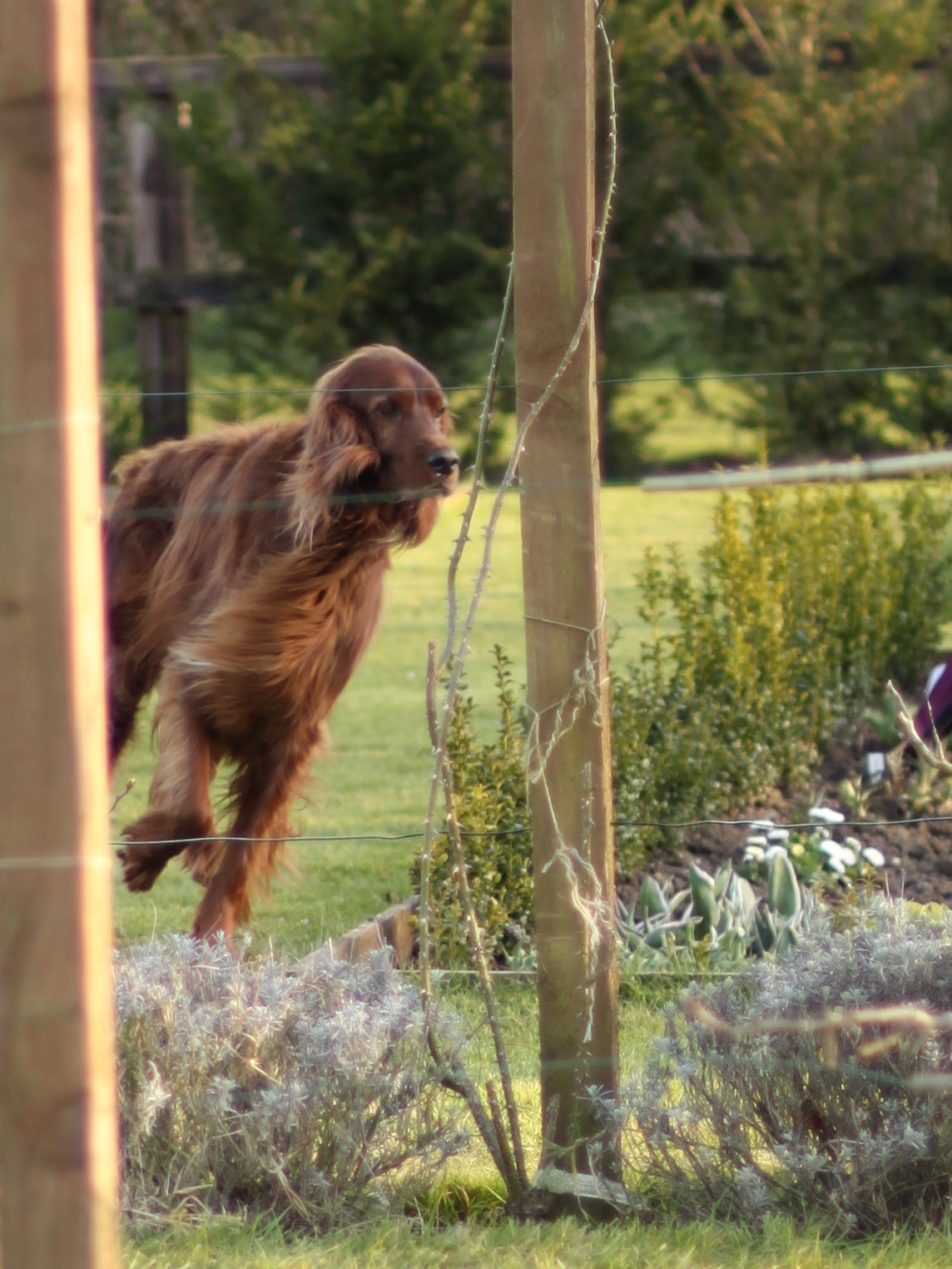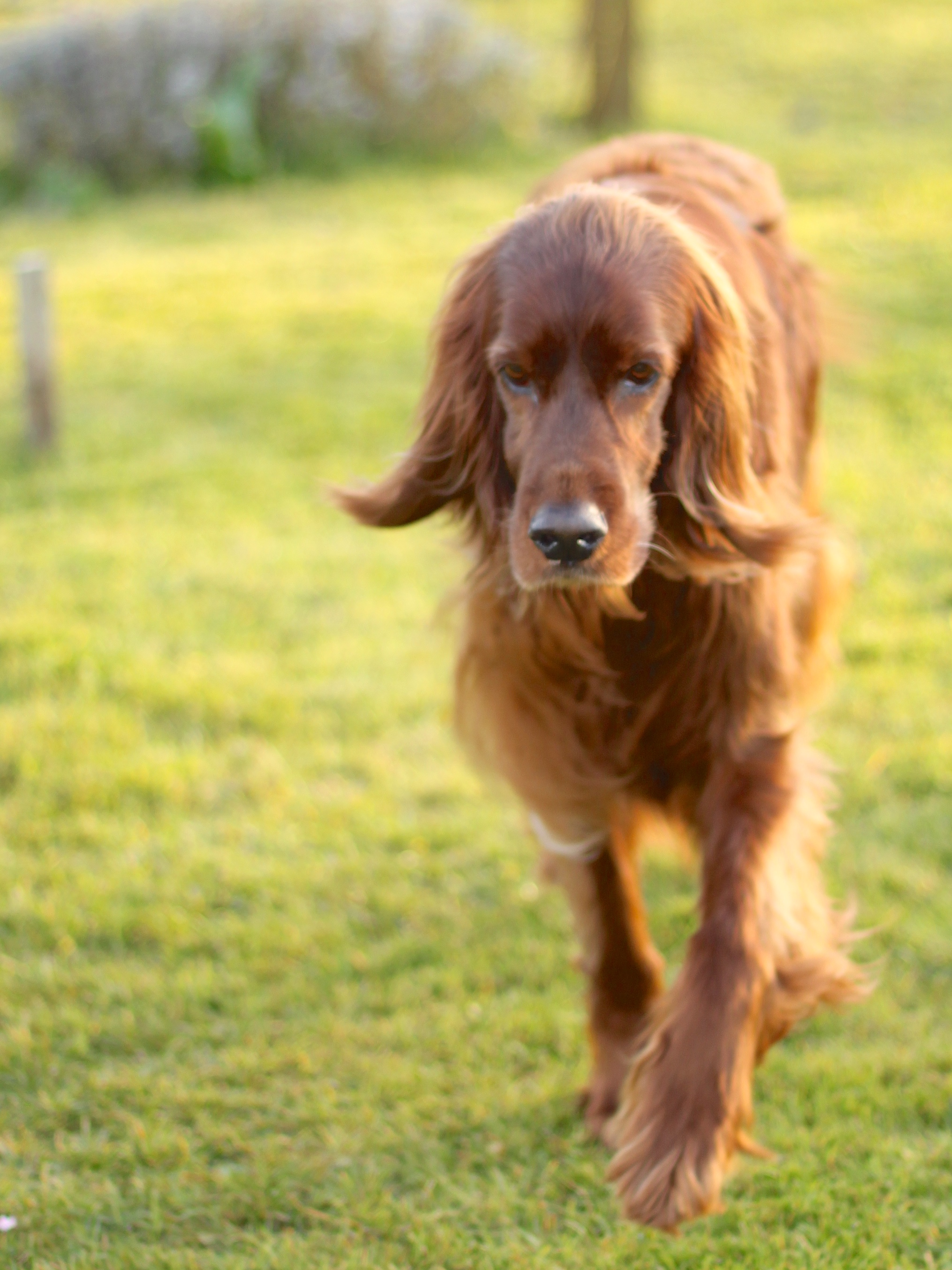 Finally for this month I have another Giveaway to share with you. This month I am offering a copy of this lovely book Slow Flowers by Debra Prinzing, from which I have found much inspiration for my flower arrangements.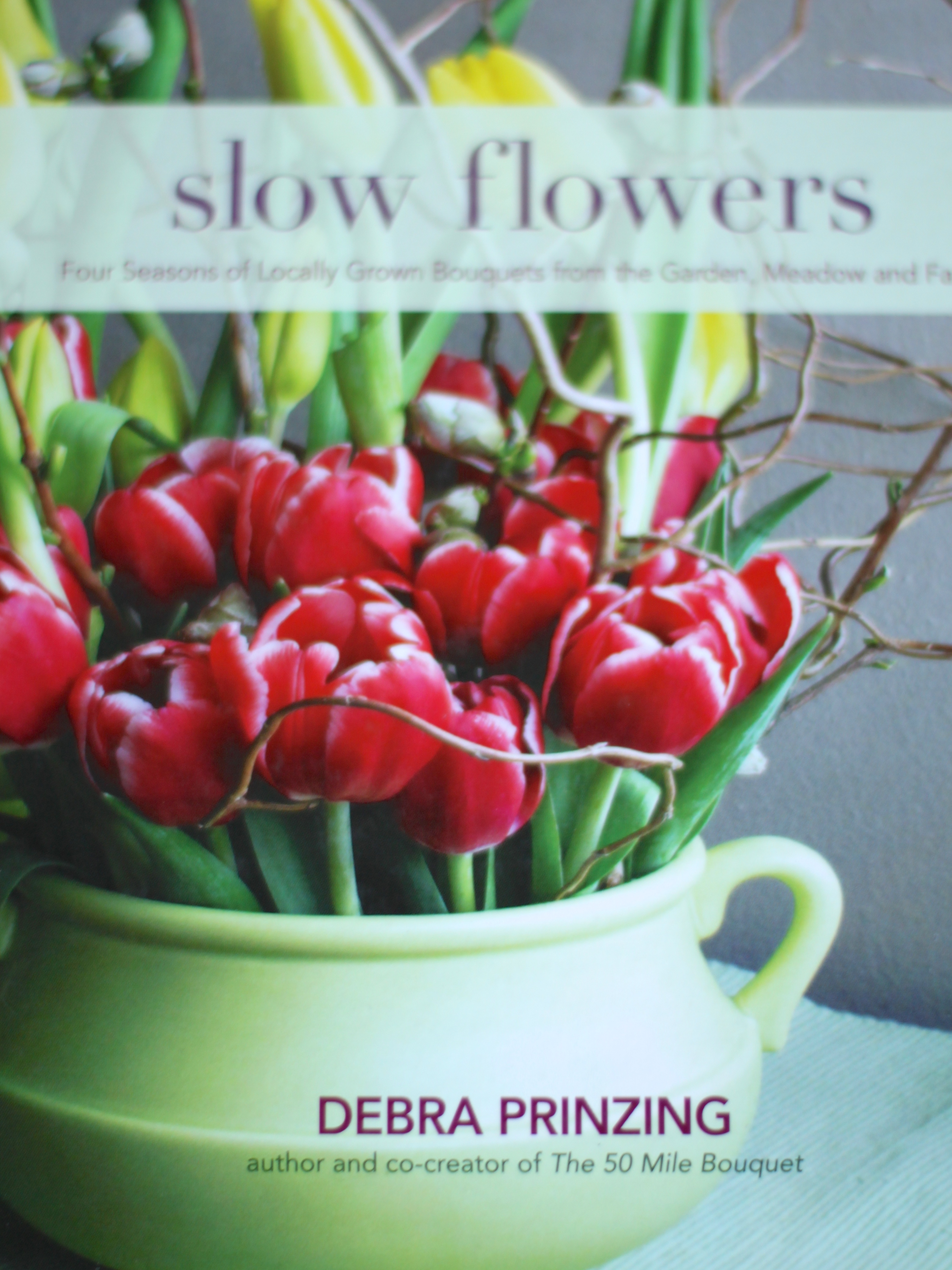 Very much in the spirit of 'In A vase On Monday', this book shows 52 arrangements taken largely from the authors garden with tips on growing, arranging and containers. I loved this quote from the introduction:
"I didn't realise that those few hours I spent each week, gathering and choosing petals and stems, arranging them in a special vessel, and then figuring out where and how to capture the finished design through my camera lens, would be so personally enriching."
She has perfectly summed up why I have enjoyed joining in with Cathy at Rambling In The Garden every Monday for so long!
As usual, if you would like to be entered for the Giveaway, please leave a comment – all names will be put in a flower pot on Monday and I will announce the winner in my Monday post.  I am happy to send abroad, so everyone can enter this month!  This is a great little book for inspiring you to use your garden blooms, so if you are not the winner on Monday, do think about buying a copy.
My next Cutting Garden review will be on the last Friday in April, when I am confident enough to promise you some flowers!