I am very pleased to welcome you back to my Cutting Garden for our May tour!
I am delighted to report that the Cutting Garden is a much more beautiful and productive place in May this year than it was in May 2014. This is largely due to the biennials which were sown last June, planted out in autumn and which have grown on through the winter to burst into flower this month. I also have plenty of autumn sown hardy annuals that are just about to flower. Last year, without the biennials and autumn sown annuals, I faced a long gap between the end of the tulips and the first spring sown hardy annuals flowering.
This year last months tulip bonanza has been replaced by ranks of purple alliums surrounded by a billowing sea of light purple and white Sweet Rocket.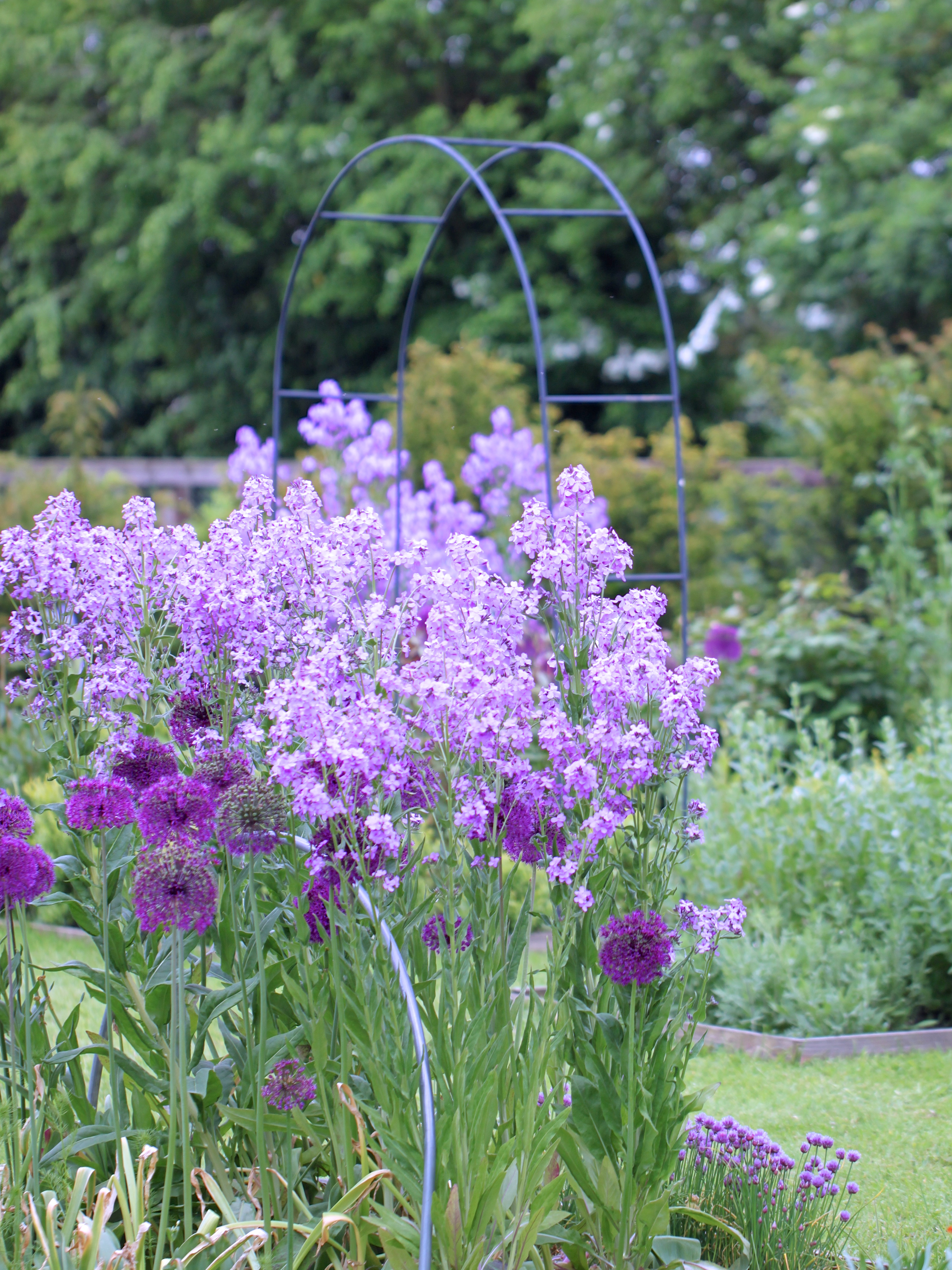 There are plenty of rosebuds to be seen and the first flowers are just starting to open.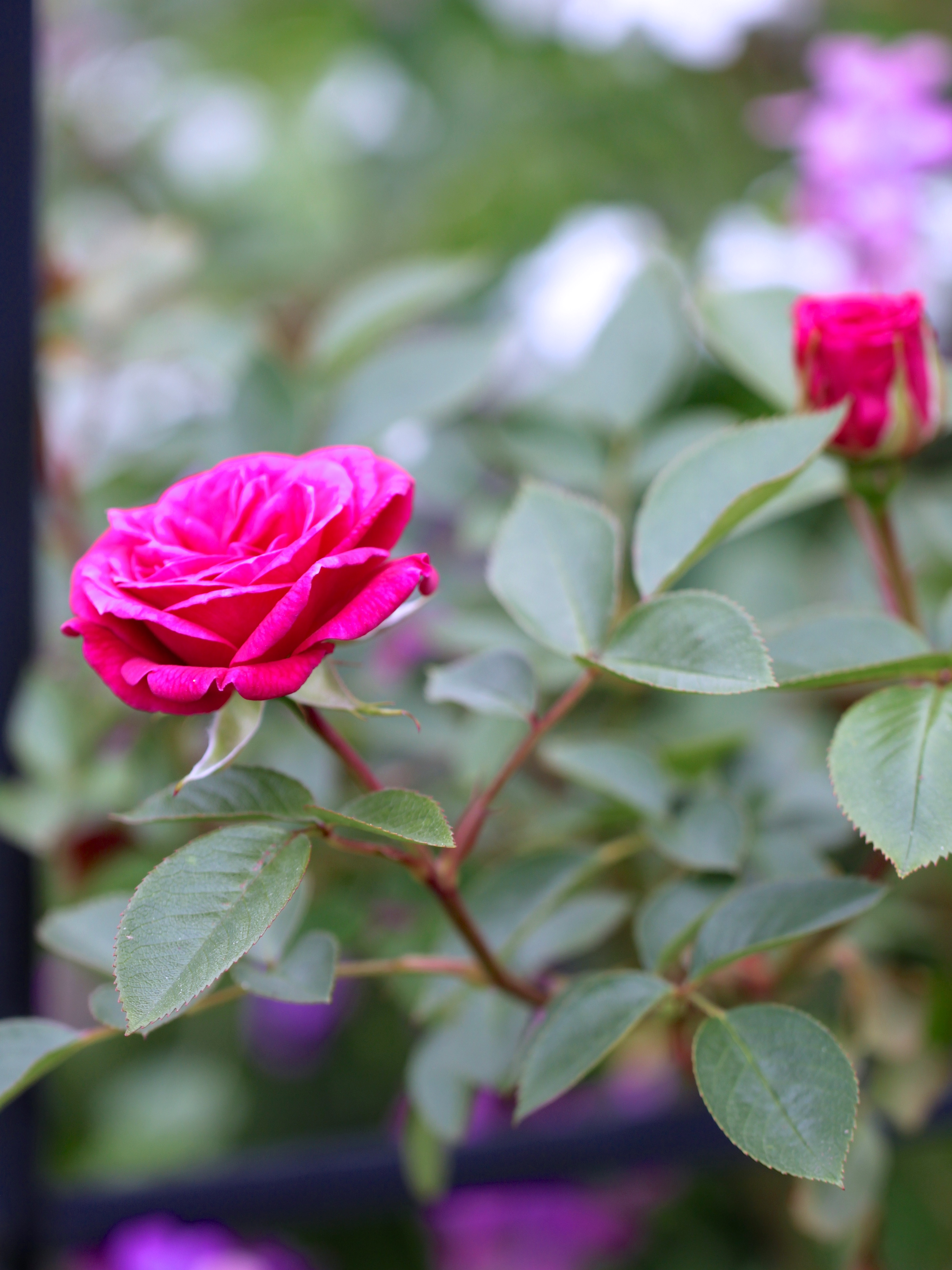 The purple and white Honesty was the first to flower early in the month and has performed very well as a cut flower, easily lasting 7 days in a vase. Allium Purple Sensation also has a long vase life if picked as it just opens.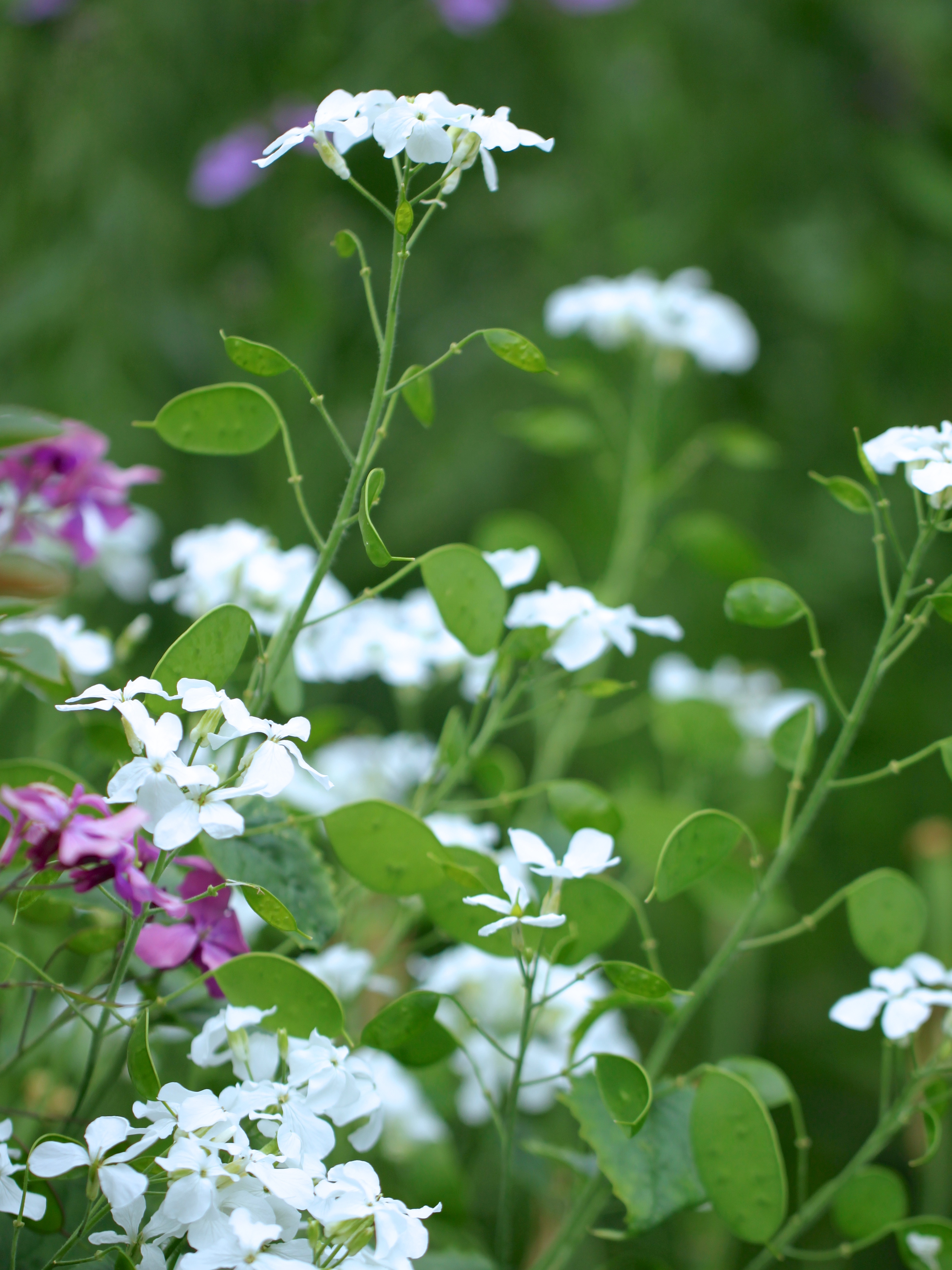 The Sweet Rocket is stunning and has a lovely delicate scent, particularly noticeable in the evening. Next year I am going to add some to my garden borders to make the most of this romantic statuesque flower.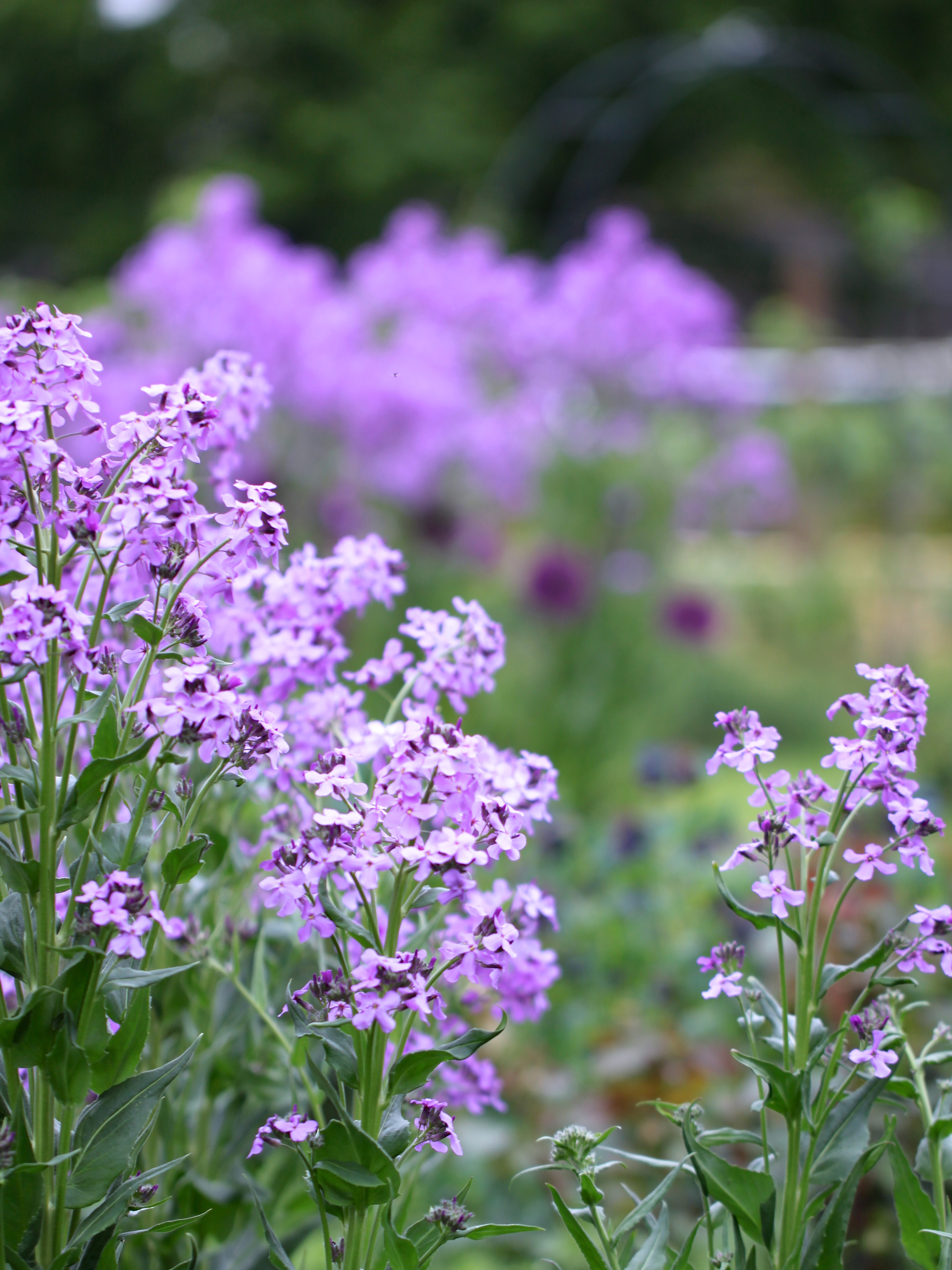 This is the first Sweet William to flower and there are plenty of buds, so I will be using these in a vase very soon.
Cerinthe major is a hardy annual that I sowed last September and planted out in October. The plants were very frost damaged by early spring and I almost pulled them out – they have made a remarkable recovery however and now are a stunning block of blue. In the background you can see the orange of wallflower Fire King.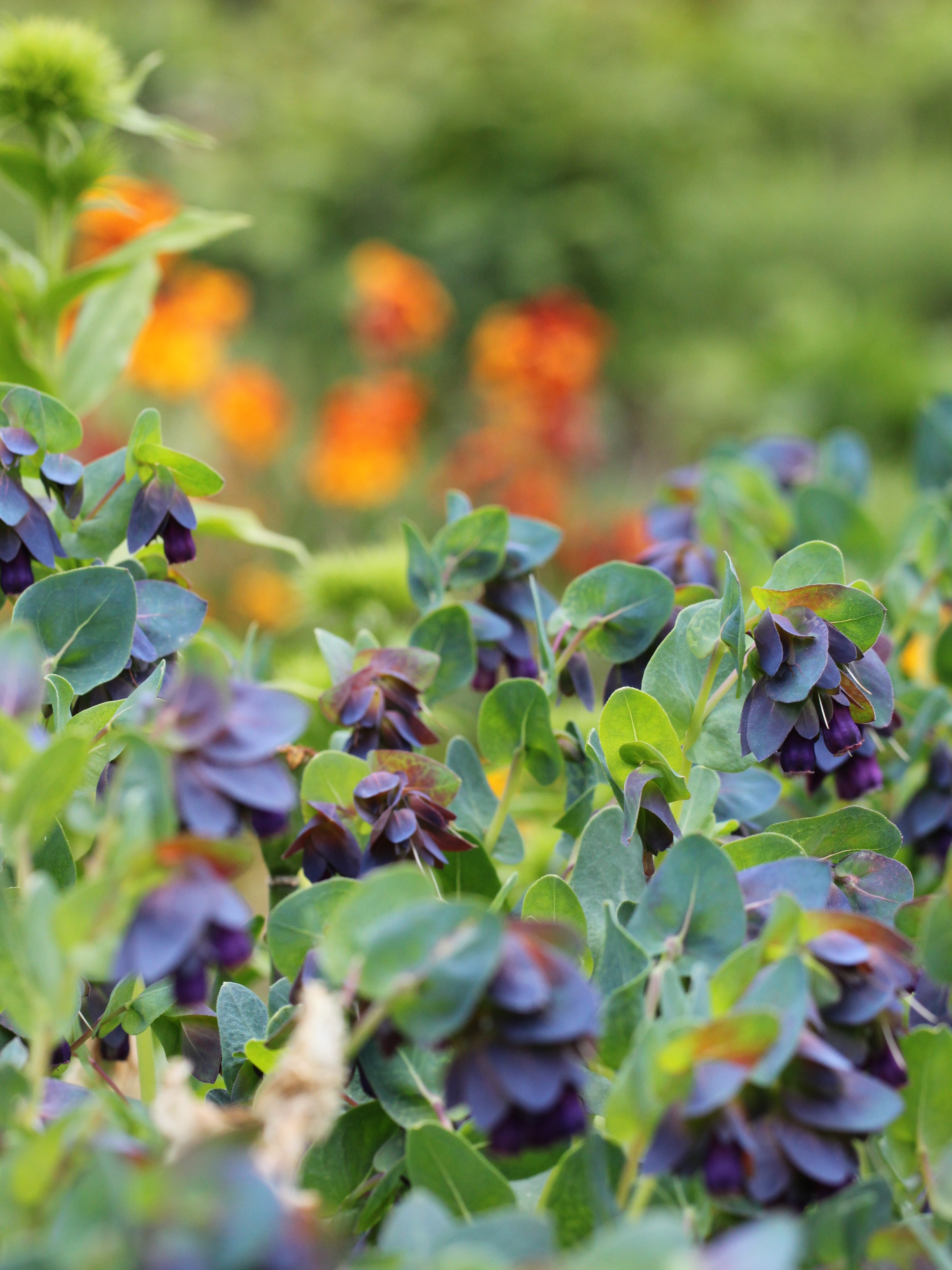 In amongst these alliums are the rows of hardy annuals that were sown directly into the soil in October and overwintered under a fleece tunnel. The ammi majus and nigella germinated and made it through the winter and are just about to flower. In a warmer spring I am sure I would have had flowers in mid May. You can see the green stems starting to overtake the tall alliums, so these annuals are going to be enormous!!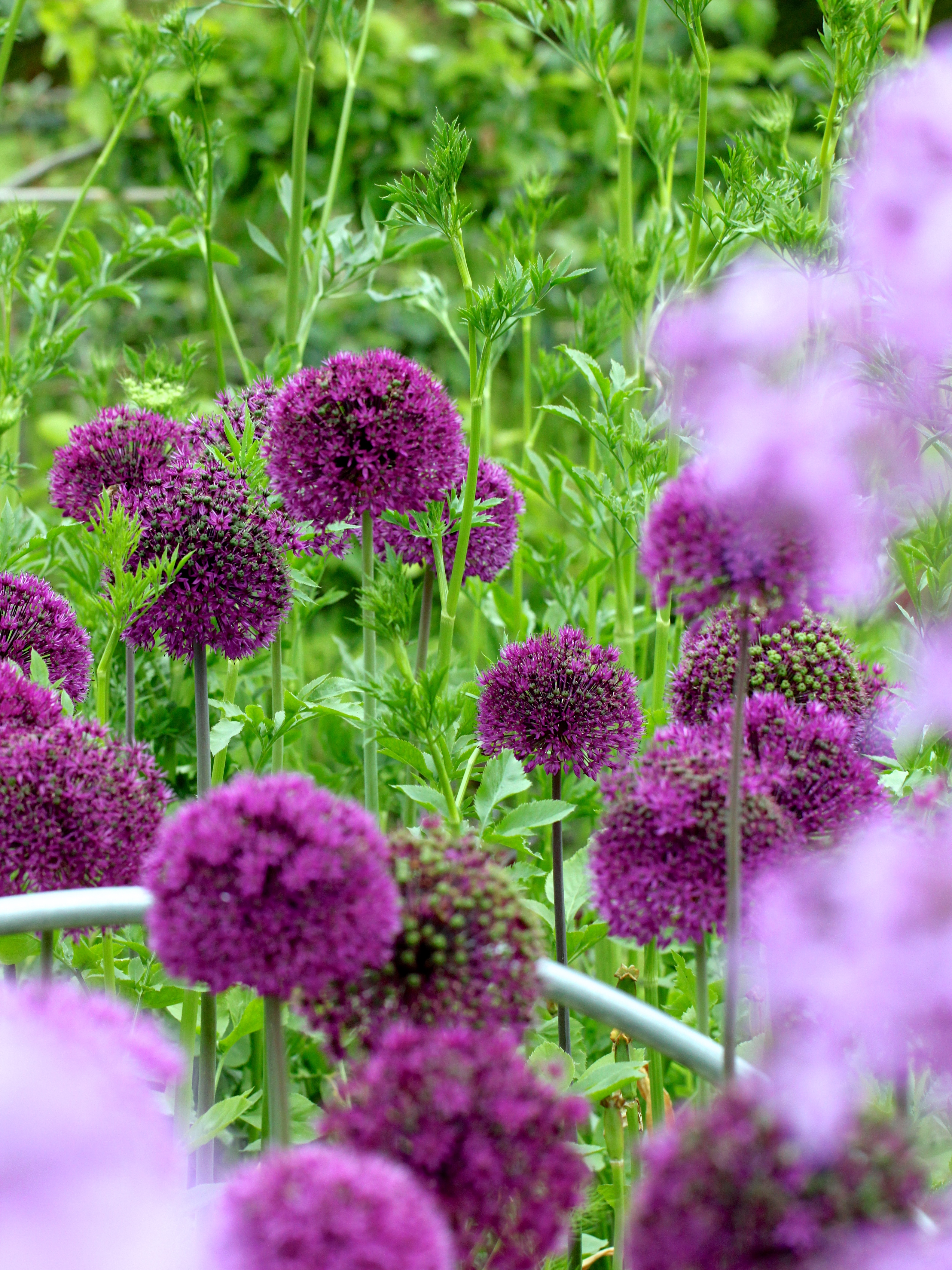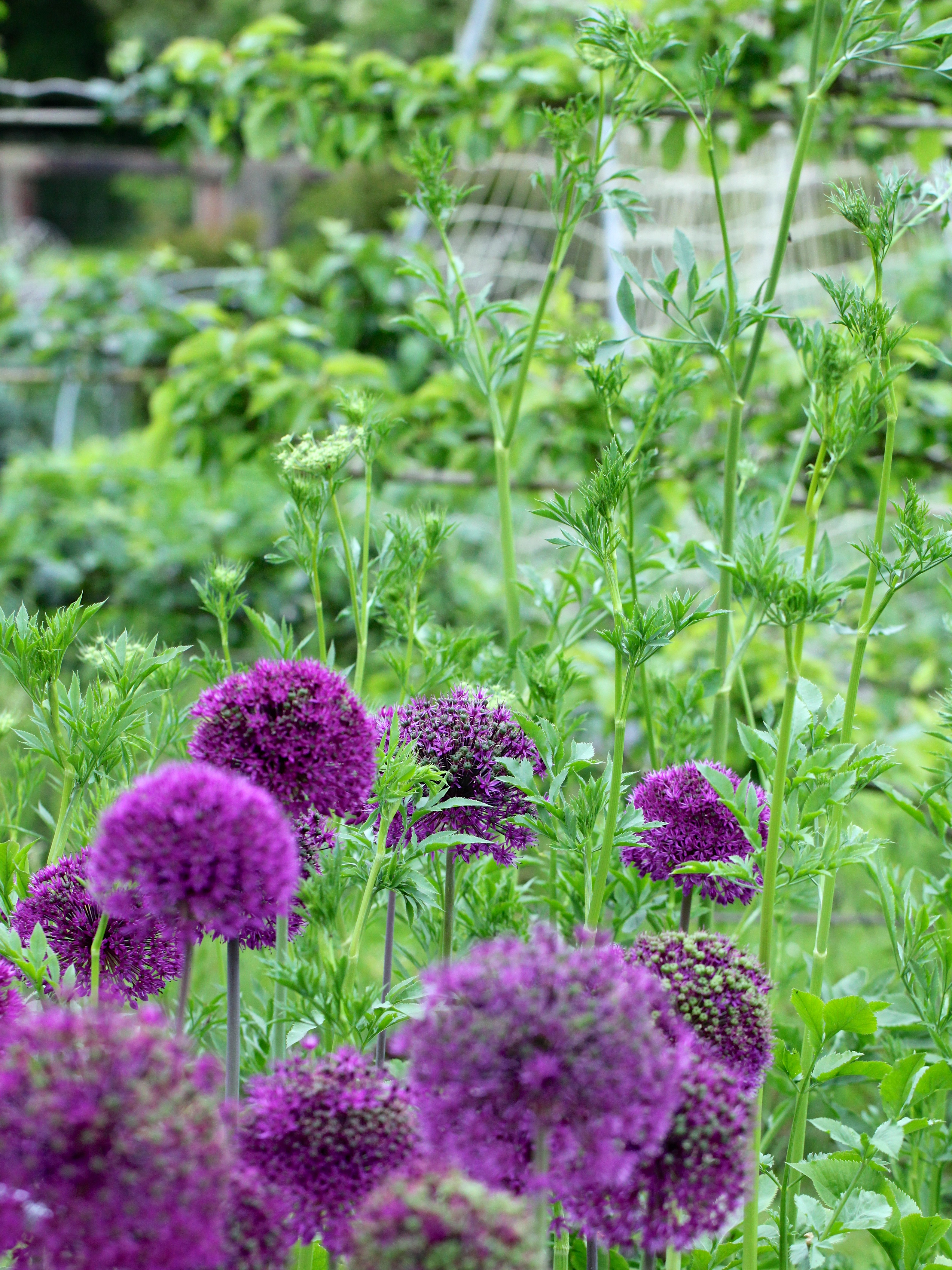 This bearded iris is, I think, called Blue Skies. I have a bed in the front garden where most of my bearded iris live, so I think this must have been a rogue that needed a quick home.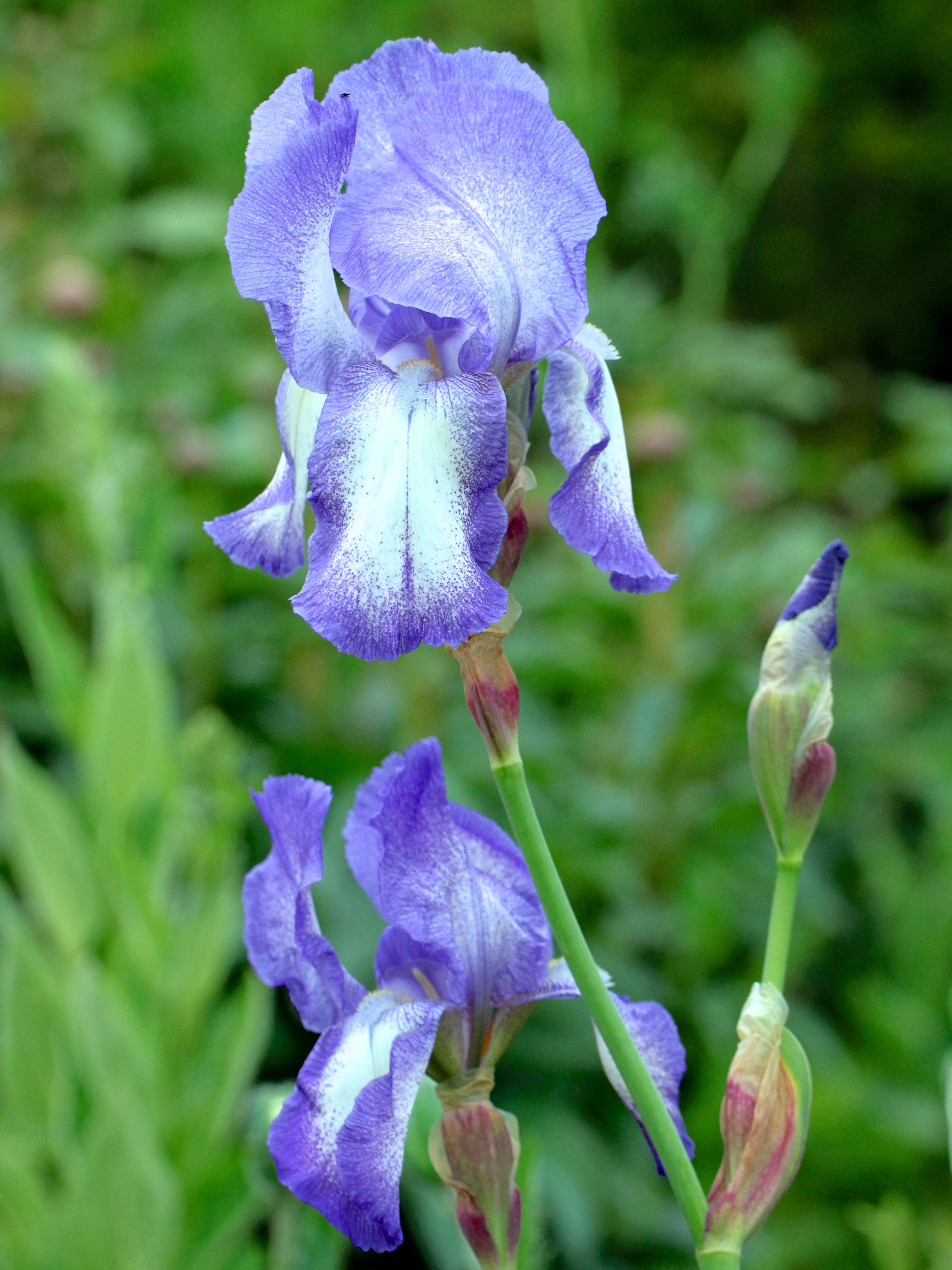 As well as the tall annuals that are about to flower, I also have plenty of rosebuds and peony buds close to opening.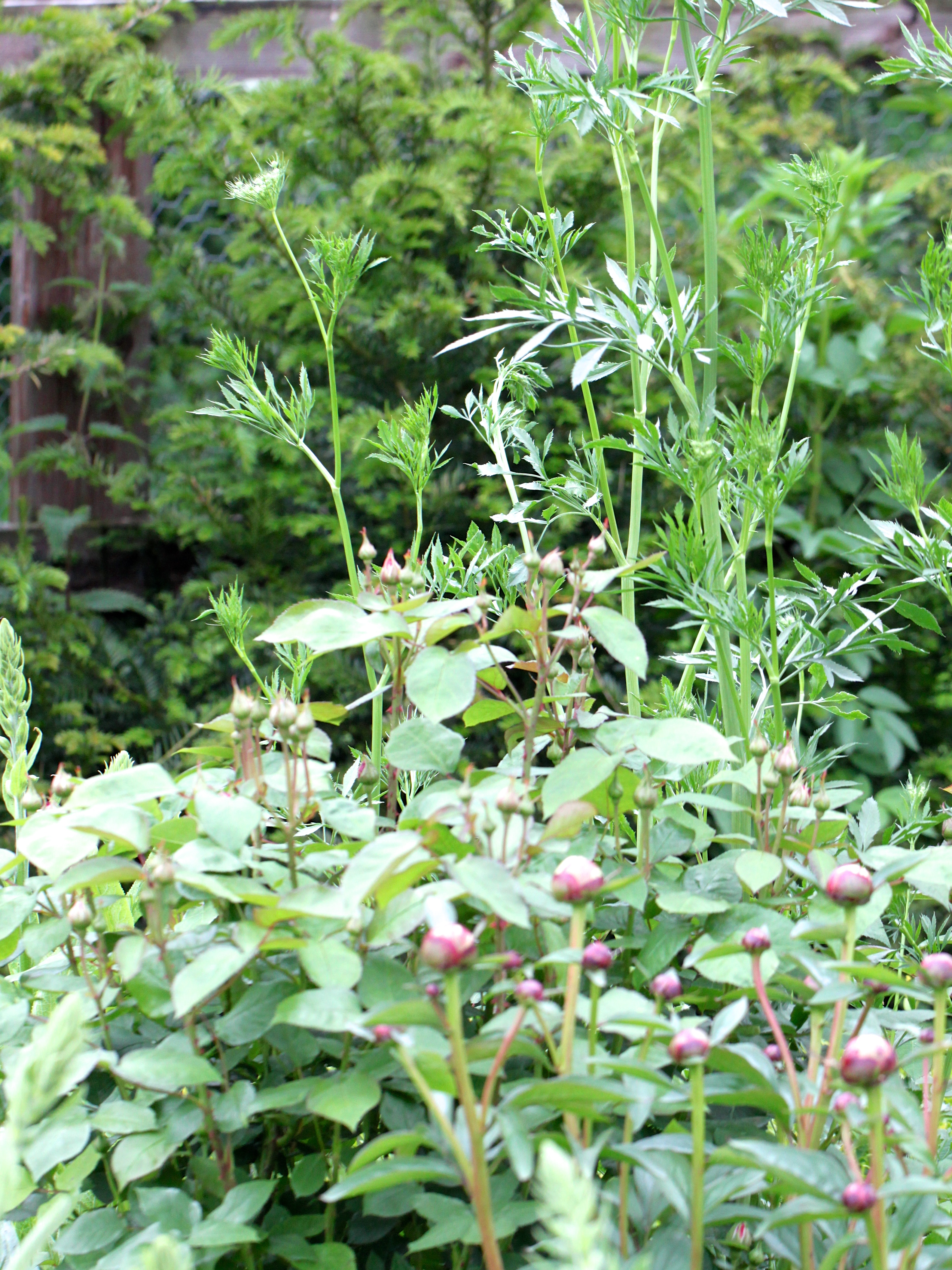 Beds which were empty apart from the edging of tulips last month are starting to look very full this month.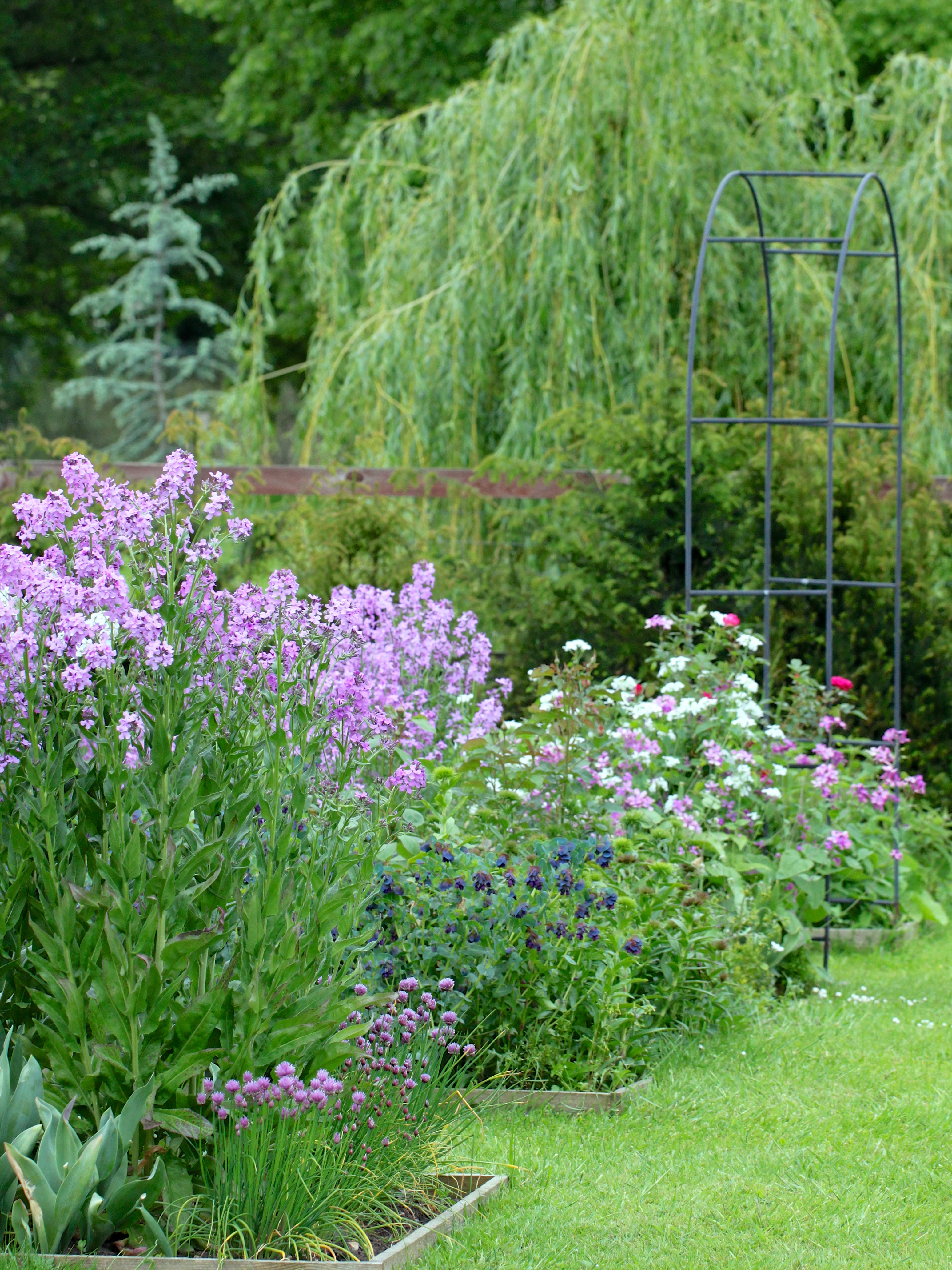 I found the first flower on my favourite climbing rose Crown Princess Margareta this week. I just love this delicate shade of apricot.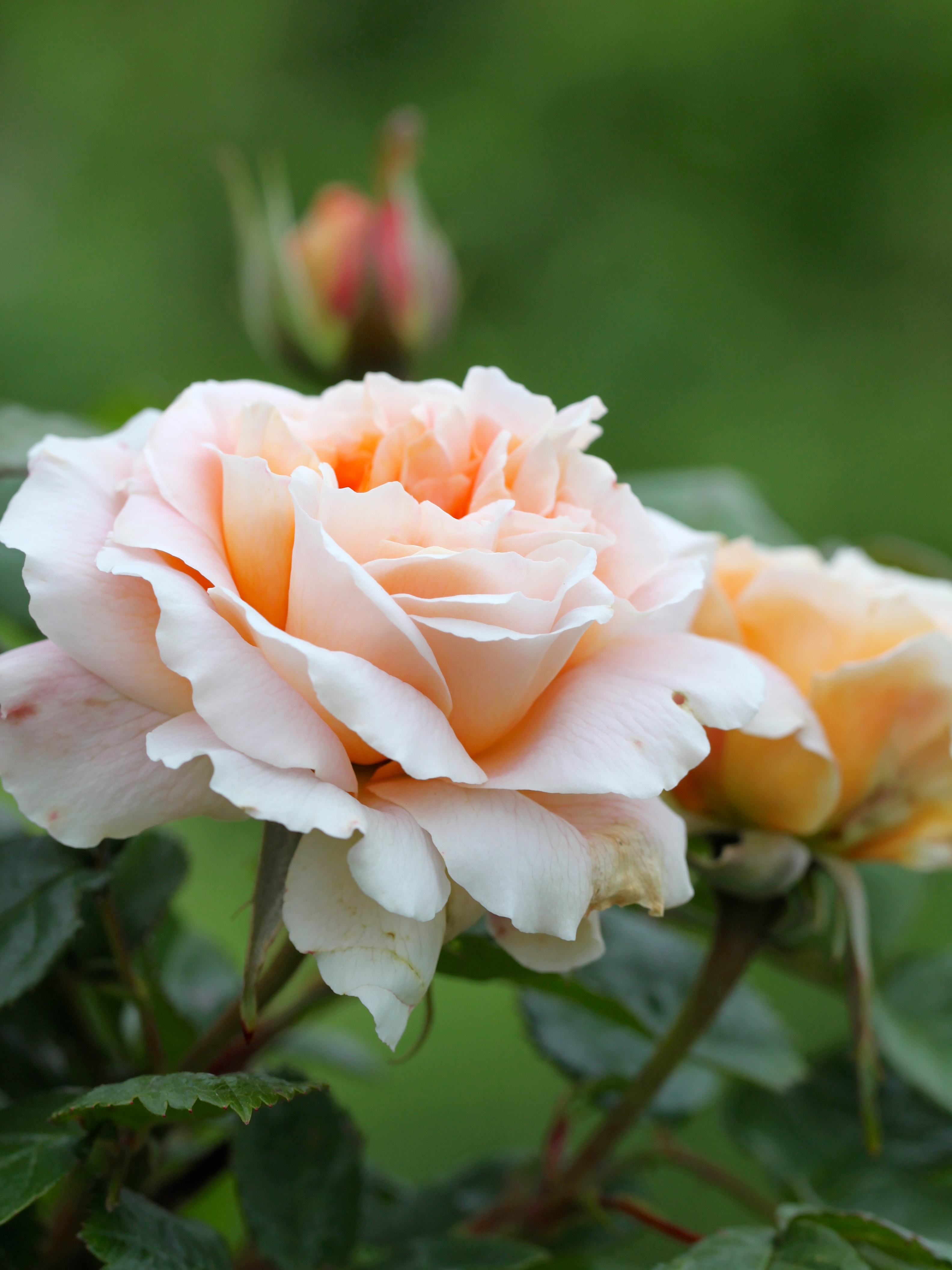 The peony beds are full of buds – ready to start opening any day now.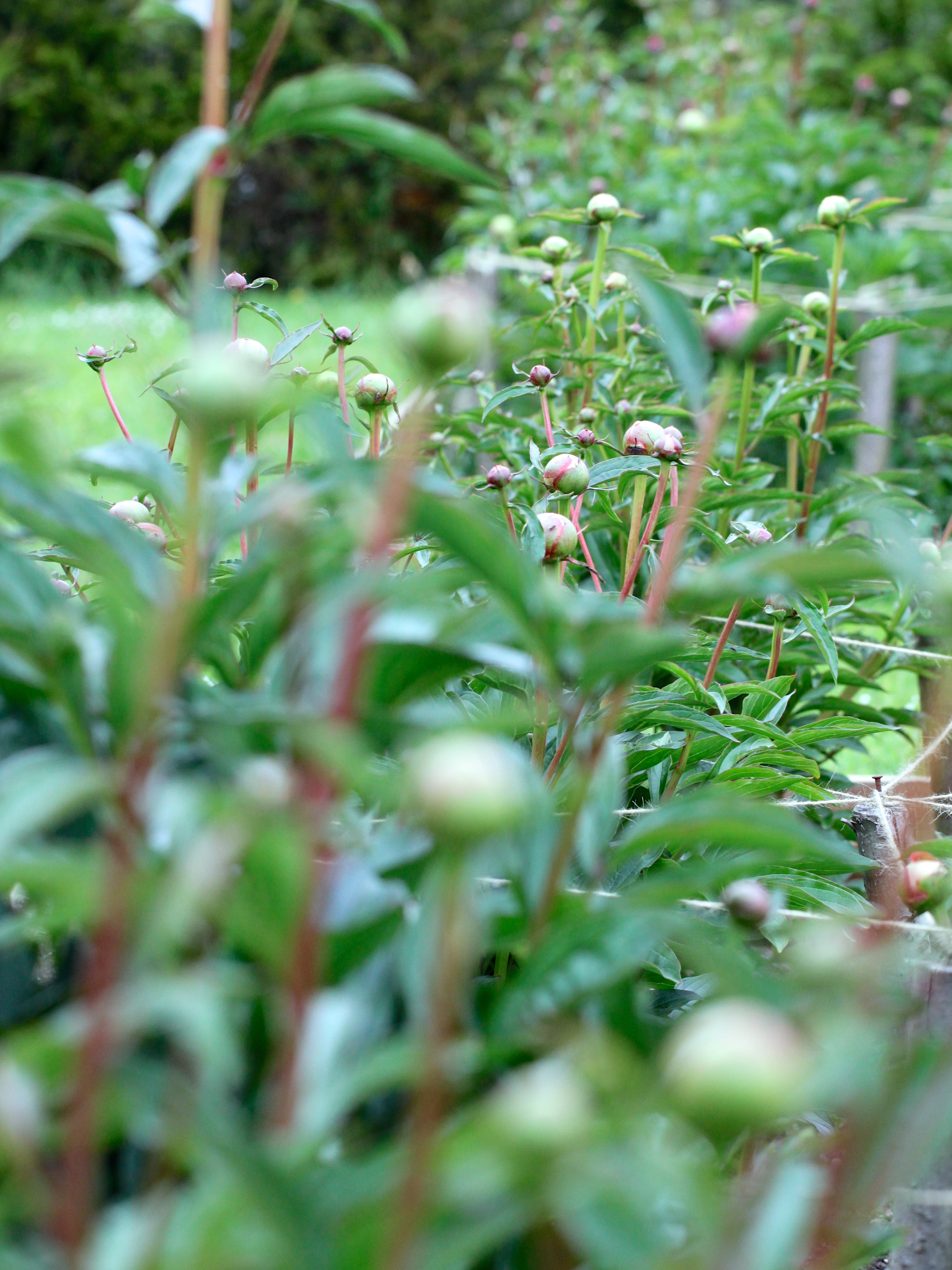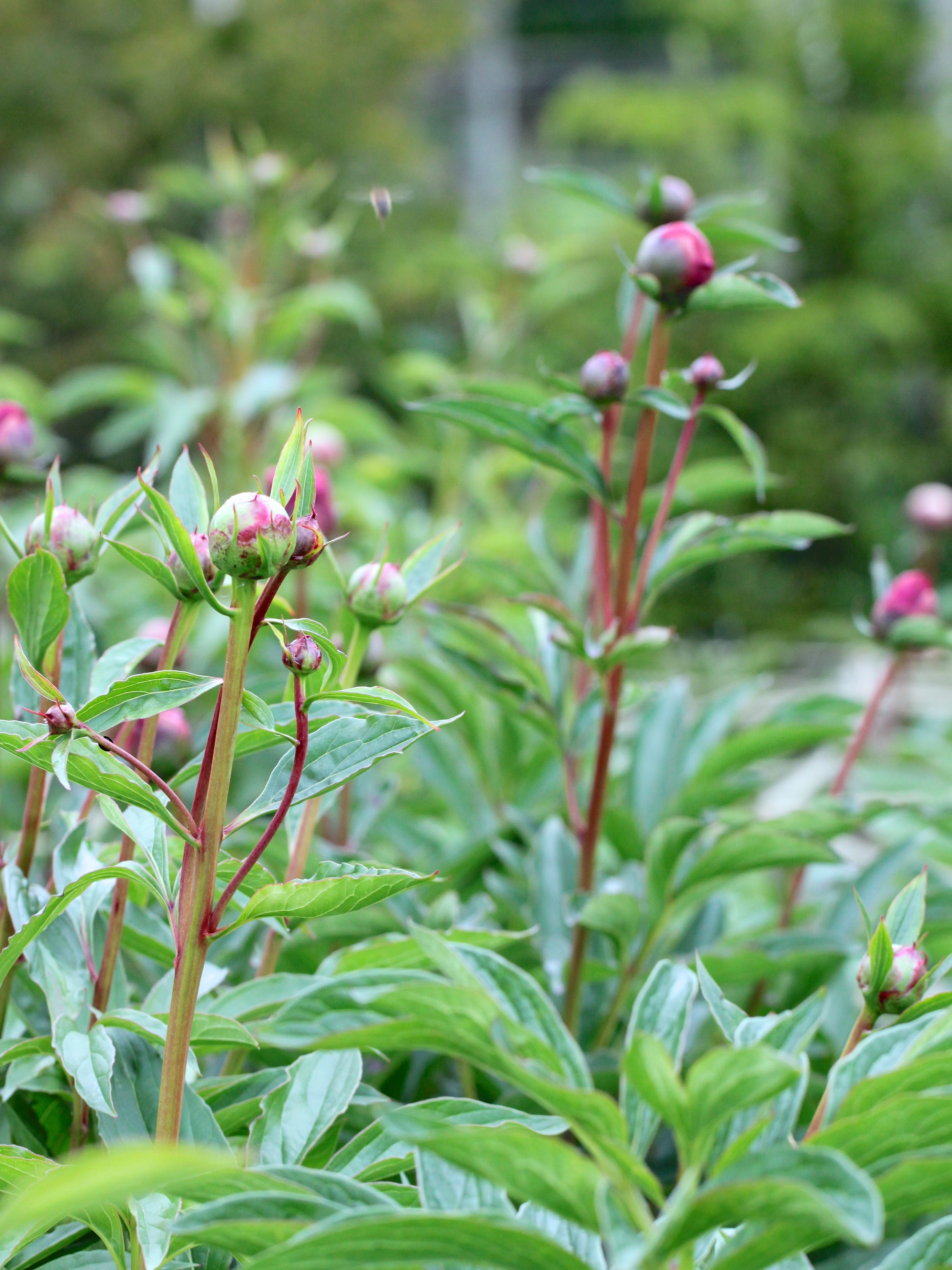 The sweet peas have finally started to move up the supports, but they will be a few weeks before they have any flowers. Fortunately my sweet peas in the greenhouse are producing plenty of blooms for the jug on my kitchen window.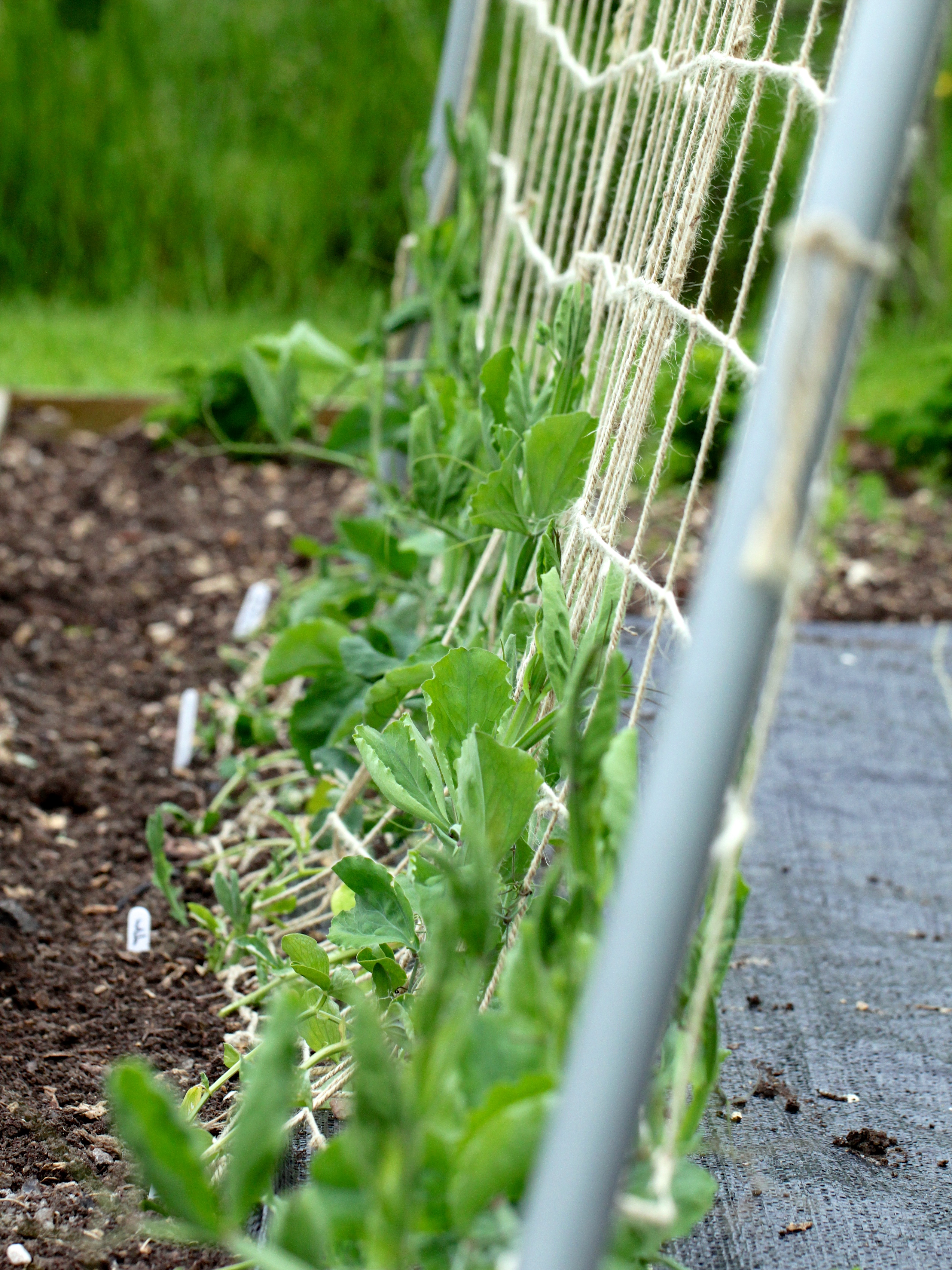 This is a close up of the lovely Sweet Rocket: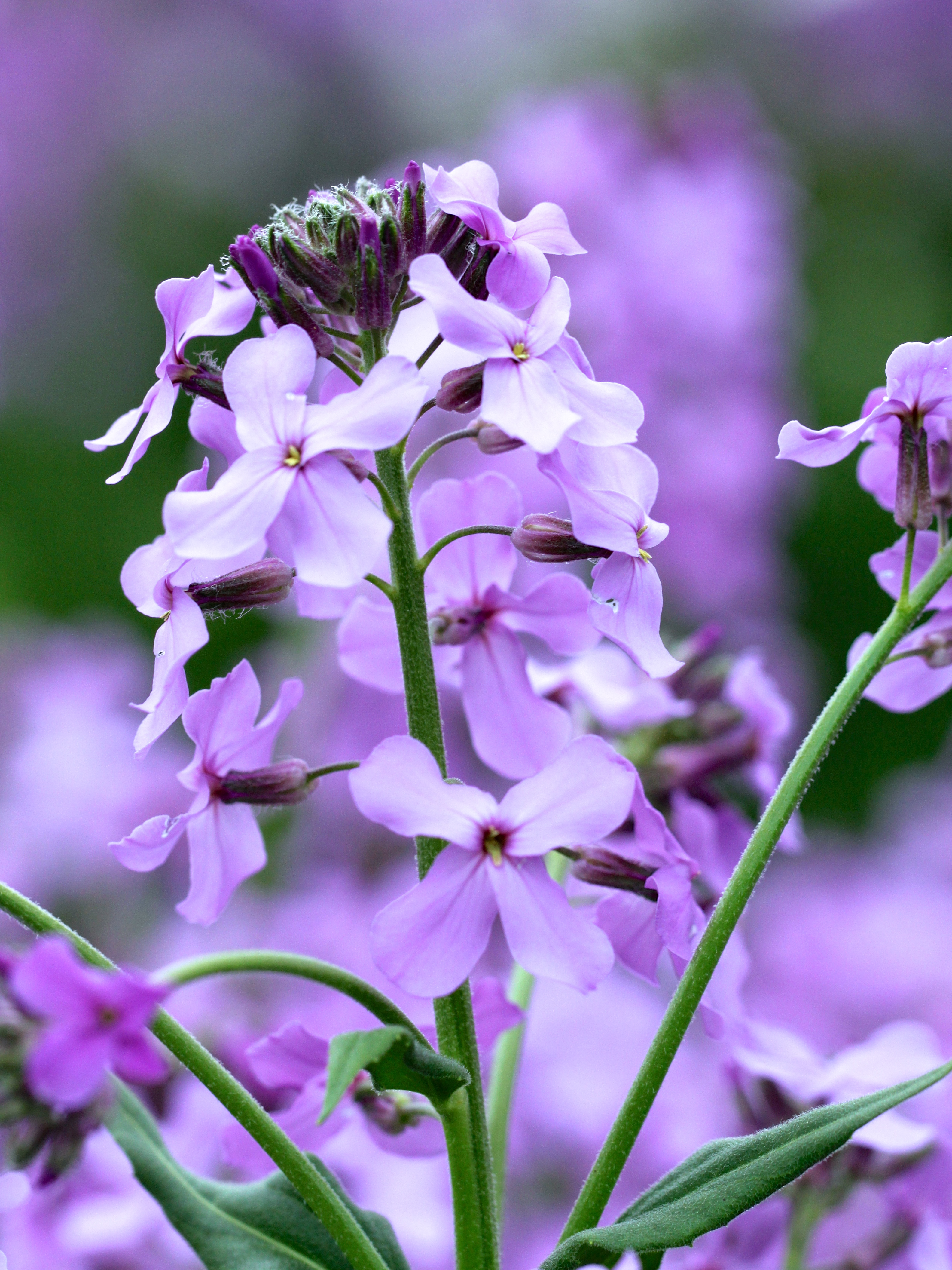 Wallflower Fire King from Sarah Raven is a beautiful burnt orange: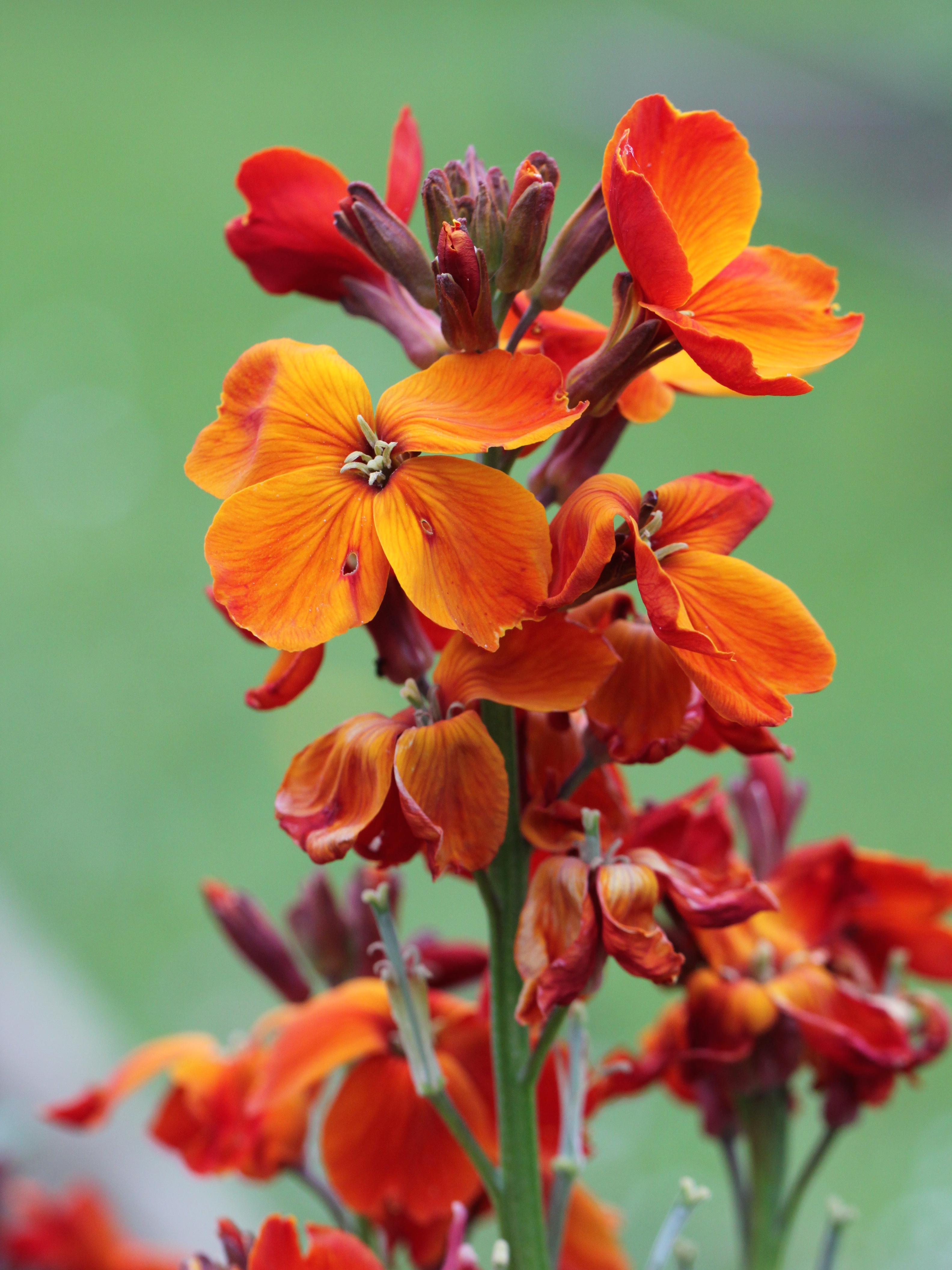 An ammi majus flower just about to open: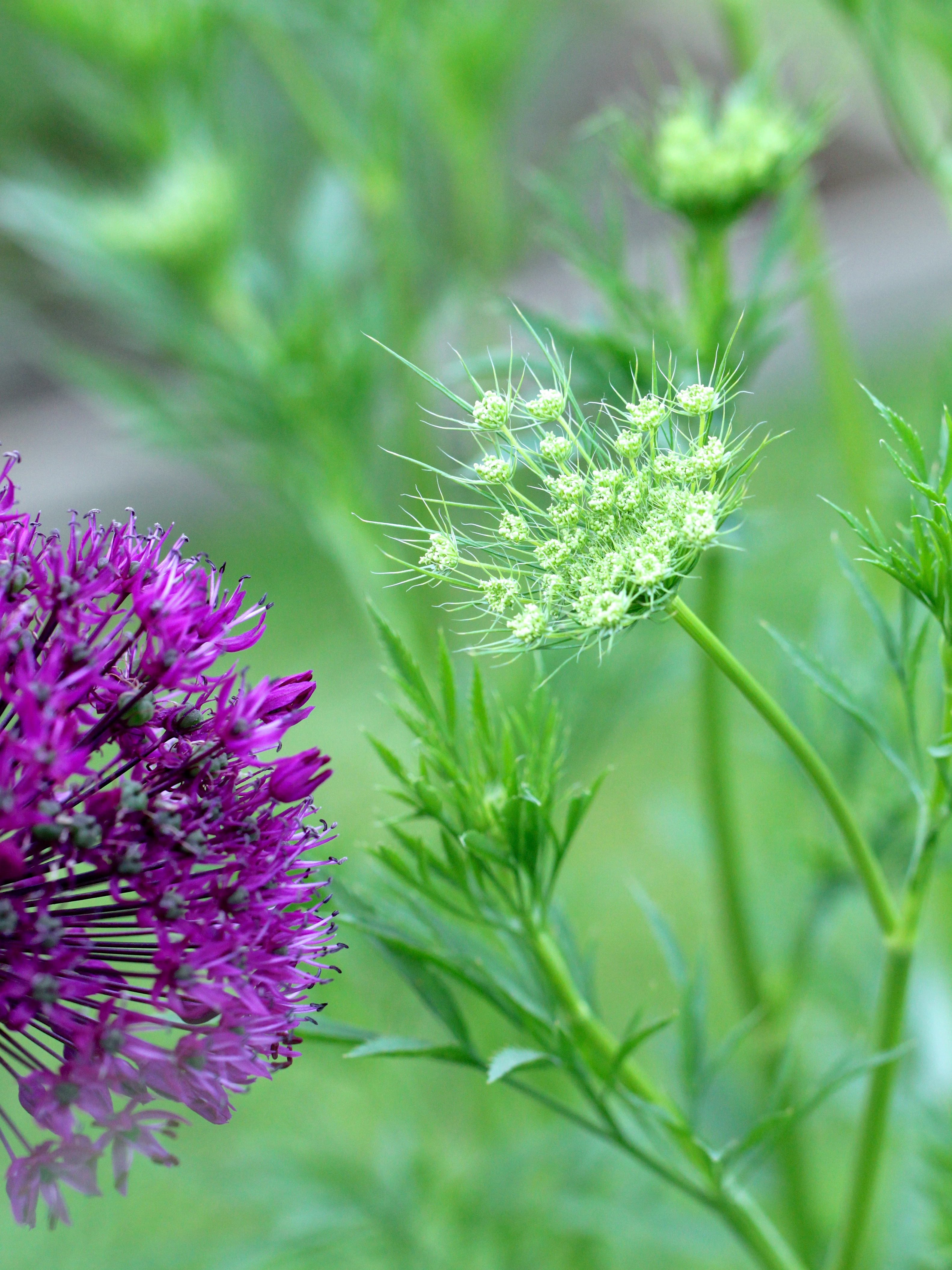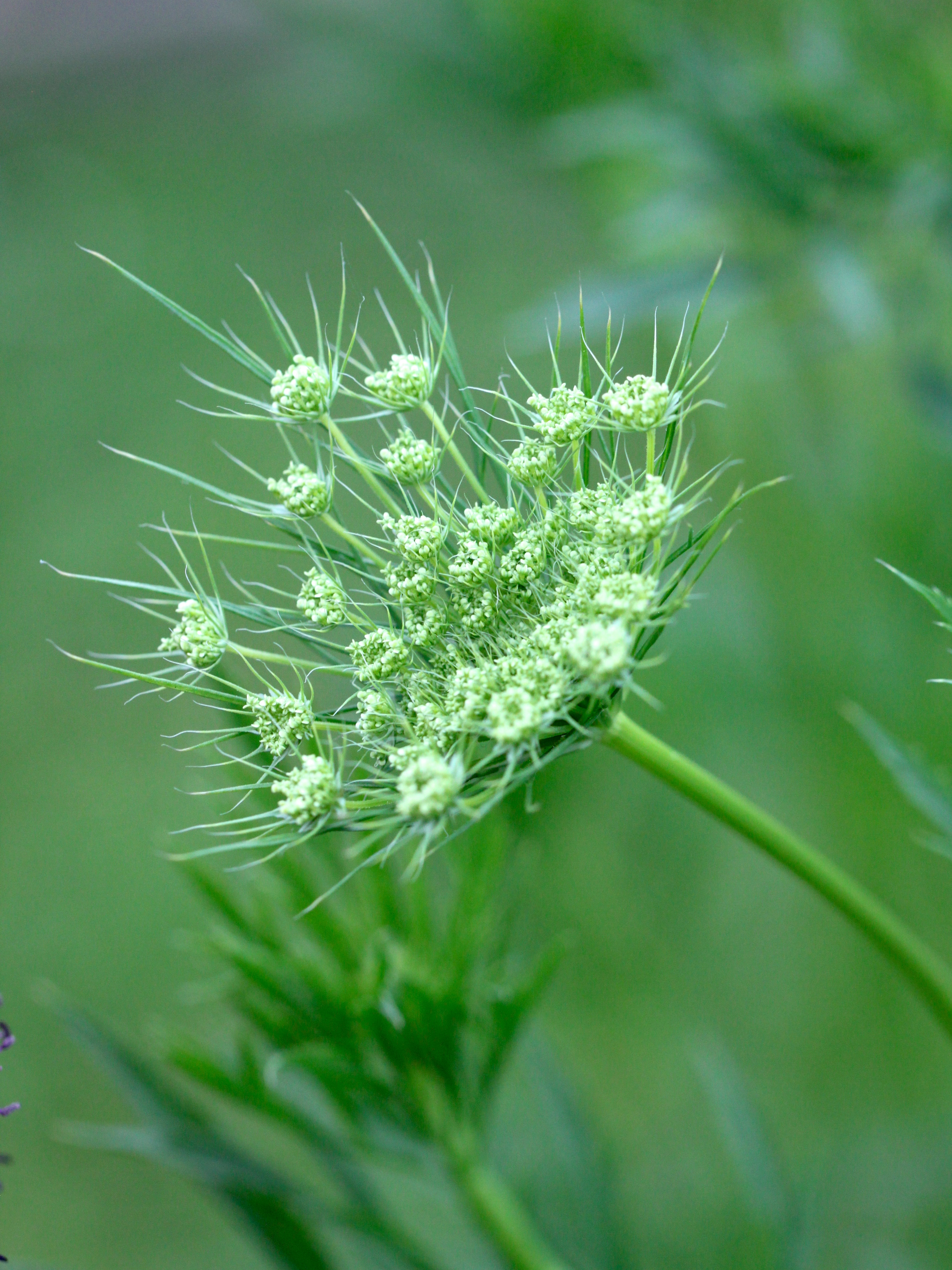 The allium Purple Sensation has been stunning this year. Whilst some may say that you can never have too many shoes, I believe that you can never have too many alliums in a garden!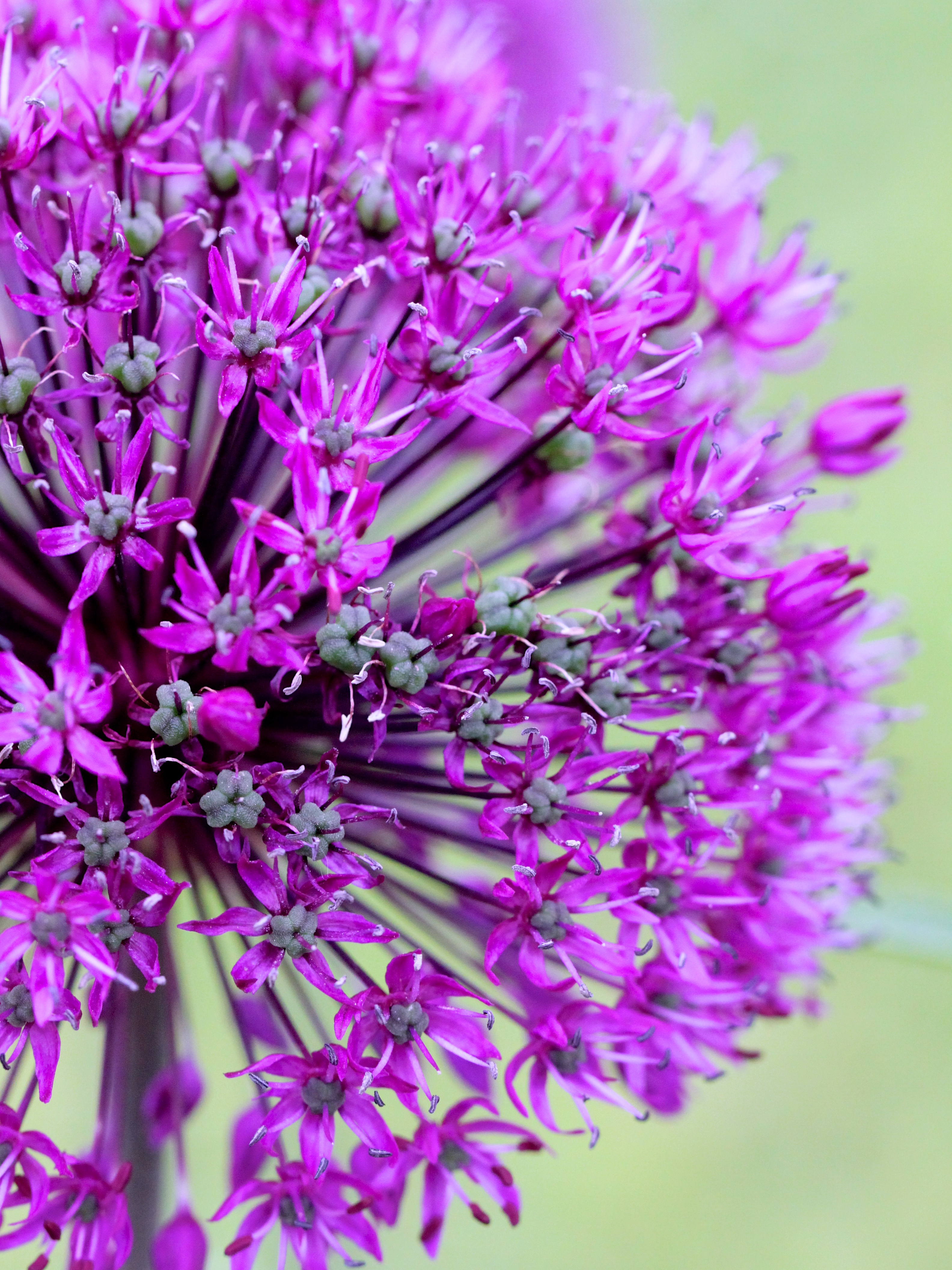 Below are the larkspur that were sown in October and overwintered in the greenhouse. I planted them out in early April and they are now tall plants that should flower very soon.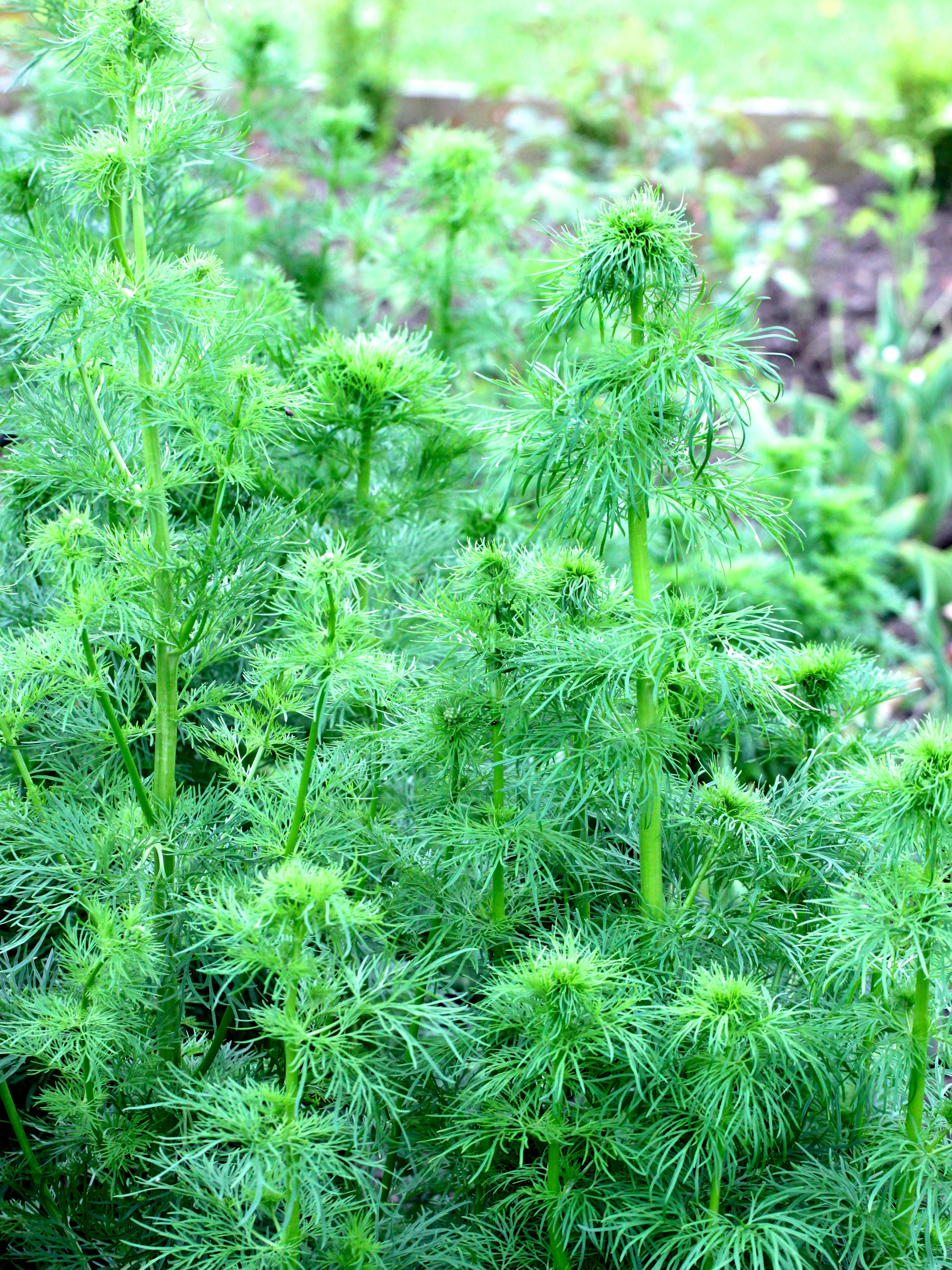 As well as growing flowers specifically for cutting in the Cutting Garden, I also have an area at the edge of my small woodland where I grow shrubs that I like to use in flower arrangements and more bulbs. I added these allium Purple Sensation in the autumn and they have made quite a spectacle this spring.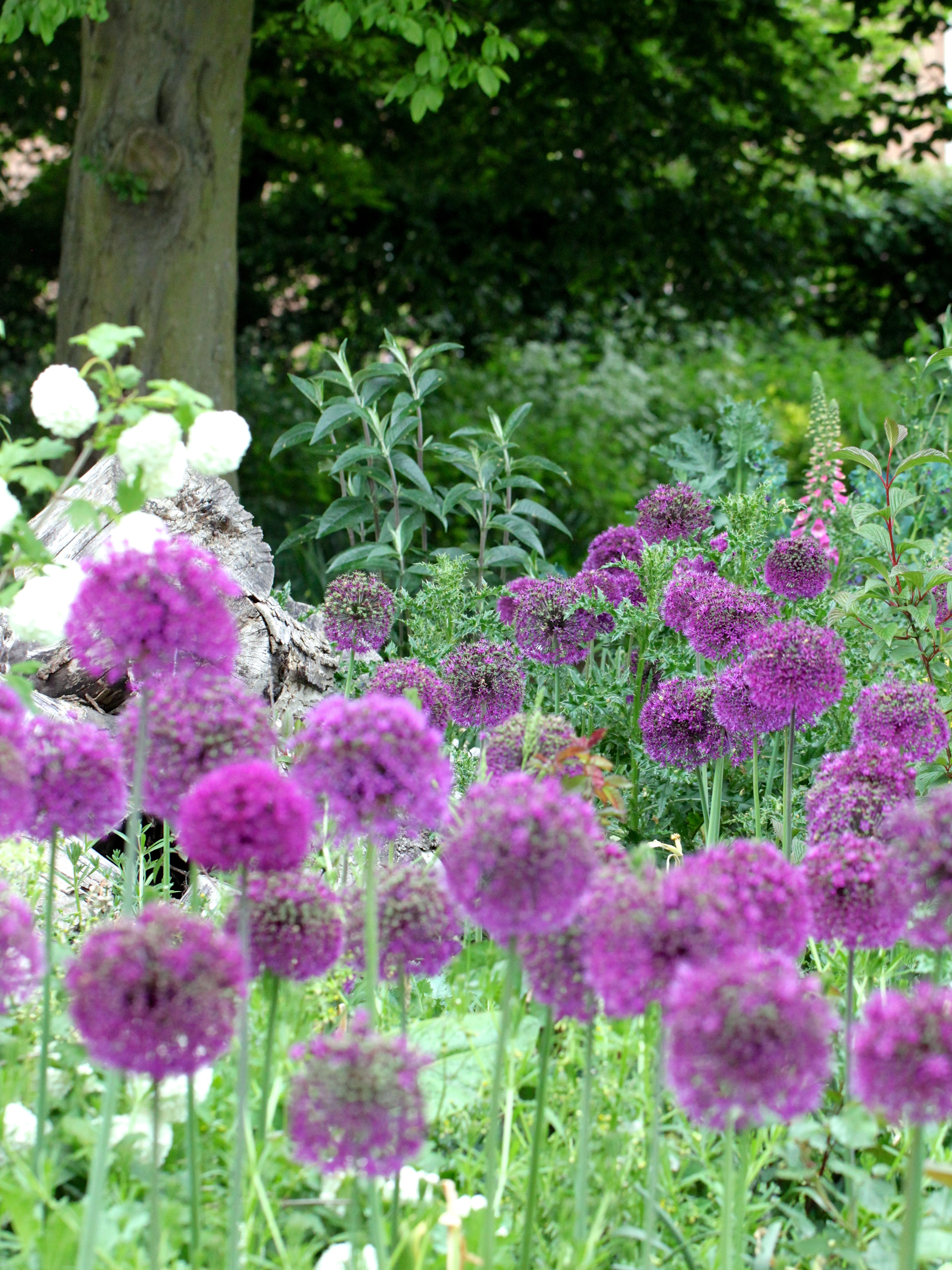 Along with lilac, my favourite shrub for cutting in May is Viburnum opulus 'Roseum'. I planted two small shrubs about three years ago and this is the first year that they have grown enough to make an impact. I am cutting from them very gingerly though – the shrubs need a few more seasons to mature, but I can see the day coming when I will have baskets full of these lovely flowers that always remind me of small hydrangeas.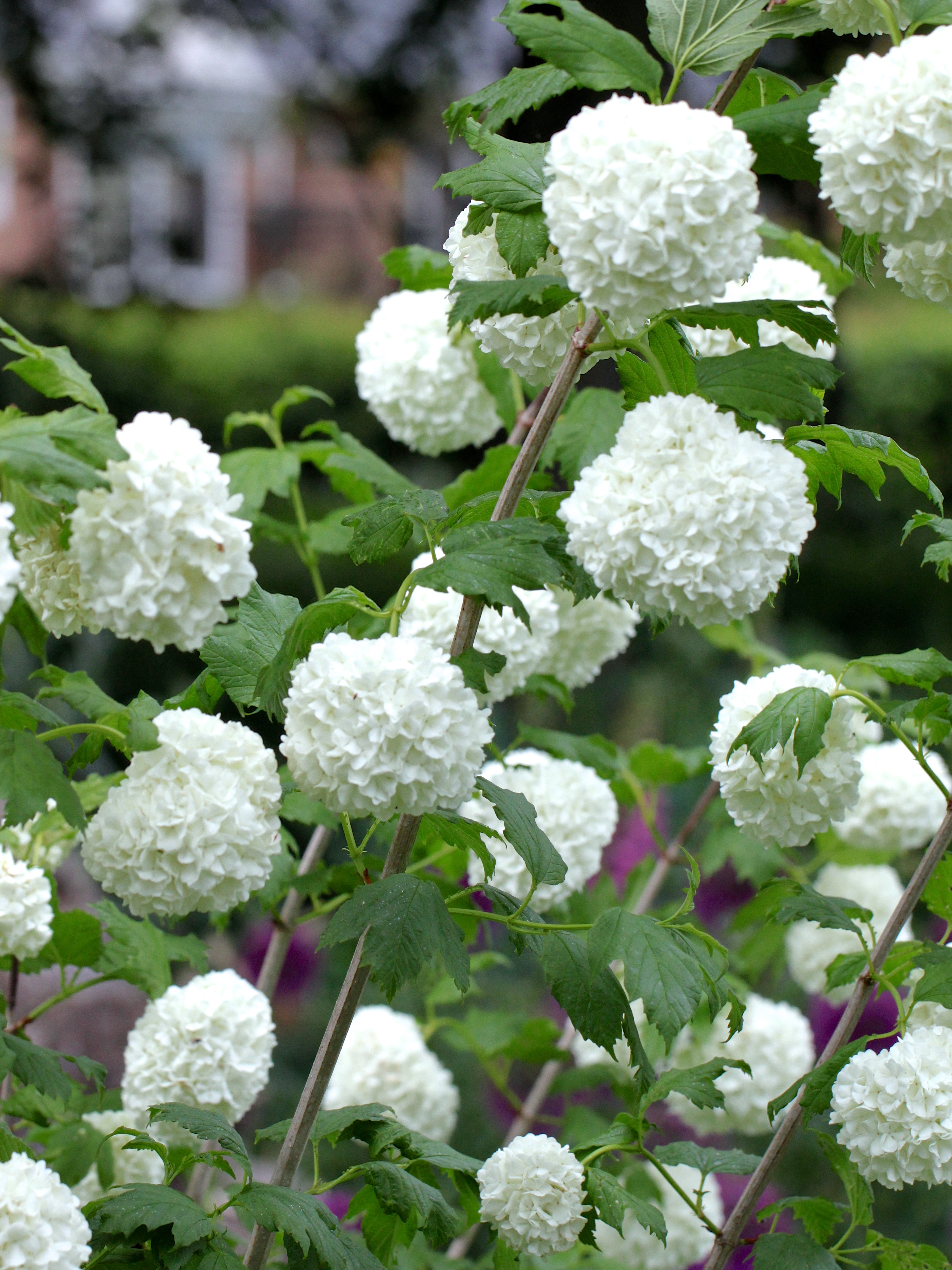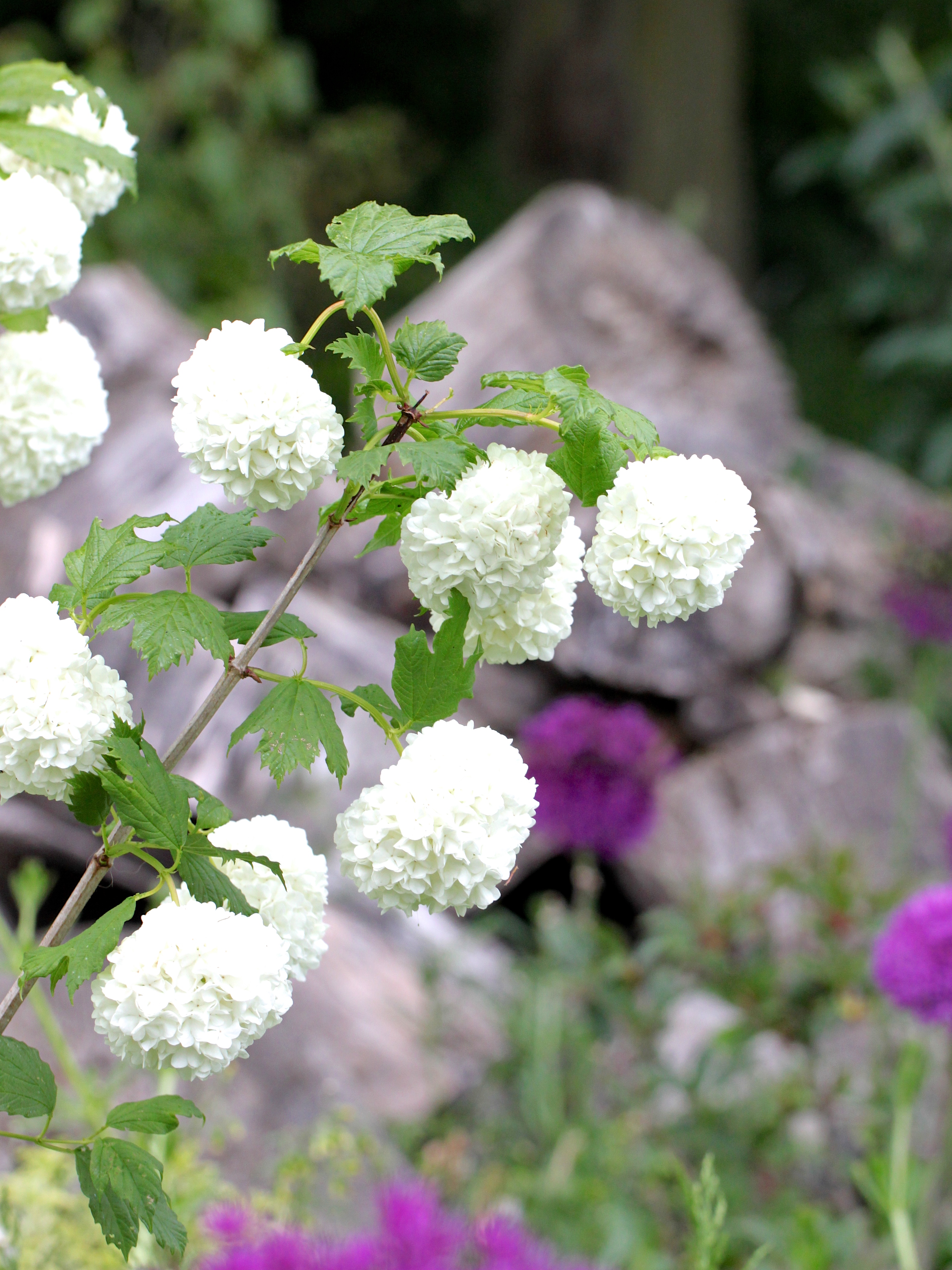 The first foxgloves are just starting to open – another favourite flower of mine, these are finally starting to self seed generously through the woodland and I am happy to cut from this display when I need them. Foxgloves form a very large clump at the base and I find they take up too much room in my Cutting Garden beds for a very long period – on the whole I am happier with them filling the woodland.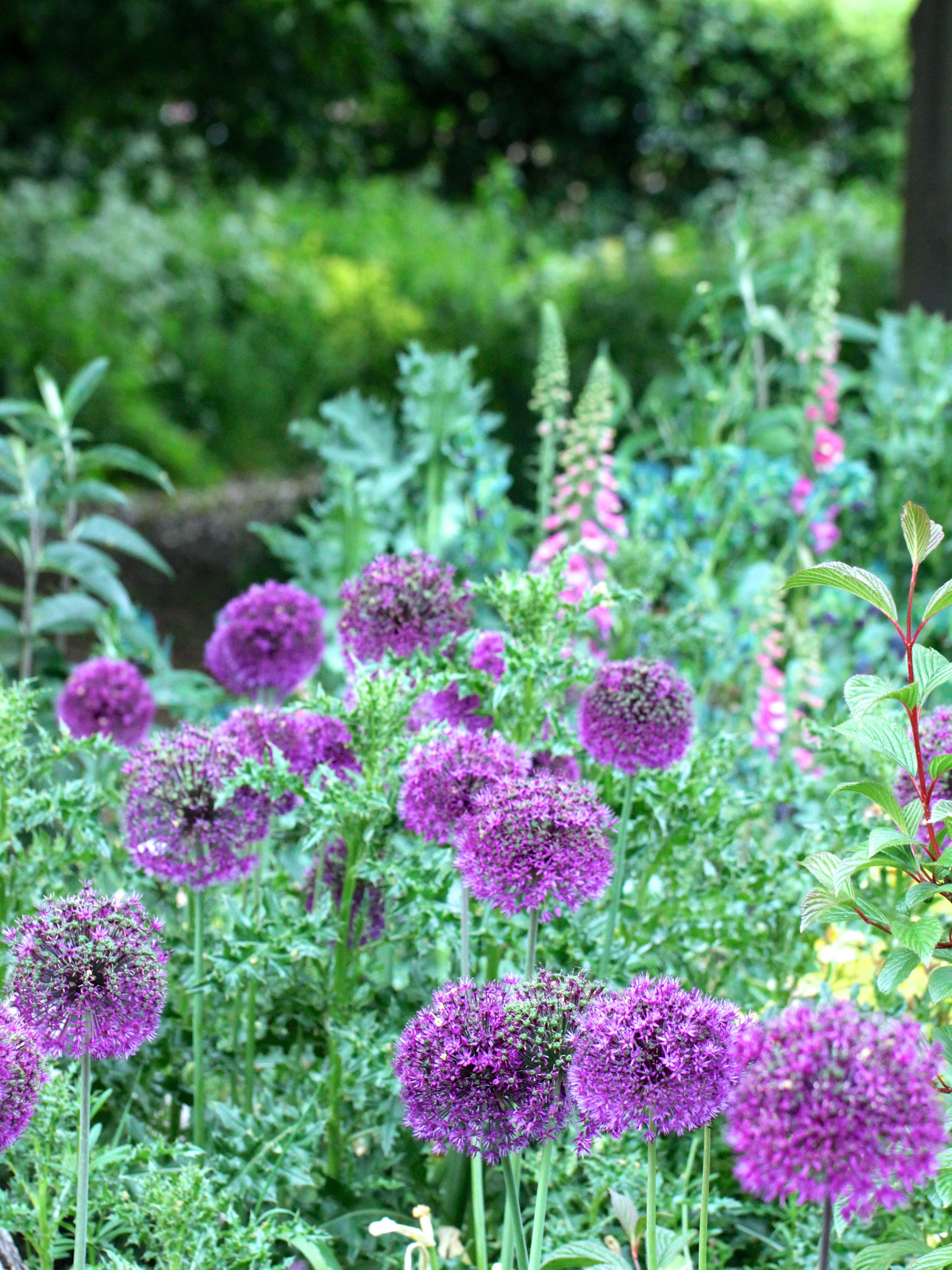 Last summer I had some spare plugs of euphorbia oblongata and cerinthe major that I added to the edge of this woodland border. These were not pulled out in the autumn and surprisingly have come through the winter to make enormous plants.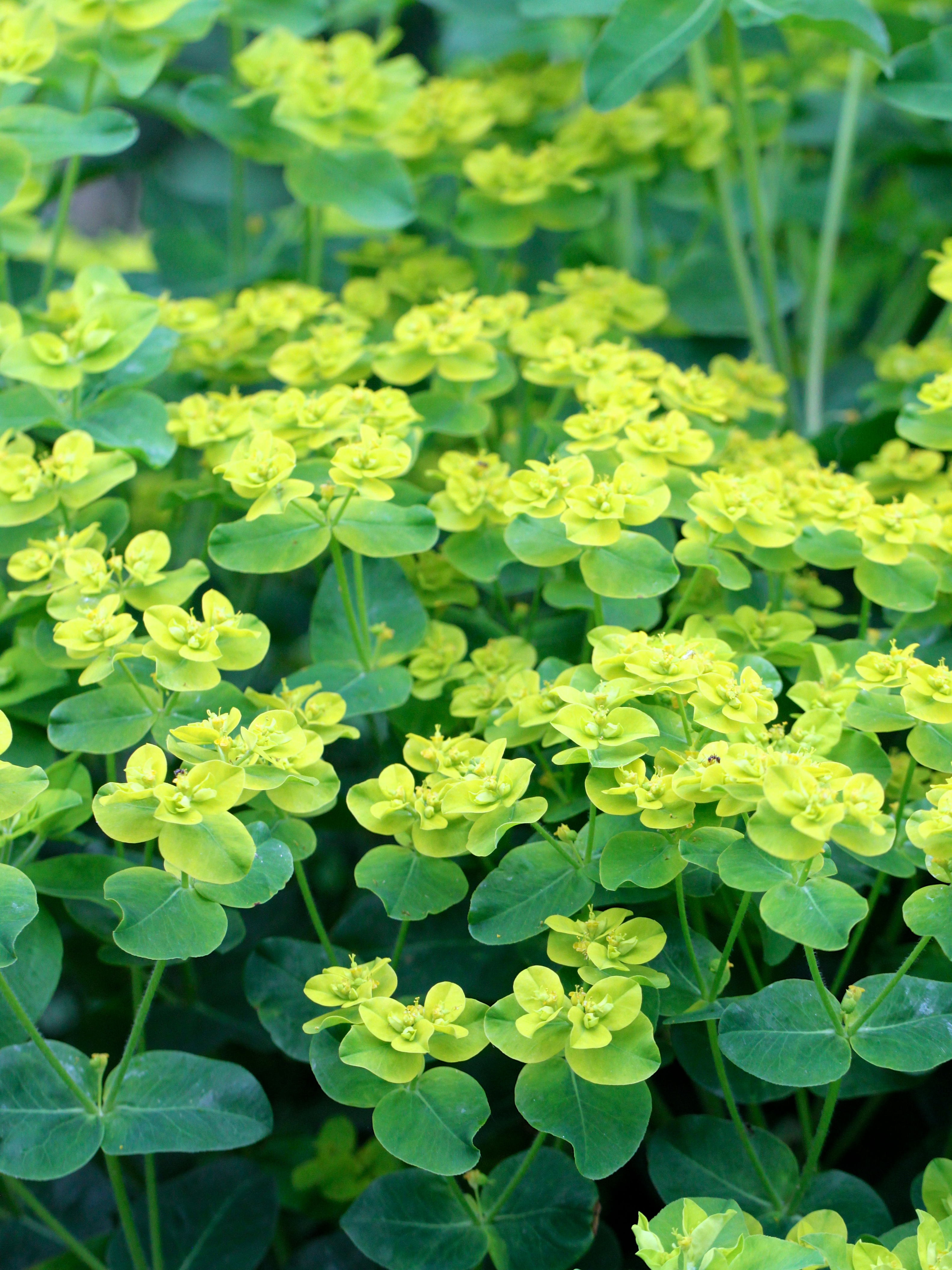 I asked Hardy to pose for you to give an idea of how large these hardy annuals have grown – they may not be in the Cutting Garden, but there are certainly plenty of flowers for cutting here!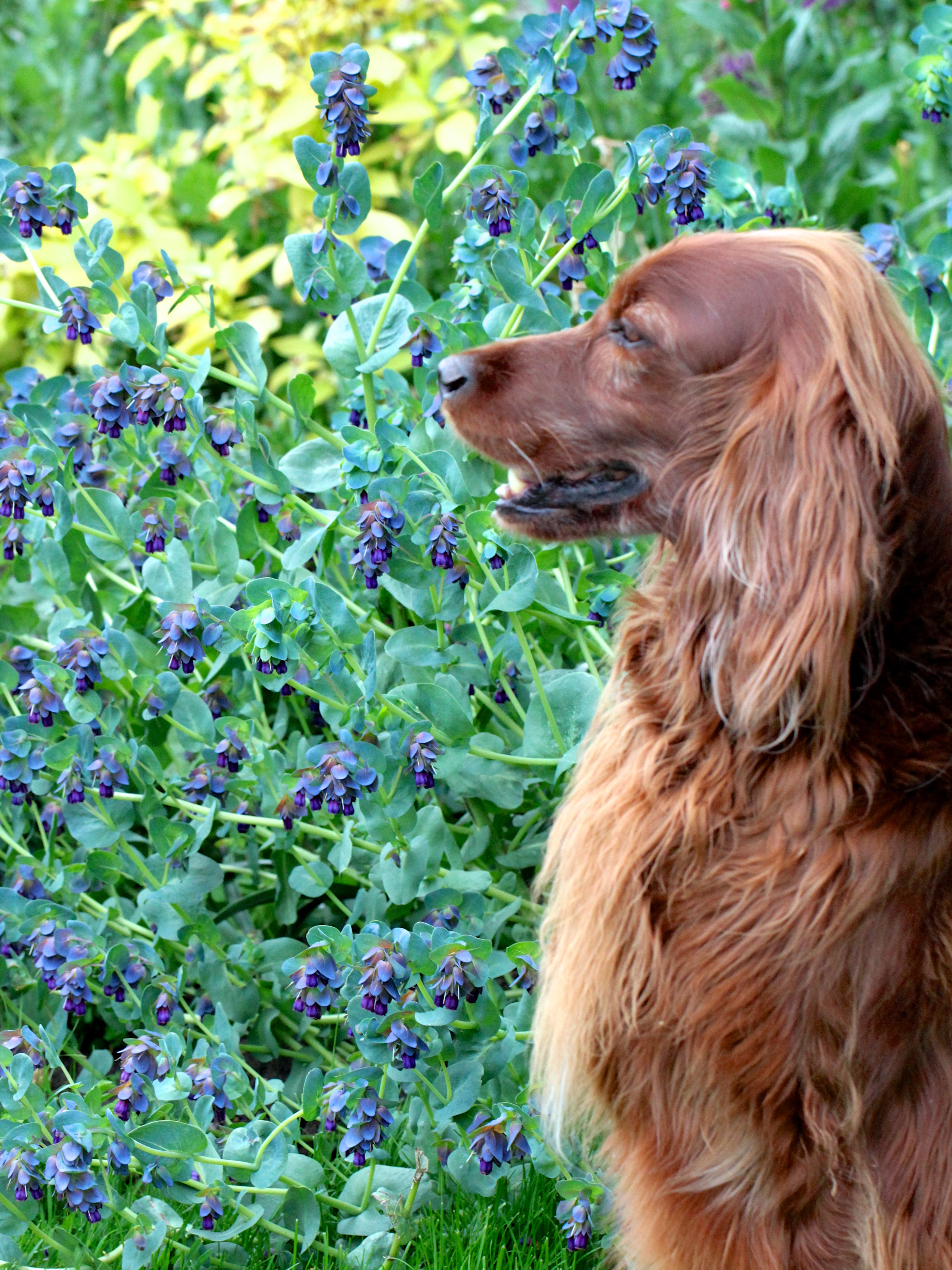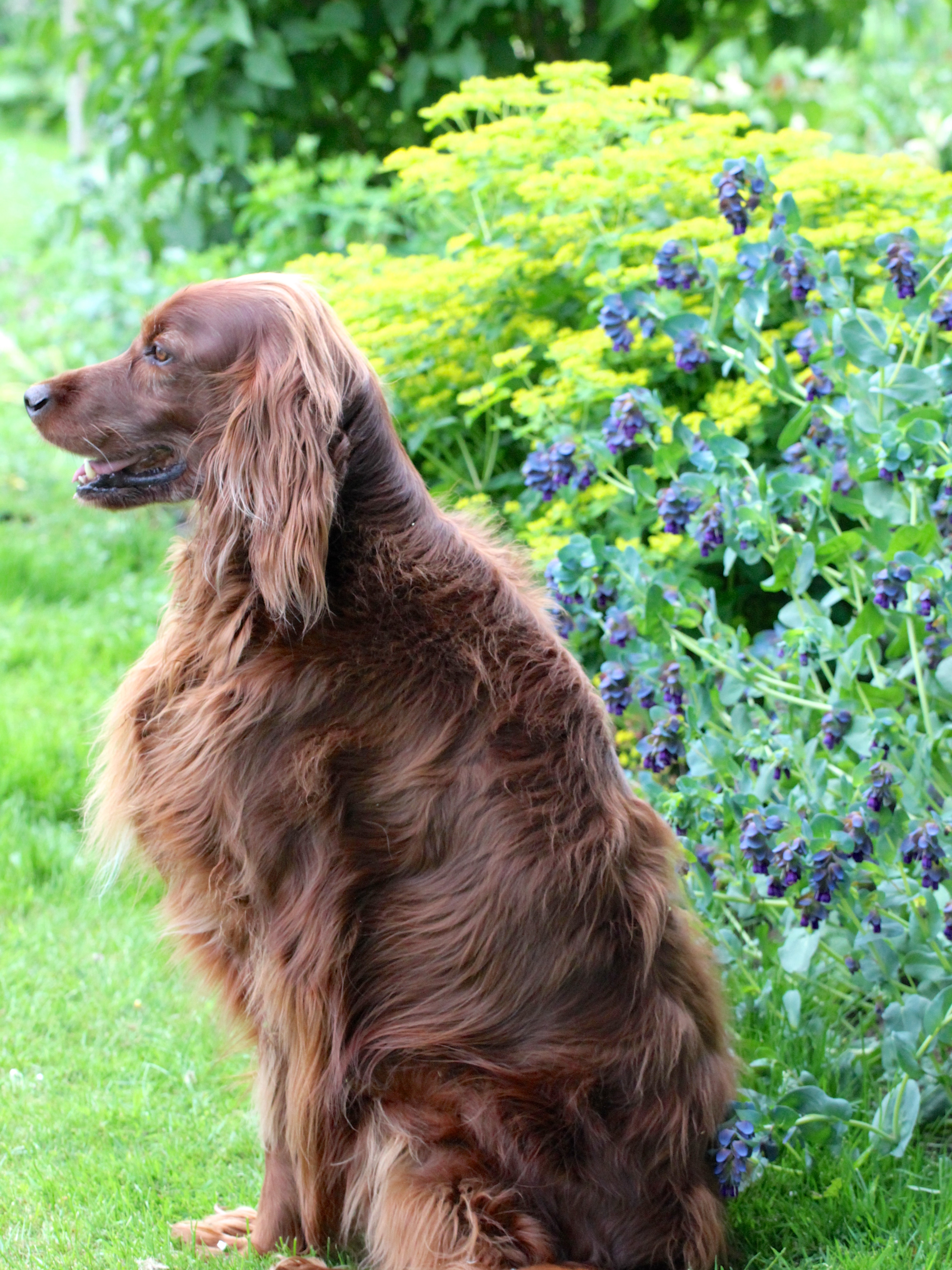 This month I have been concentrating on planting out hardy and half hardy annual seedlings and dahlias into the Cutting Garden. Once these are all in place I will begin to plant my gladioli bulbs. I have also sown plenty of zinnia and sunflower seeds, which are now ready for pricking out and will be moved into the Cutting Garden later this month. As we are away on and off for much of July and August I am trying to time the gladioli, zinnias and sunflowers to flower in early September and hopefully keep filling the borders with colour well into October. I will direct sow a batch of hardy annual seeds later in June (cornflowers, ammi majus, larkspur, cerinthe and nigella), which should also provide fresh flowers in September.
My first job next month will be to sow my biennial flower seeds. A biennial flower is one that germinates and develops in the year that it is sown, but does not flower until the following spring after which it sets seed and dies. Seeds sown in June this year will grow into small plants which can be moved into their final growing positions in the autumn as the borders are cleared for the winter. They will then flower in May 2016, to give me plenty of flowers as the tulips go over. I will be sowing largely the same seeds as last year – wallflowers, honesty, sweet rocket, sweet williams and foxgloves.
To get you started with your own biennials, Sarah Raven has kindly sponsored this months Giveaway again! I have two packets of foxglove seeds (Suttons Apricot and the lovely white Alba) to give away to the lucky winner of this months draw. Just leave a comment if you would like to be entered and I will announce the winner on Monday evening in my 'In A Vase On Monday' post. Do take a look at the Sarah Raven website for more ideas for biennial seeds to sow in June.
My next Cutting Garden review will be posted on the last Friday in June – 26th June. In the meantime Monday 15th June marks the start of British Flower Week, when growers and florists will be celebrating the beautiful British grown cut flower. I intend to post images of the flowers in bloom in my Cutting Garden everyday that week both here and on Instagram (#BritishFlowersWeek) to show support for this move towards beautiful locally grown flowers and foliage. Although it is my aim to be self sufficient in flowers, I know that not everyone has the time or space to do this. By supporting British Flowers Week I hope that I can encourage all my readers (both here and abroad) to support their local growers when buying cut flowers.
How is your Cutting Garden developing this year? If you are growing cut flowers, please do leave a link below so that we can all have a peek at what you are growing and remember to leave a comment if you would like to be entered into this months draw. Finally I need to say a big thank you to the lovely team at Sarah Raven for once again supporting my Cutting Garden Giveaway!