Welcome to 'In A Vase On Monday' when I am linking up with Cathy at Rambling In The Garden to share a vase of flowers picked from my garden every Monday.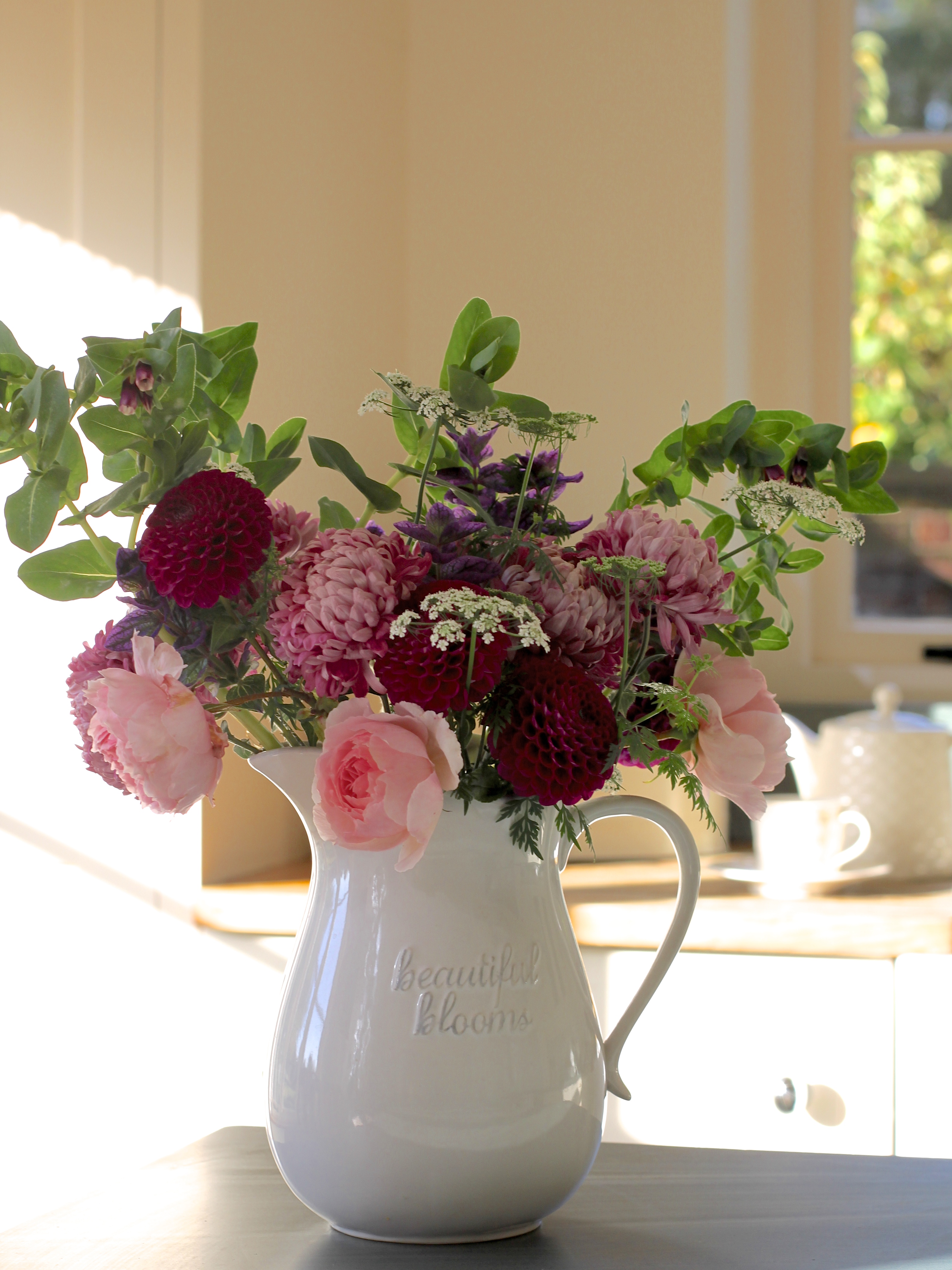 This week I have two garden newcomers to share in my vase – an unusual mix of cow parsley that I have found flowering in a hidden away spot and the first of my outdoor chrysanthemums.
I would normally expect to see cow parsley flowering in the early summer and my chrysanthemums are the last of my flowers in the autumn season, so I am delighted to have been able to combine them in a vase together! Also in my vase this week are some stunning fresh blooms of the Wedgewood Rose, the purple pom poms of dahlia Rocco, more of my annual clary and a few new blooms of cerinthe major.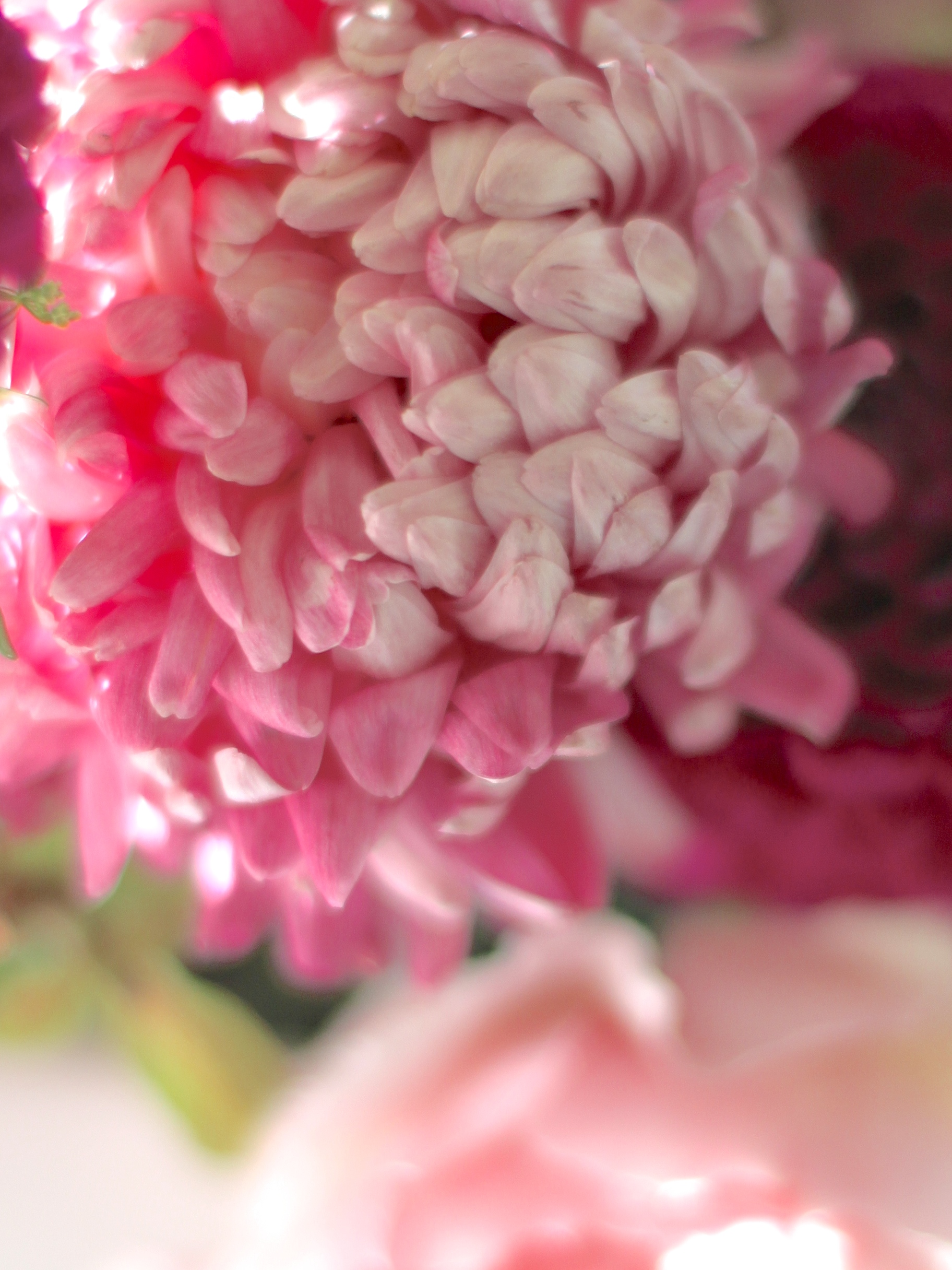 I am so happy that my chrysanthemums are in flower again. These are one of my favourite seasonal highlights – I love the depth of colour, the size, shape and the slightly shaggy look of this Allouise series – I think they are a perfect contrast to the precision of dahlia Rocco.
This particular chrysanthemum is Allouise Pink, bought from Chrysanthemums Direct as a cutting. This is my second year growing chrysanthemums and in the spring I put all of last years greenhouse plants out into the garden. They have grown well throughout the summer and are now flowering prolifically. The big lesson I have learnt this year is that outdoor chrysanthemums must be supported – these are all falling over under the weight of flowers.
The Wedgewood Rose is a recent David Austin introduction that I planted last autumn, so it is in its first year of flowering. The first flush in June were very heavy flowers that drooped on the soft young wood of the newly planted rose. This second flush is much smaller and more dainty – and the scent is delicious! Hopefully the rose will be stronger next year and better able to support its lovely flowers.
I am really happy with the pinks and purples with a touch of wild from the cow parsley this week. I have arranged them in this white jug that was bought for me by my daughter for Mothers Day.
Clearly the arrangement is tied to the autumn by the chrysanthemums, but because of its colours it still speaks to me of summer. As much as I love the bright oranges and deep russets of this season, my personal favourites are always in the softer shades.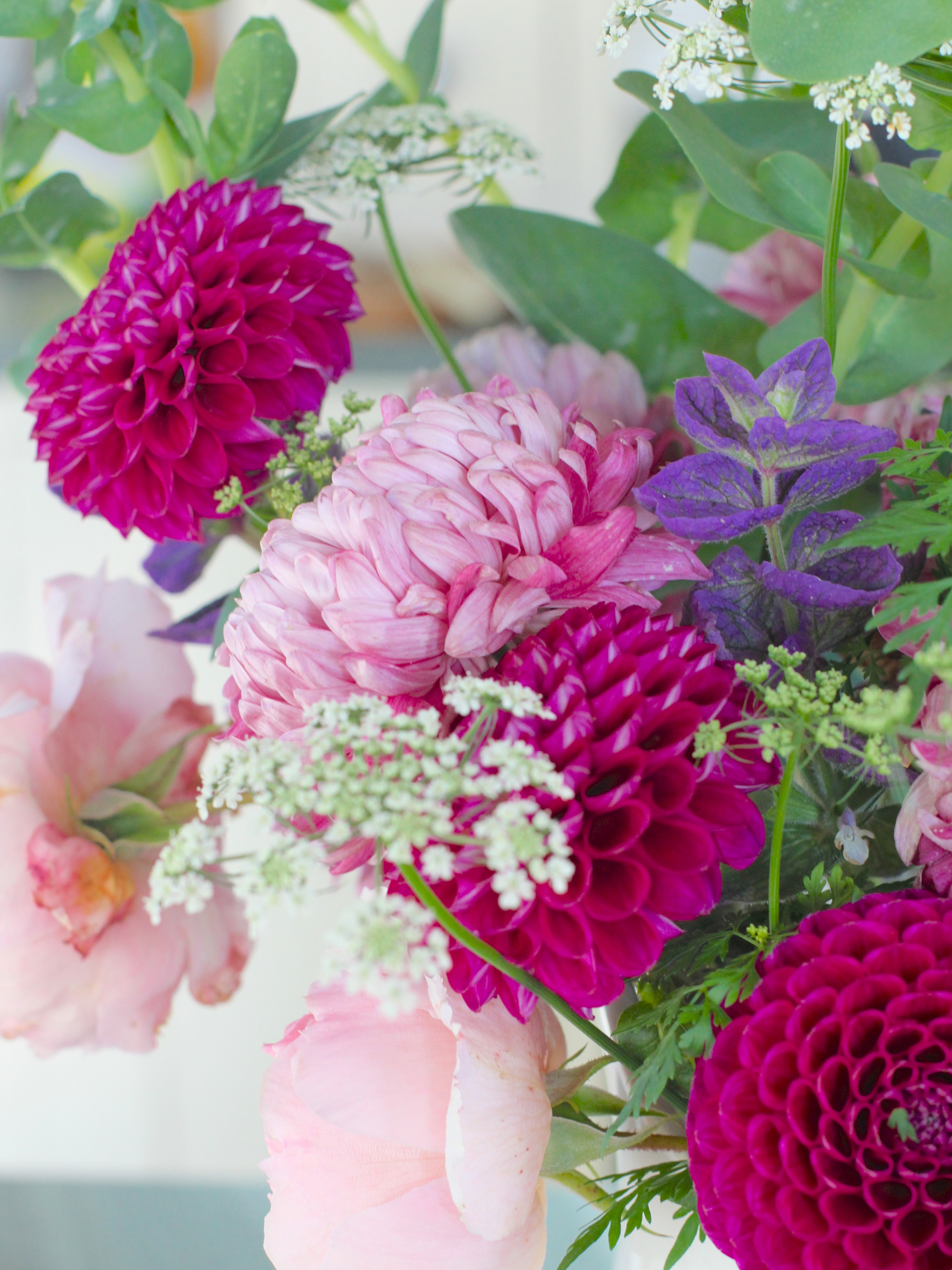 Adding depth to this arrangement is dahlia Rocco – a perfect purple pom pom which flowers consistently year after year. As ever I am struggling to capture the colour on camera – the dark shades are very frustrating!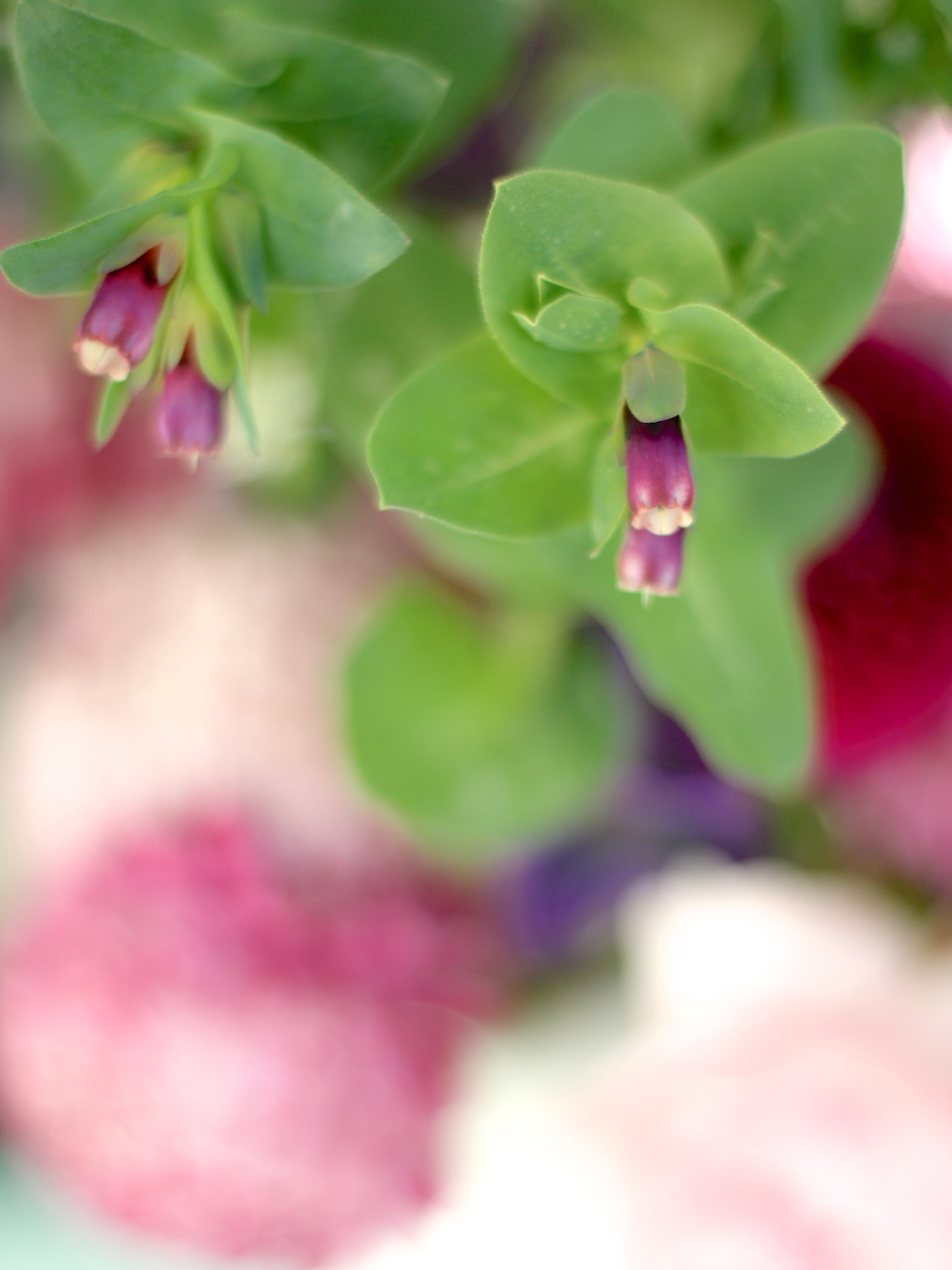 Also in the vase is self sown cerinthe major, which is flowering across the garden and makes a beautiful addition to a vase at this time of year. Its lovely long lasting arching foliage and bluey purple flowers add grace and movement to the arrangement. Seeds of this flower are expensive, but once growing in the garden it self seeds well. I also collect seed in mid summer (the seeds are ready when they have turned black) to sow in the autumn for next years Cutting Garden crop.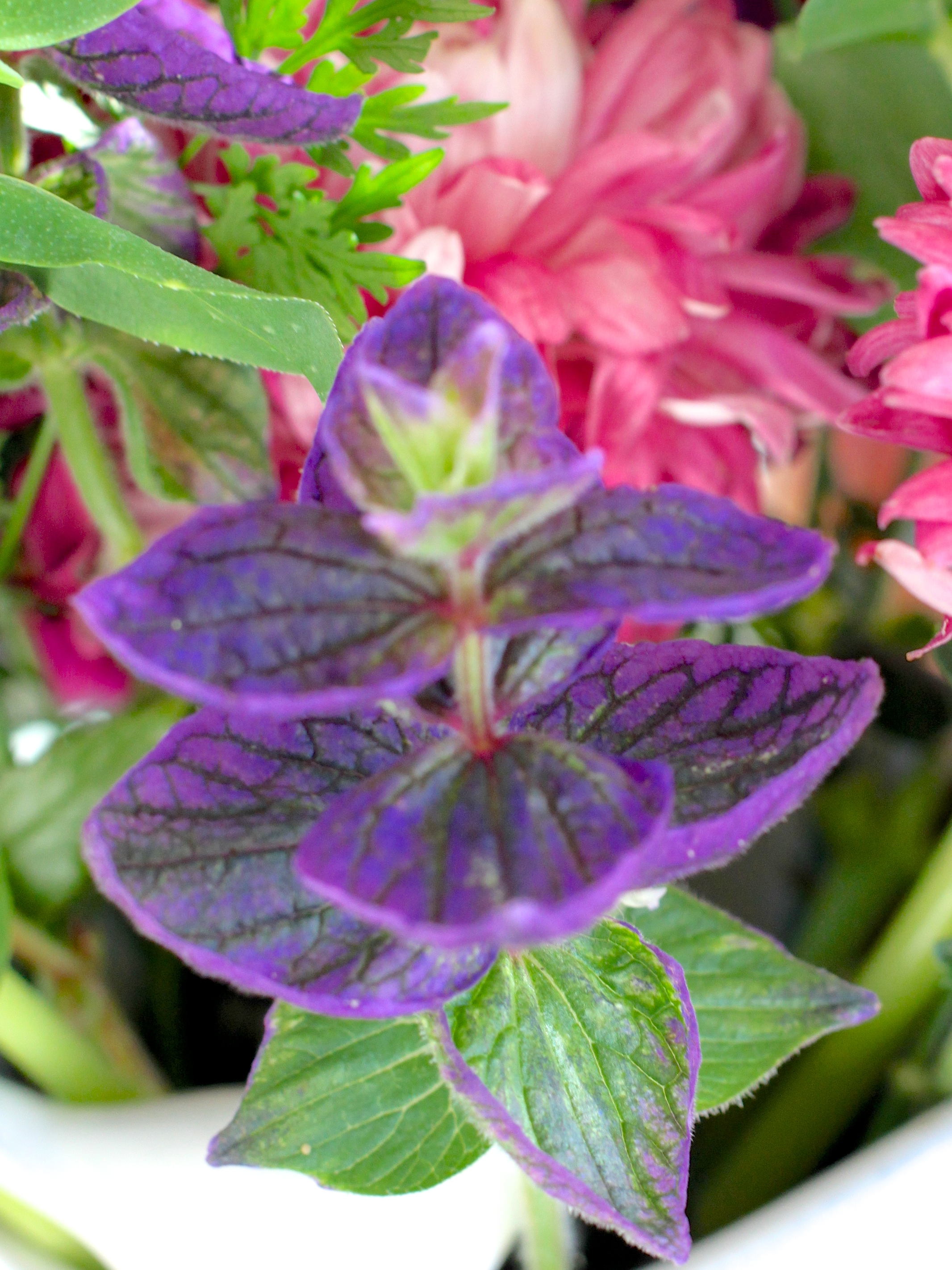 I used annual clary (salvia viridis) last week and it is still looking beautiful in the borders. I have a tray of both the cerinthe and the salvia growing in the greenhouse, which I hope will provide early flowers for next year.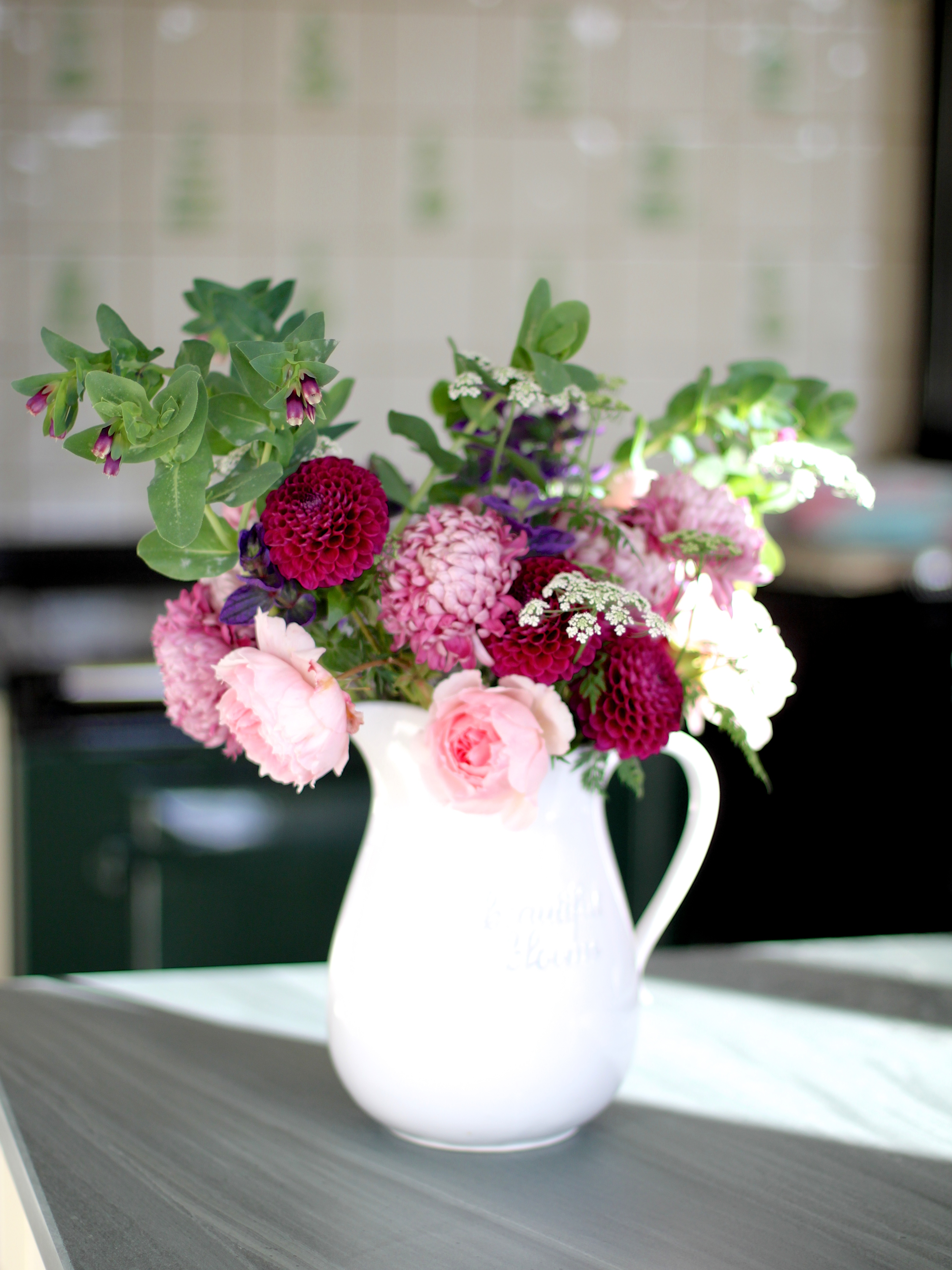 Today's jug of flowers displayed on a sunny kitchen worktop made me feel very happy. After last Monday's storm, this week the garden is warm and sunny with the high temperatures looking set to last the week. The nights may be drawing in, but I was still gardening in a tee shirt today!
I hope that you will pop over to Cathy's blog to see what she and the others have made for us to enjoy this week.