Welcome to the first in a year of monthly reviews about what is going on in my greenhouse. I always have something growing in there and I am looking forward to sharing it all with you. Before I start I have to say that I do realise that I am extremely lucky to have such a beautiful and sizeable greenhouse!!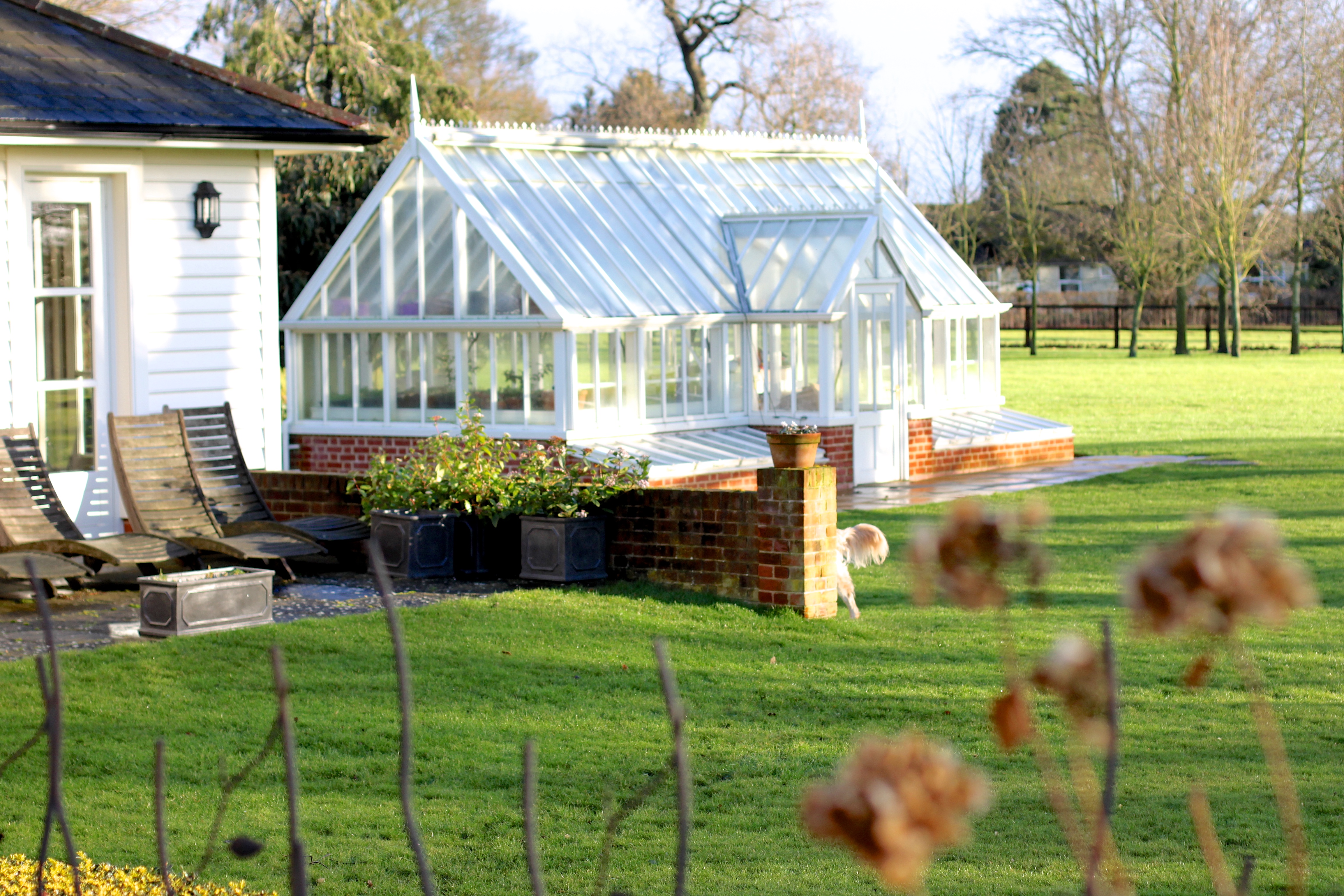 My greenhouse is made by Alitex and was installed in October 2010. I have had so much work to do in the rest of the garden that the space around the greenhouse is still bare, but I have plans to put this right and think the building will sit better in the garden with some planting around it.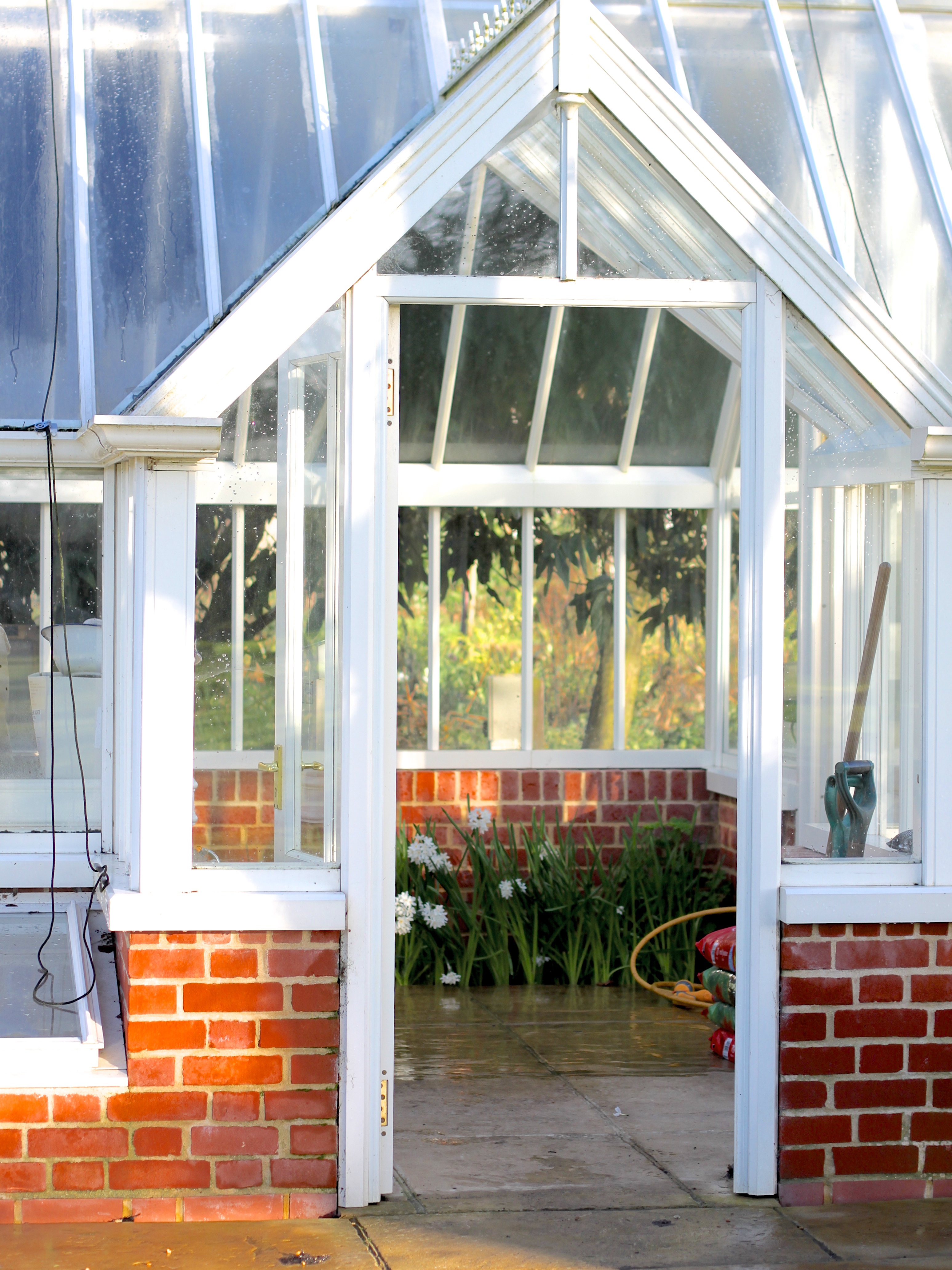 Here is the front door – shall we go in?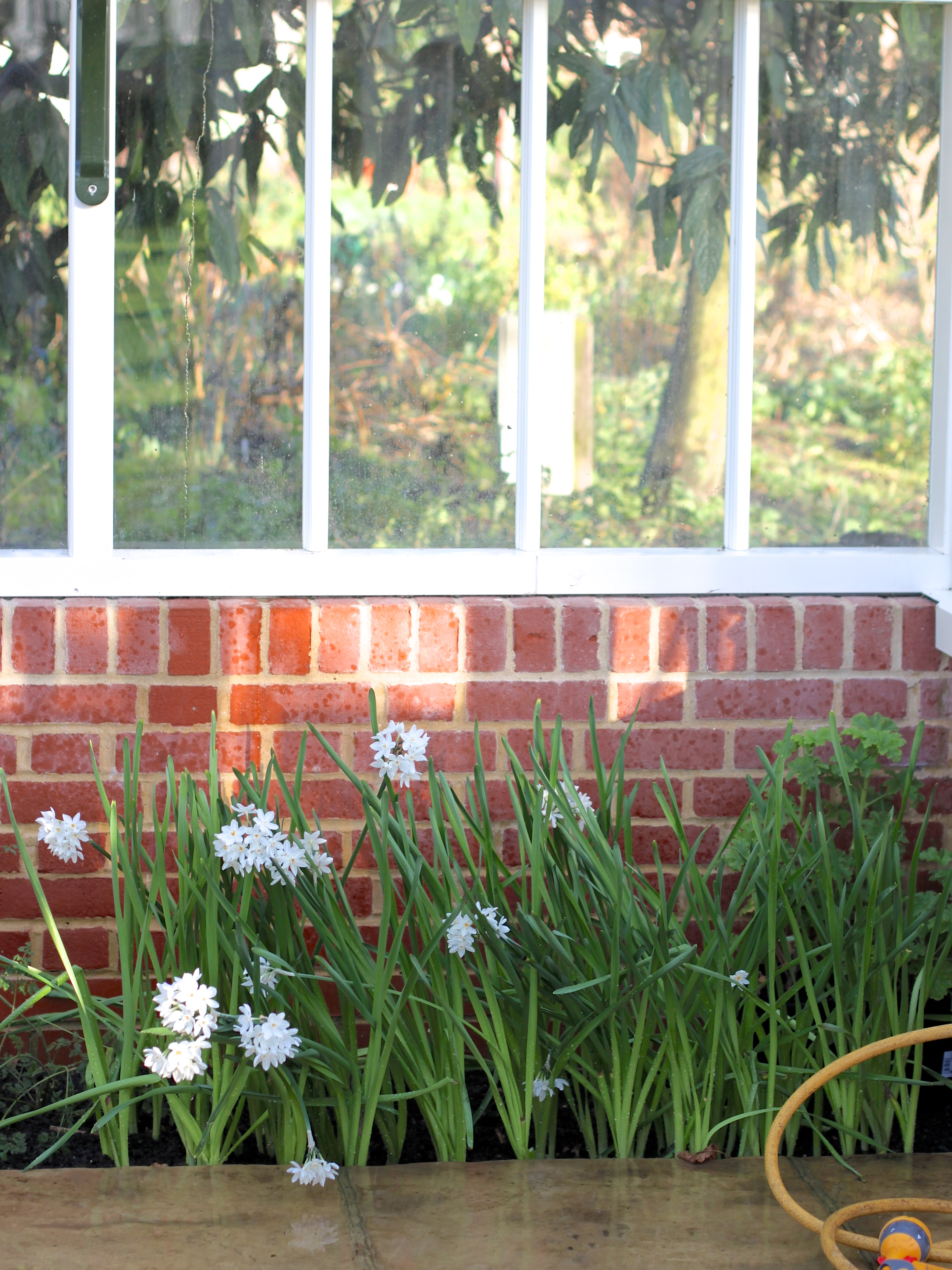 Along the back wall I have left a narrow strip of earth about 2 feet deep – when I talk about planting into the greenhouse bed this is what I refer to. At present this earth is filled with bulbs – I will be adding the Owl's Acre Winter Sunshine sweet peas towards the end of the month.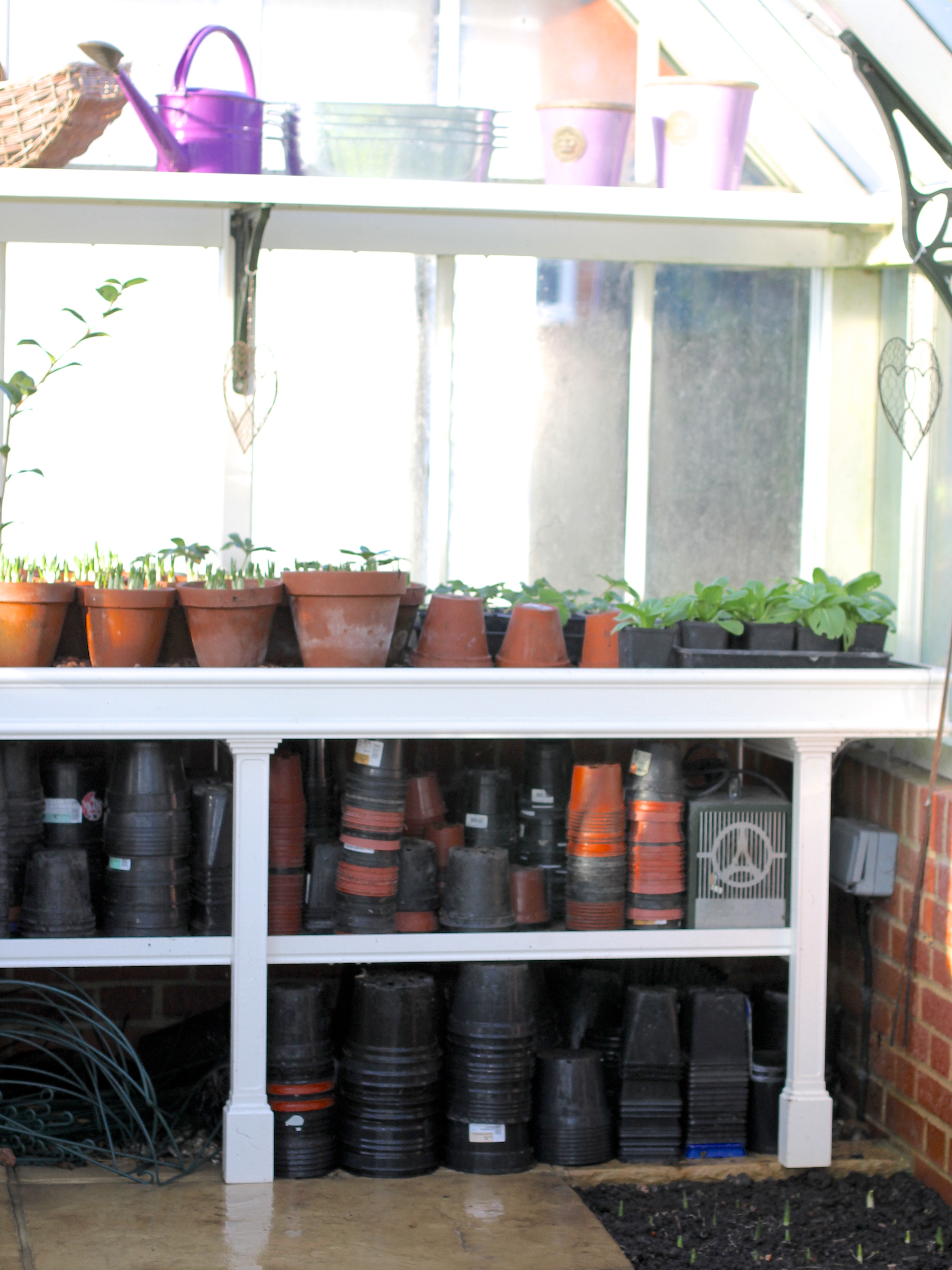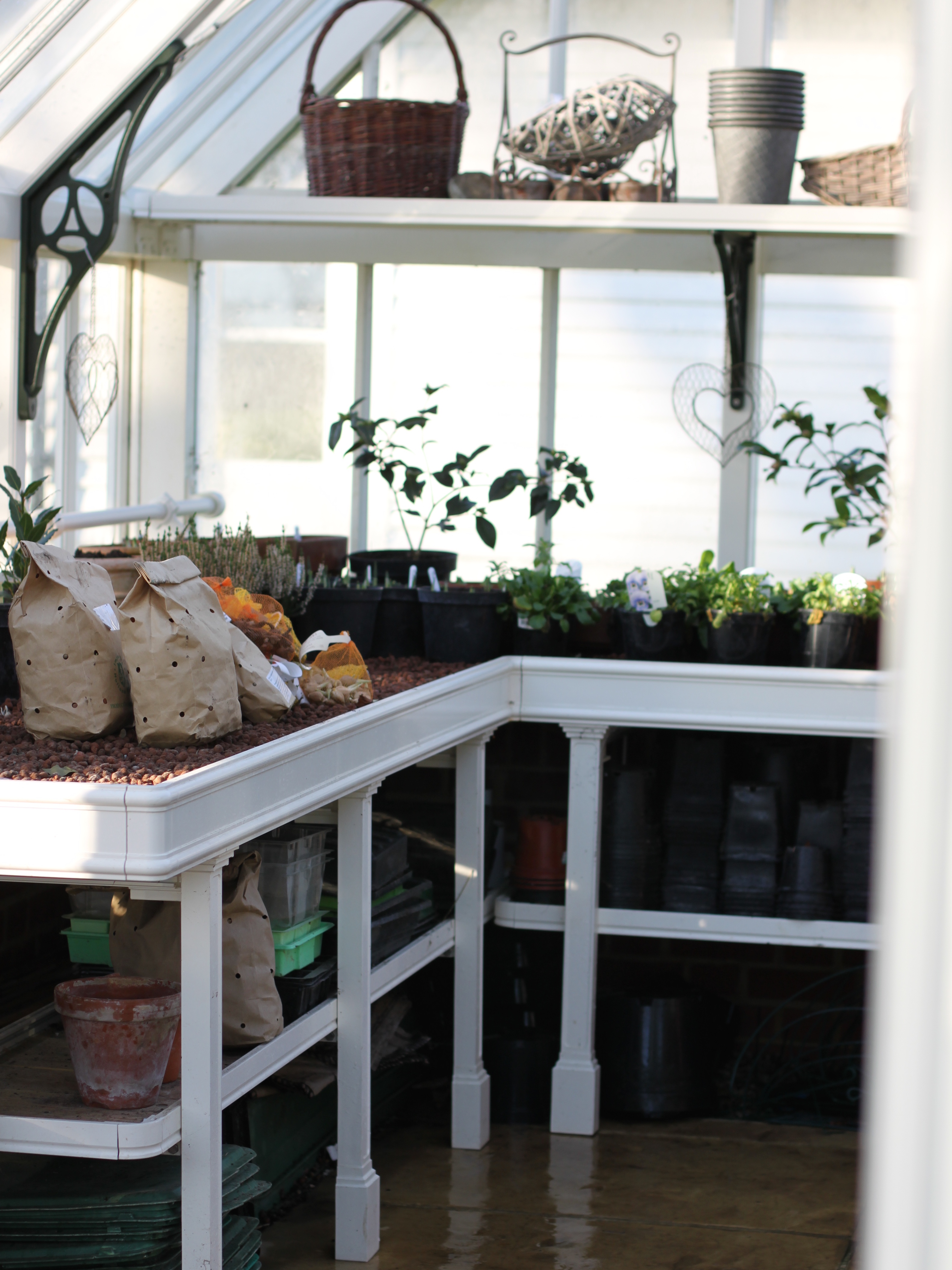 When looking at greenhouses I fell in love with this Alitex cream staging – it has been surprisingly easy to keep clean. Under the staging I keep an assortment of trays, pots and plant supports. The shelf above the staging is too high for me to reach to look after plants, so I use it to store pots, baskets and other flower arranging paraphernalia that does not fade in the sun.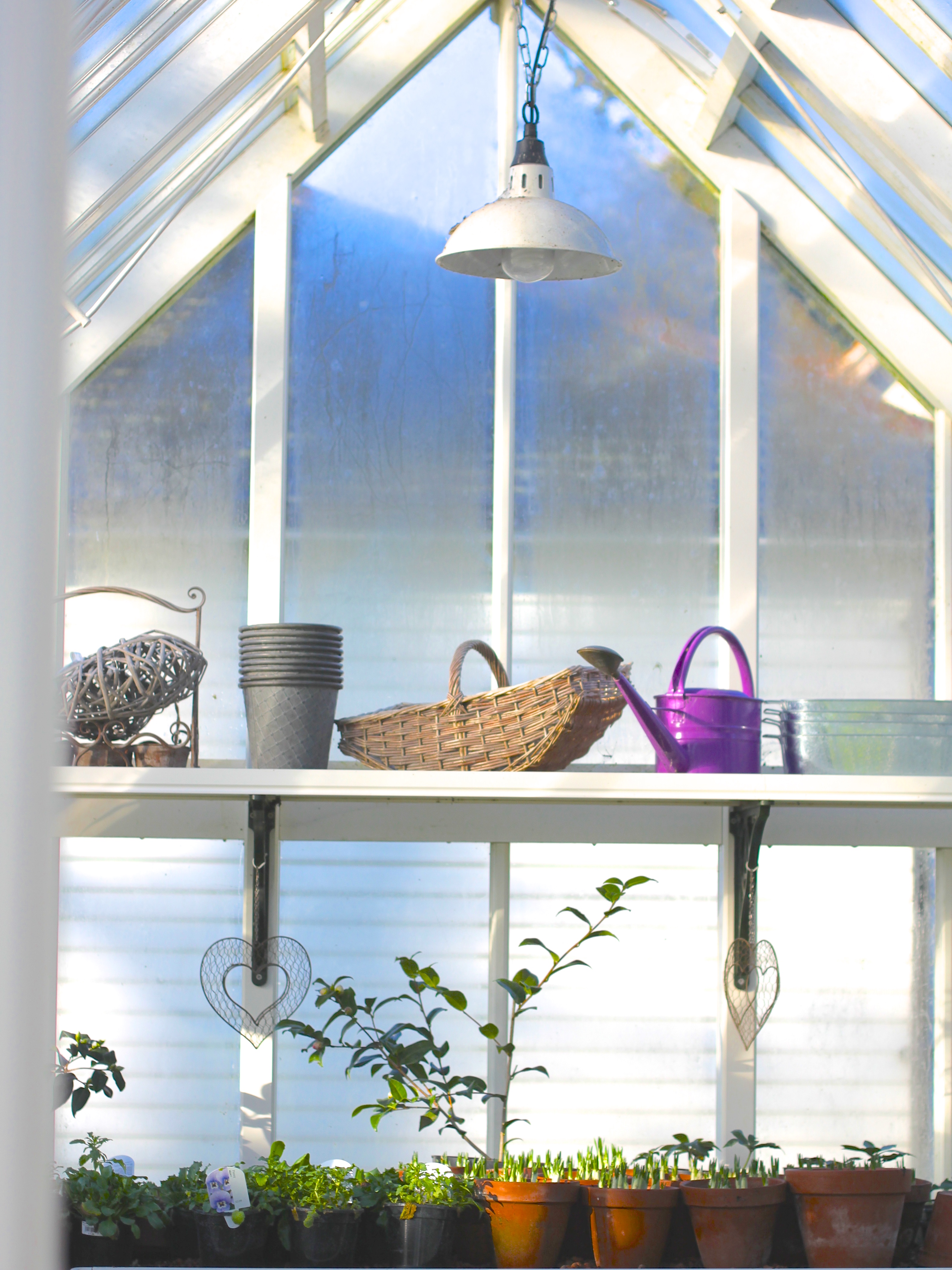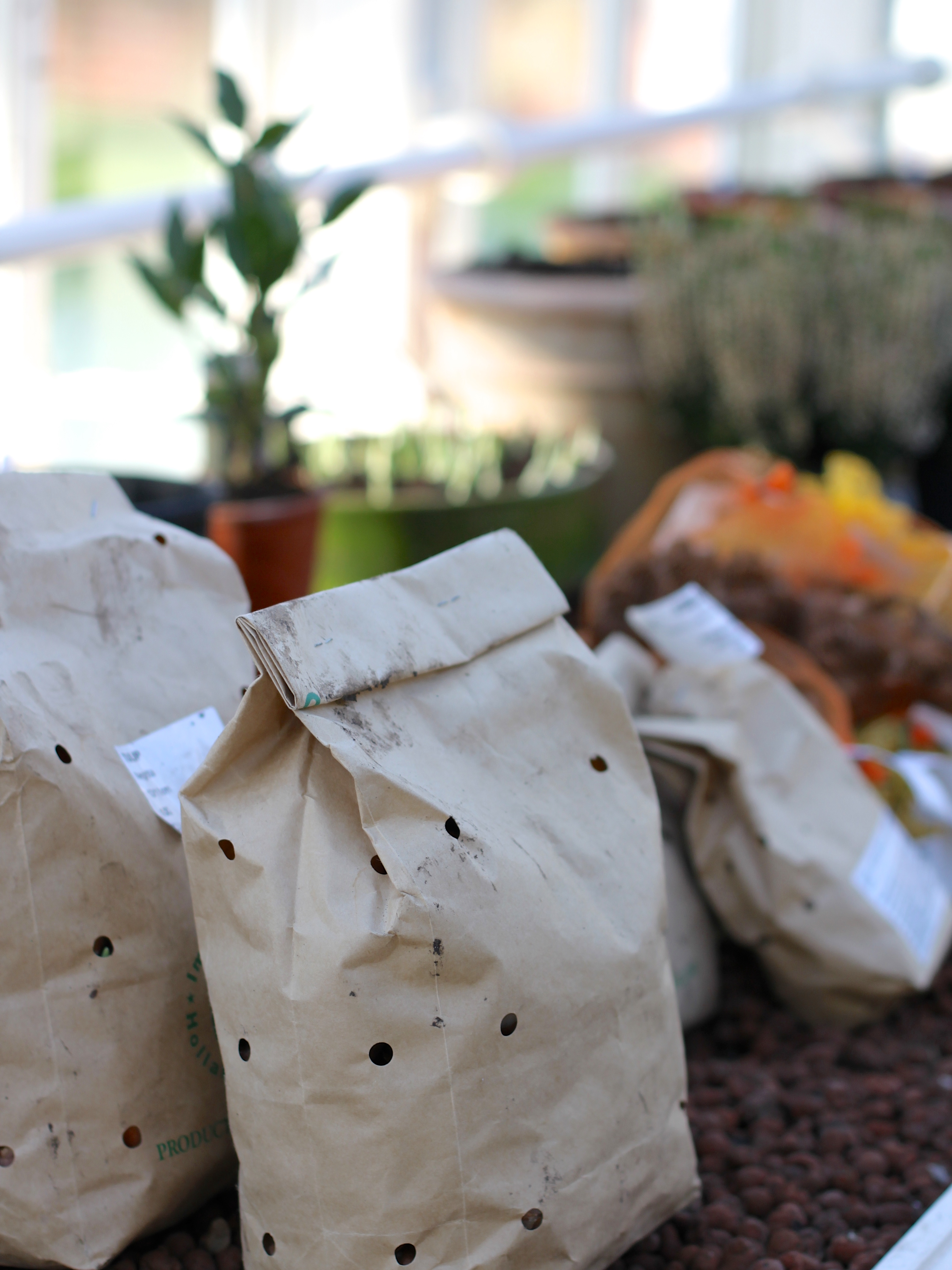 On the staging I keep tools, plants and seedlings sheltering from the winter weather. You can see that I still have some bulb planting to do – I find tulips are fine as long as they are in by the end of January. If the weather turns against me this lot will be hastily tucked into pots of garden compost to grow on in a sheltered position.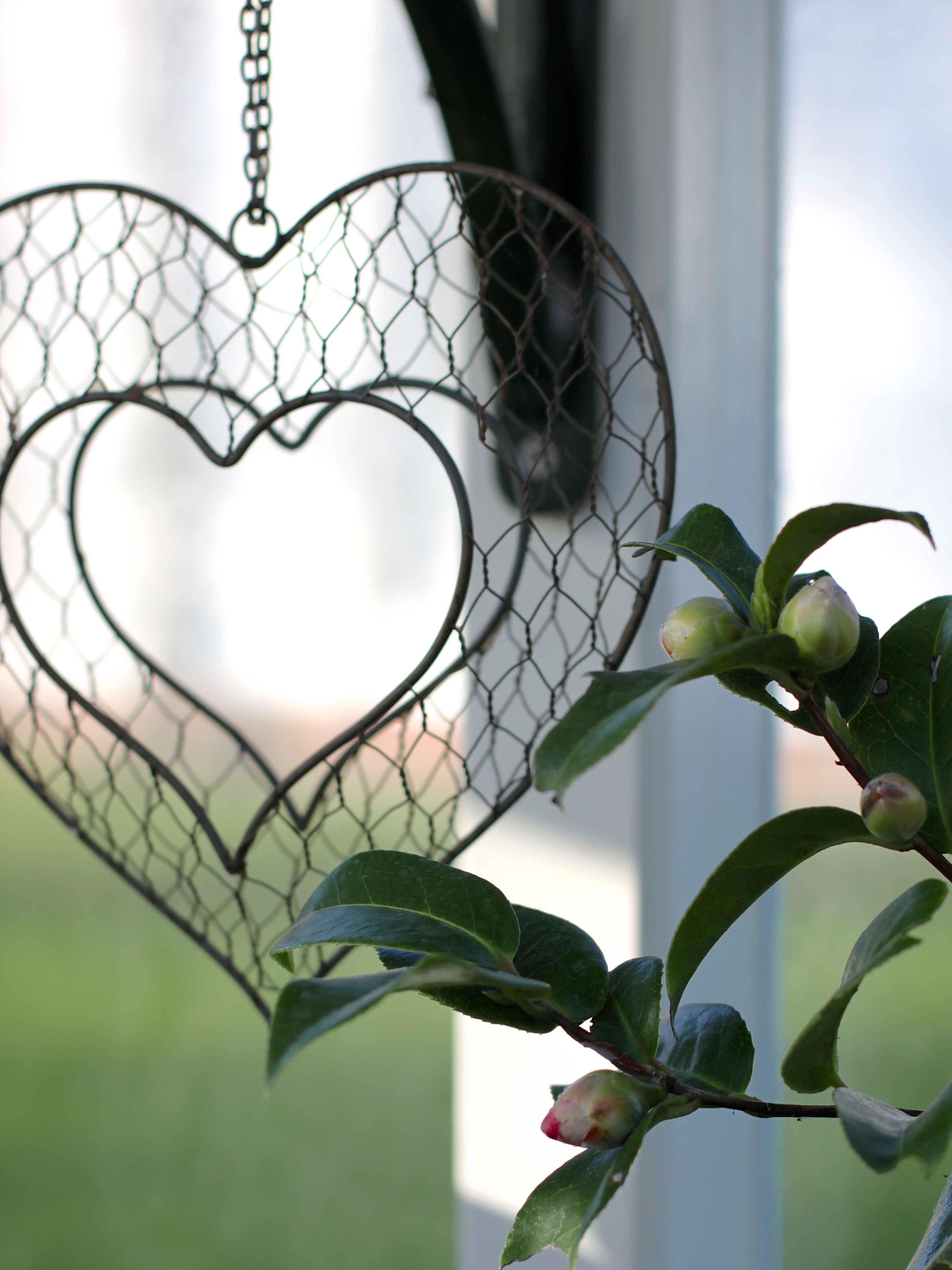 I treat my greenhouse like another room and add decorative touches, as well as washing down the floor on a regular basis (only with the hosepipe of course!). In the summer I keep a small table and chairs in here for a sheltered cup of tea, but at this time of year I need all the space I can get so tea is drunk whilst standing up working.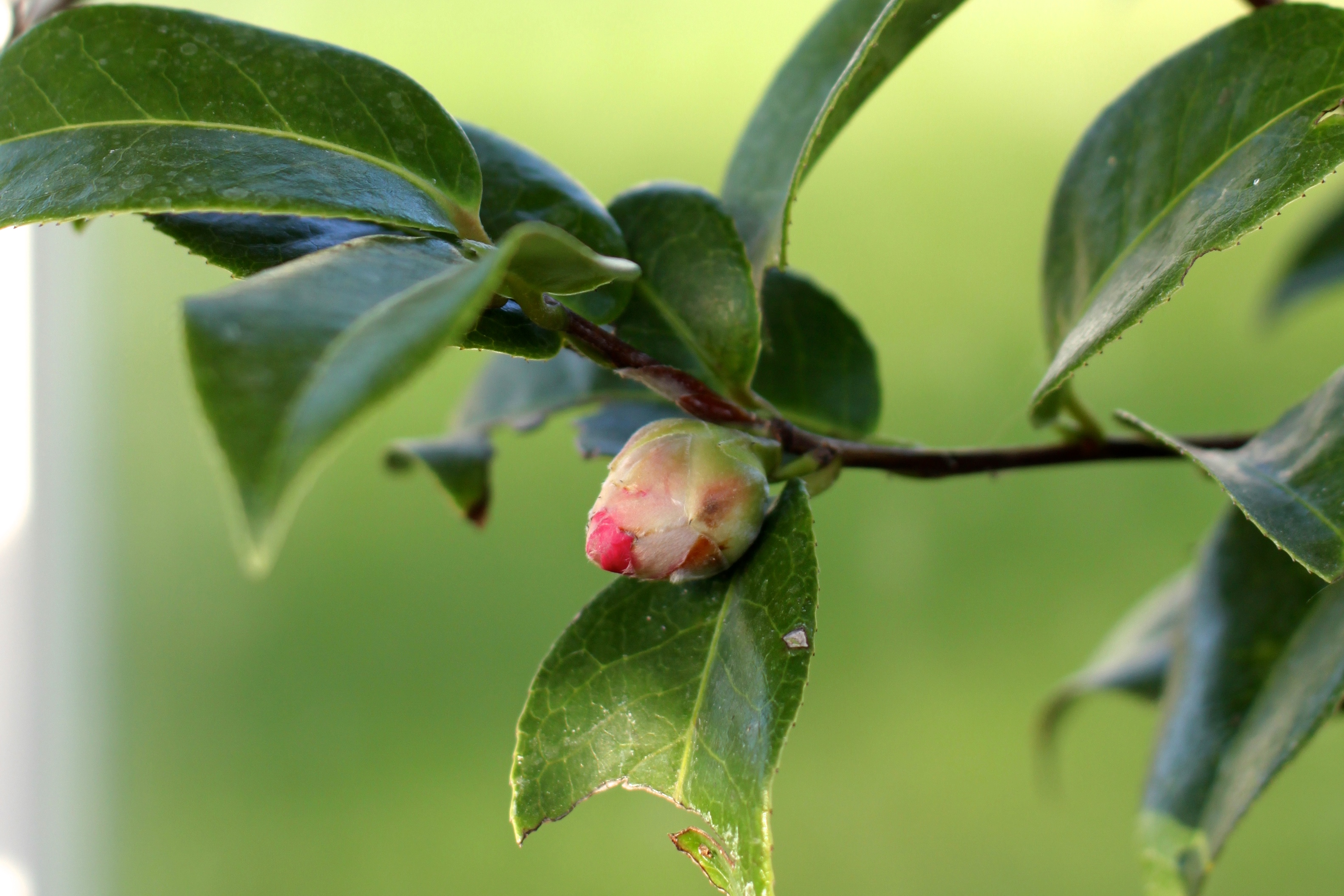 I have brought two young camellia plants into the greenhouse for the winter and hope to get some early flowers – they are looking promising at the moment!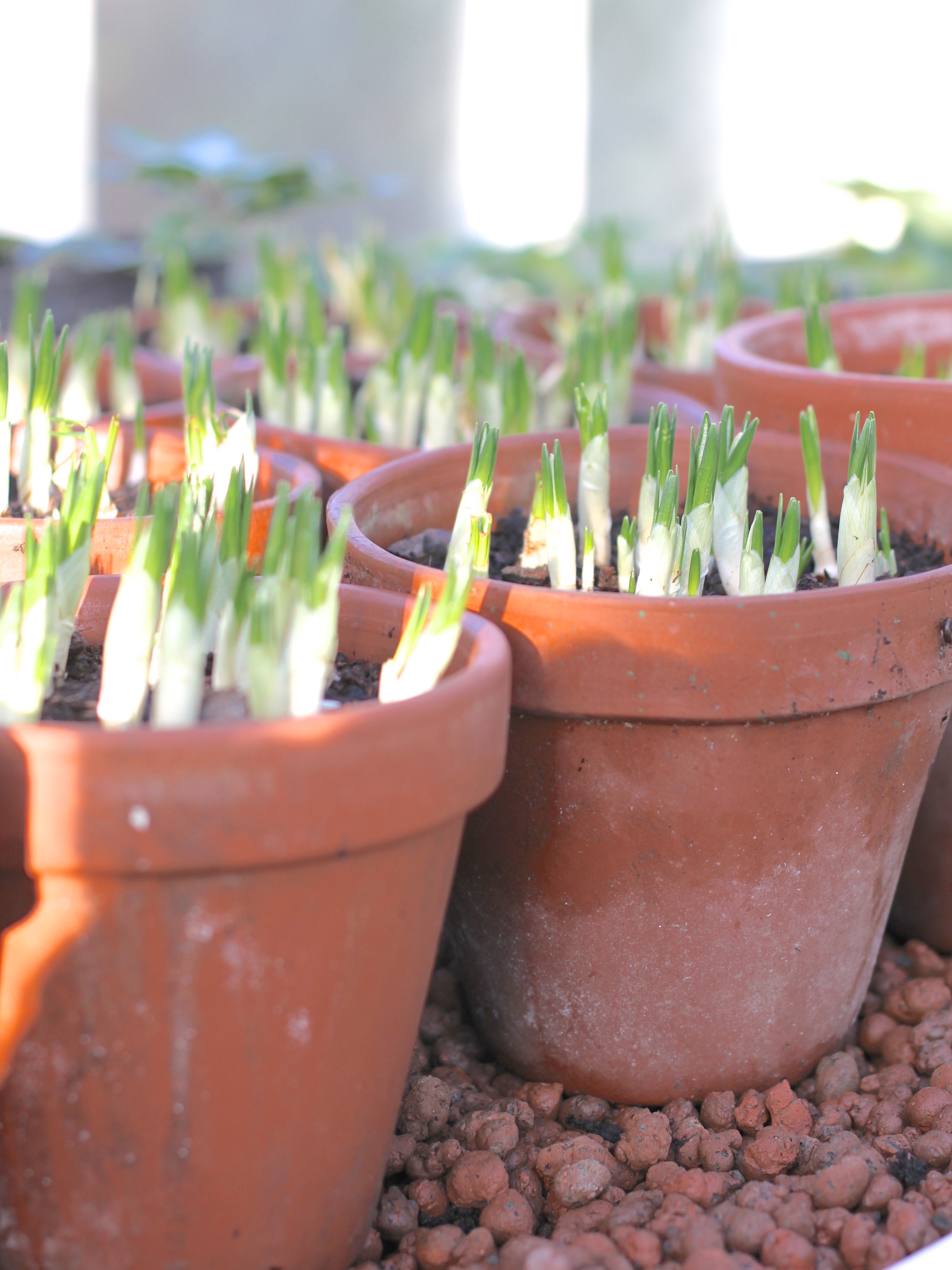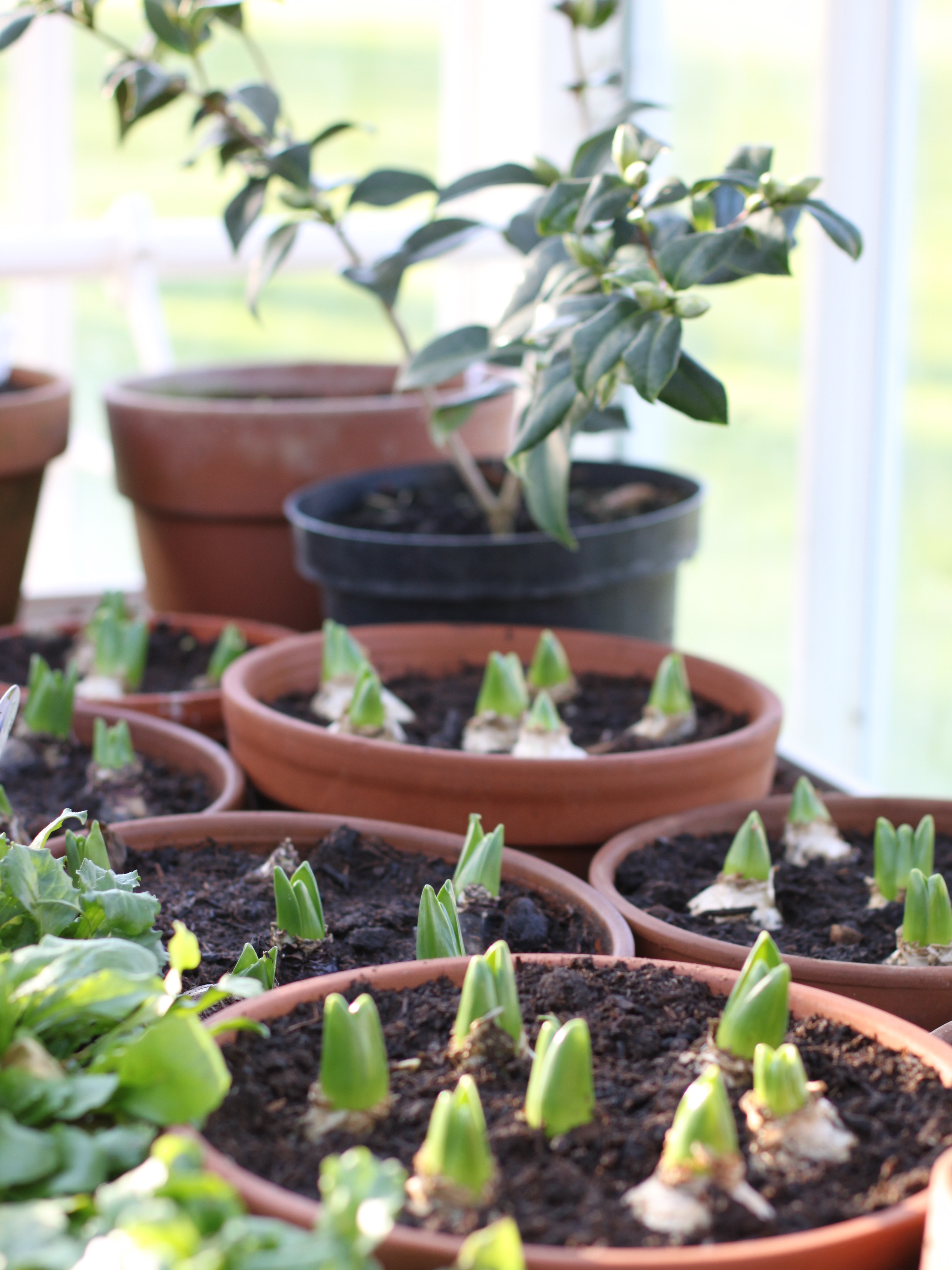 I have pots and pots of iris, crocus and hyacinths standing on the staging. I am not aiming for very early flowers here (the greenhouse is not heated on a regular basis), but rather want pristine flowers a few weeks early. When they all start to flower in February the greenhouse will smell divine and the surplus will be moved outside to adorn the tops of pillars, tables and steps in the garden.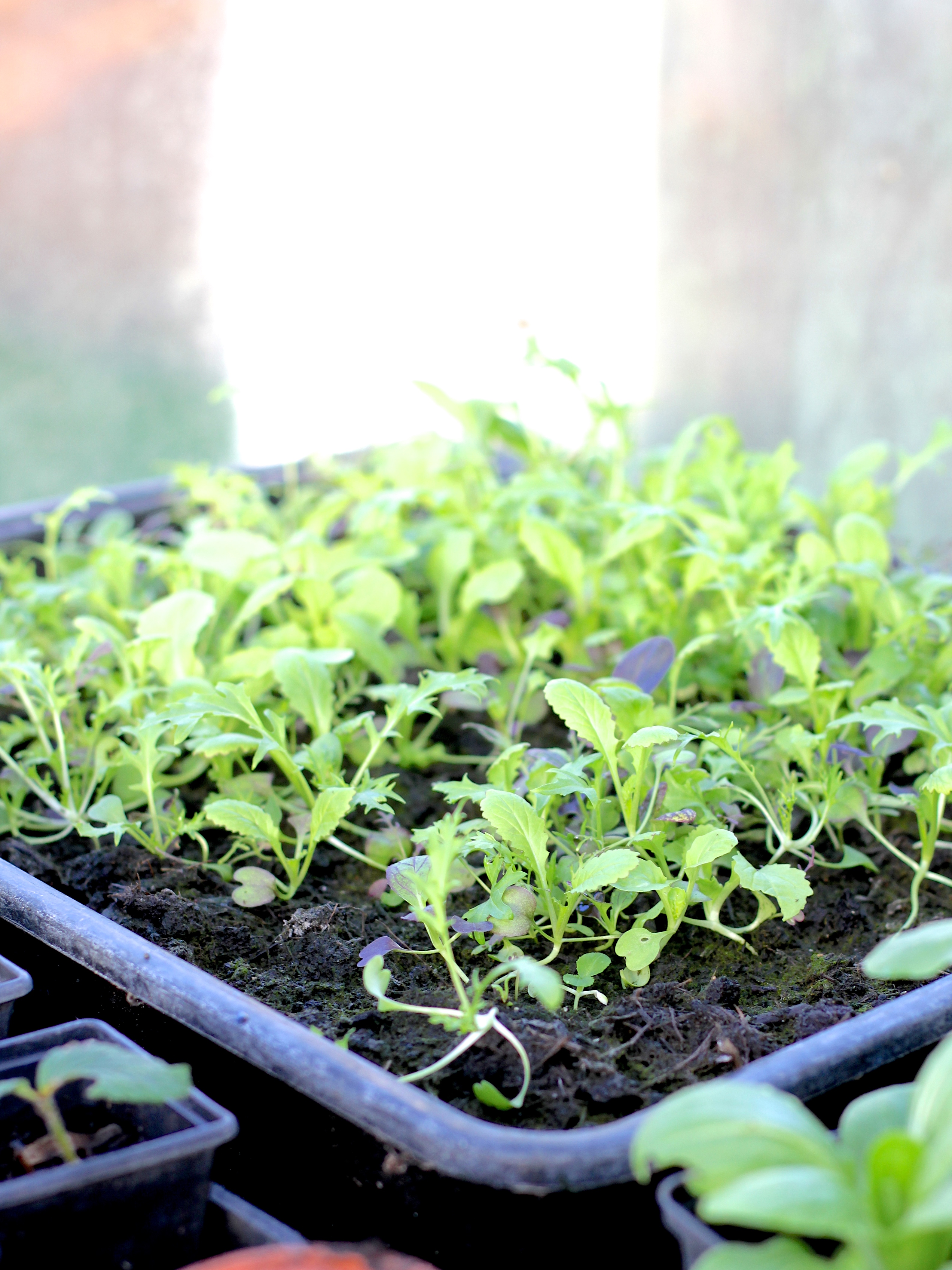 I am short of food to pick at the moment, but this tray of spicy salad mix will be ready in a week or two. I will start a new tray off every 2/3 weeks from now until early summer when the outdoor salads will take over. I will also be planting trays of pea shoots and rocket in the next week or so – I am not a great fan of bagged salad and prefer to use my own as much as possible. I am still a few weeks away from that though, so will have to make use of the supermarket for a while yet.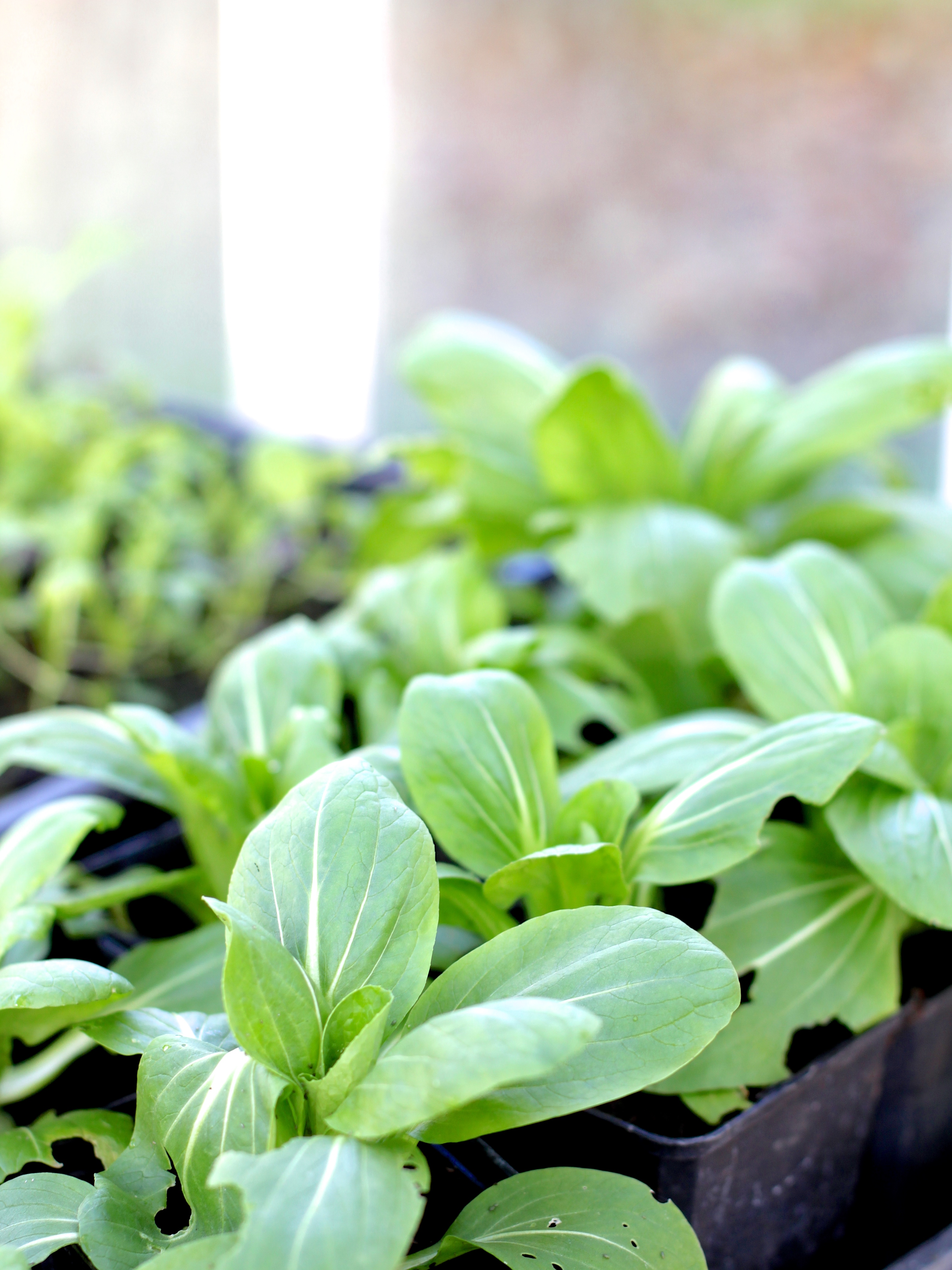 These are pak choi plants that I started too late in the autumn to plant out. I have brought them in from the cold frame (where something was nibbling them) and hope they will start into growth again soon.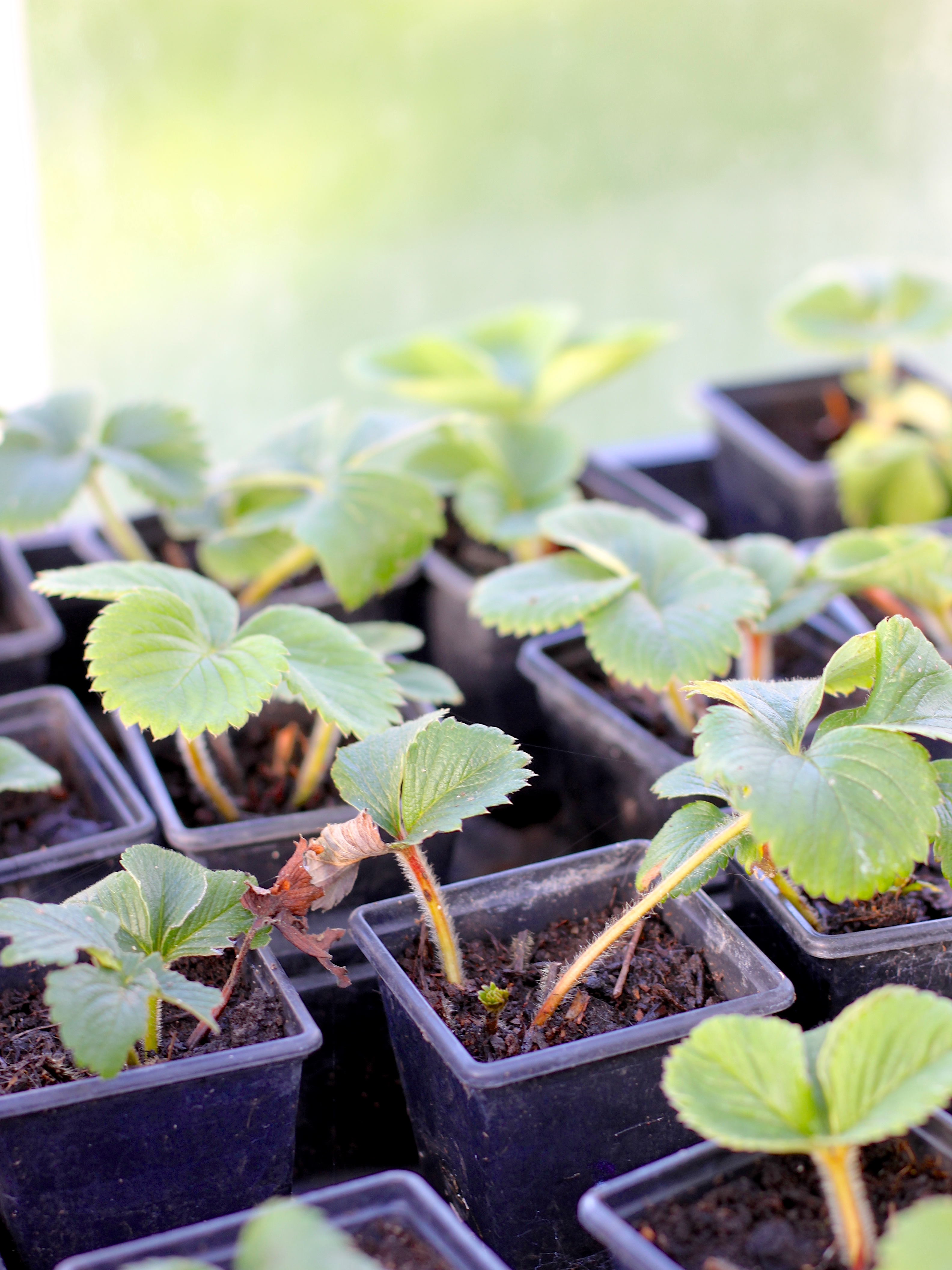 Above are this years strawberry runners. In my last house there was a bed of strawberries growing by the greenhouse that produced the largest, juiciest and sweetest strawberries I have ever tasted – I have no idea of the variety, but I brought a few plants with me when we moved. Those plants have settled in well and these unnamed runners will keep the crop young and vibrant. I will plant these out in March. I could grow them on to fruit under cover, but really I need the staging space for all my seedlings.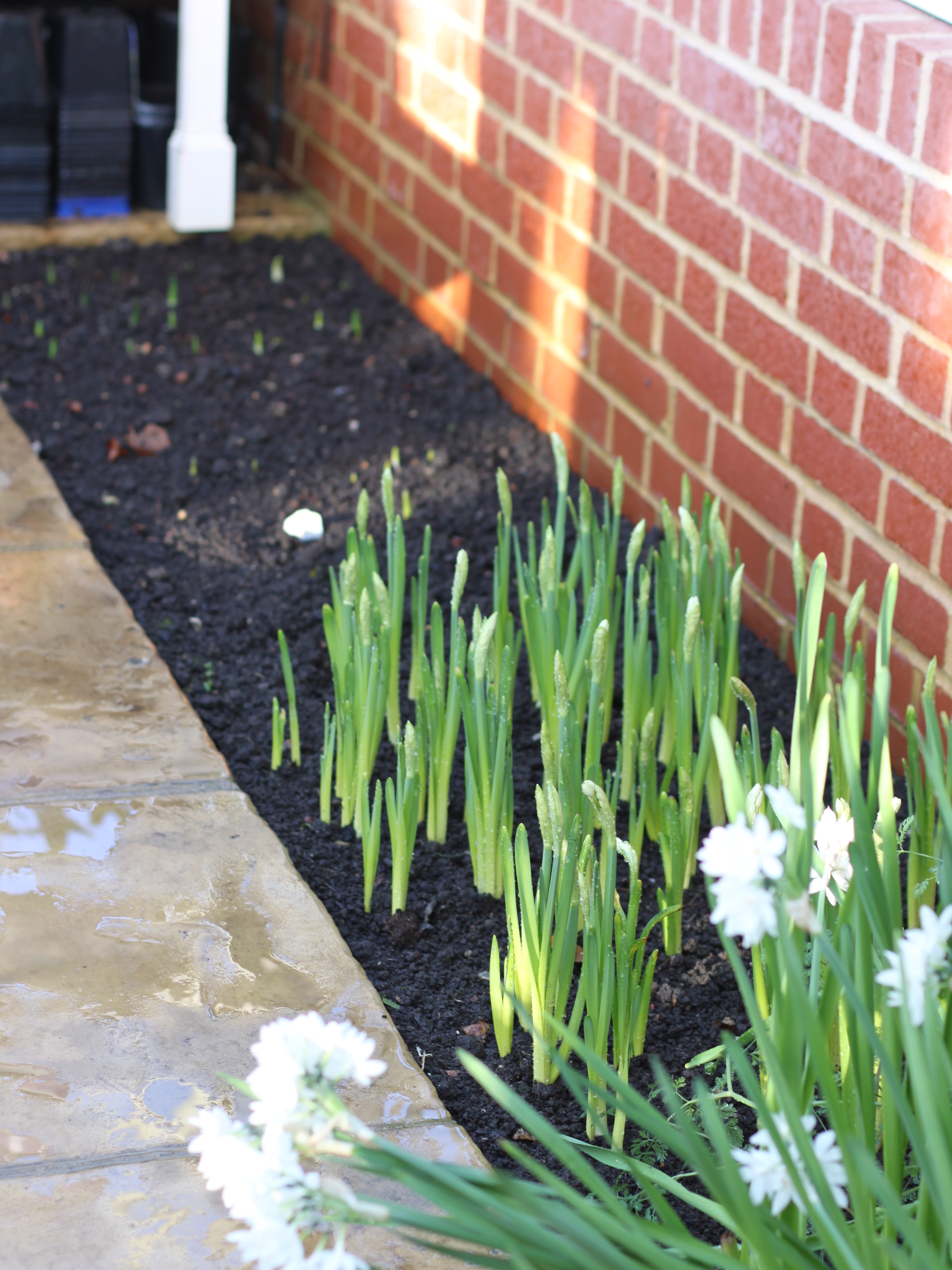 This is a better view of the greenhouse bed. Closest are the Paperwhites that started flowering before Christmas – I used them in my Christmas arrangements and there are just a few left now to pick – I will remove these bulbs and plant the next crop later this week. Next to them are a batch planted in December which should start to flower very soon – I like to keep a succession of this scented bulb going until March.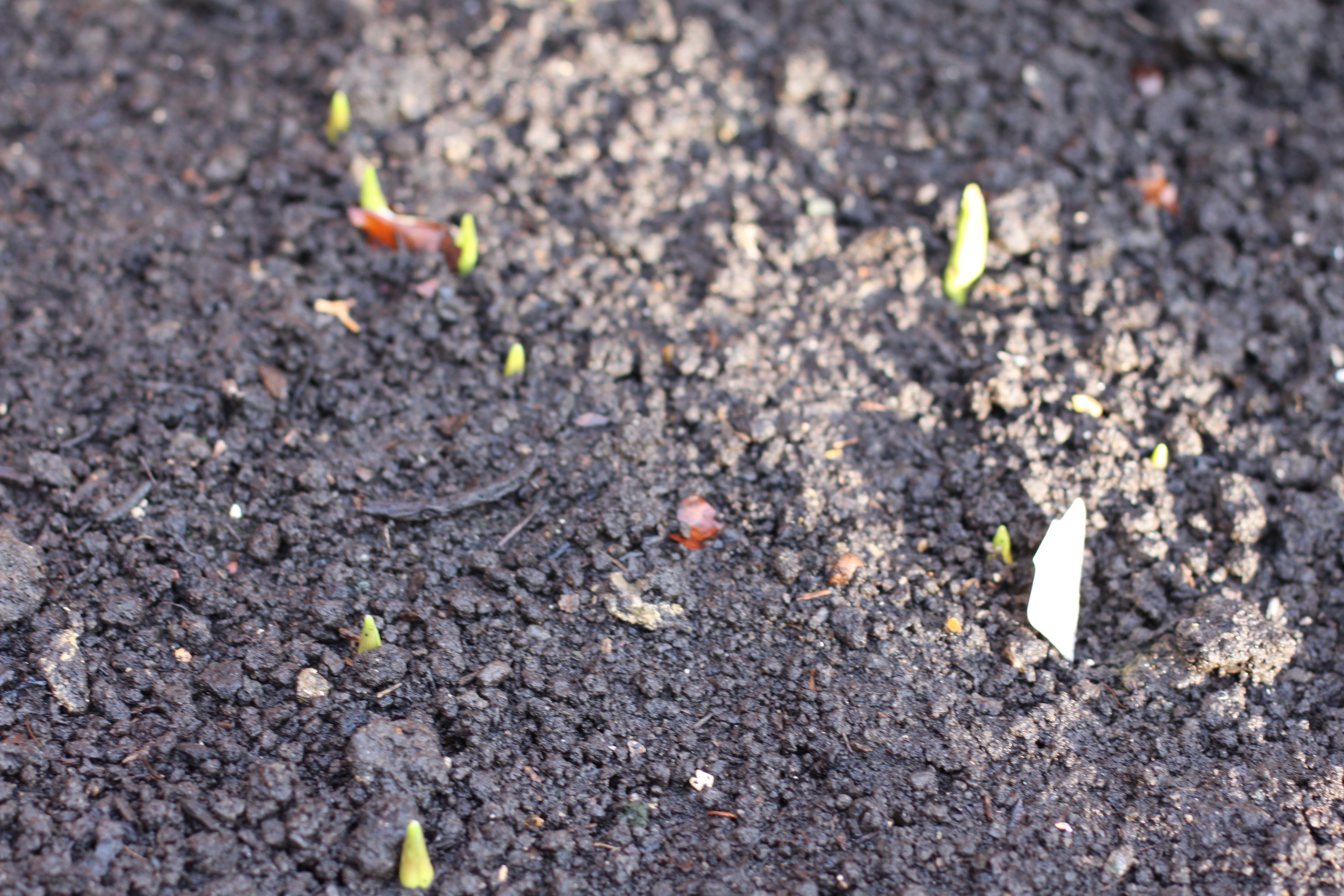 At the end of the bed I have some tulip bulbs, which you can see are just pushing through the soil. They will flower a little earlier than those in pots in the garden and will be perfect for cutting.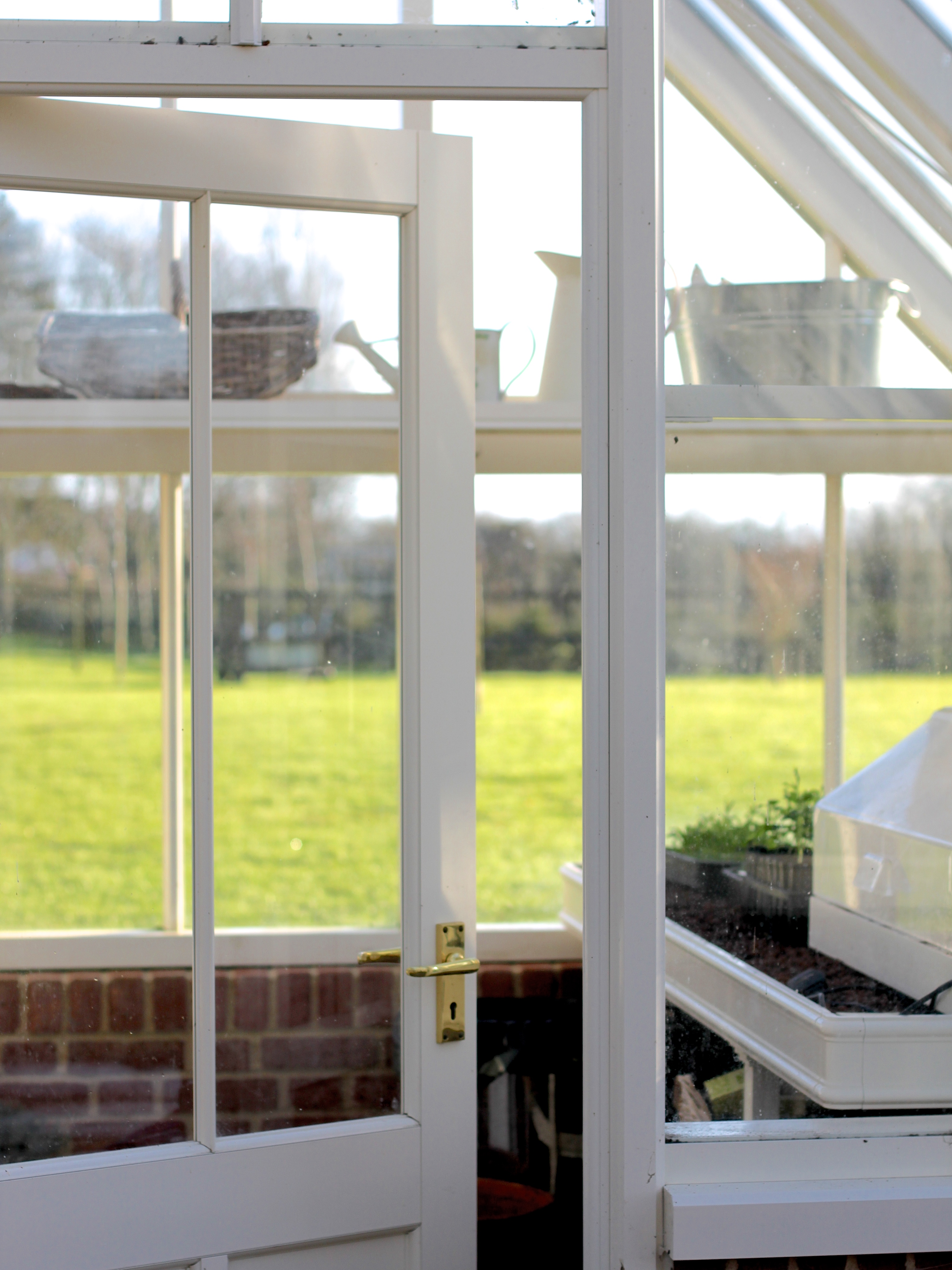 My greenhouse is divided into two by an internal partition. If the weather is particularly cold and I need to protect my recently sown seedlings I close this door and heat just the smaller section to try and keep the cost down. In reality I rarely use any heating as most of what I grow is very hardy and I do not overwinter tender plants.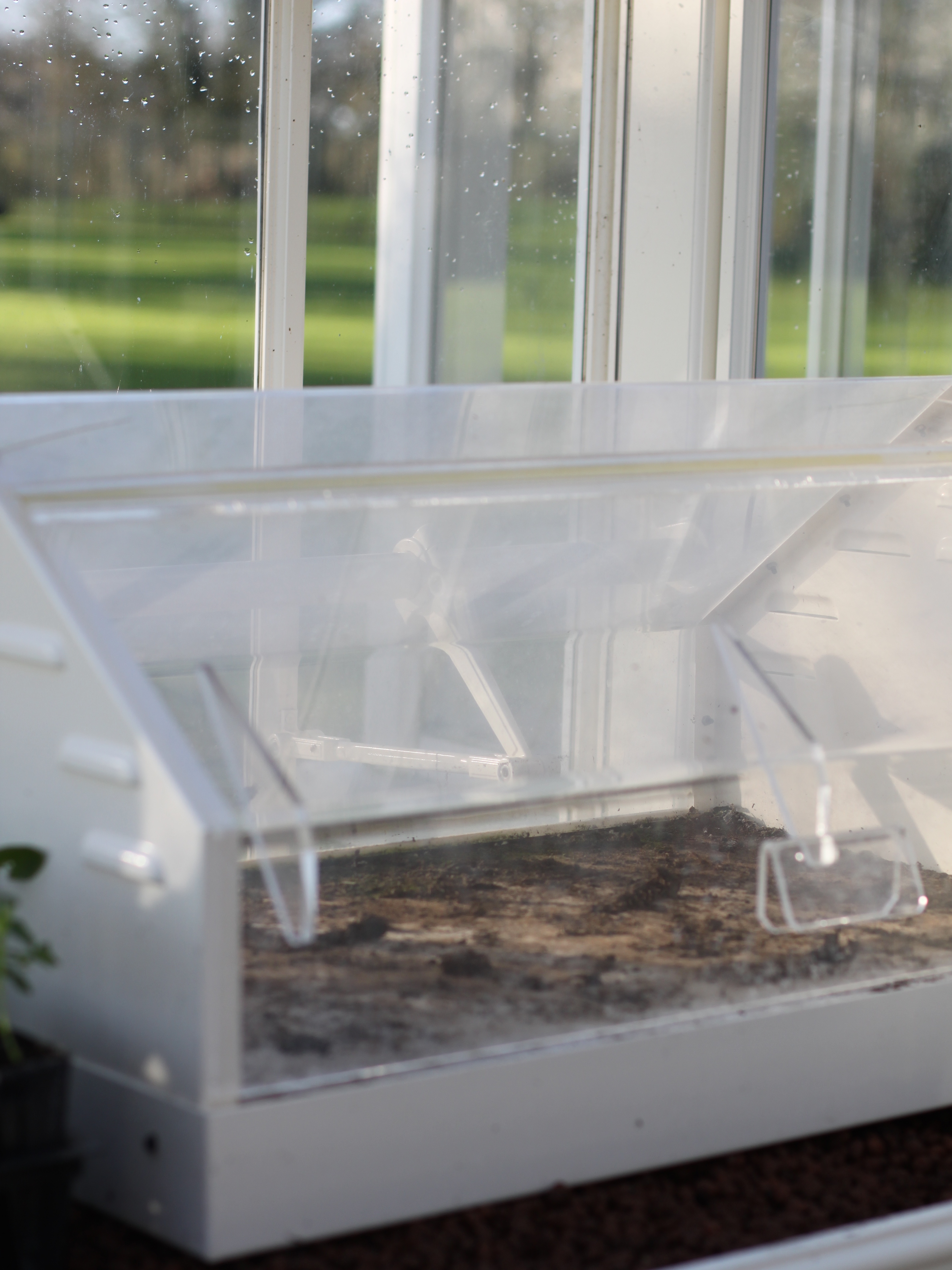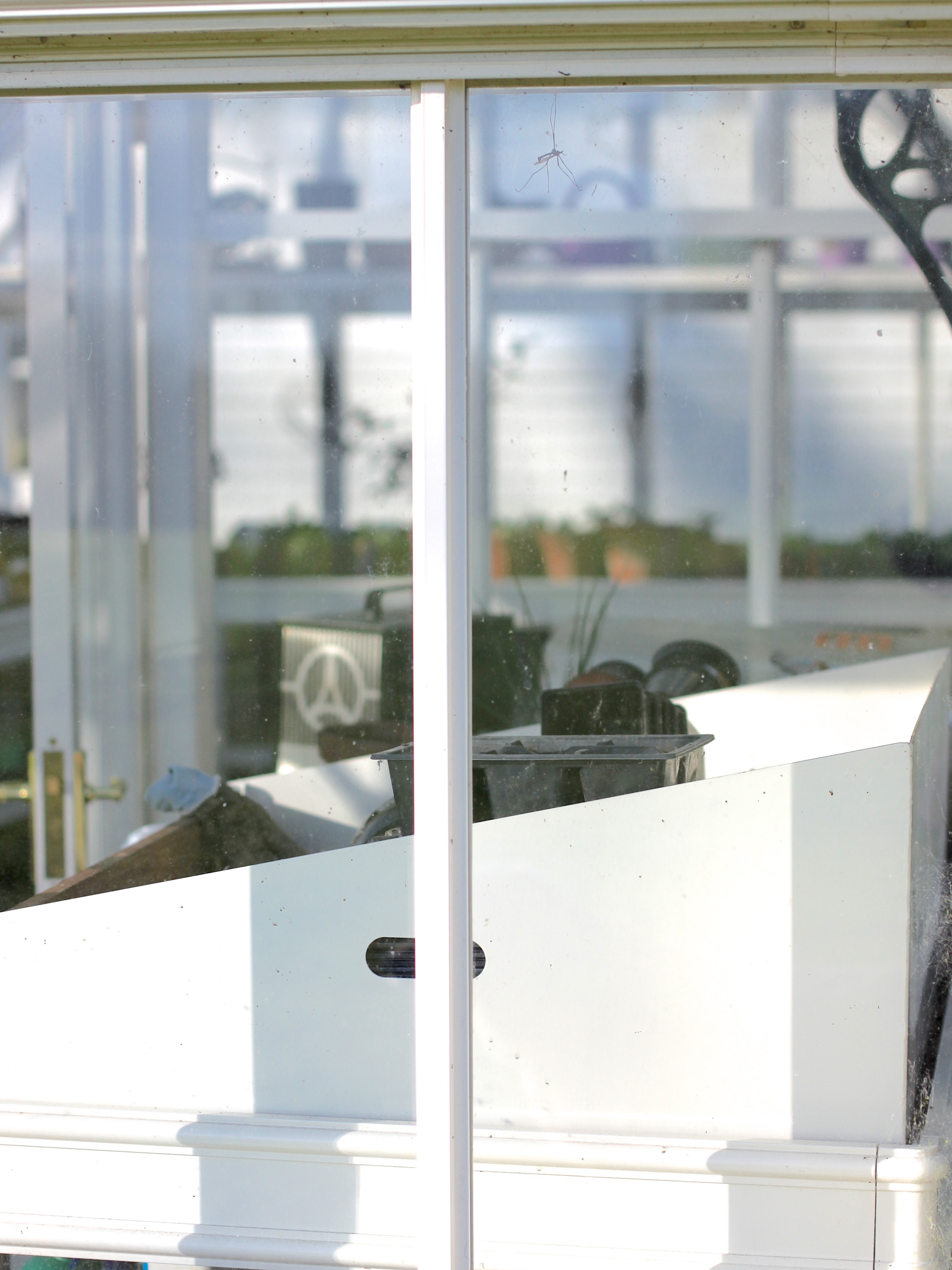 In this smaller section I do all my seed sowing and above you can see my heated propagator – empty at the moment this will be plugged in and full of trays of seedlings by my February report.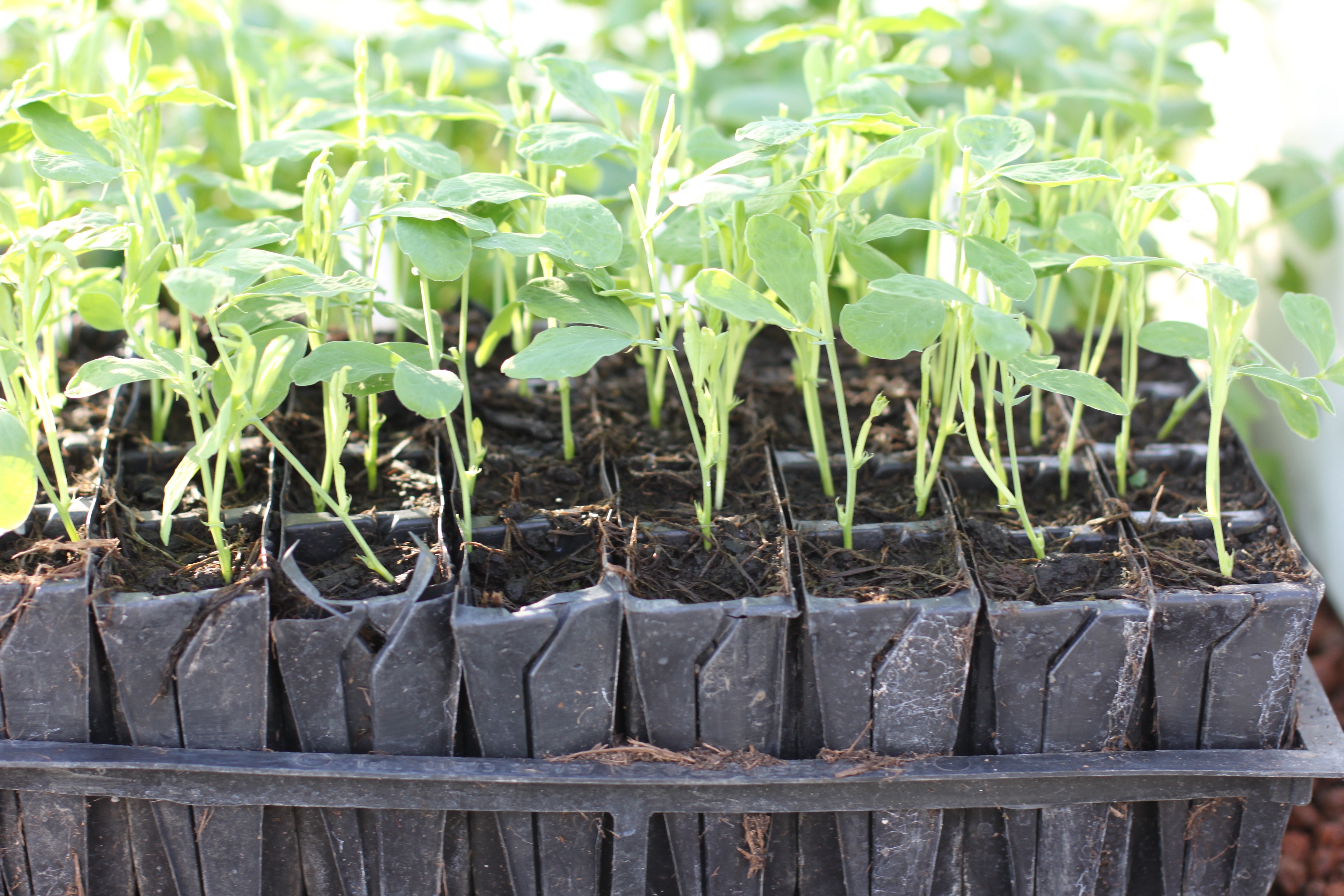 Above are my Winter Sunshine sweet peas – planted in November these have been pinched out and will be planted into the greenhouse bed very soon. I hope they will grow on in the sheltered conditions and give me early sweet pea flowers. Although all sweet peas are quite hardy, these have been bred to perform well in low light conditions.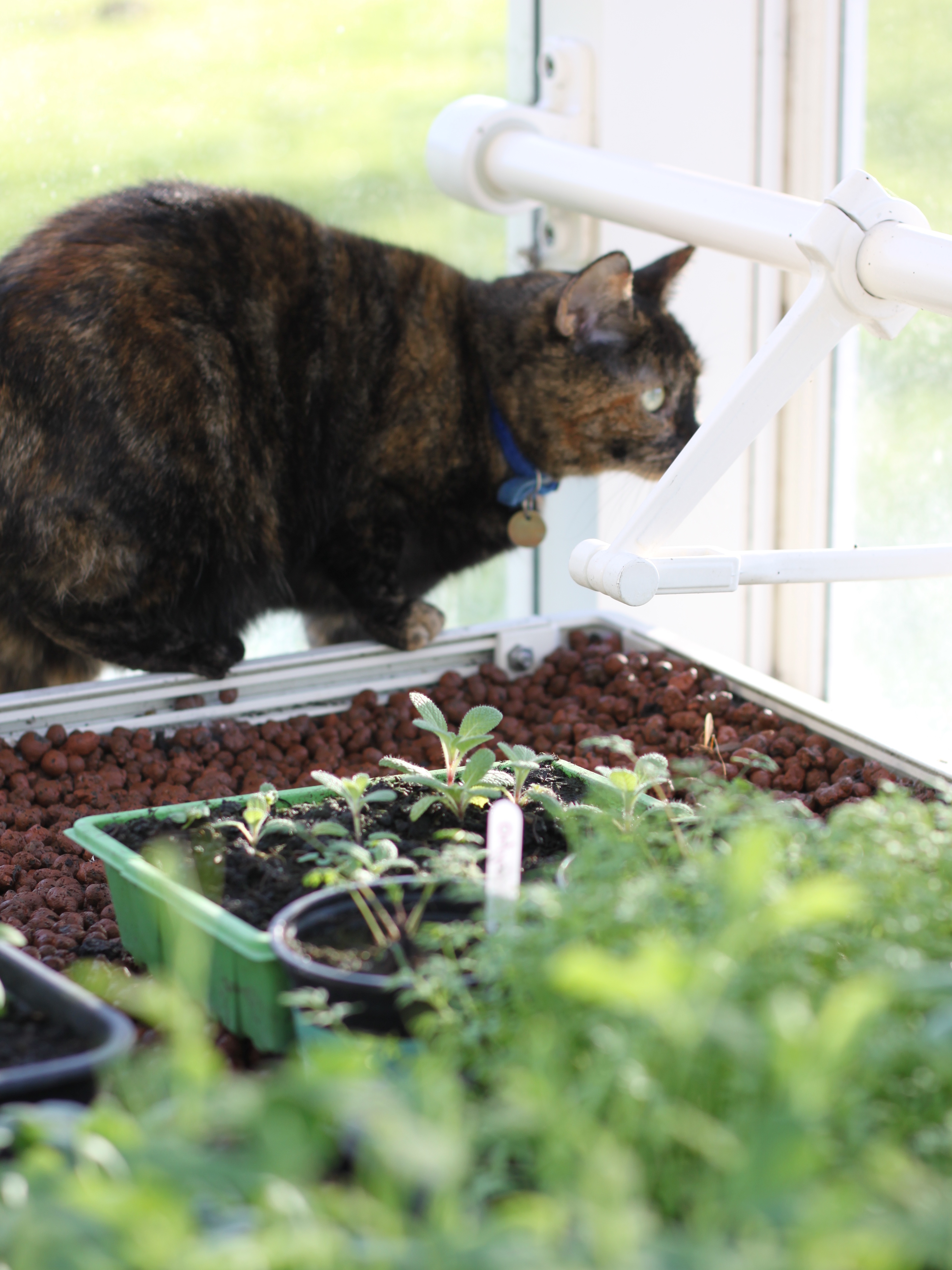 Ruby loves the greenhouse – she is a regular visiter and I have to take care not to shut her in when I leave.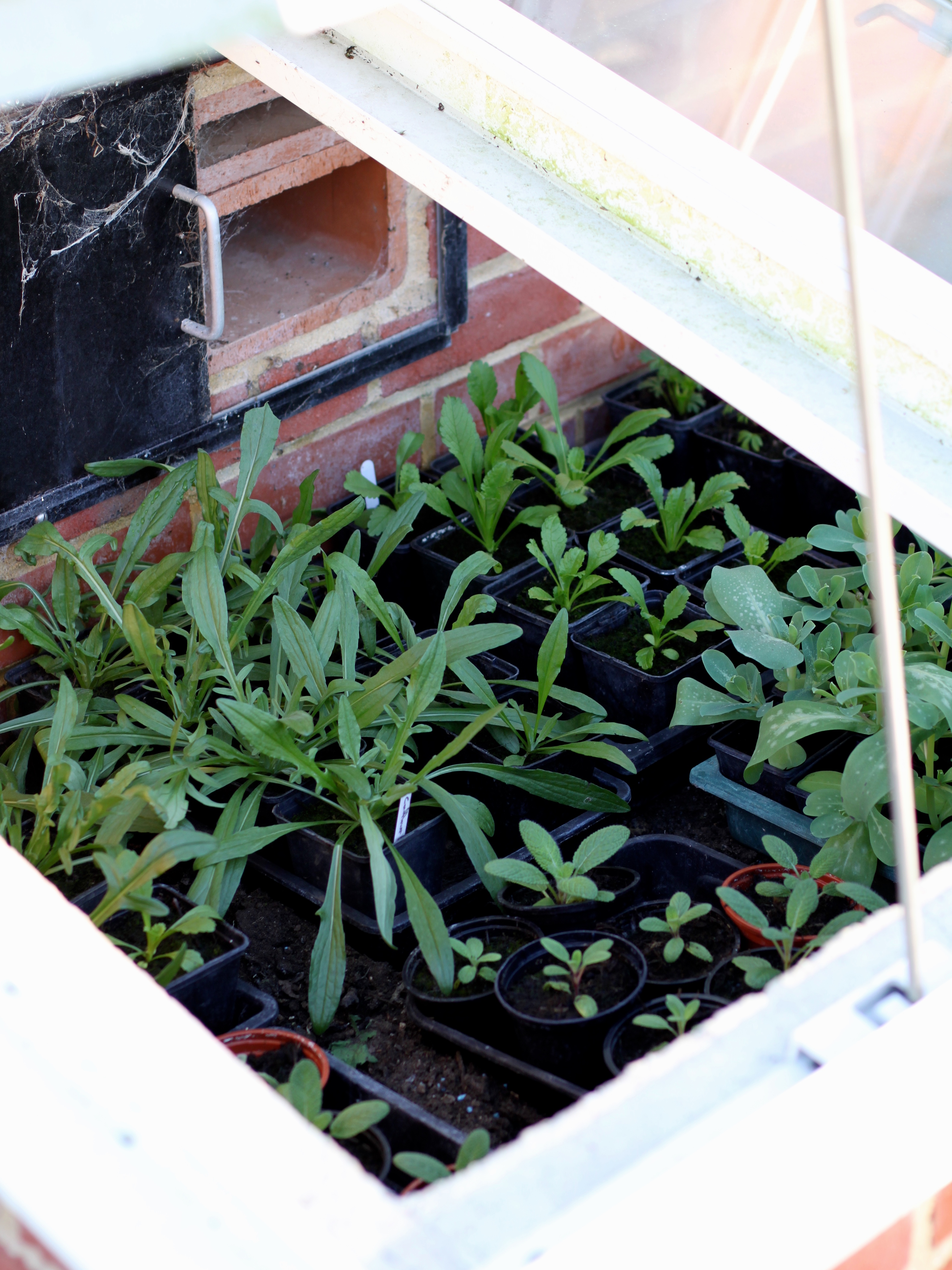 To the front of the greenhouse I have 2 large cold frames on either side of the front door – this one is full of autumn sown hardy perennials hardening off ready to be planted out in March. The other cold frame is empty at the moment, but will soon be full of vegetable seedlings.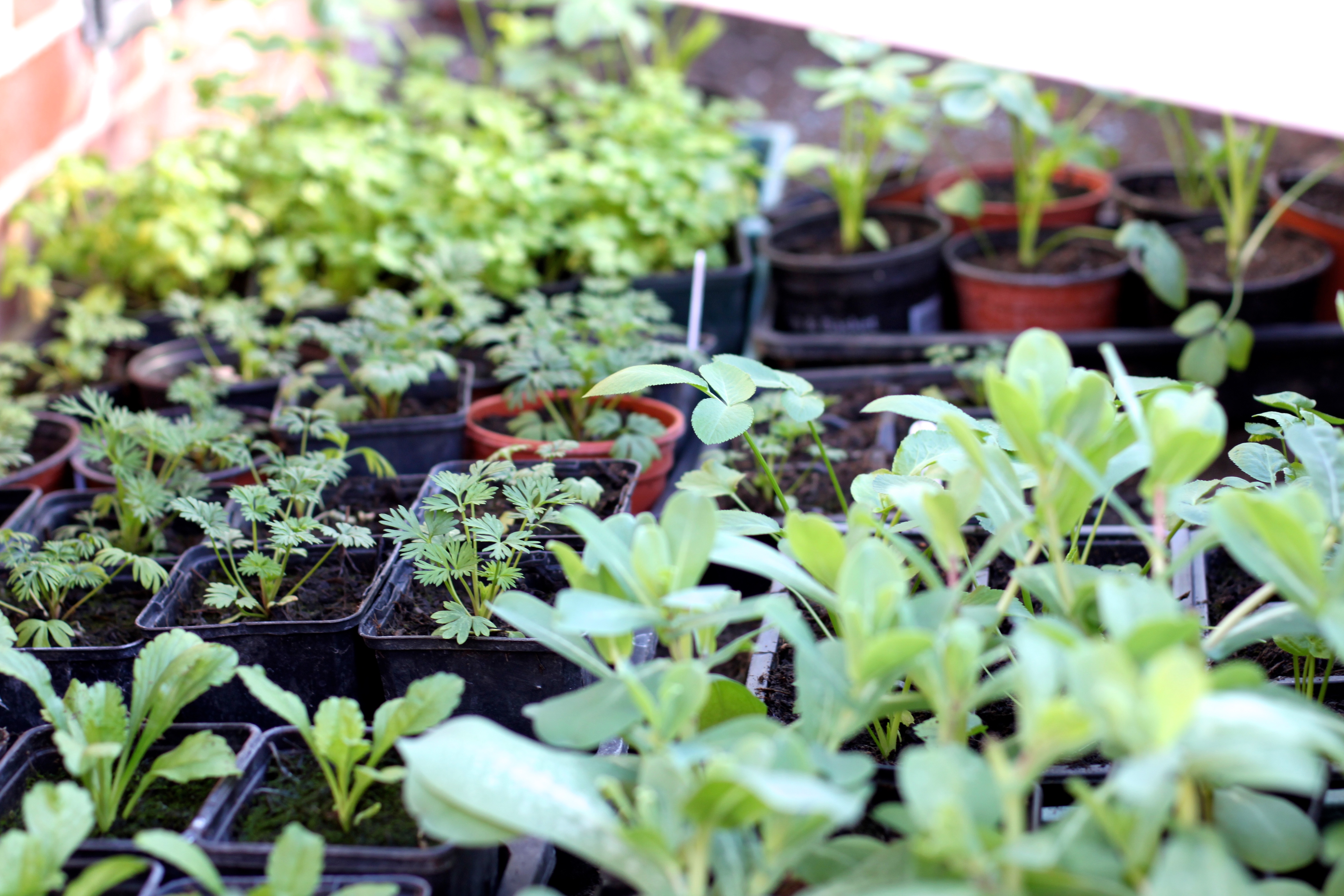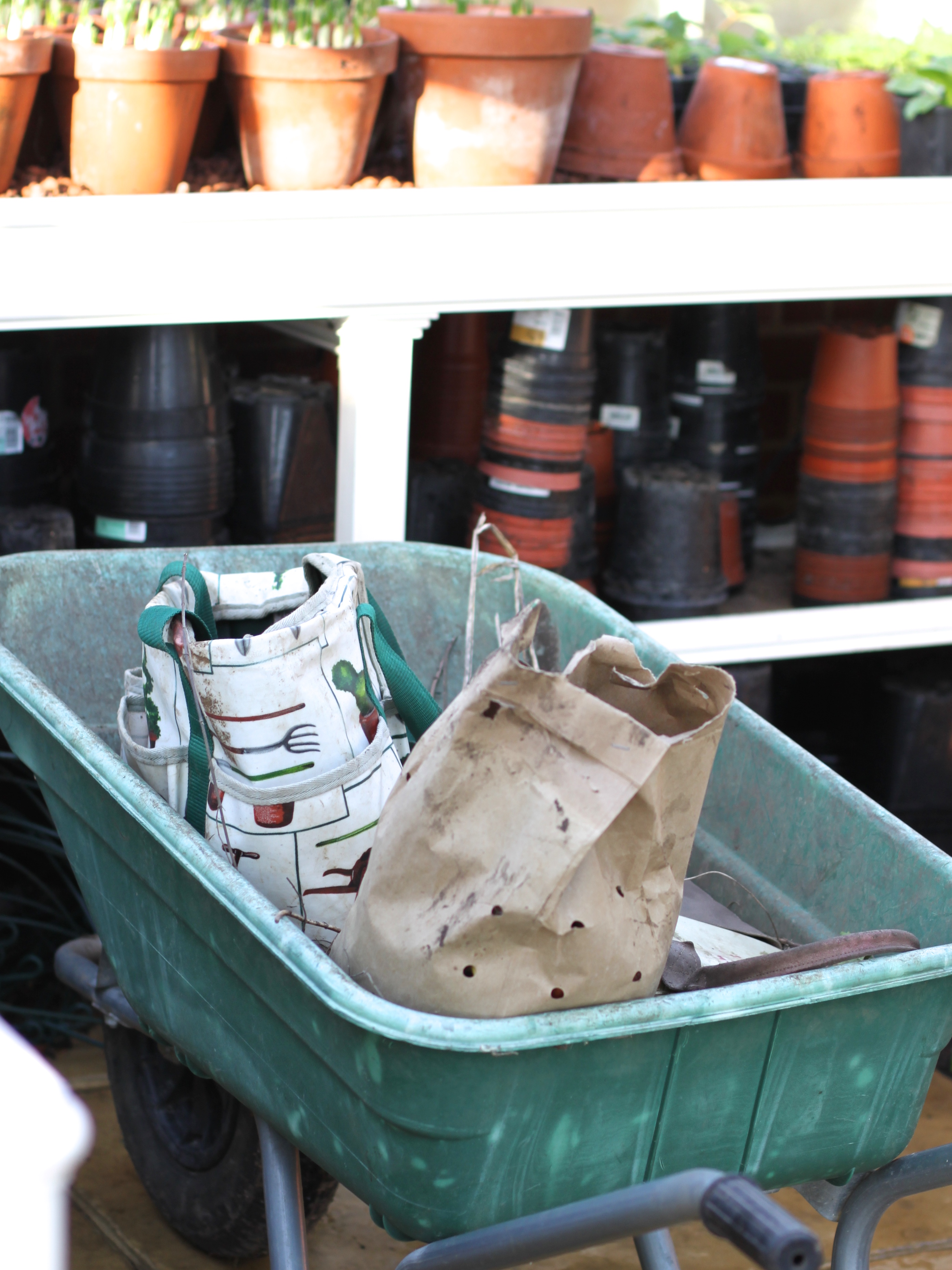 Before we leave the greenhouse I should show you my wheel barrow, which is a constant occupant in the greenhouse – I keep it ready for quick forays into the garden when the winter weather conditions are suitable.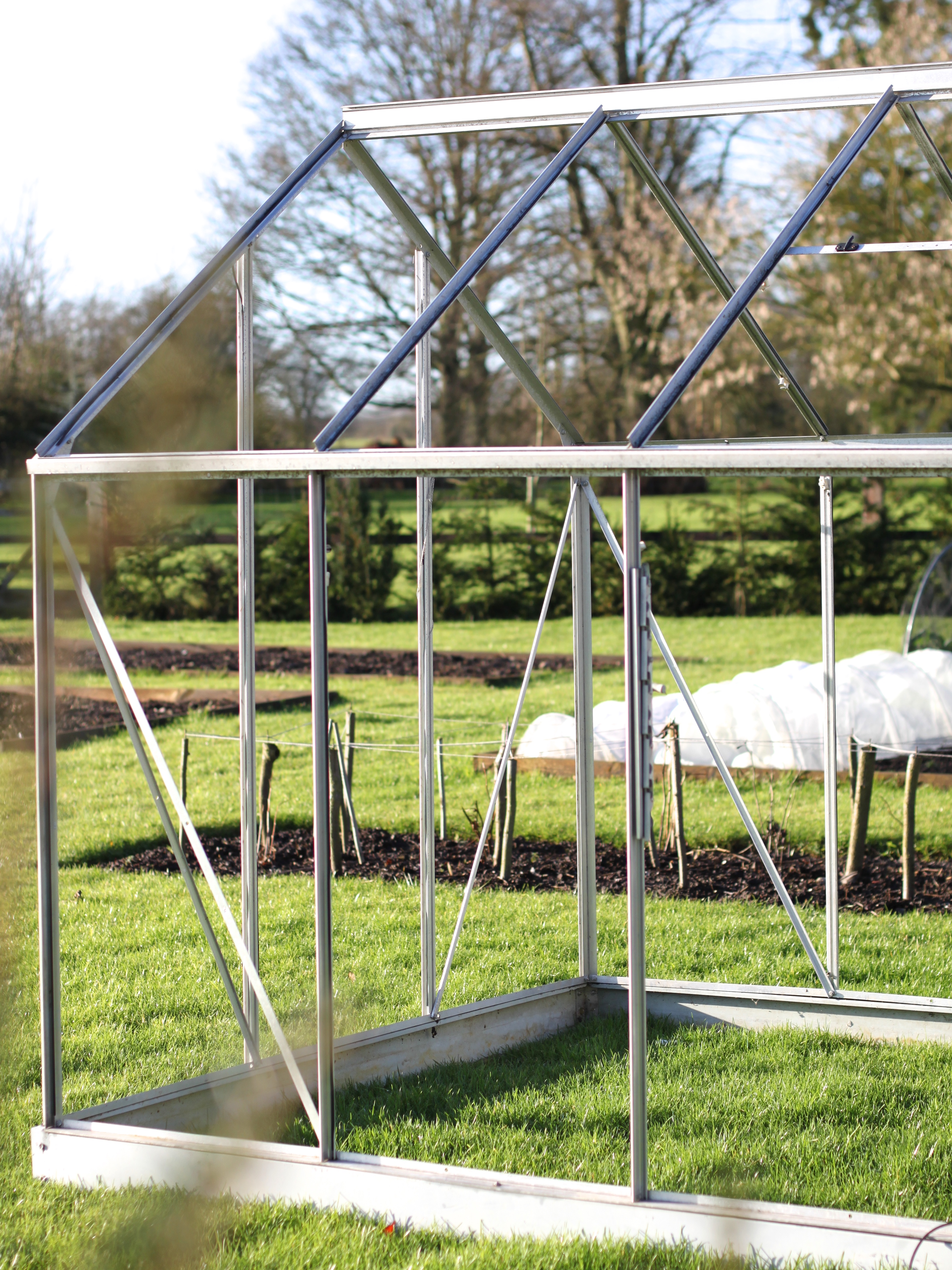 Finally I am very excited to share a couple of photos of my new greenhouse. I know that I already have a very large space, but I have been hankering after a smaller greenhouse in the centre of the vegetable garden for a couple of years now. I grow so many flowers in my other greenhouse that I wanted a space where the tomatoes, cucumbers and peppers could grow freely and where I can keep my vegetable seedlings handy for planting out. I rarely have the luxury of whole days in the garden and tend to get by with an hour here or there, so having my seedlings right by the vegetable beds will help. I am also planning a few raised beds around this greenhouse to grow protected salad crops and winter essentials.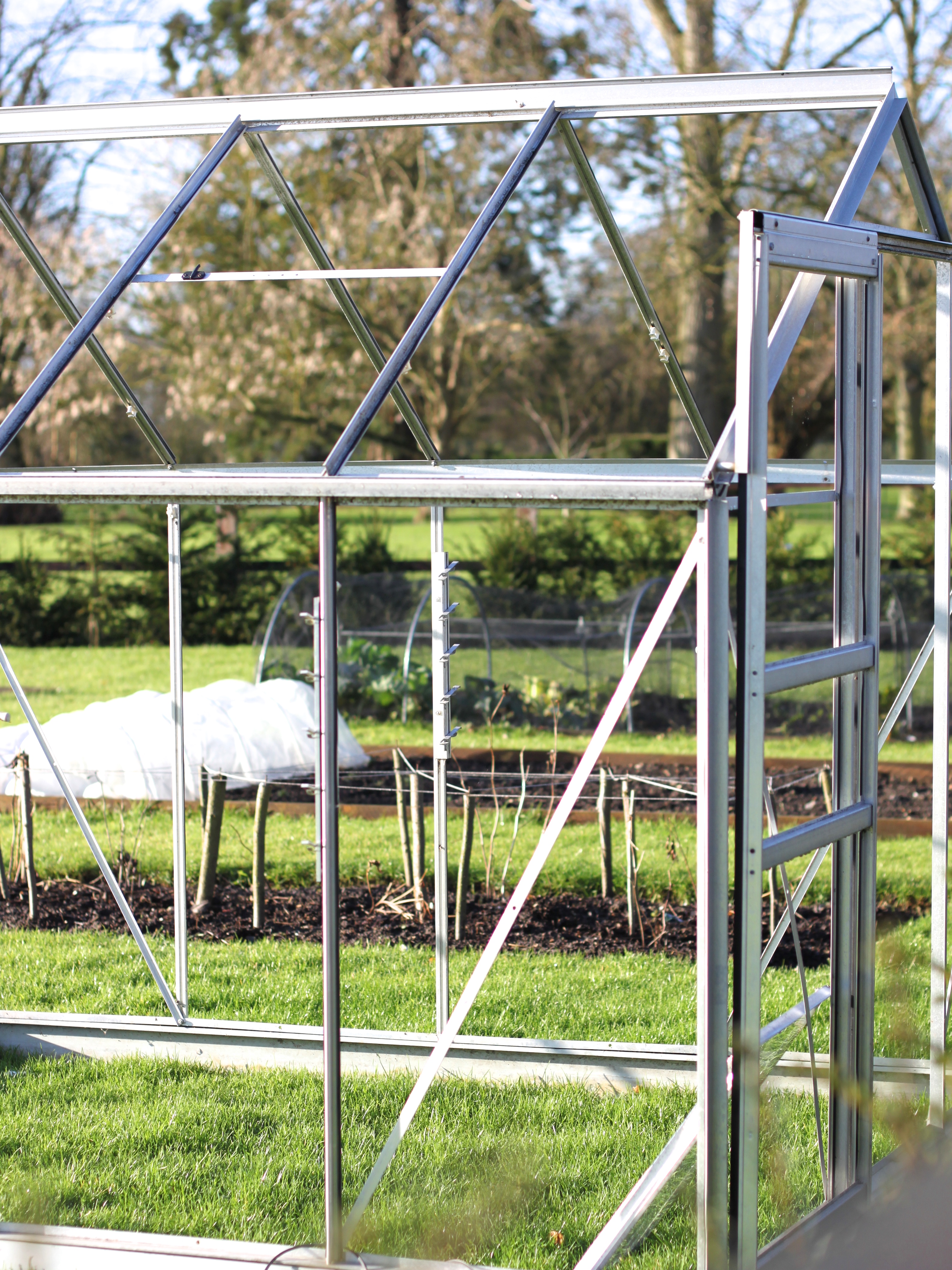 The real joy of this greenhouse is that it belonged to my father. He loved his covered space and brought it with him when my parents moved from Lancashire to Suffolk. It has stood unused for two years now and as my mother is not a gardener it made sense to pack it up again and move it here, where it will be well used. It will stand on a base of railway sleepers and hopefully will be in place by the end of February.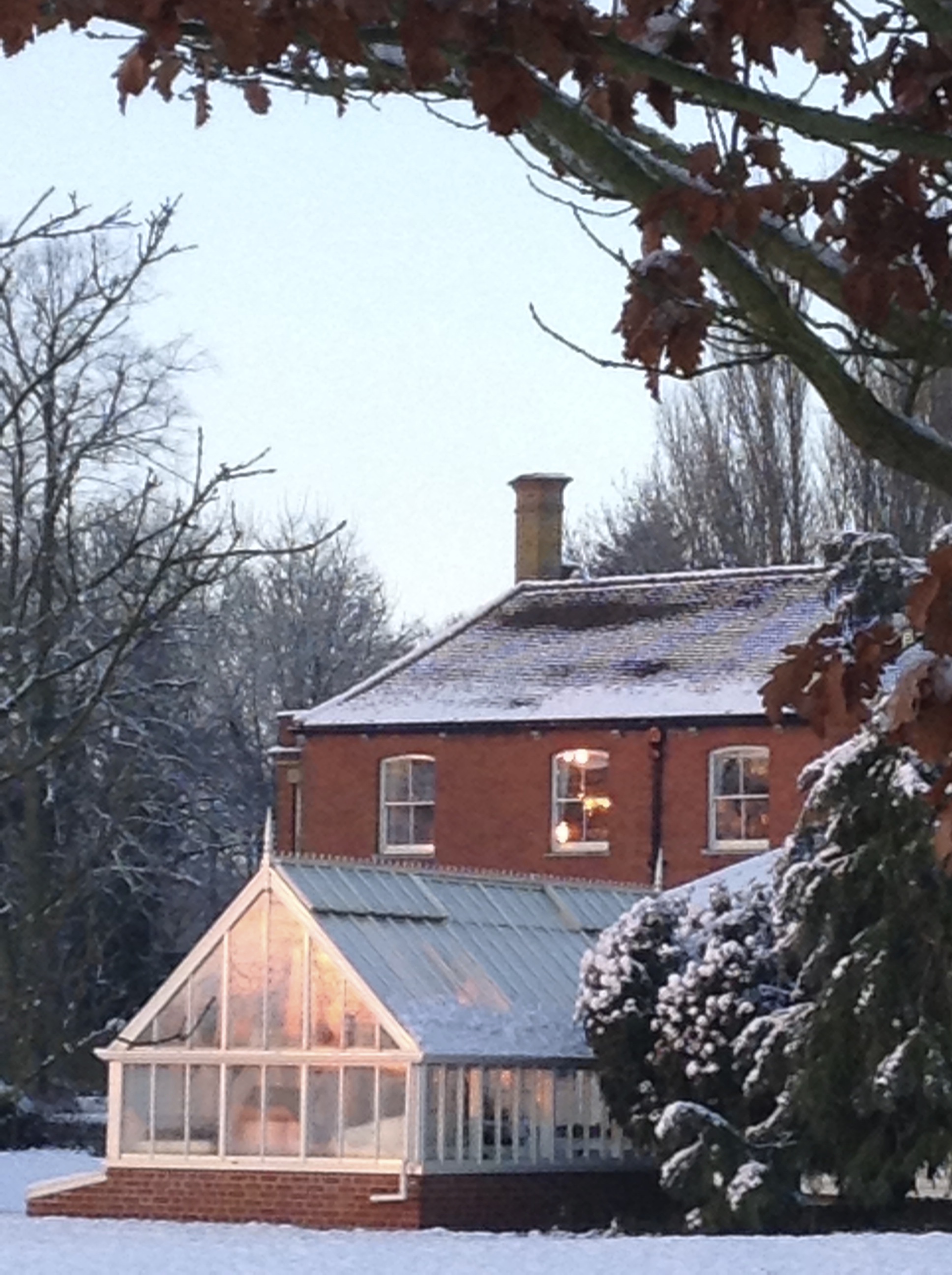 Finally I thought I would share with you this photo of the back of the greenhouse taken in January 2012, when we had a 'proper' winter.
I hope you have enjoyed this look at my January greenhouse and I will be back on Tuesday 10th February with my look at what I am sowing and growing in my greenhouse in February. If anyone would like to join in, please do write a post about what you are growing in your greenhouse and put a link in the comments here – as my greenhouse is primarily for vegetables and cutting flowers I would love to see all the interesting plants others are growing in their sheltered spaces, as well as sharing all our tips and tricks!
If you are an Instagram user I will also be posting a few greenhouse pictures on Instagram under #inthegreenhousetoday, so please do a leave a comment or post a photo of your greenhouse using that hashtag there too.