Welcome to this week's 'In A Vase On Monday,' where I join Cathy at Rambling In The Garden in her challenge to find something from the garden to bring into the house every week. This week I am also joining in with Styling The Seasons – a monthly invitation to share our seasonal decorating inspirations.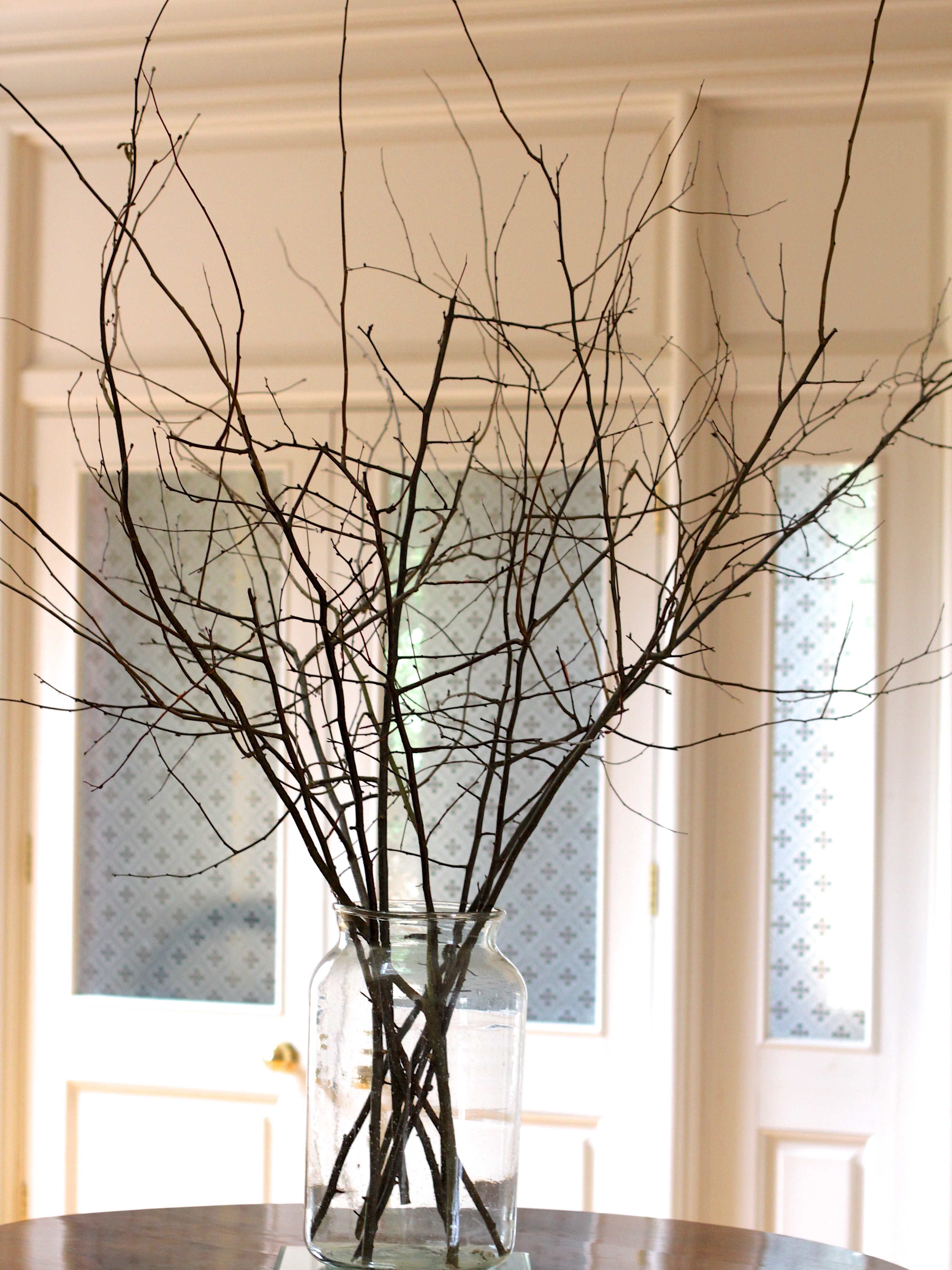 February for me is all about simplicity and seasonality. The garden is still bare but atmospheric, so for indoor decorations I have avoided any of the beautifully bright and cheerful shop bought bulbs and looked only at what I can forage from my garden and greenhouse. There has been plenty of inspiration to be found throughout the month and to add a wintery romance to our house I brought my ideas all together for my Valentine's Day dinner party.
Today I thought I would share these arrangements with you. Although they are all very simple arrangements in the daylight, when lit by candles and fairy lights at night the house really did feel a romantic place to spend a Valentine evening in. Above you can see the view as you enter my hallway – these towering branches have replaced the glittering twigs from the Covent Garden Flower Market that I used in December and will stay here until April when they will provide the framework for my Easter tree. In the meantime I will add blossom in March to lighten the look.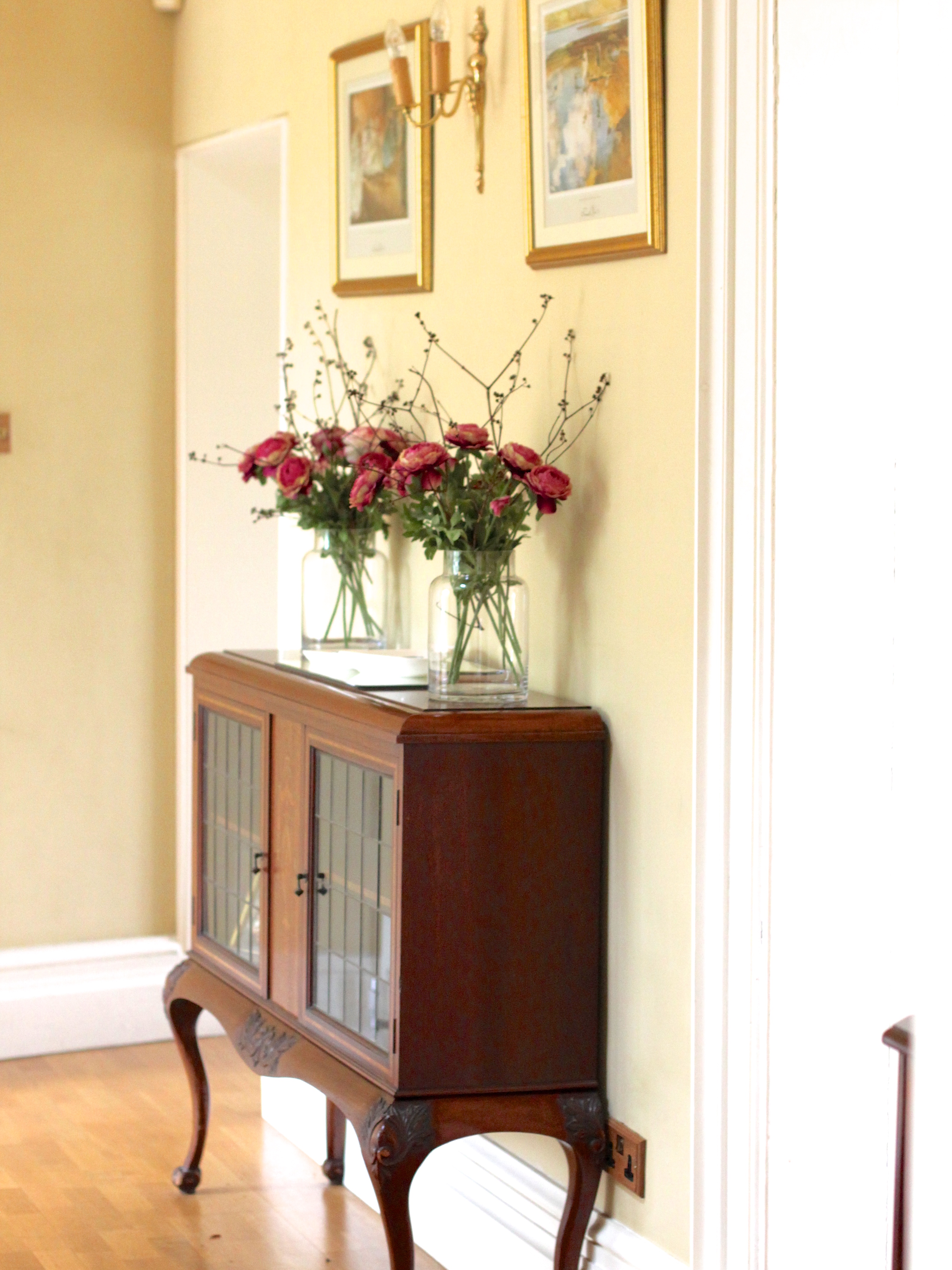 Also in the hall I have these two vases of ranunculus with twigs cut from a philadelphus bush. The ranunculus are silk, so will probably stay here until my tulips in the Cutting Garden start flowering. The beautiful cabinet you can see belonged to my husbands grandmother.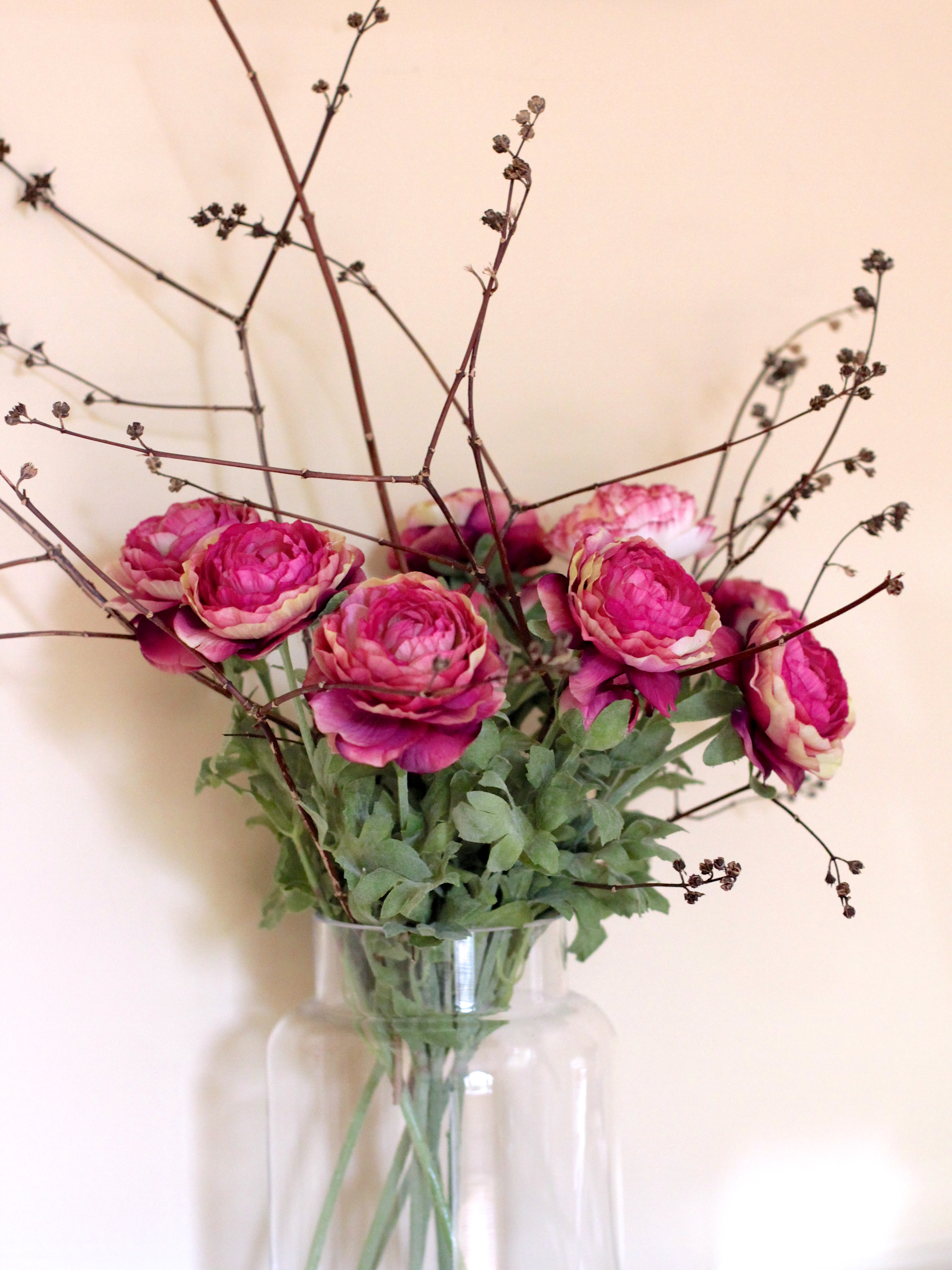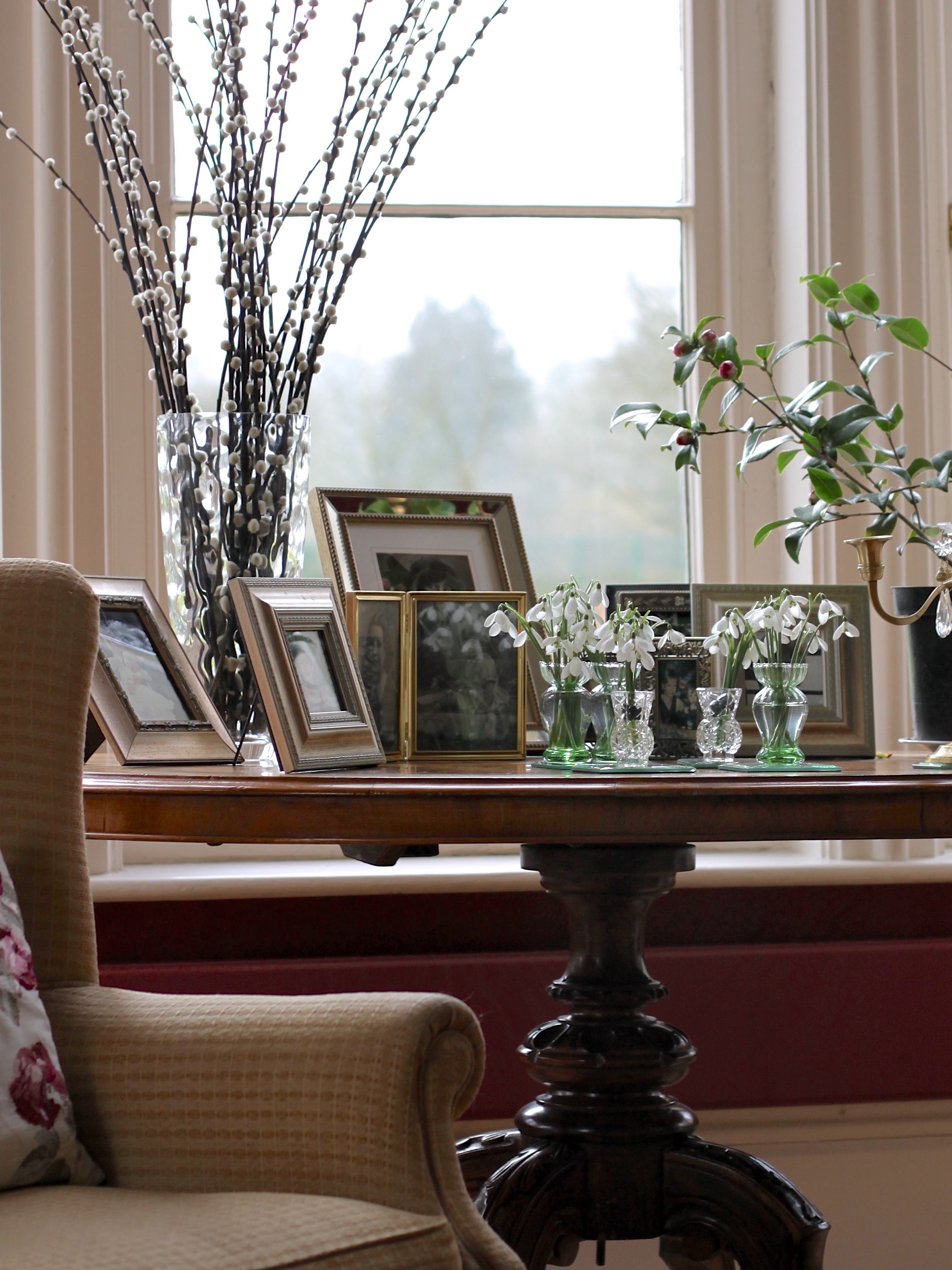 I decorated the dining table on Saturday with lengths of ivy interspersed with these small vases of snowdrops – somehow snowdrops seem to me to be so much more romantic than red roses in February. You can see that I still have vases of pussy willow  in the house – pussy willow lasts so well that I do not mind buying it and it feels so wintery set against the bare garden landscape.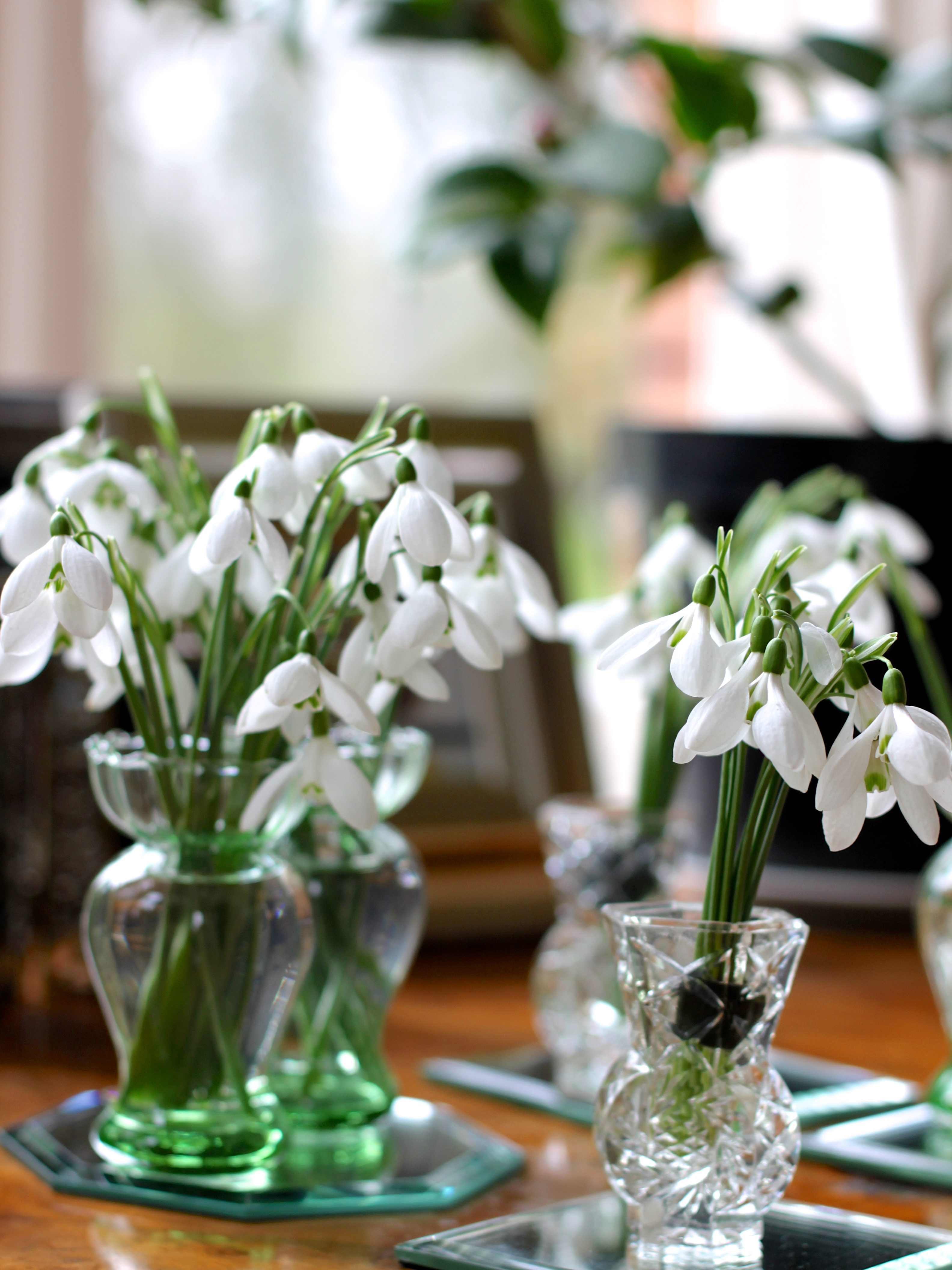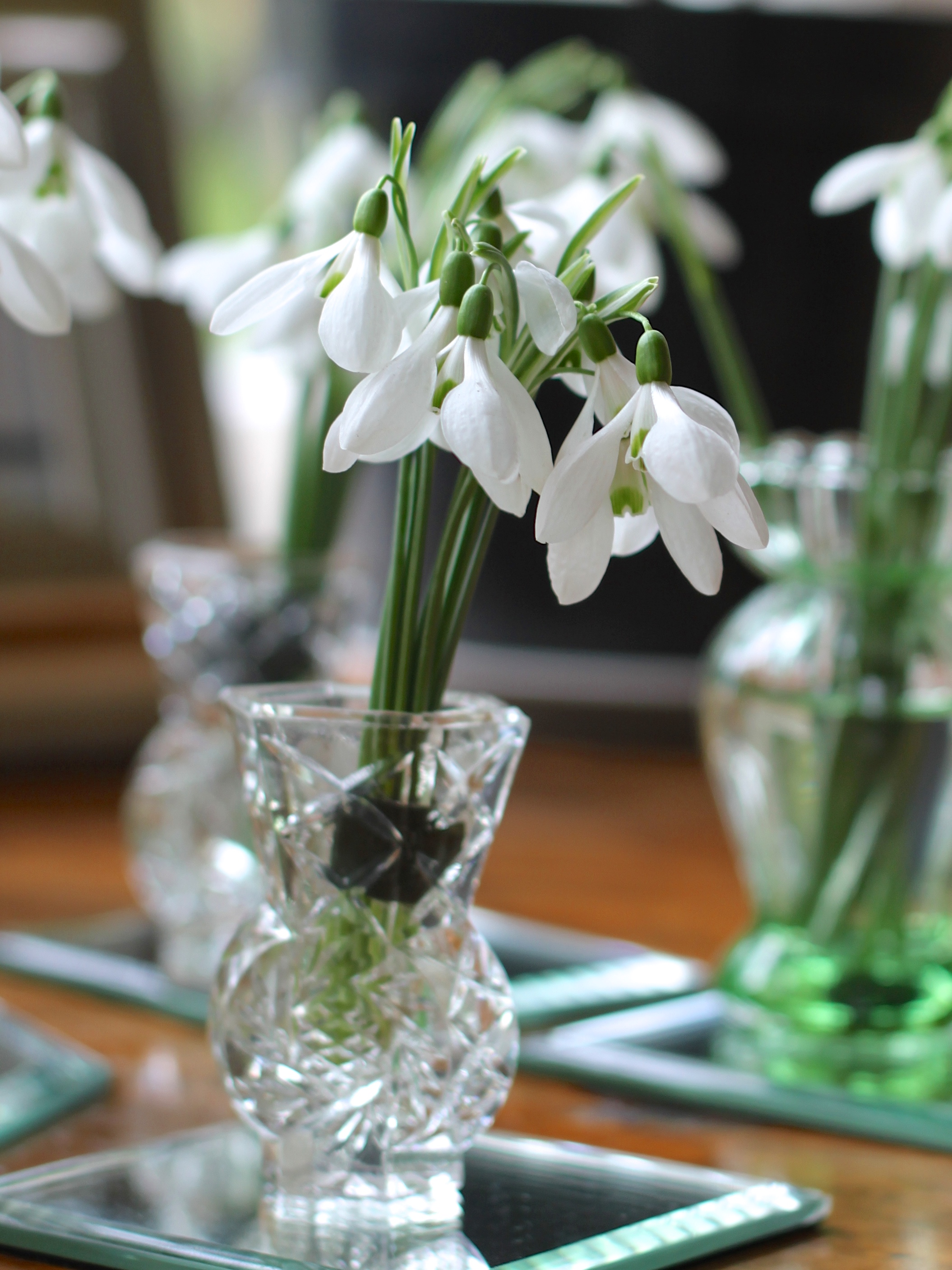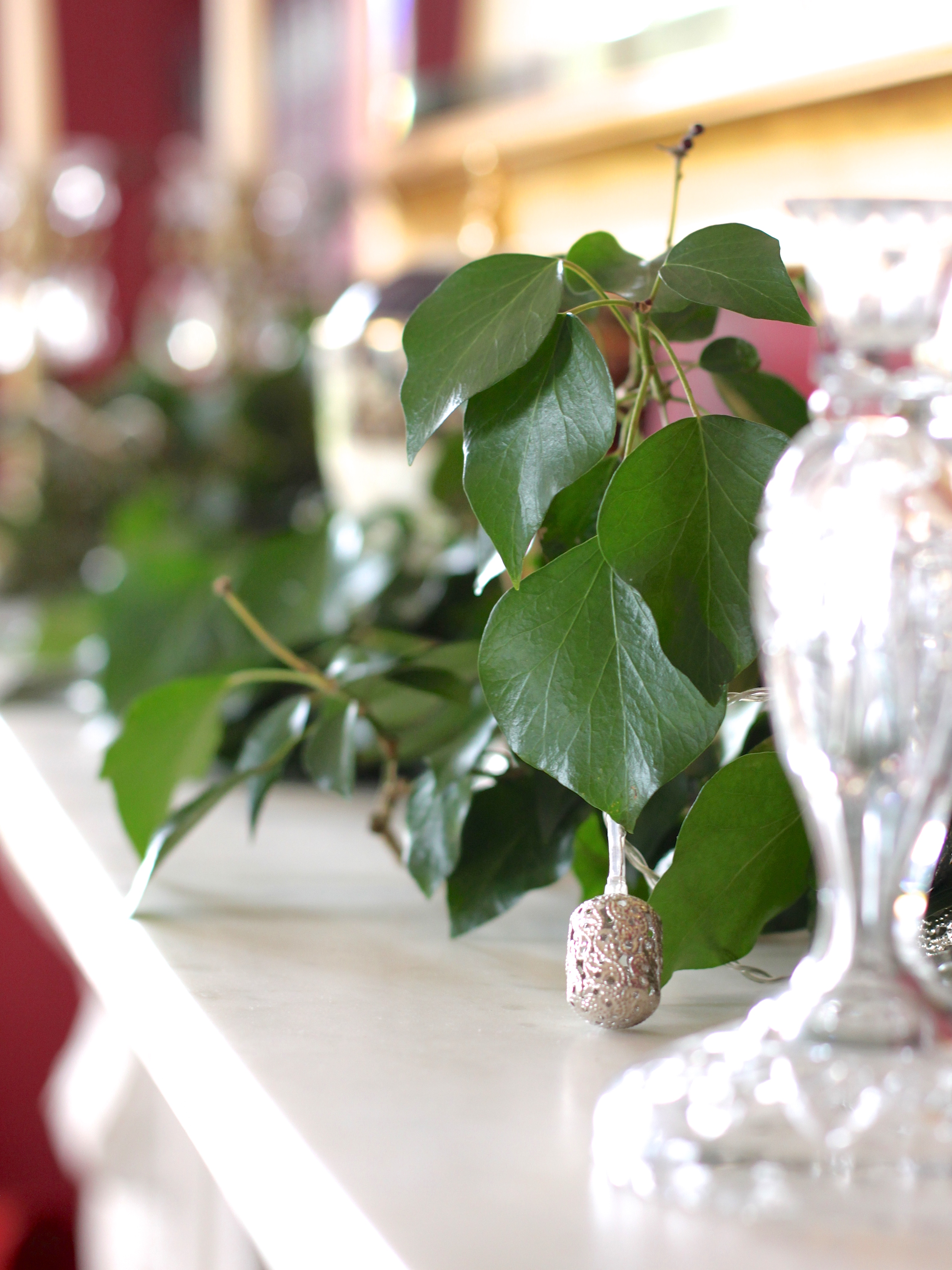 I also added lengths of ivy to the mantle.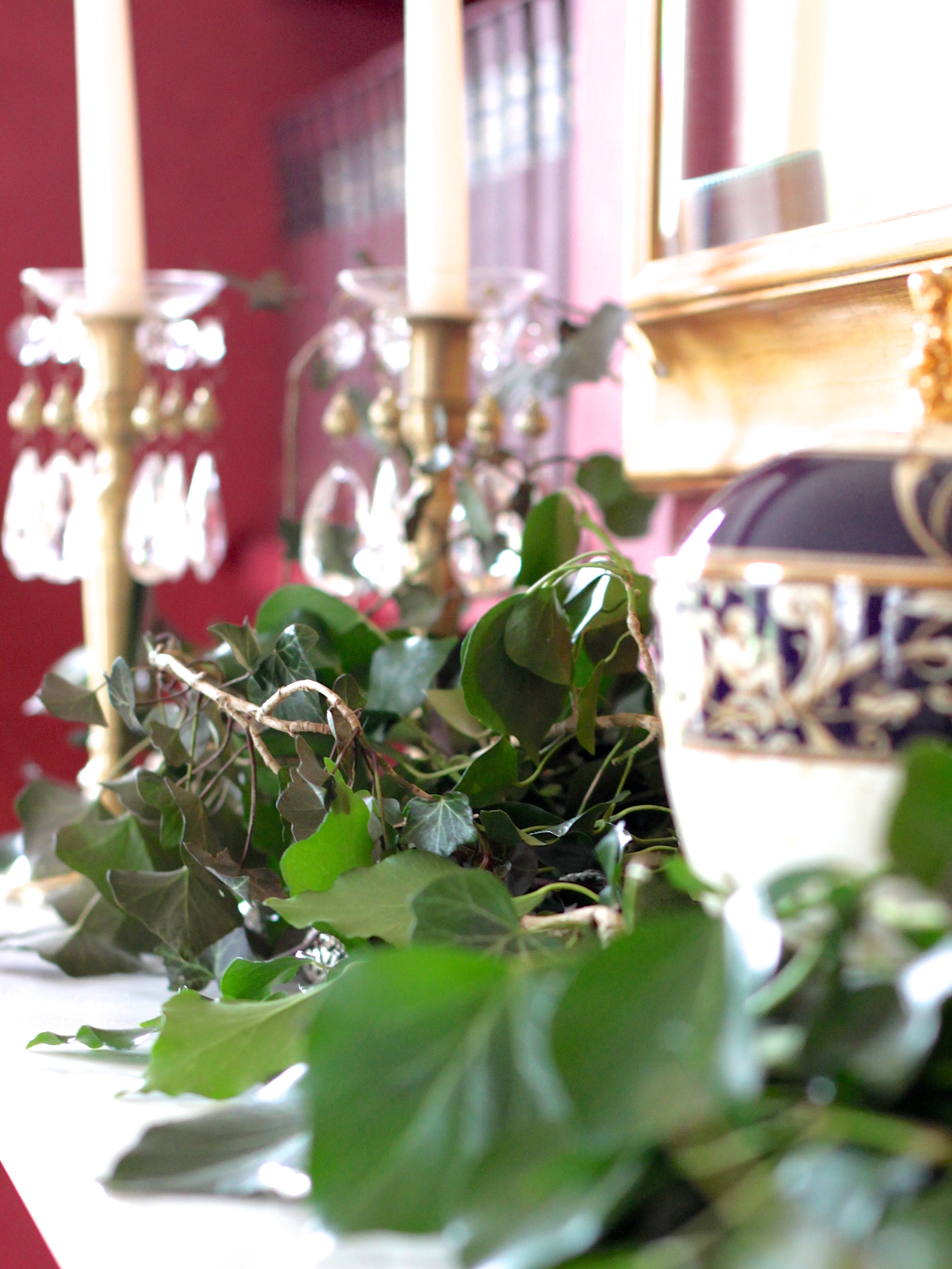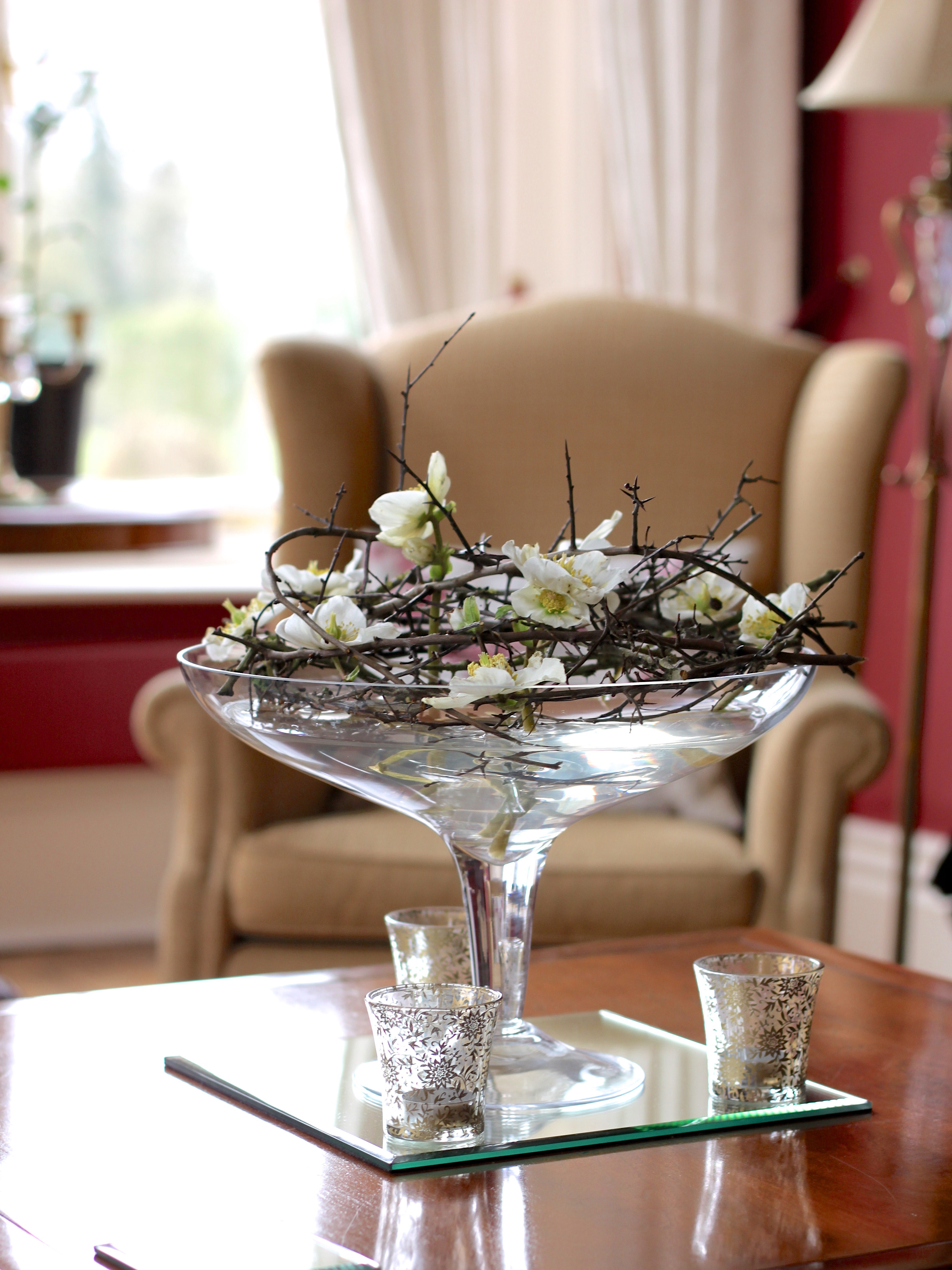 I placed my bowl of hawthorn and hellebores made last week on the coffee table that stands in front of the woodburner in the drawing room – it looked lovely lit by the candles below. The hellebores were freshly cut on Saturday.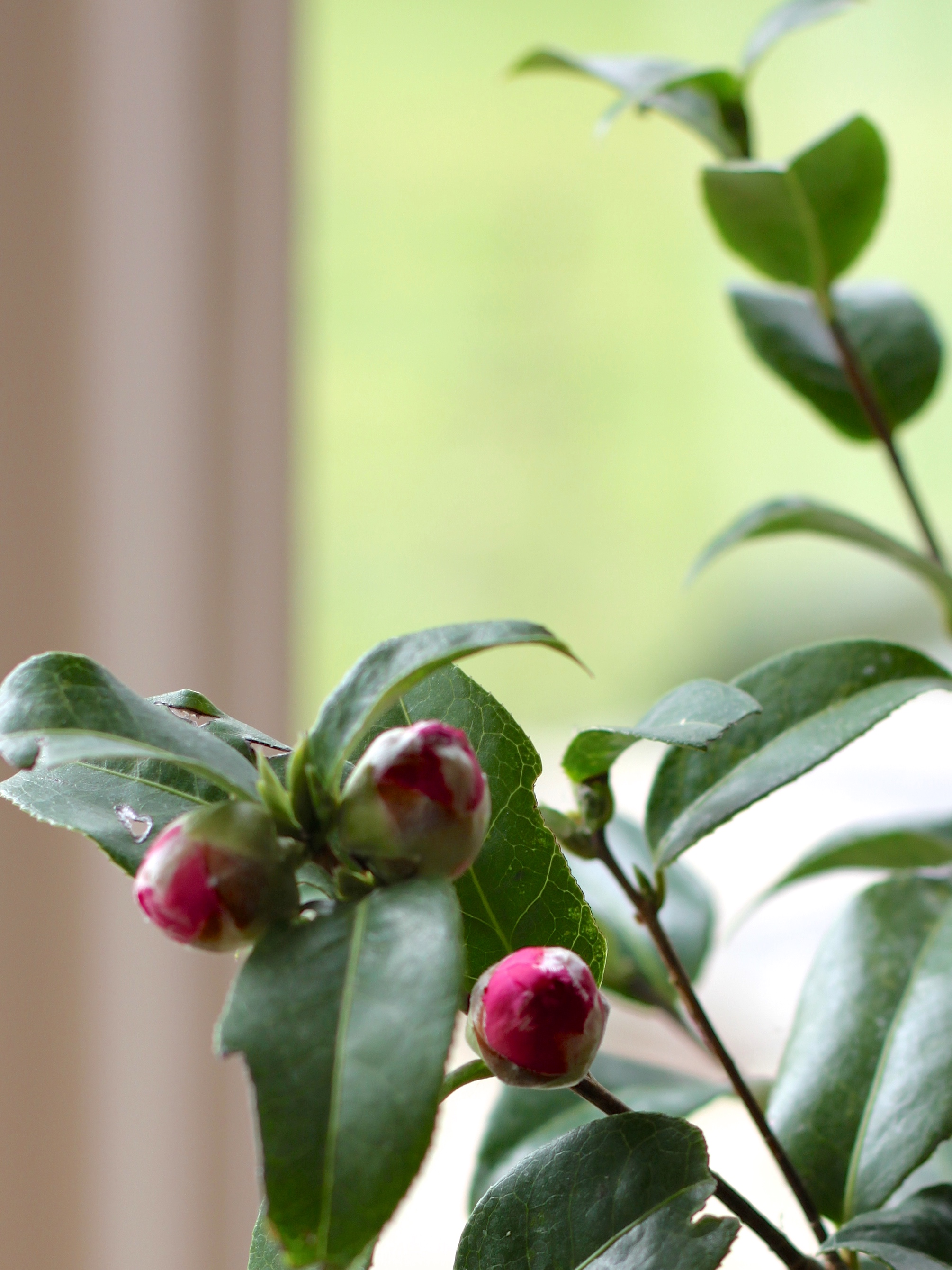 The camellia that I brought inside from the greenhouse is very close to flowering and looks lovely against the large windows in the drawing room.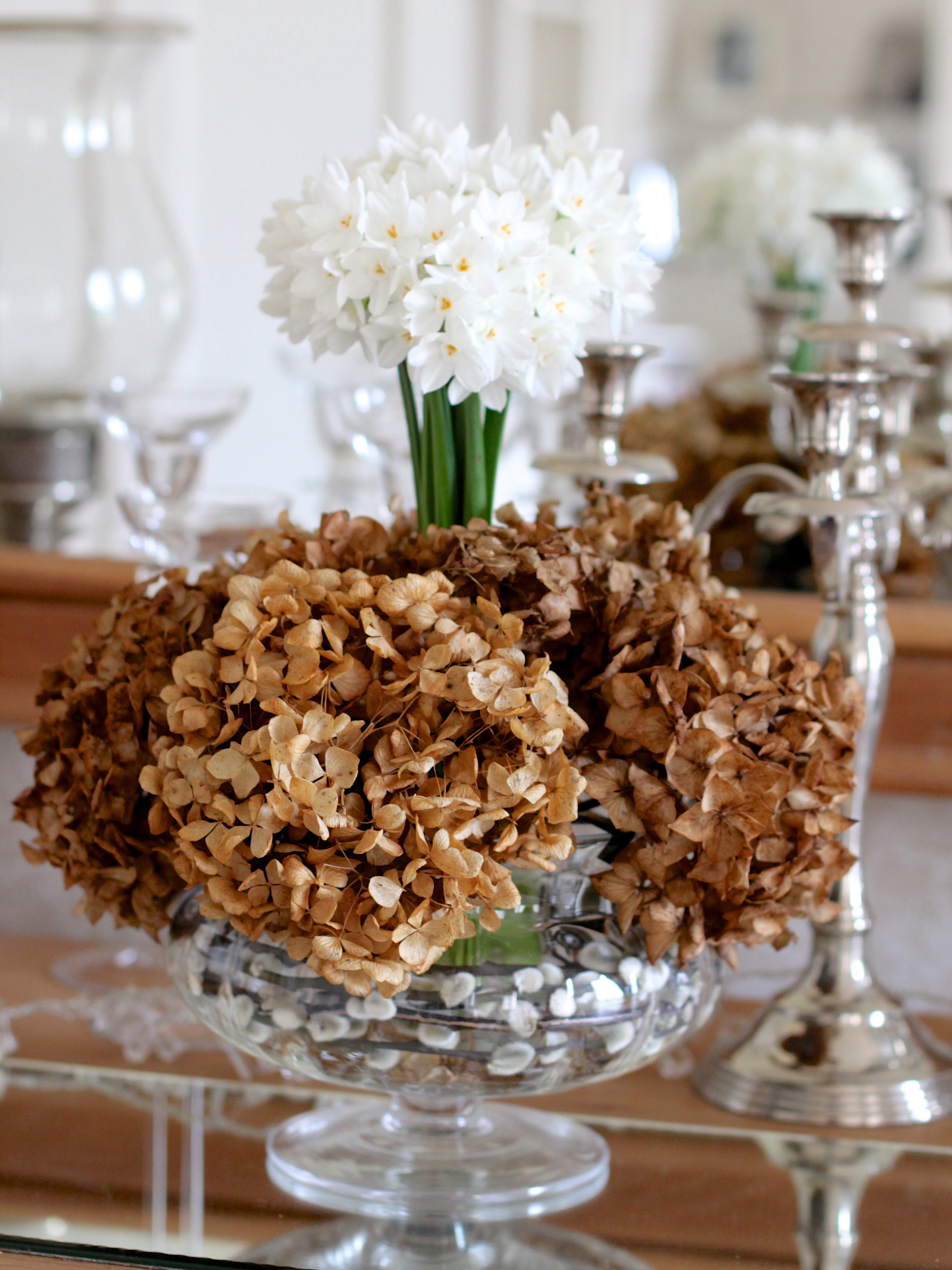 This arrangement made a few weeks ago is still looking good – I have added a fresh vase of Paperwhites, but the hydrangeas and pussy willow are the same.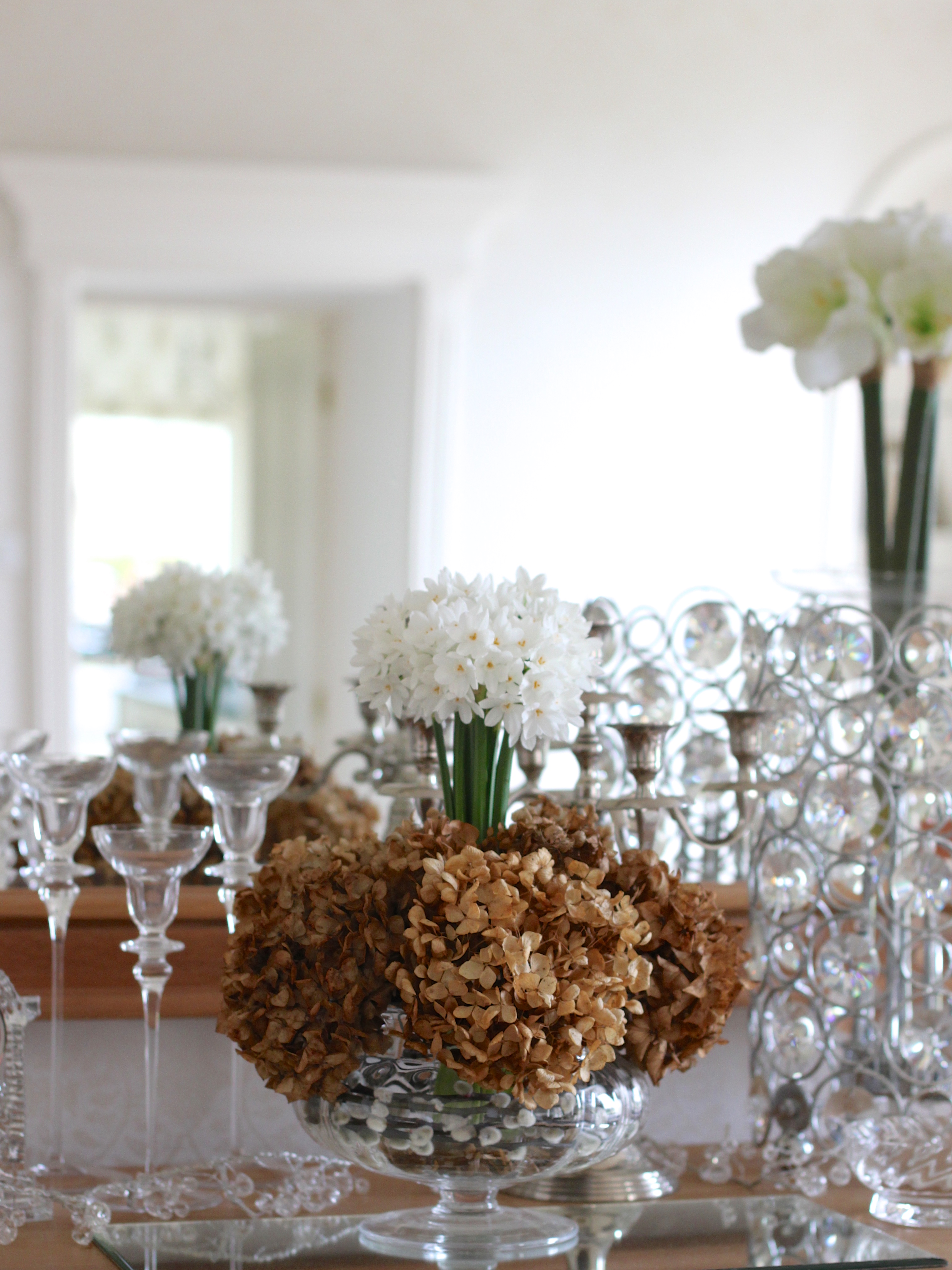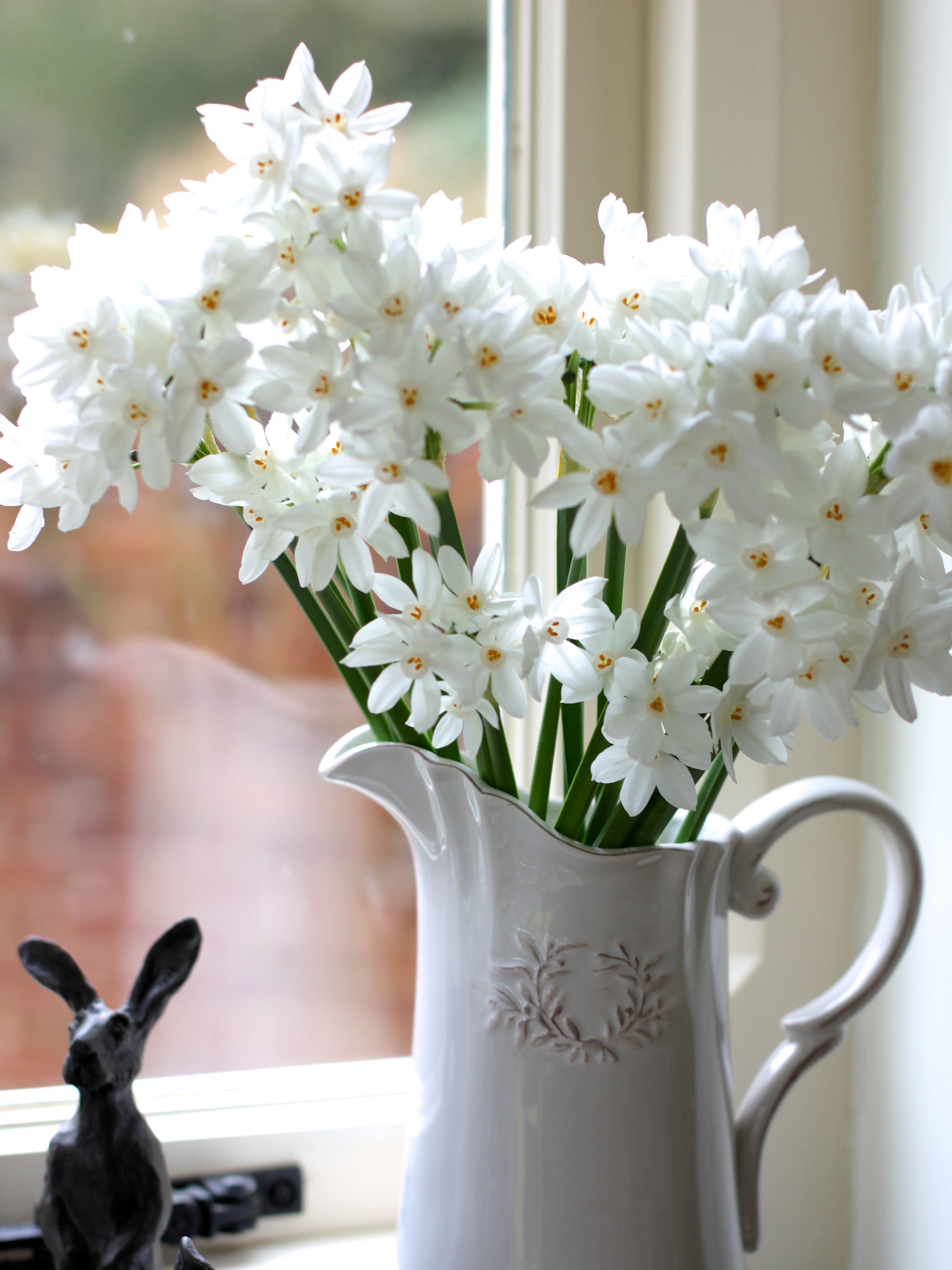 And finally, if you made your way into my kitchen on Saturday night you would have seen (and smelt) this lovely relaxed jug of Paperwhites. I bought the jug on Friday and love its colour and shape – perfect for this time of year.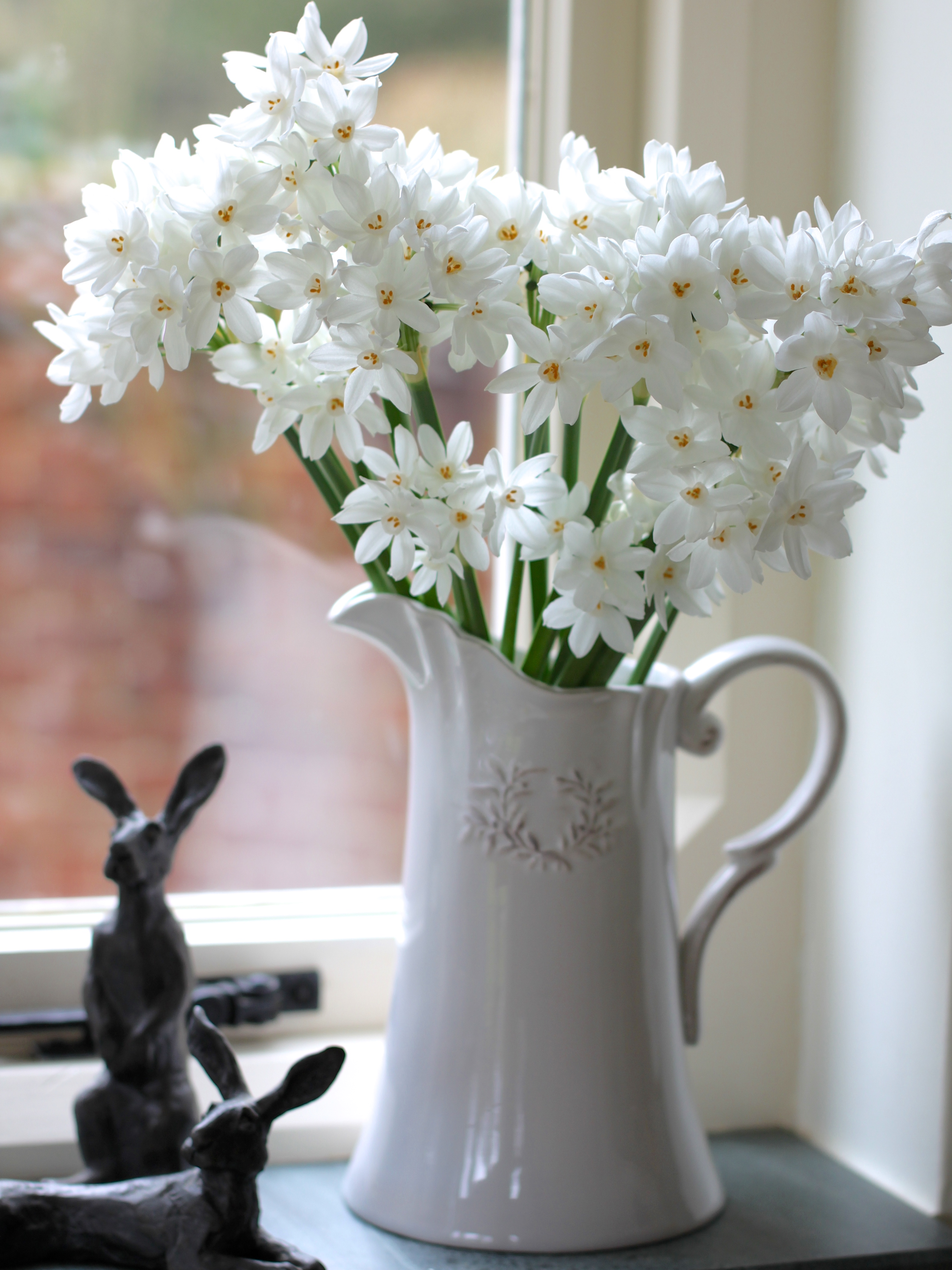 I hope you have enjoyed this look at the arrangements I made for Saturday's dinner party and that you will forgive me for not making anything extra today. The weather has been lovely for the last couple of days, although it is raining quite hard as I write. The longer days coupled with the higher temperatures are bringing a very spring like feel to the garden and I can sense the hold that winter has had on my affections gradually slipping away. The borders will soon be erupting in early spring colour and I cannot wait to get outside with my scissors!
Styling the Seasons is a lovely concept that I have just come across by Katy from Apartment Apothecary and Charlotte from Lotts and Lots. Anyone can join in – just share your monthly styled surface (or in my case surfaces!) on your blog or social media tagging Katy and Charlotte and using #StylingtheSeasons. There are some lovely spring looks being displayed by a variety of bloggers under the heading Styling The Seasons – you will find lots of inspiration!
I hope you will pop over to Cathy's blog to see what she and the others have made from their gardens this week.