Welcome to this weeks 'In A Vase On Monday', which I apologise for posting on Tuesday. Sometimes life seems set to thwart our best laid plans and this was certainly the case yesterday!
This week spring has arrived in the greenhouse leading the way to a change of mood in the garden. To celebrate the flowering of my potted spring bulbs I decided to move a few of the terracotta pots into more fetching containers.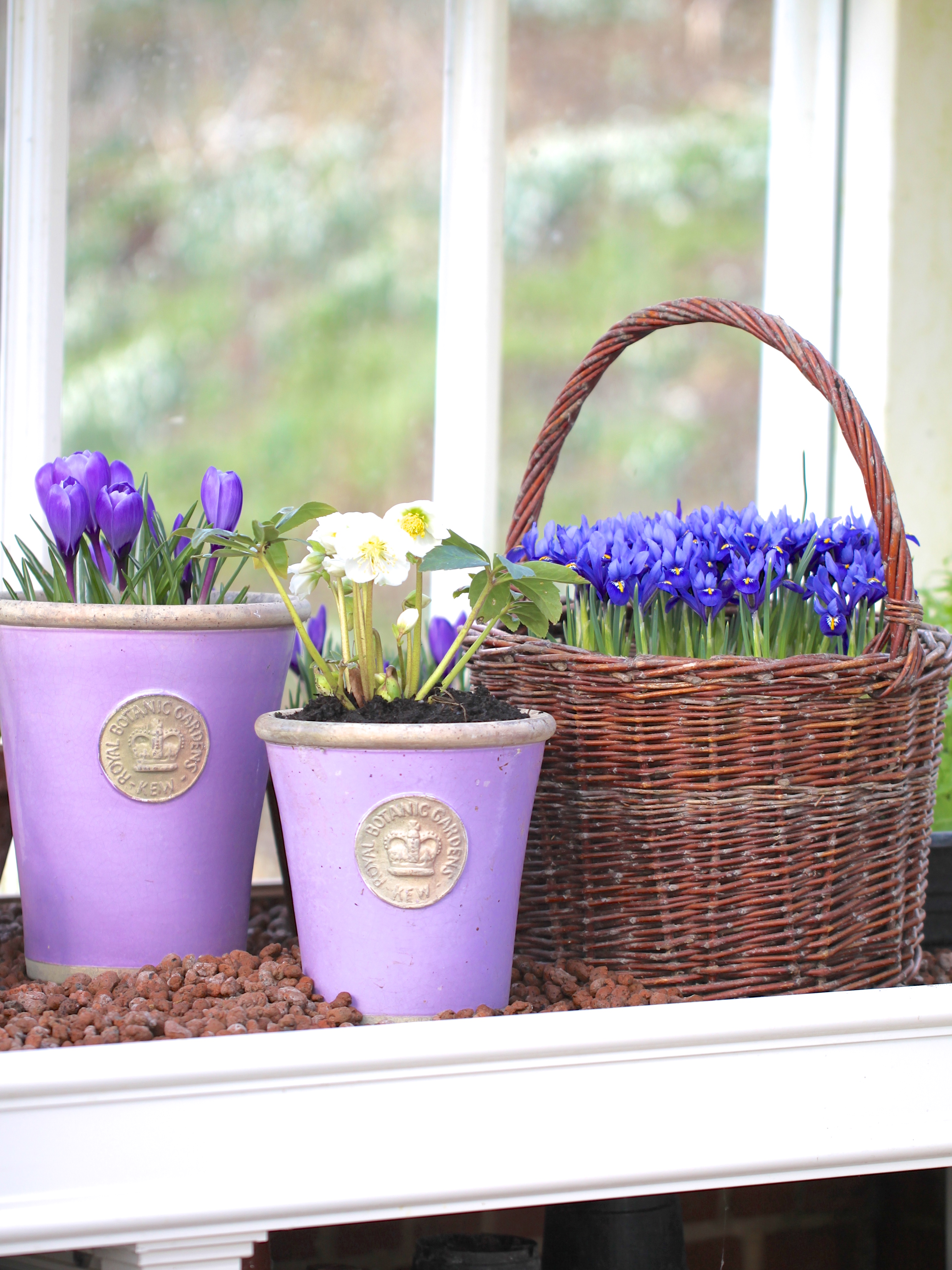 These lilac ceramic pots were a birthday gift a few years ago and the large old basket came with the house and lives in the greenhouse for collecting vegetables.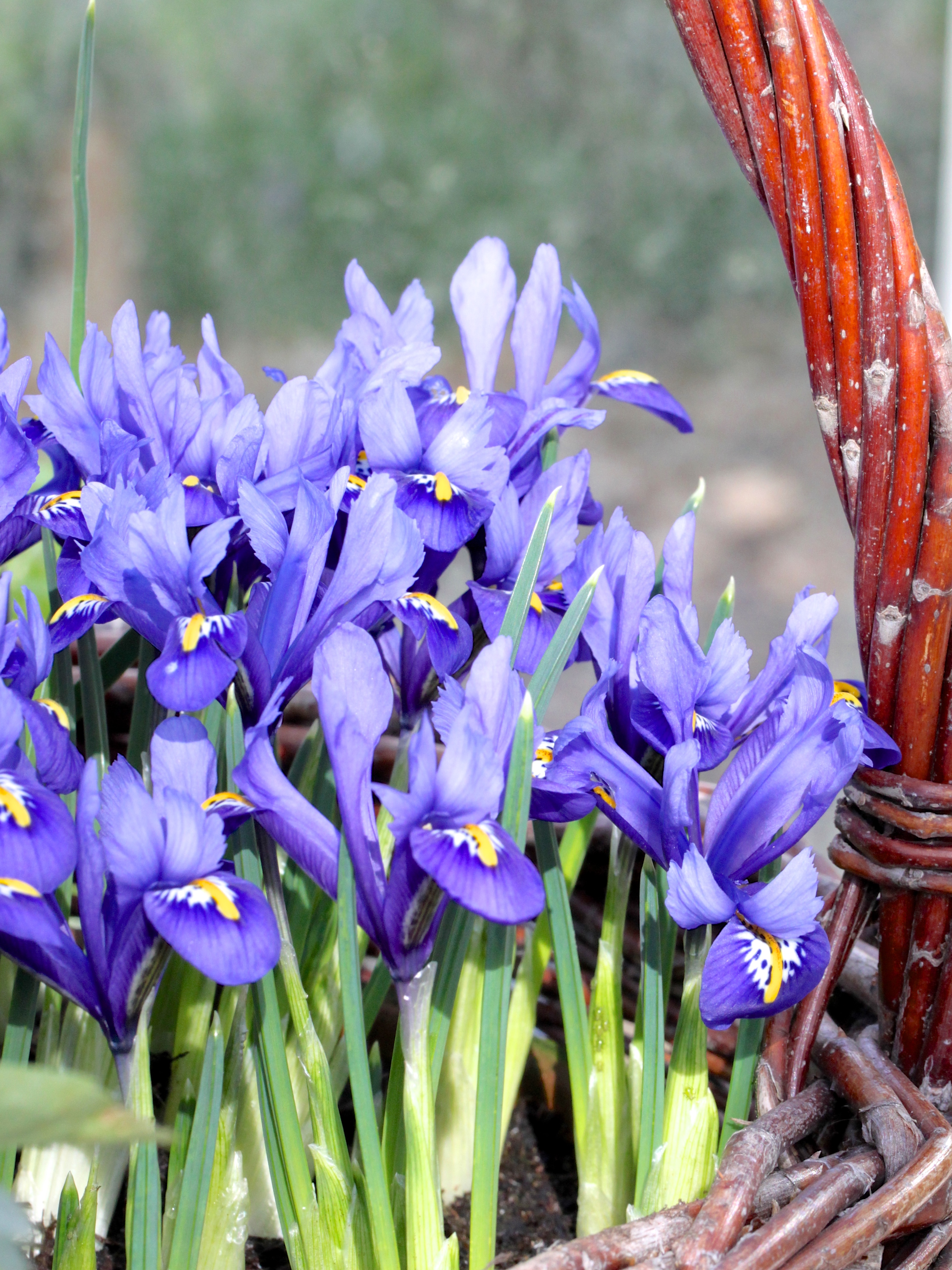 I was super excited when I went into the greenhouse this weekend and saw that this lovely big pot of Iris reticulata 'Harmony' was finally in flower. As I had potted them up so late (late December) they are coinciding with the iris flowers that are now opening in the garden, but I love to see them up close like this and being inside the flowers are protected from the wind and rain that we have been having.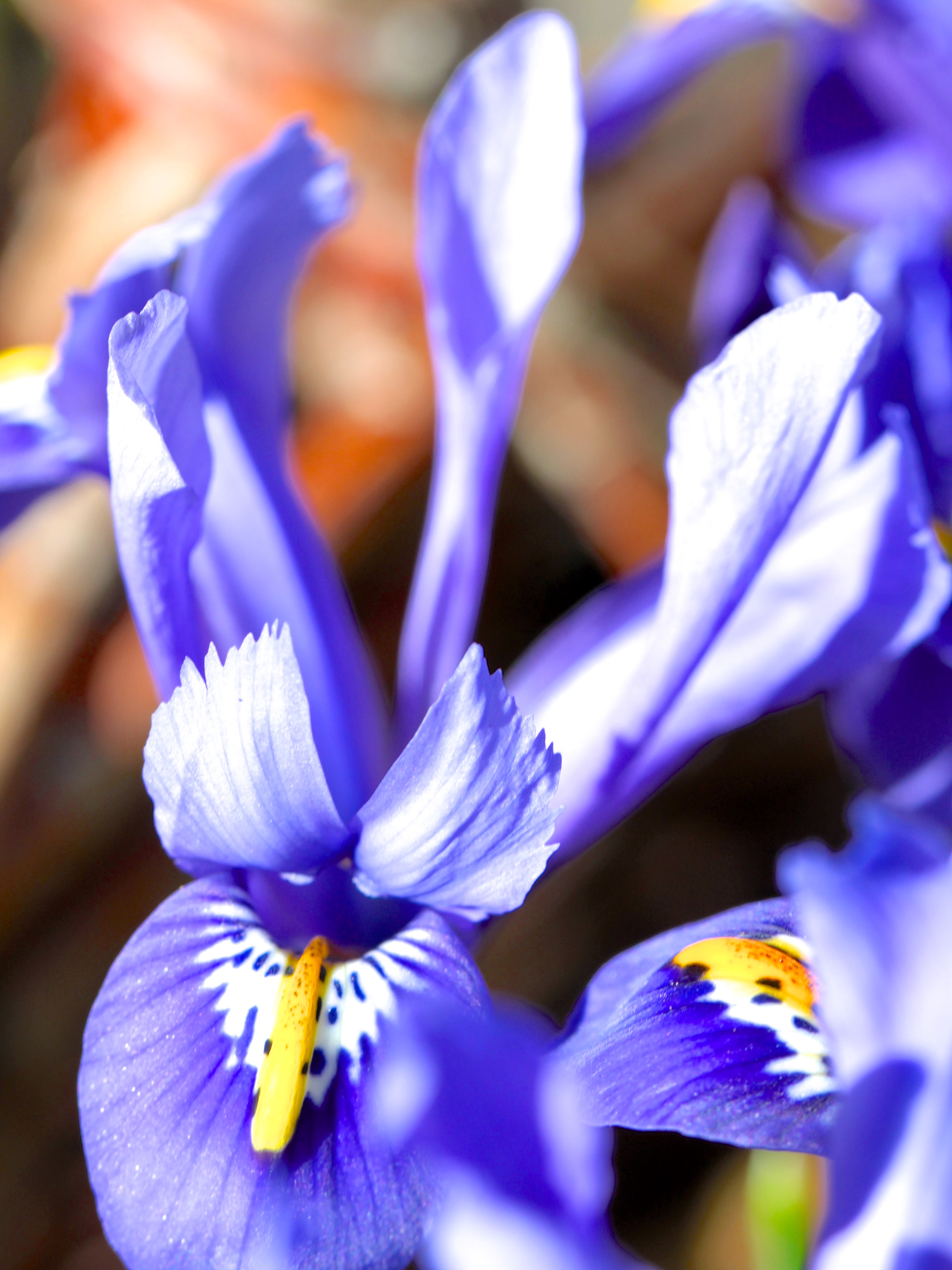 I find the flowers of Iris reticulata endlessly fascinating and I particularly love the blue of the variety Harmony. You can see photos from previous years here and here.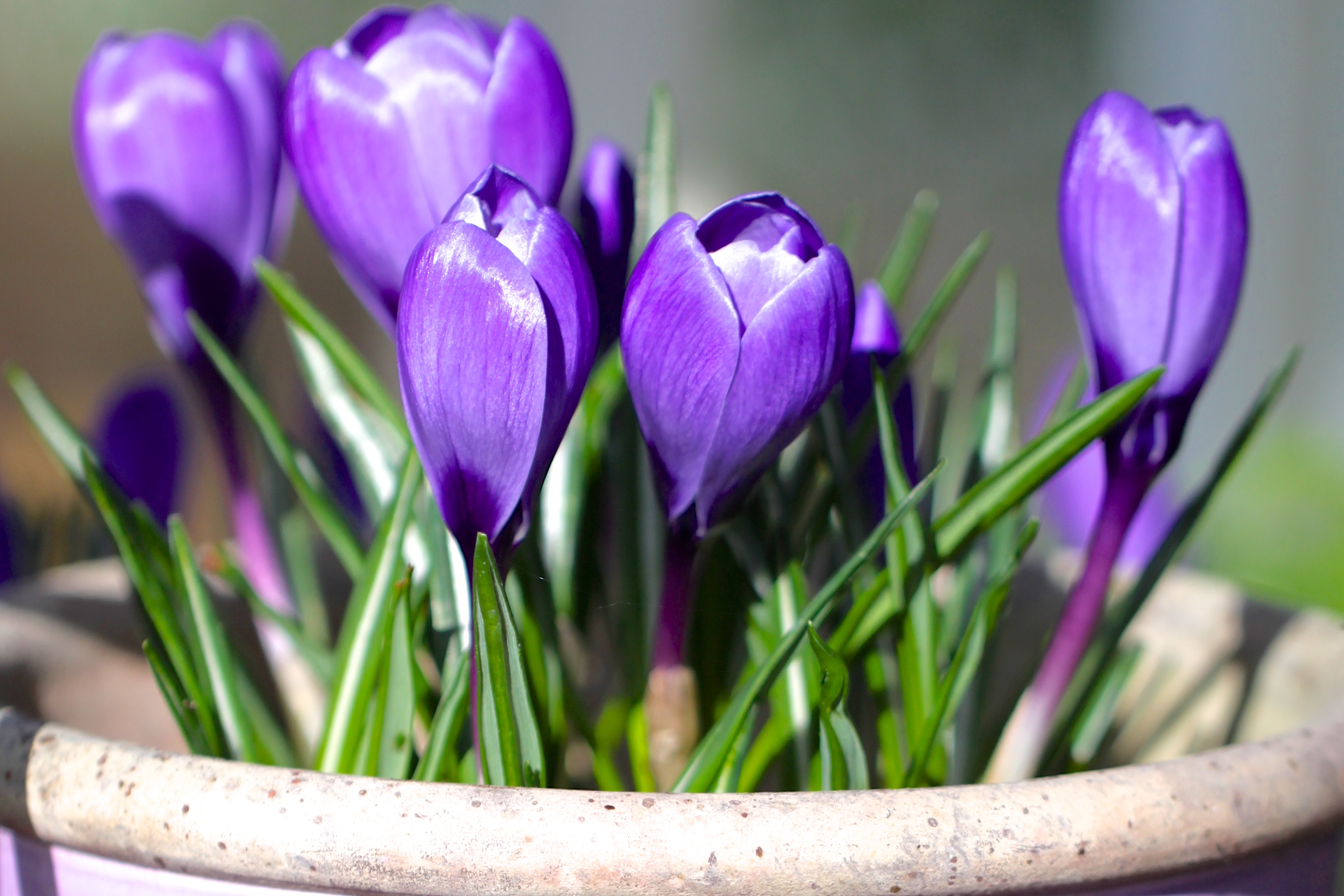 I have shown you these crocus before, a few weeks ago when I brought a couple of pots into the house to speed up flowering. These ones have stayed in the cooler temperatures of the greenhouse and are flowering just as my garden crocus are beginning to open. Once the bulbs are in flower the blooms will last longer if you leave them in a cool place, so I tend to leave most of my pots in the greenhouse and enjoy the beautiful flowers as I water my seedlings.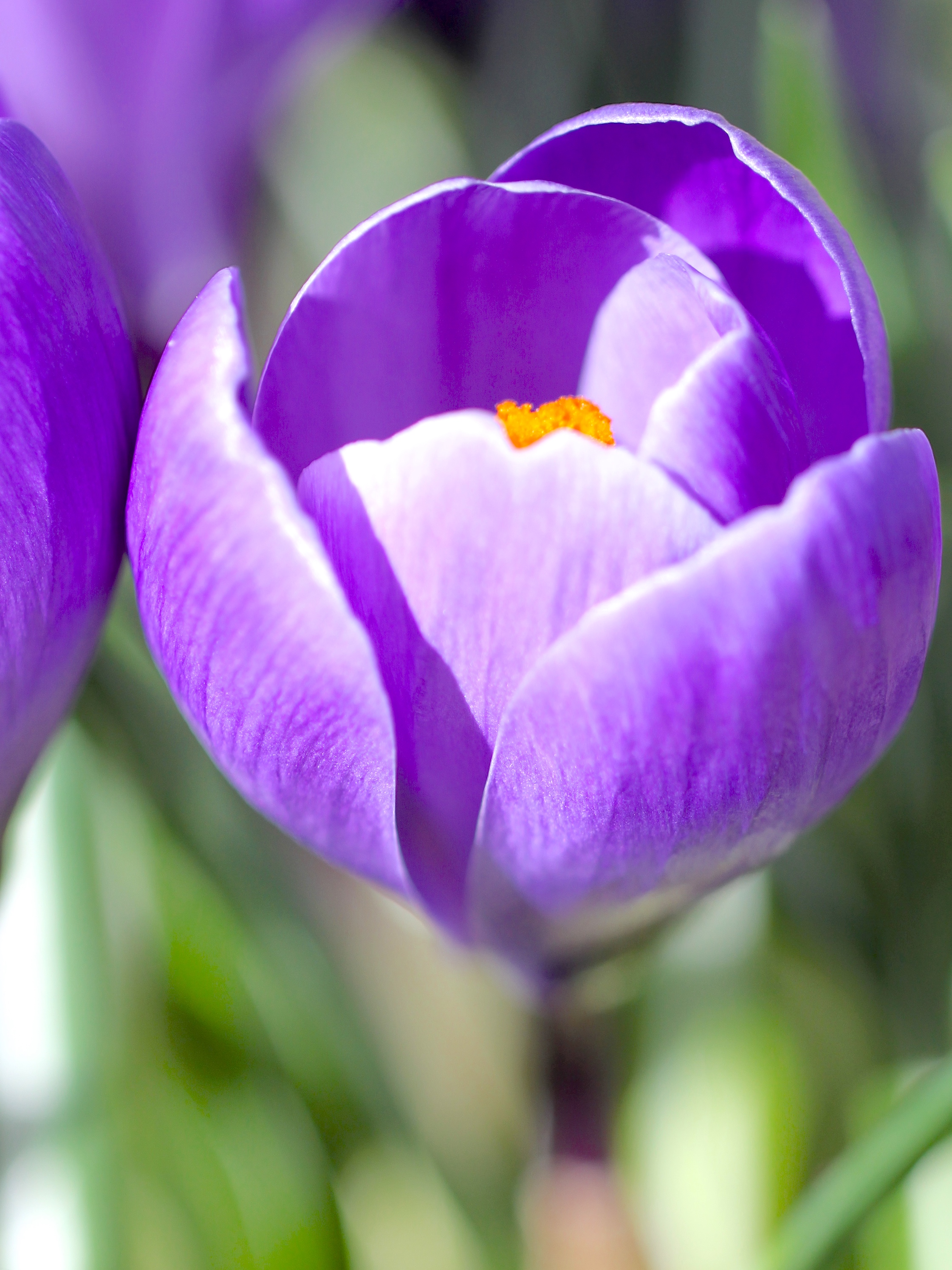 When you look at this picture you can understand why the bees are so attracted to these stunning flowers – I have some white crocus in flower in a pot outside and they are full of bees already.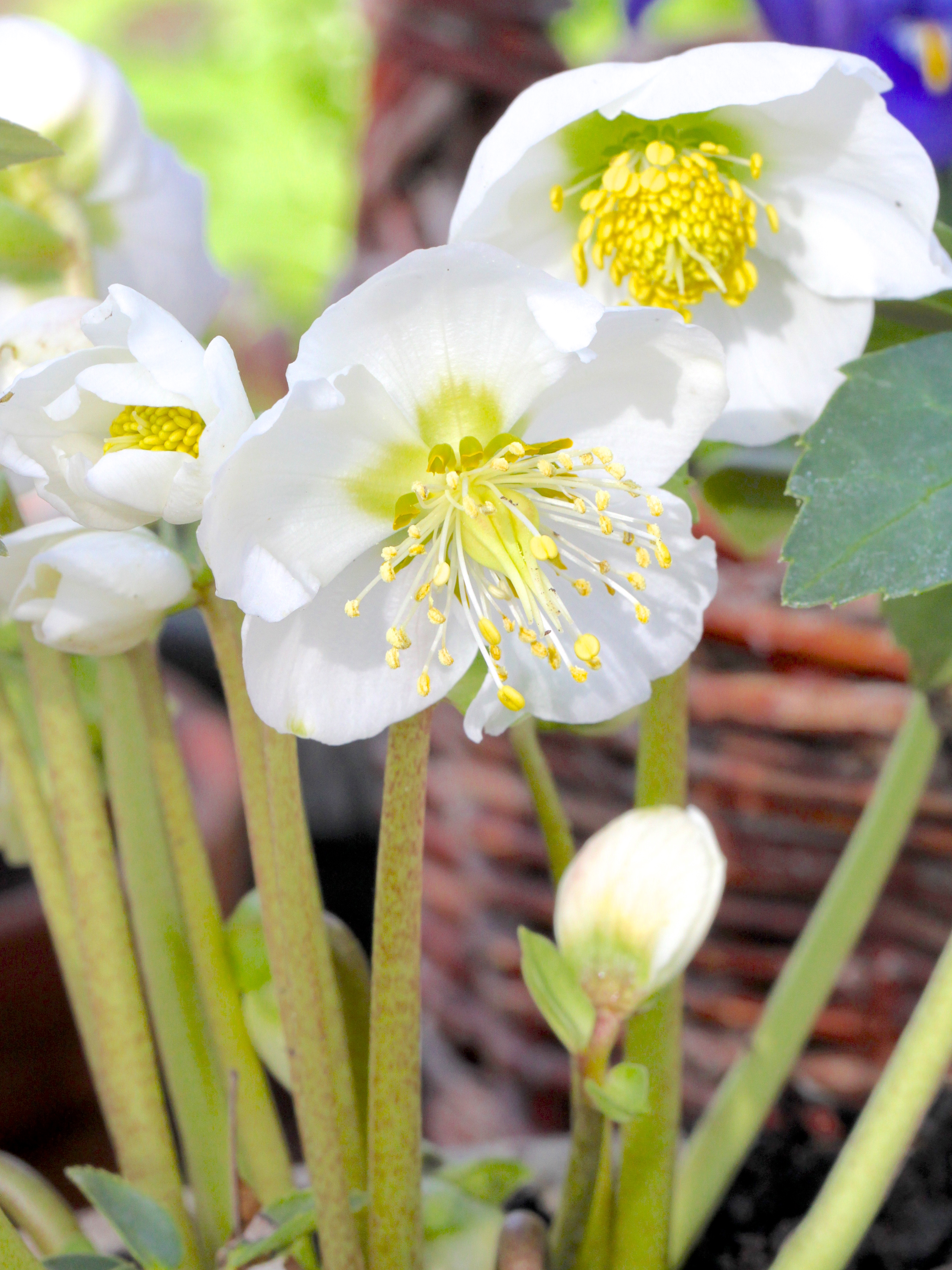 I love the flowers on this pristine helleborus niger and decided it deserved a more showy pot than the black plastic one it was growing in! It is so interesting to watch the stamens increasing in length and opening out as the seed pod starts to form.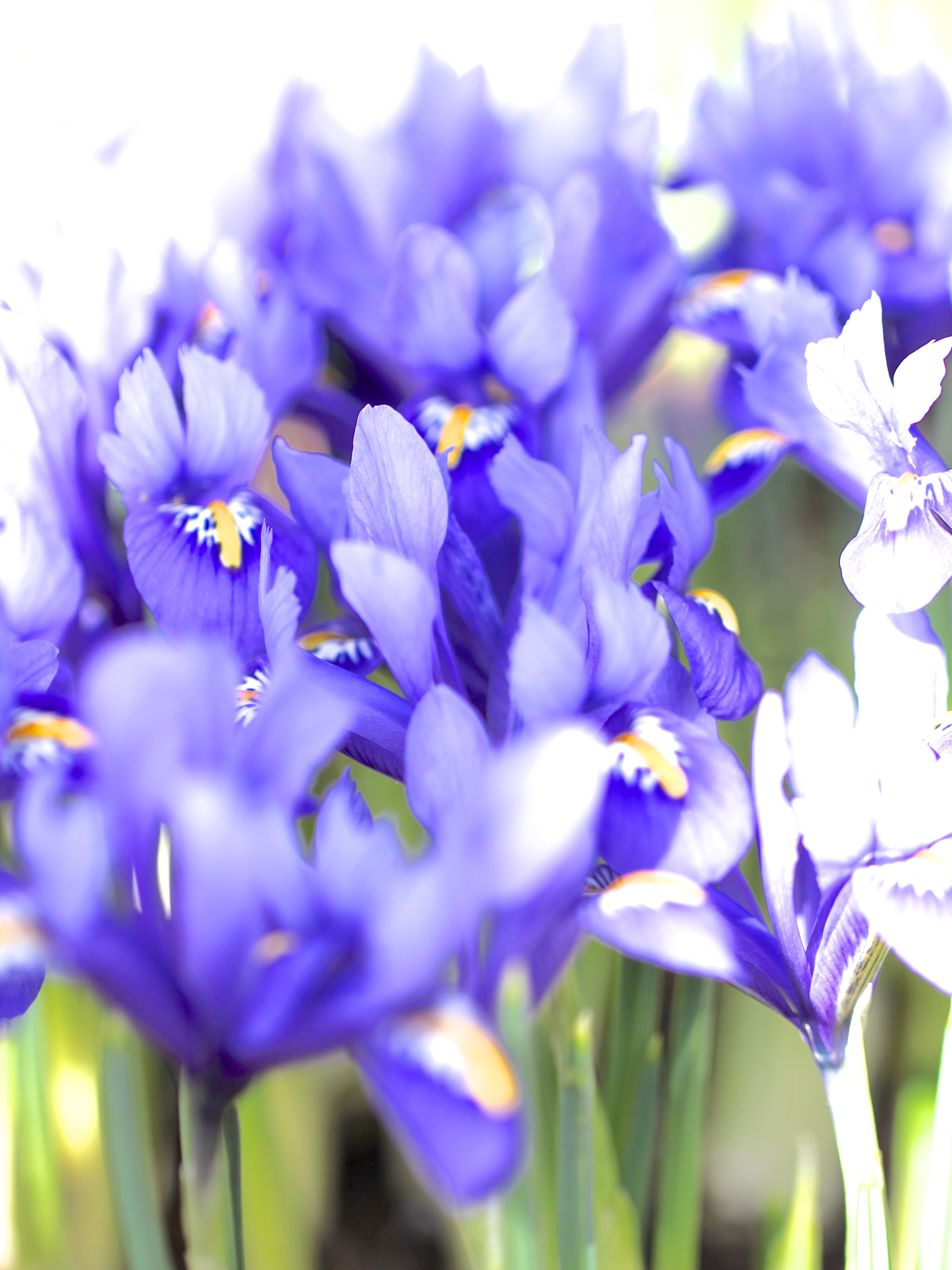 I have included this quite blurry photo of the iris as it looked to me more like a painting than a photograph.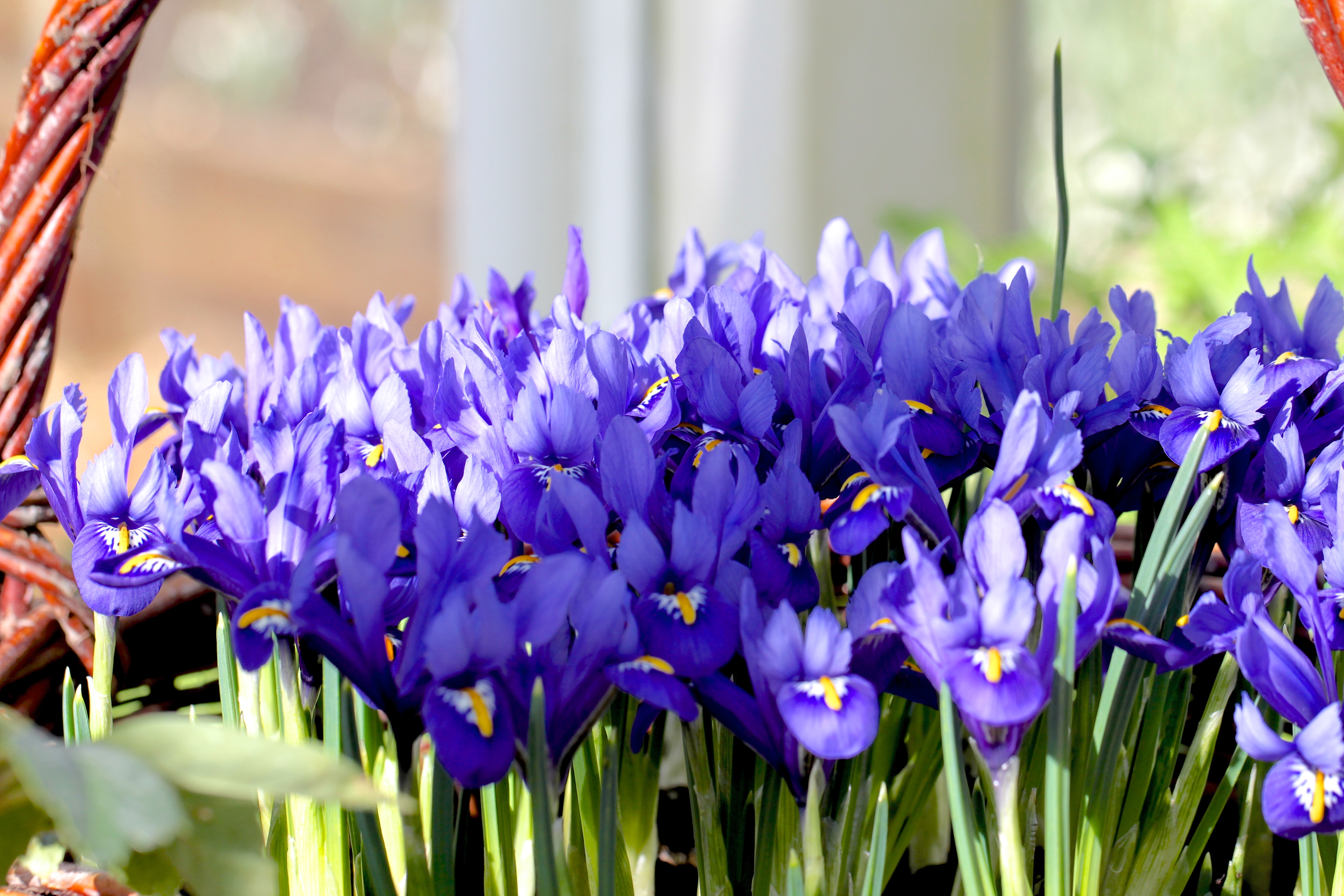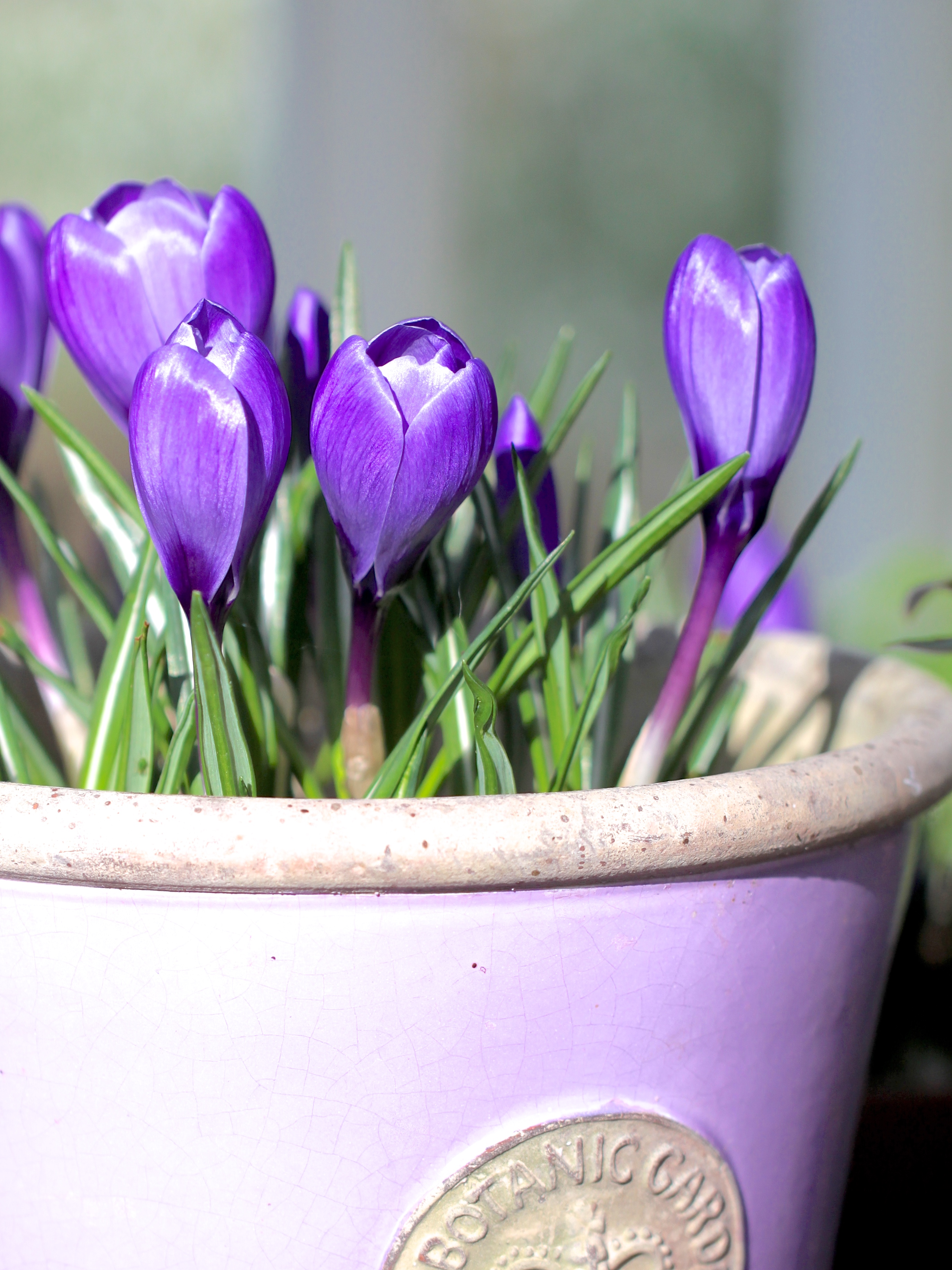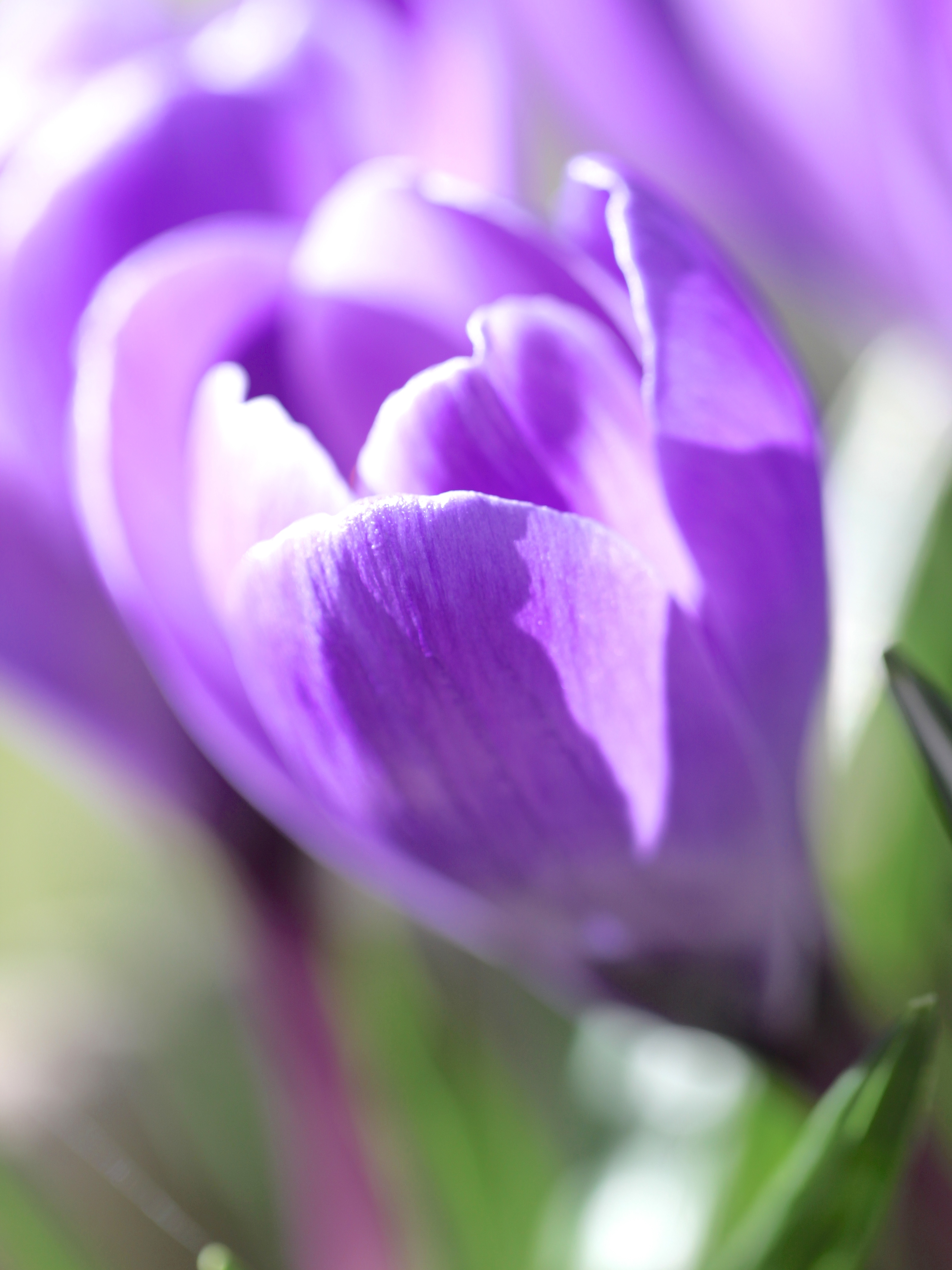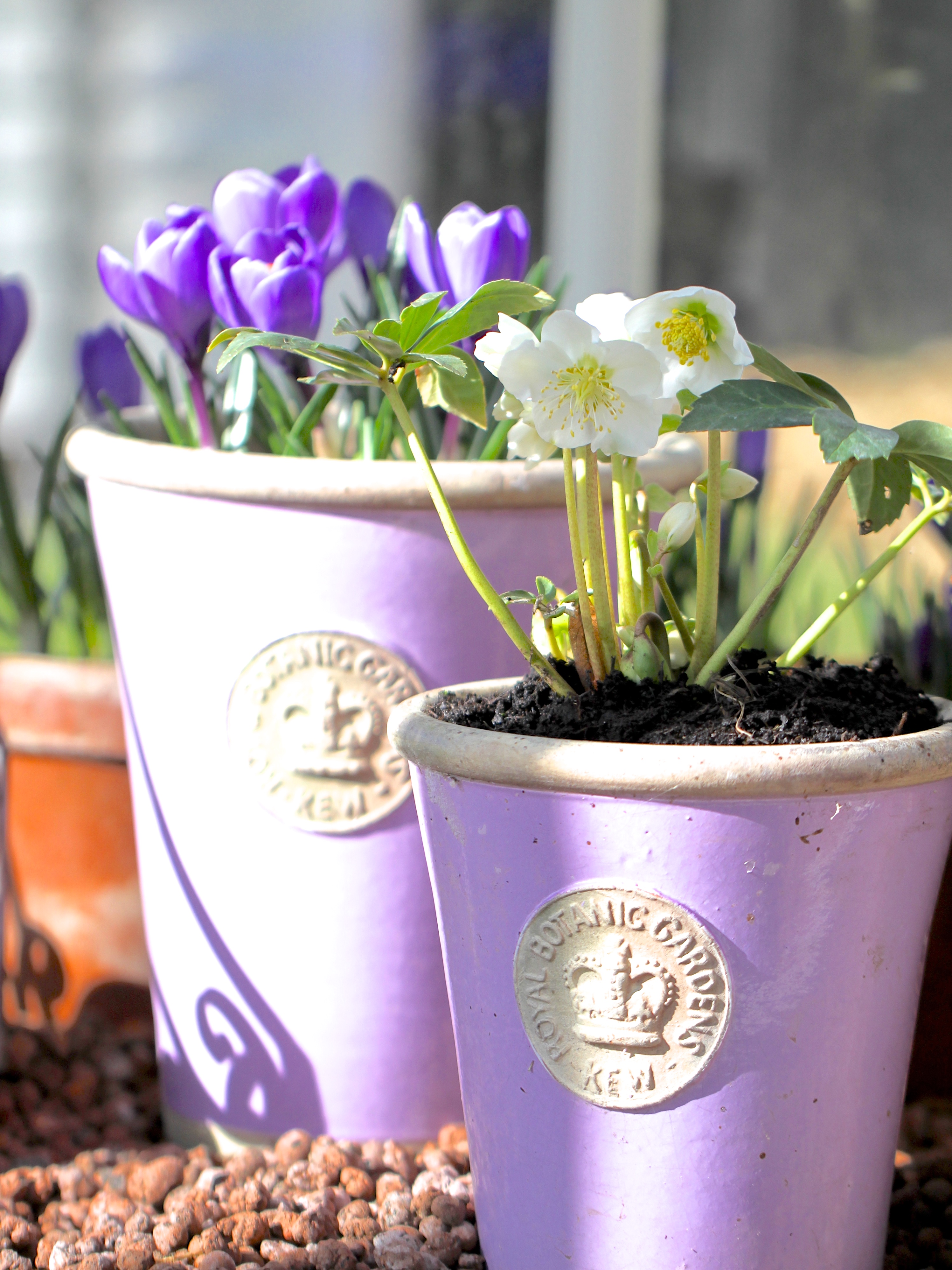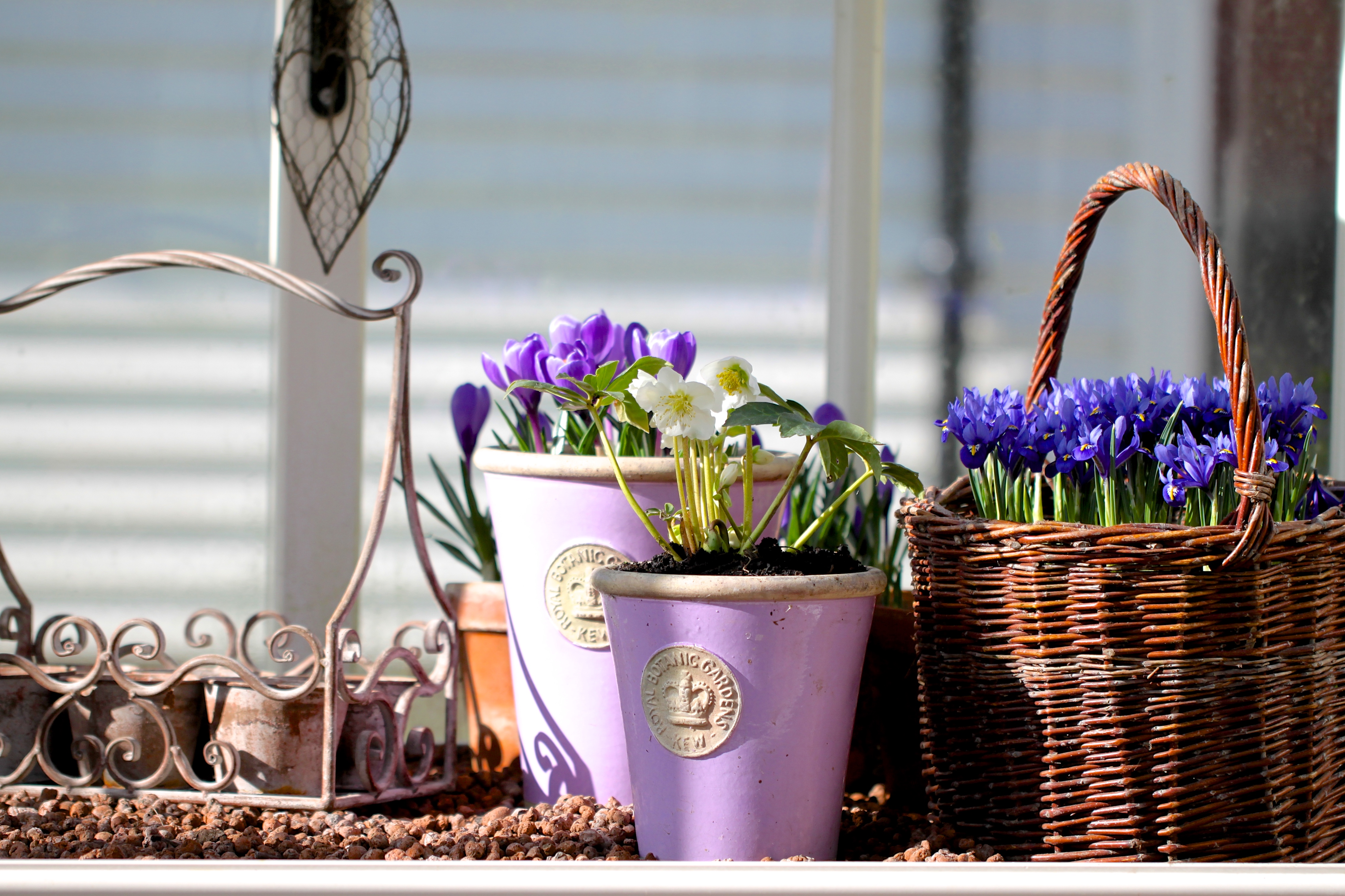 I really love growing spring bulbs in my greenhouse – it is one of the highlights of my gardening year! I enjoy them just like this in the greenhouse on my daily trips to water my plants, I will be bringing them into the house to add a burst of spring colour over the next few weeks and they make a perfect present when I need something quick to take to a friend. I am already making plans for next years greenhouse bulb order and I will certainly be trying Christina's excellent idea of forcing tulips next winter.
I must say a big thank you to Cathy at Rambling In The Garden for hosting this lovely meme and I hope you will pop over to her blog to see what she and the others have made this week – although as I am so late you may well have already done that!
I will be back on Friday with my monthly look at the Cutting Garden and I am very excited to tell you that the lovely team at Sarah Raven will be sponsoring a giveaway this month, so be ready to leave a comment to enter the draw!