Welcome back to the final post in my series about last weeks April wedding preparations.
Having finished the church and the barn, the final stage was to make the three bridesmaids bouquets and the bridal bouquet. This was the most nerve racking part of the whole process! In agreement with the bride I had decided early on that it would be best to buy in the flowers for these bouquets. If the wedding had been later in the season I would have been more inclined to use garden flowers, but the uncertainty of having suitable flowers by mid April meant I was happier to know we had the flowers on order. Besides – all brides like to have a few roses on their wedding day and these are in short supply in April.
For the bride I ordered white Avalanche roses, white ranunculus and white stocks. The bride was clear that she did not want a round hand tied bouquet. The elegant trailing twenties style was much more too her taste. Too achieve this look I used the flowing foliage of Thiapsi (available from florists) and plenty of stems of my Bridal Wreath spirea (spirea 'arguta') from the garden.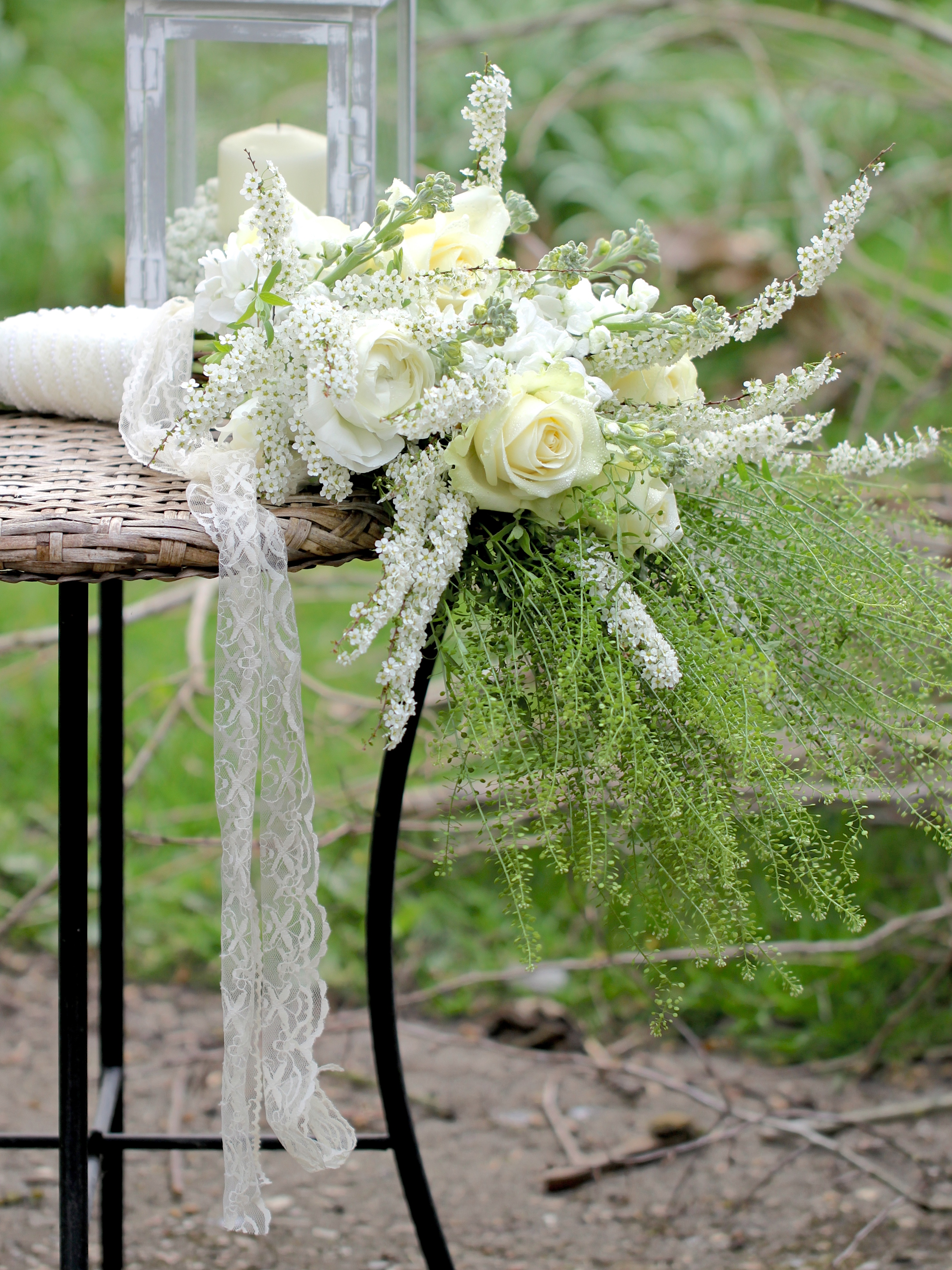 I loved this lace ribbon threaded with a string of pearls, which I used to bind the stems of the bouquet. The pearl pins held the ribbon in place. The lace ribbon was provided by the bride.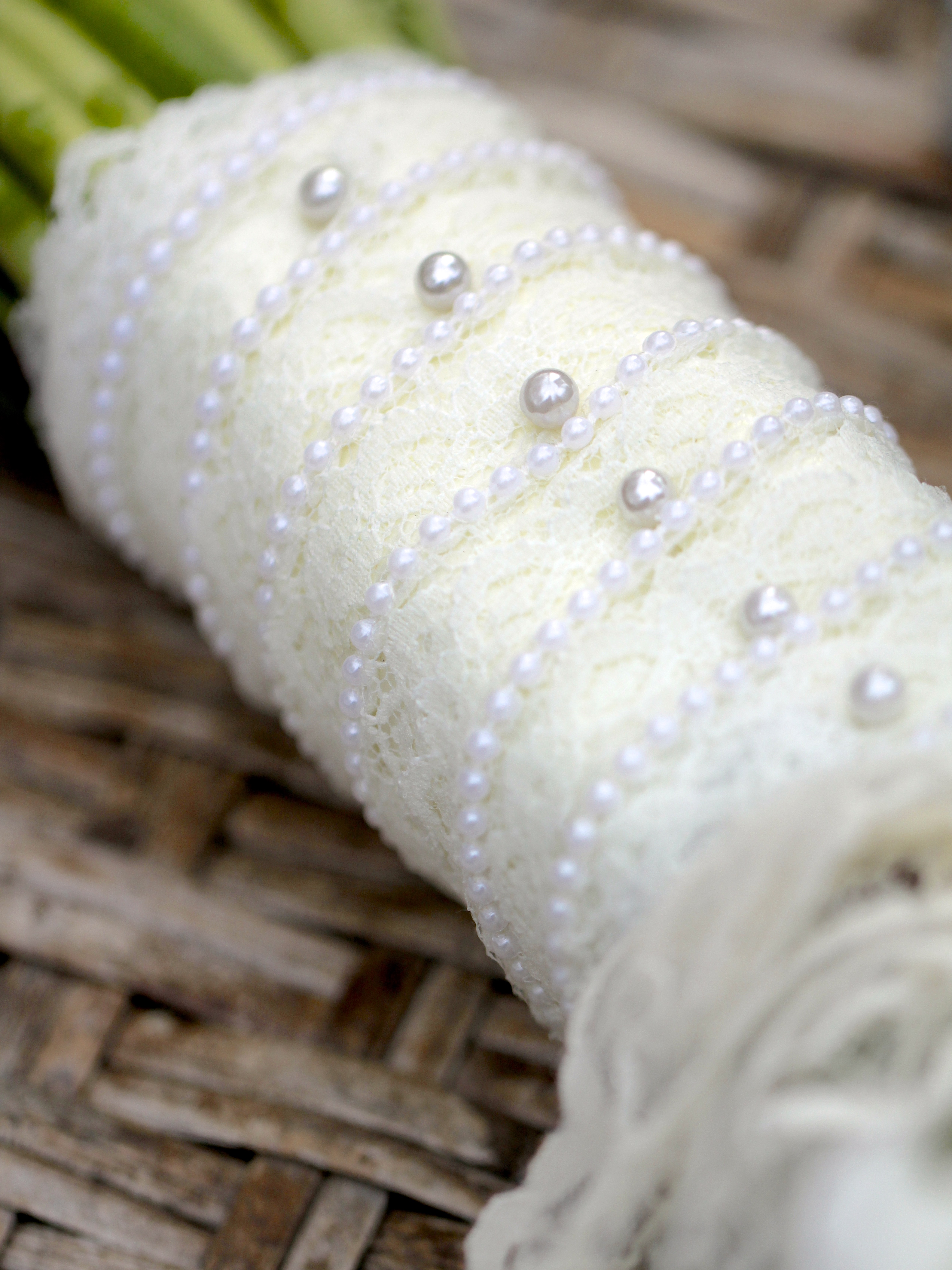 White Avalanche roses are unscented but beautiful. I sprayed the bouquet with water to keep it fresh – hence the water droplets on the petals.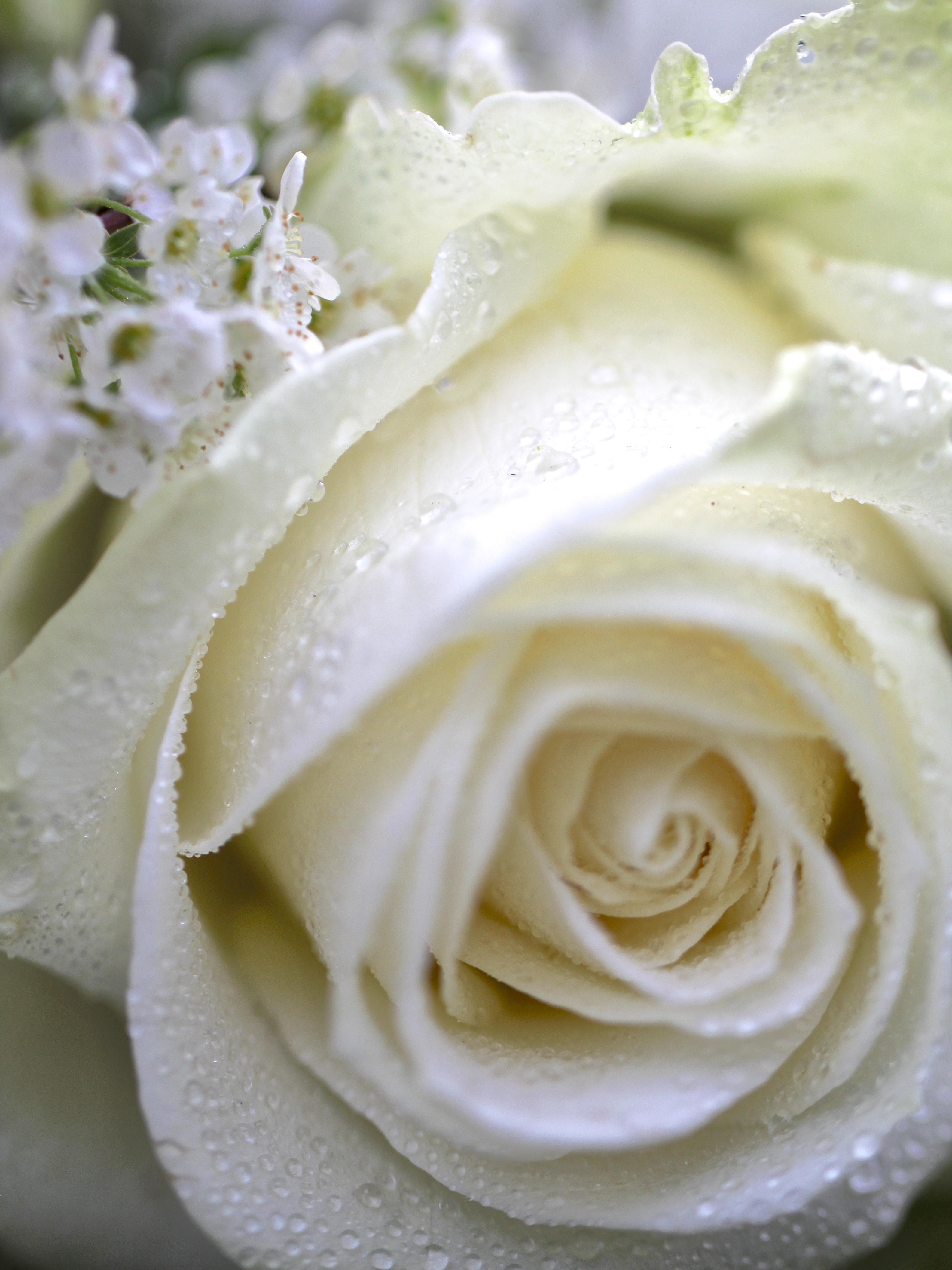 The white stocks added a beautiful scent to the bouquet.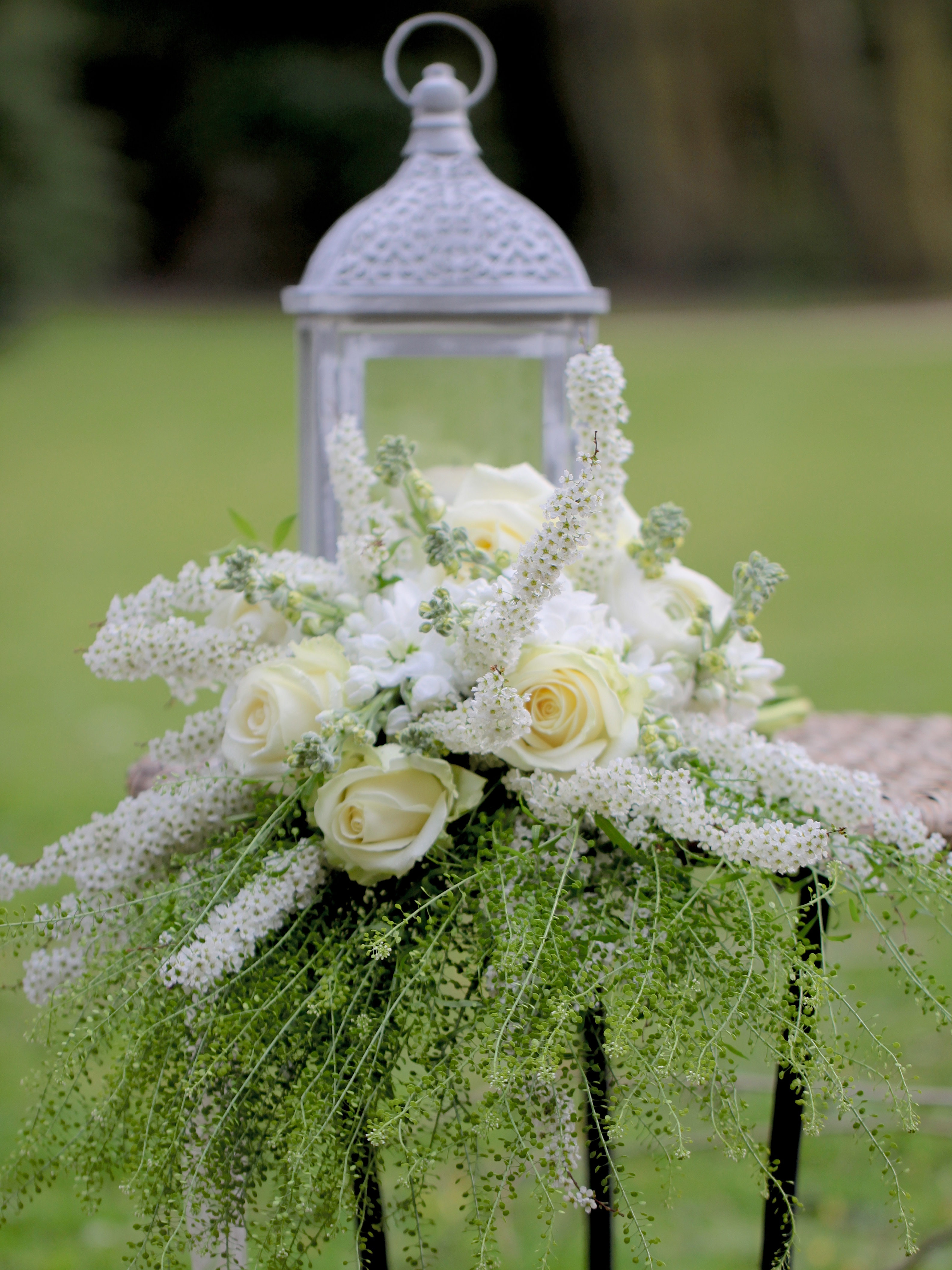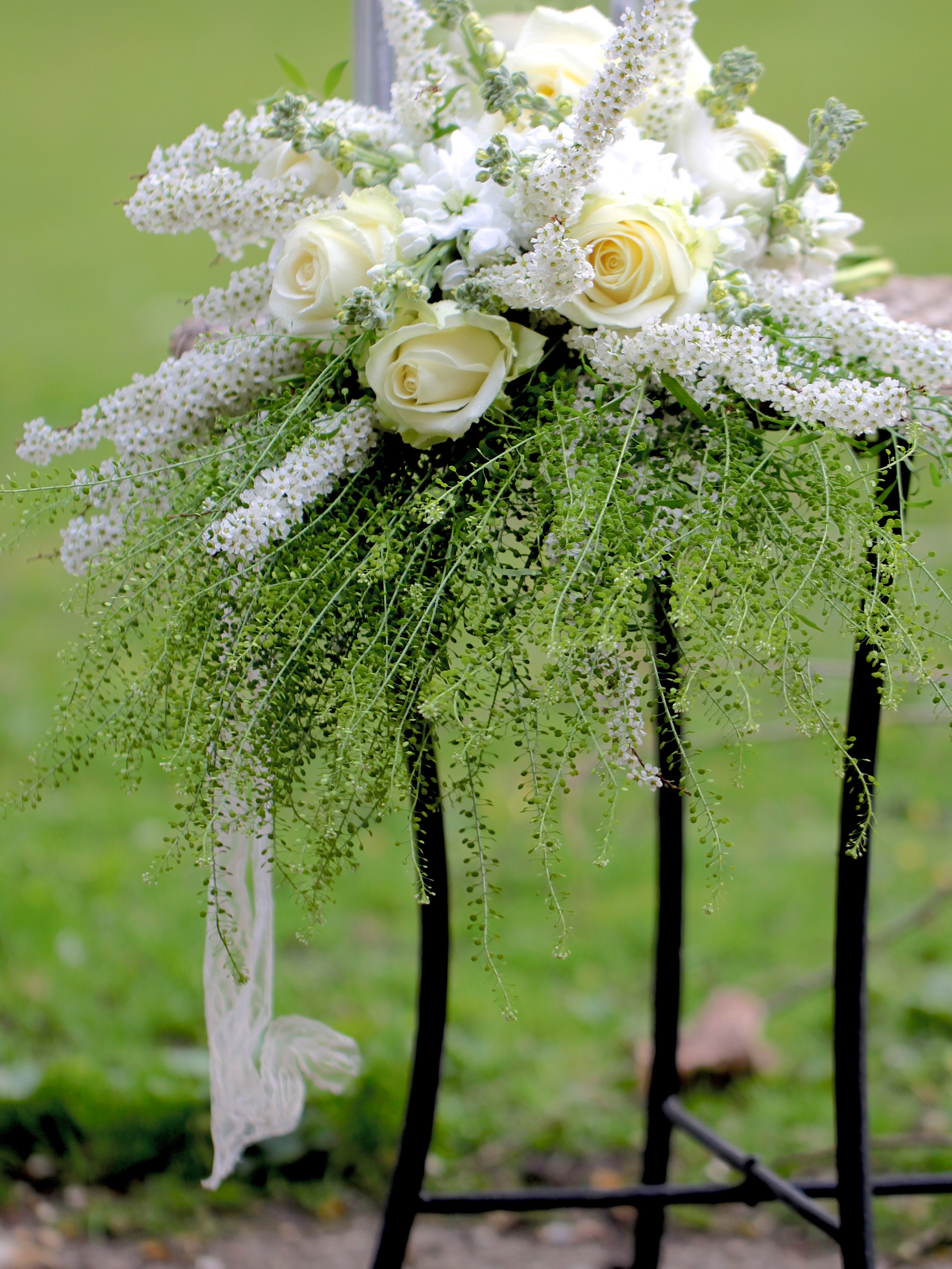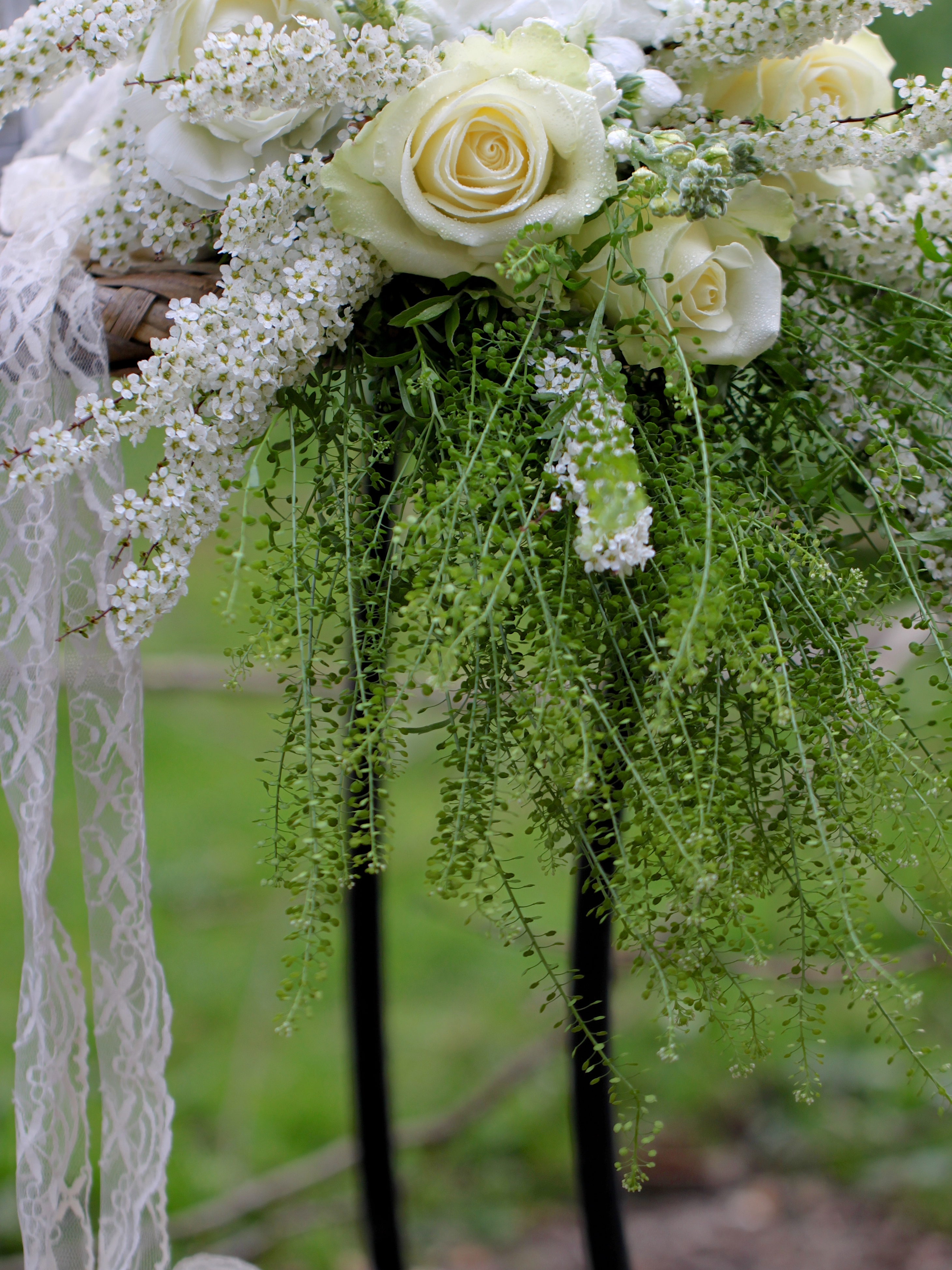 The bridesmaids bouquets were simple hand tied bunches of white snapdragons threaded through with beautiful airy ferns. By the time I finished the bouquets I was so short of time that I had to photograph the three bouquets all together in the bucket in which I would transport them to the bride.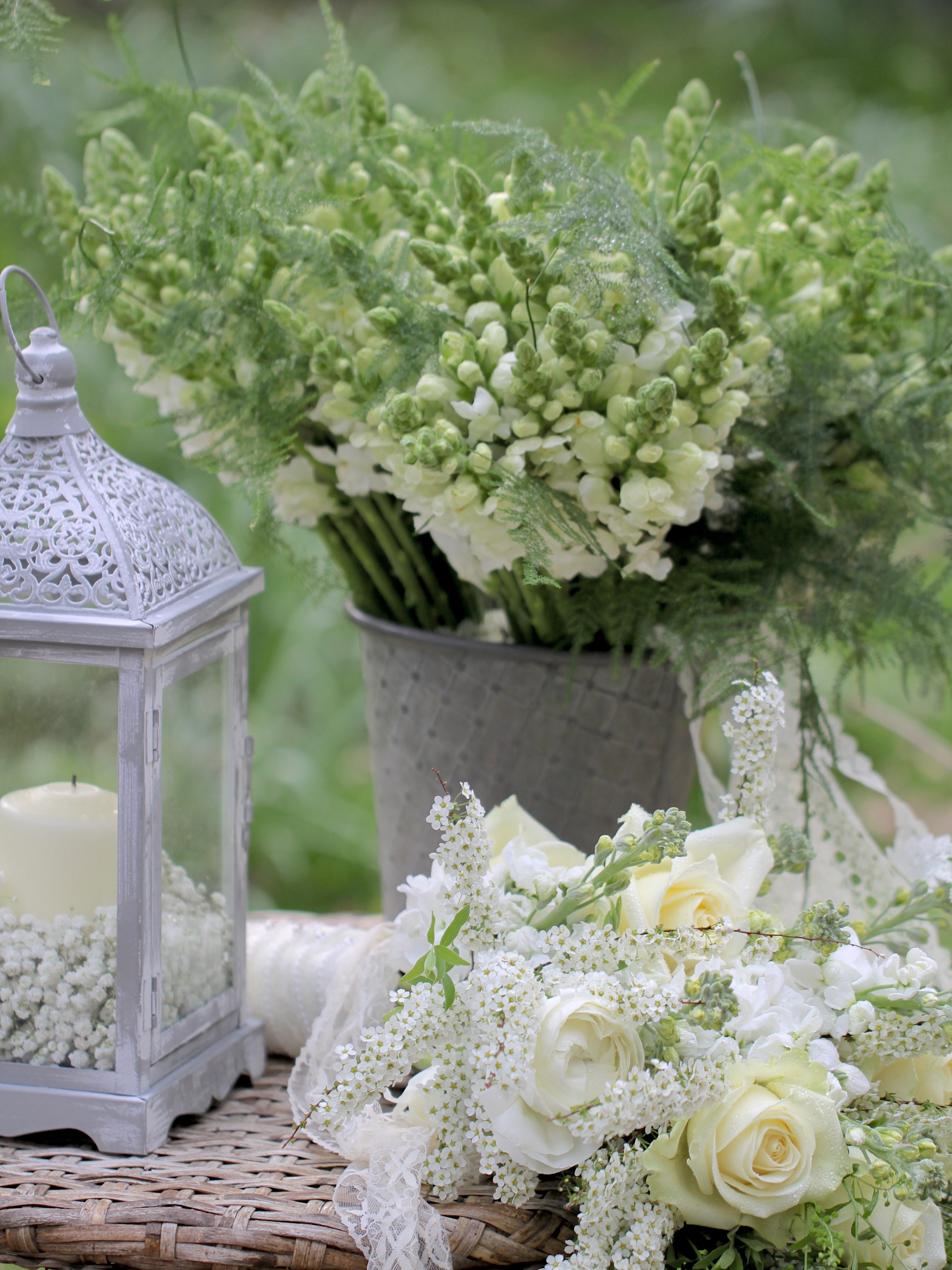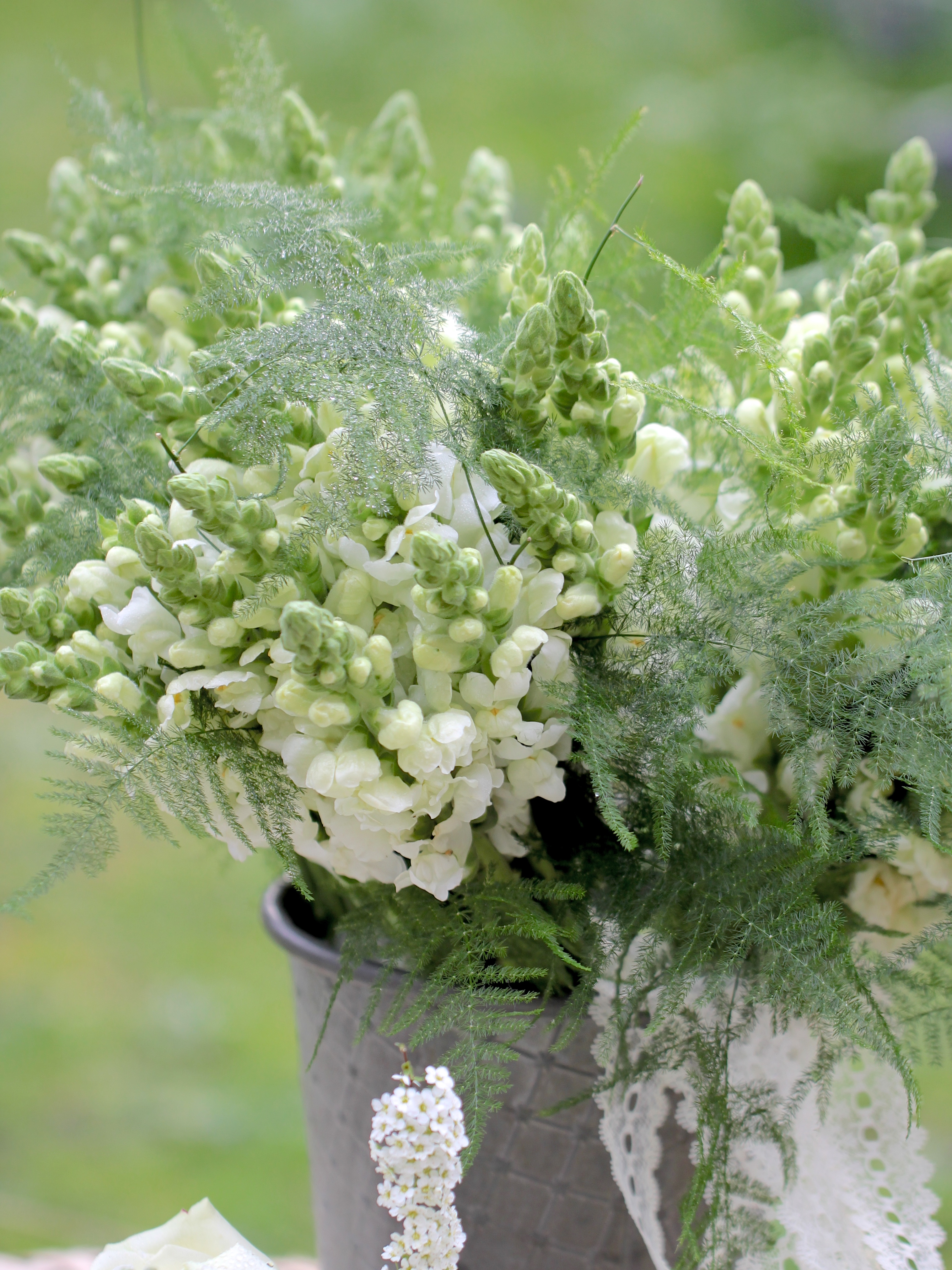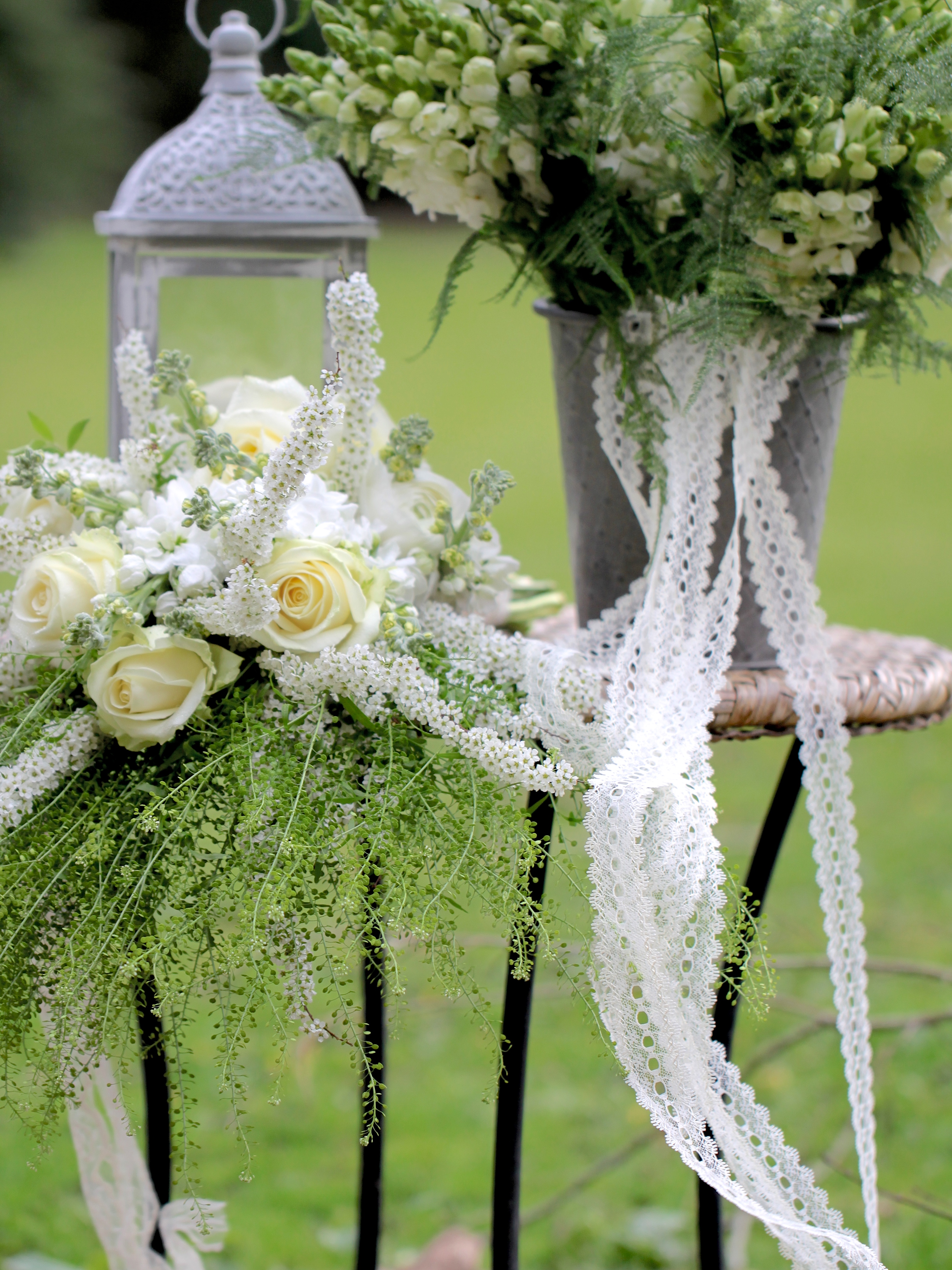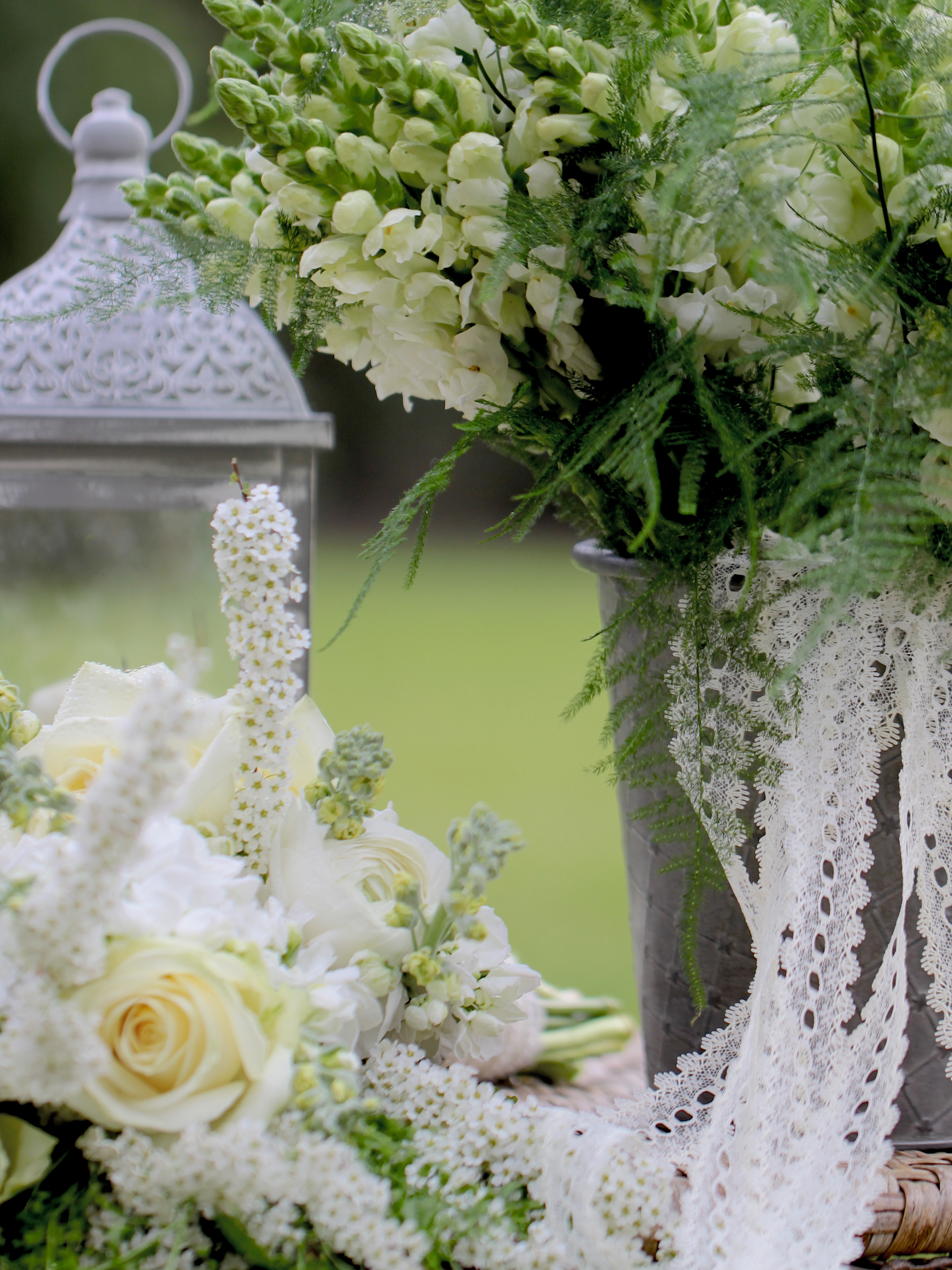 So that marks the end of my preparations for this beautiful wedding – the bouquets were delivered to the bride on Friday evening, I popped back to the venue on Saturday morning to add the final touches and now I am looking forward to seeing the professional photos – I hope there is a lovely one of the bridal party with their bouquets!
I will be back tomorrow with my April Cutting Garden Review. For this month's Giveaway I have found a lovely little book called Some Flowers by Vita Sackville-West. First published in 1937, Vita provides pen portraits of 25 of her favourite flowers and it is a real treat to read. To enter the draw simply leave a comment on tomorrows post.