Welcome to 'In A Vase On Monday,' when I join Cathy at Rambling In The Garden in her challenge to find something from the garden to put in a vase in the house every week. Cathy is celebrating writing her 1000th post this week – I am in awe and congratulate her on this great achievement!
After the lean months of winter this week I really am spoilt for choice. New blooms are appearing daily and there are flowers to choose from wherever I look. Despite all this bounty however, I really had to show off this week and use my sweet peas that have just started flowering in the greenhouse. Yes – I have sweet peas in April!! This is unheard of in my garden and I could not resist snipping these beauties and plonking them in a vase with a few stems of Honesty and some scented leaf geranium flowers (again from the greenhouse) to make a casual summery arrangement.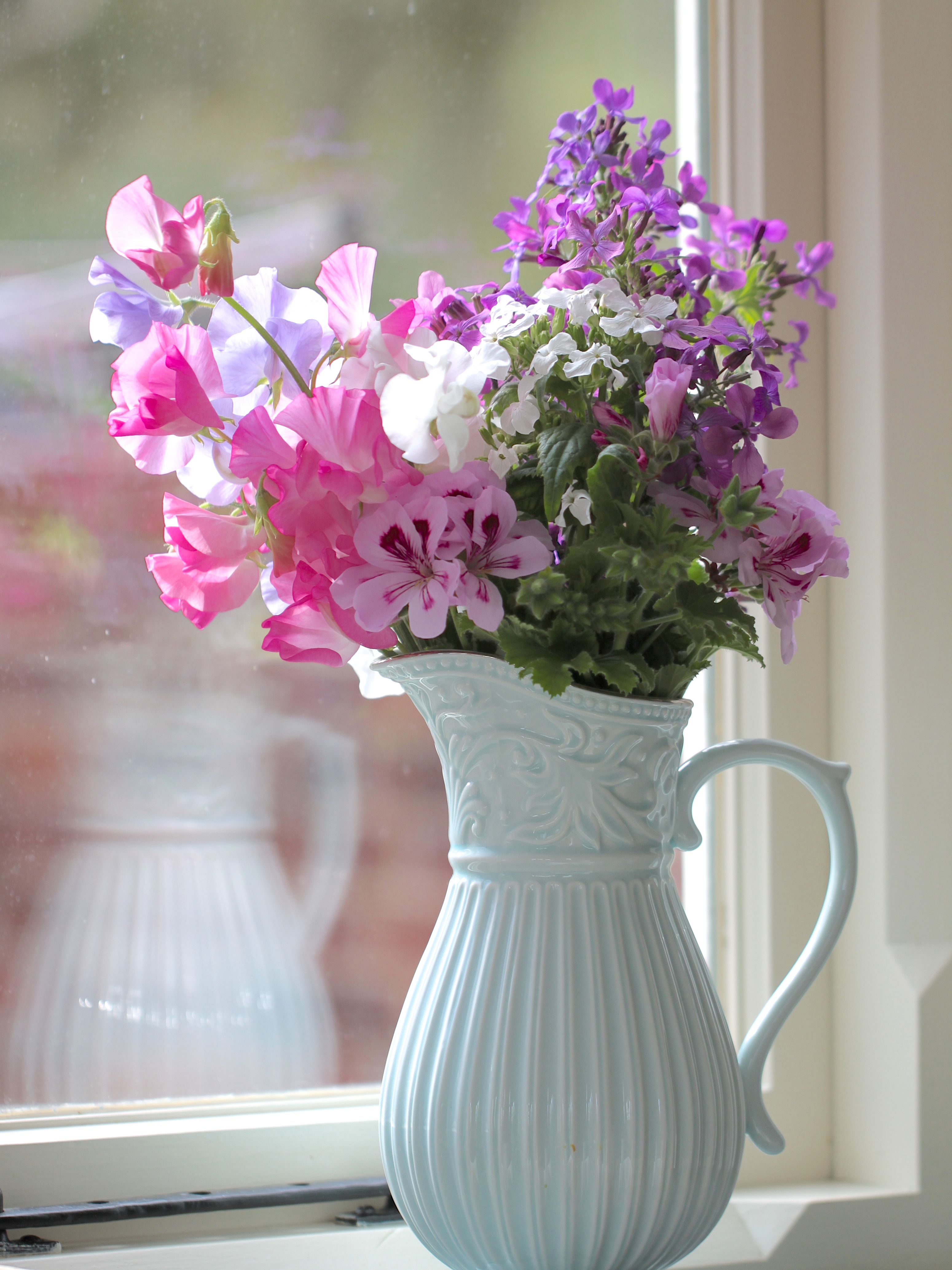 Just as a quick reminder these are from seeds of winter varieties of sweet peas, designed to grow and flower under cover in lower light levels. I bought the seed in a variety of colours from Owl's Acre Sweet Peas and it was sown back in November. The small plants were planted into the greenhouse bed in February and have been growing steadily since. Hopefully these will keep flowering until my outdoor sweet peas (which I planted out at the weekend) start to flower towards the end of June or early July. If you would like to read more about growing sweet peas I wrote a Flower Focus – Sweet Peas post back in January.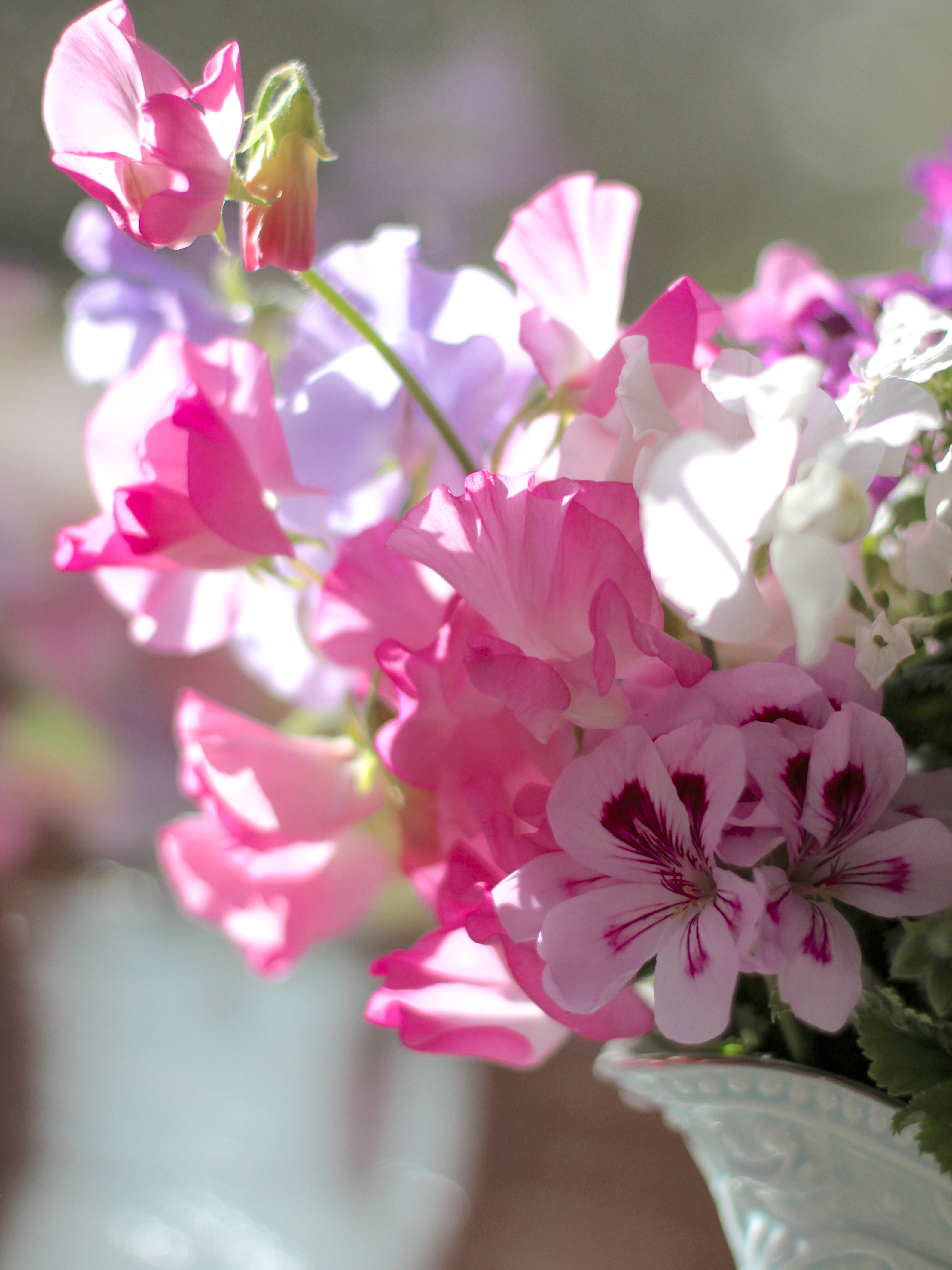 I could not be happier with this selection – the colours are lovely, the stems long and they have that beautiful sweet pea fragrance which takes so many of us back to our childhood gardens.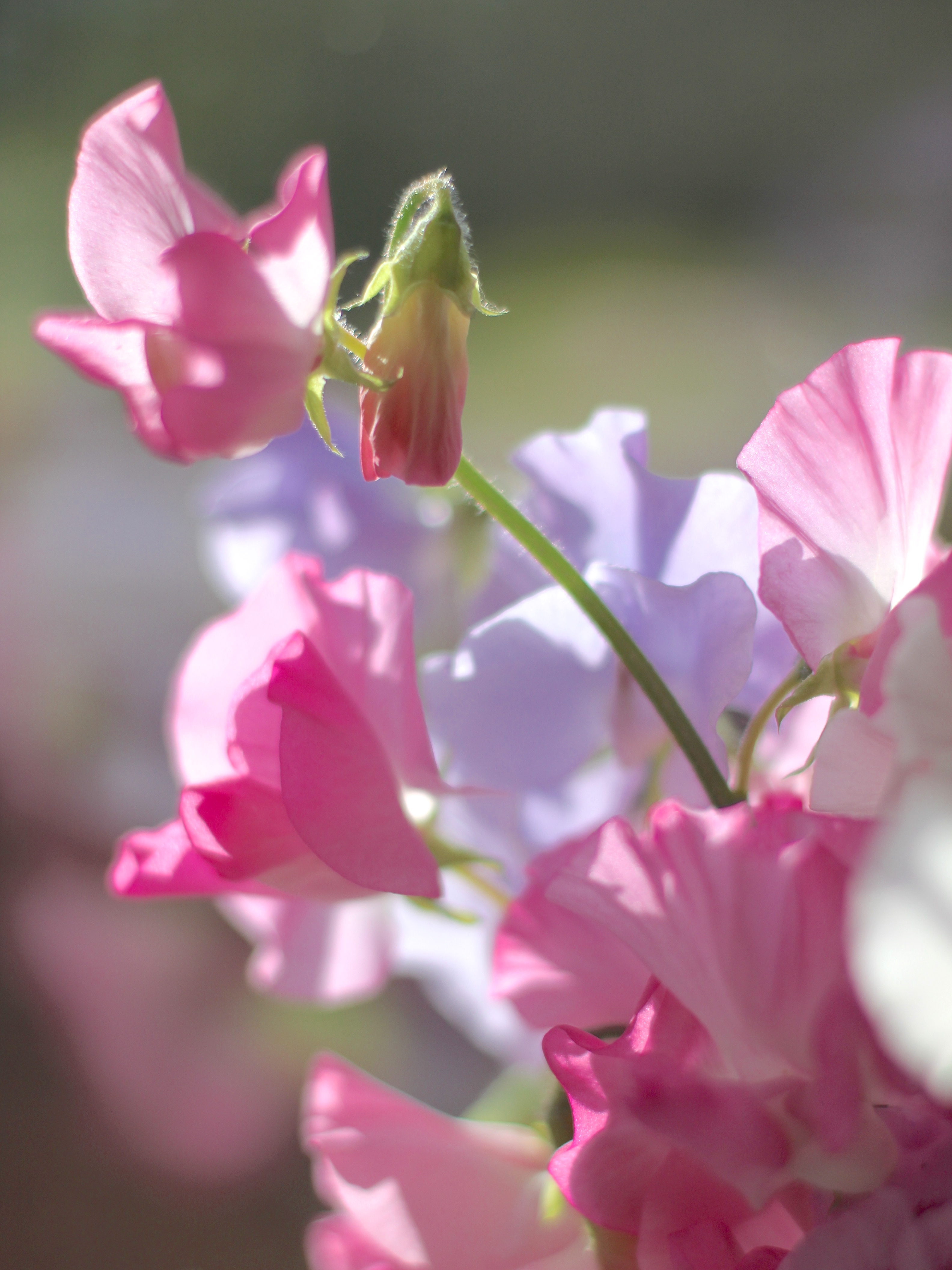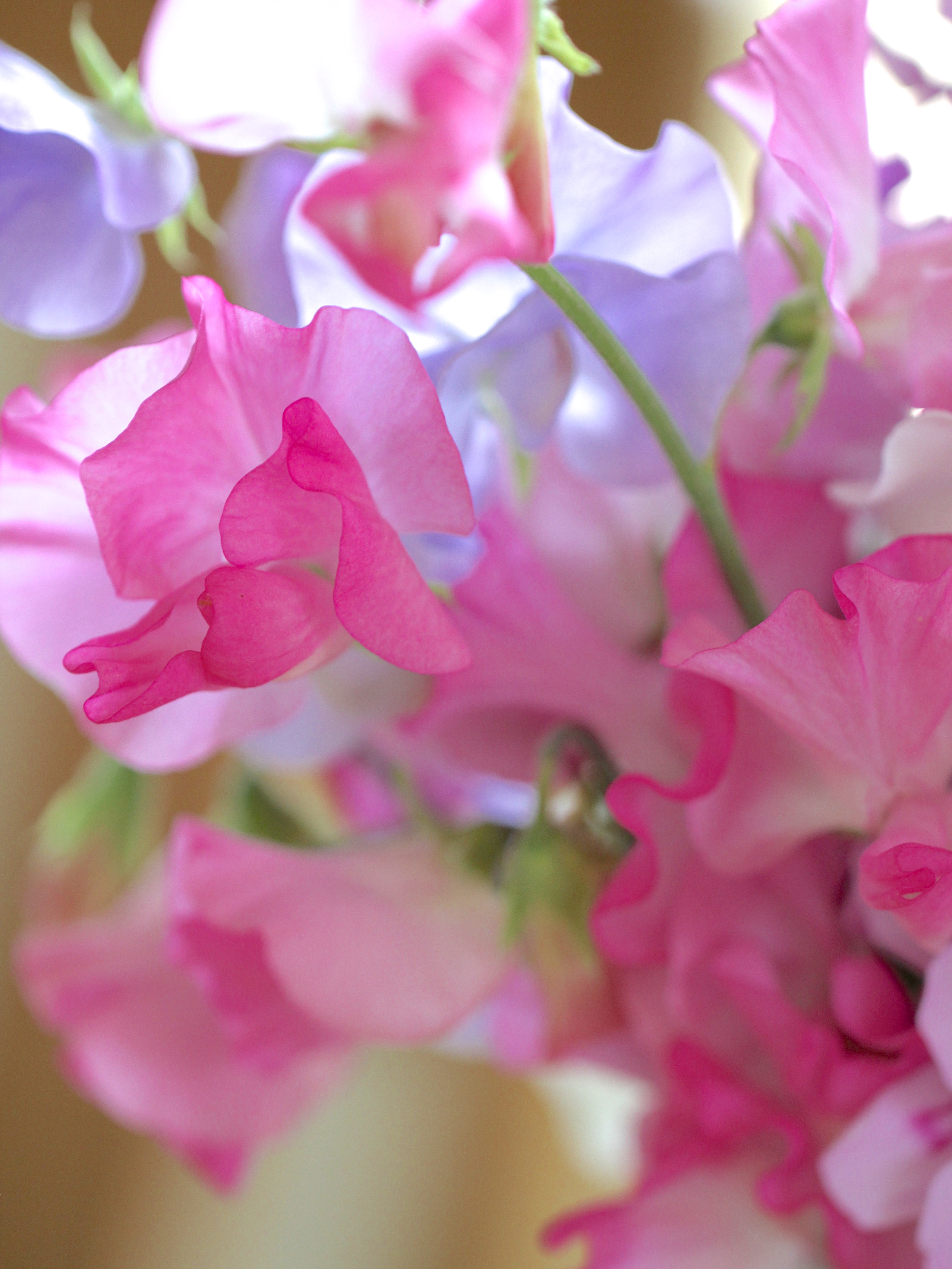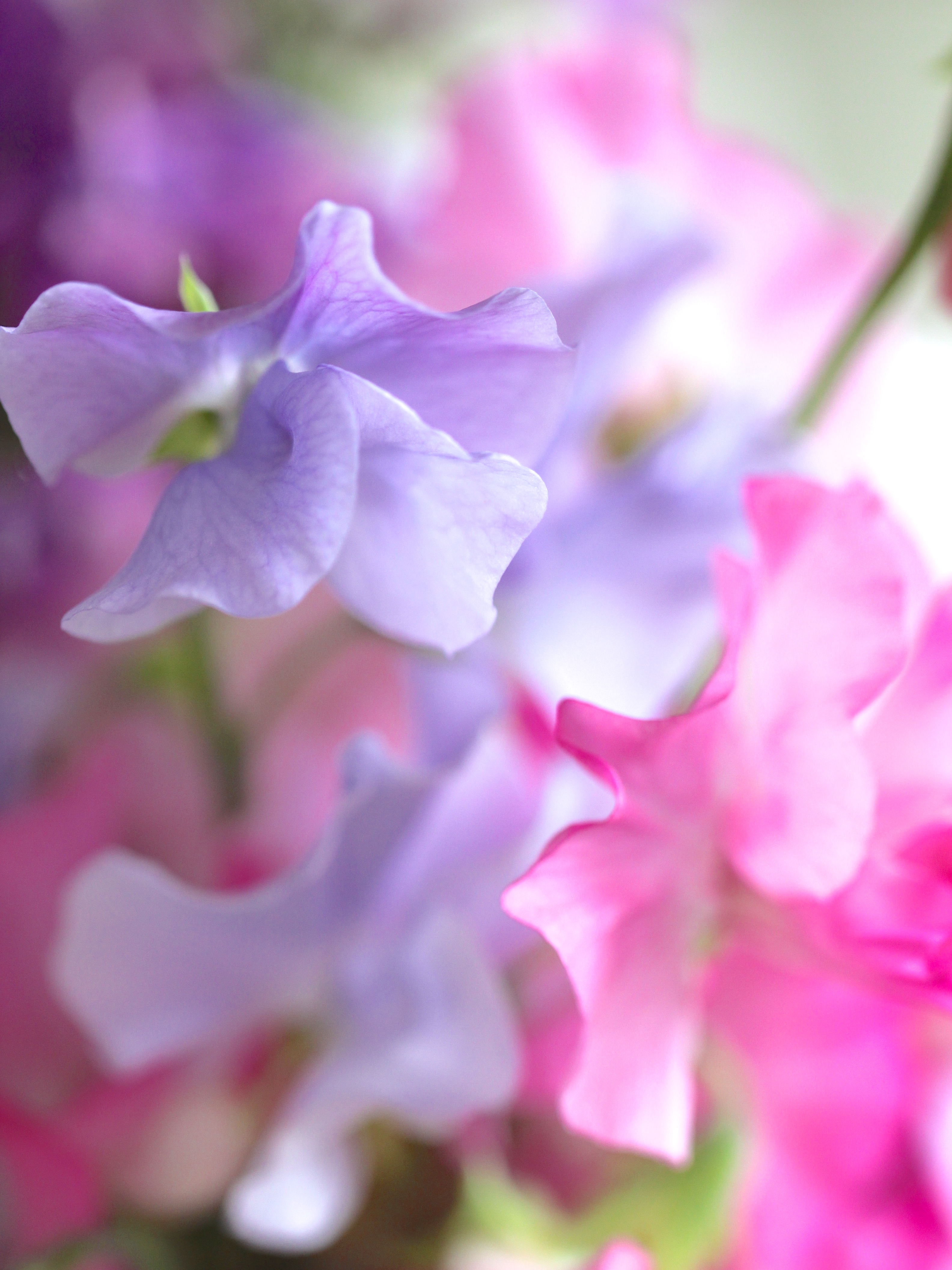 I added a few stems of scented leaf geranium flowers, which have overwintered in the greenhouse and just burst into flower this week with the sweet peas.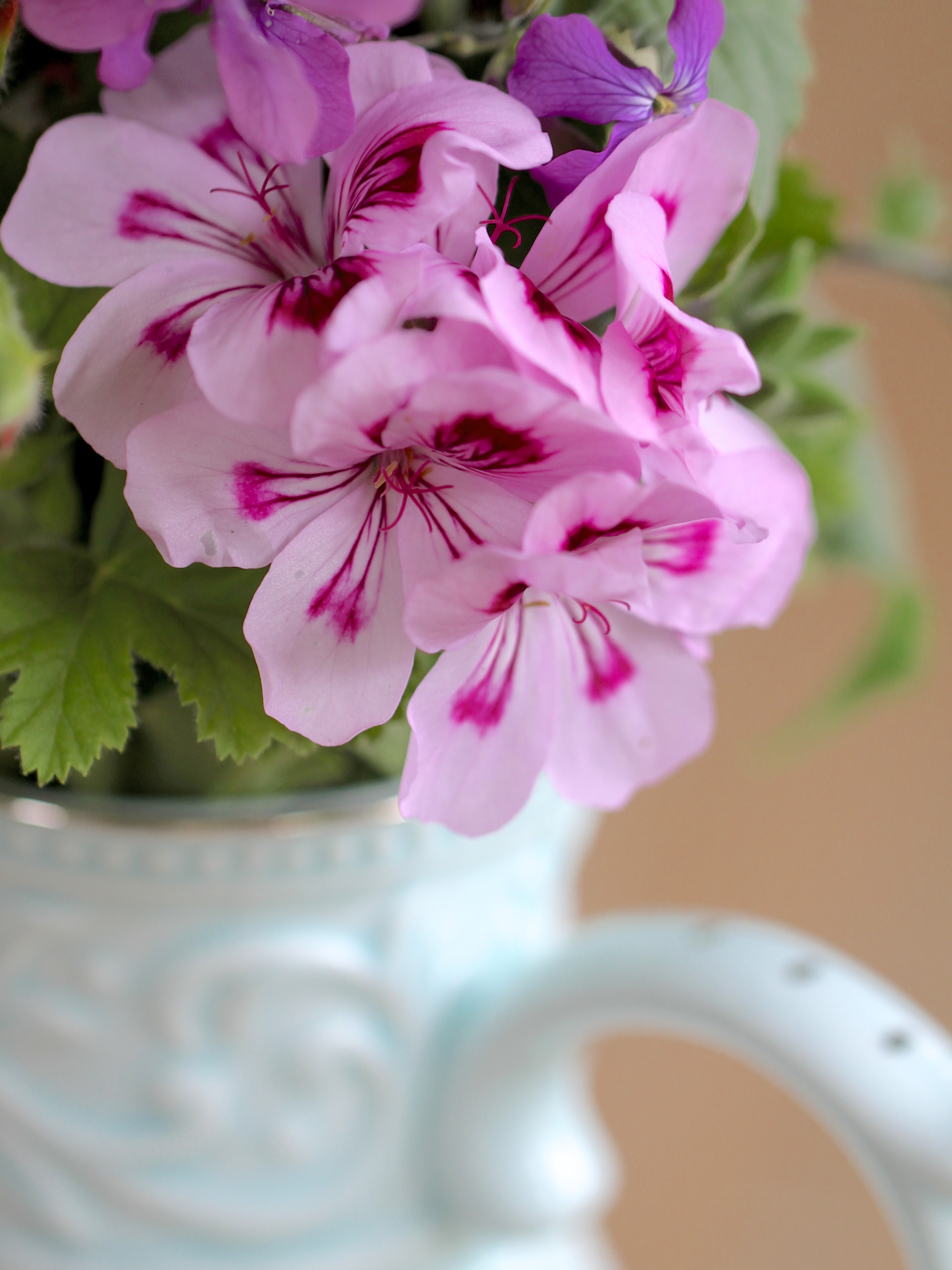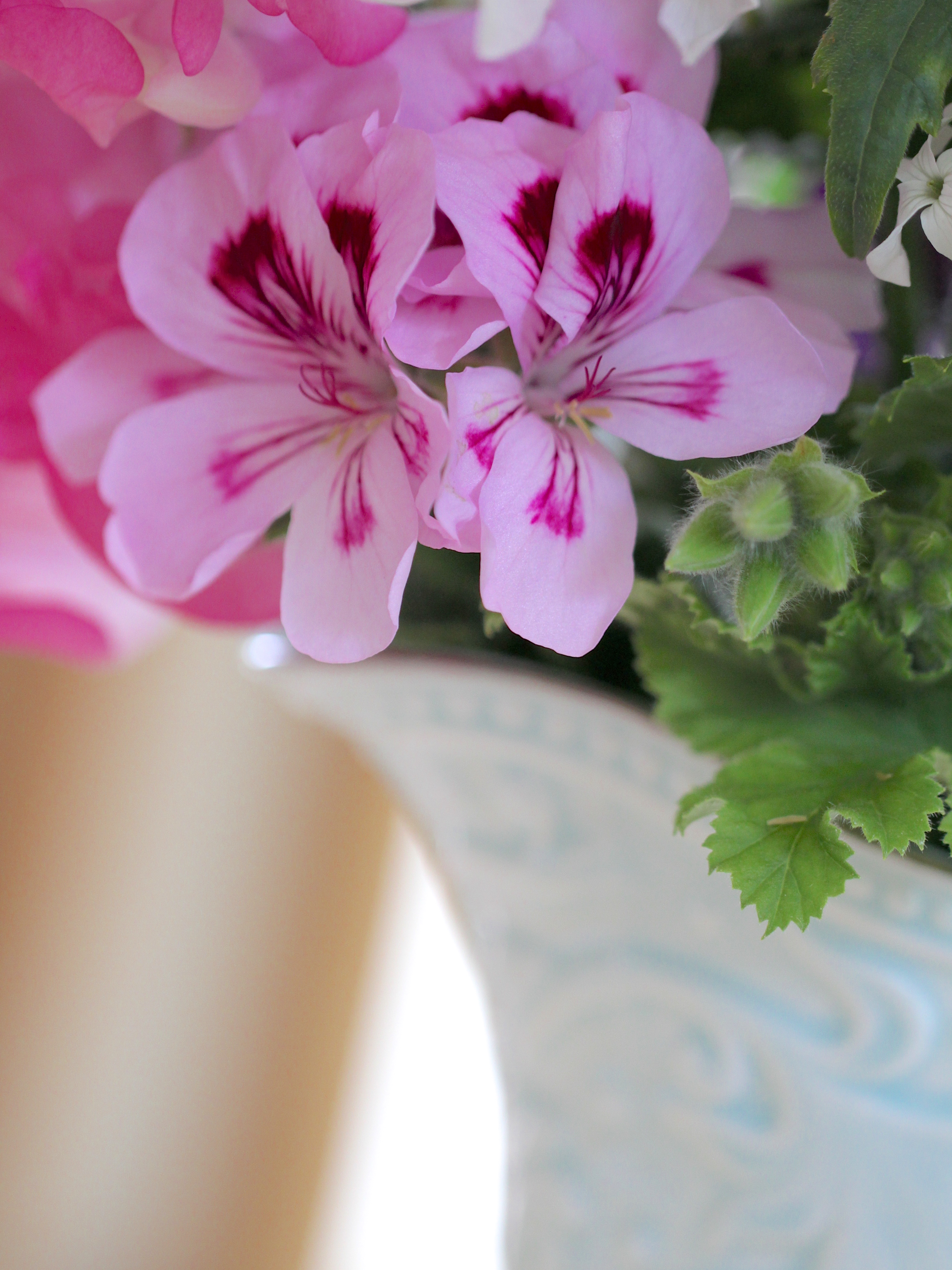 I have also used a few stems of both white and purple Honesty, which has just started to flower in the Cutting Garden. These plants were sown under cover in June last year and planted out into the Cutting Garden in October. I picked my first stems last Friday and these have held up well in a vase in my kitchen. They add a really summery feel that I would not expect to find in April. They have lots of side shoots, so I am hoping they will have a long cutting period.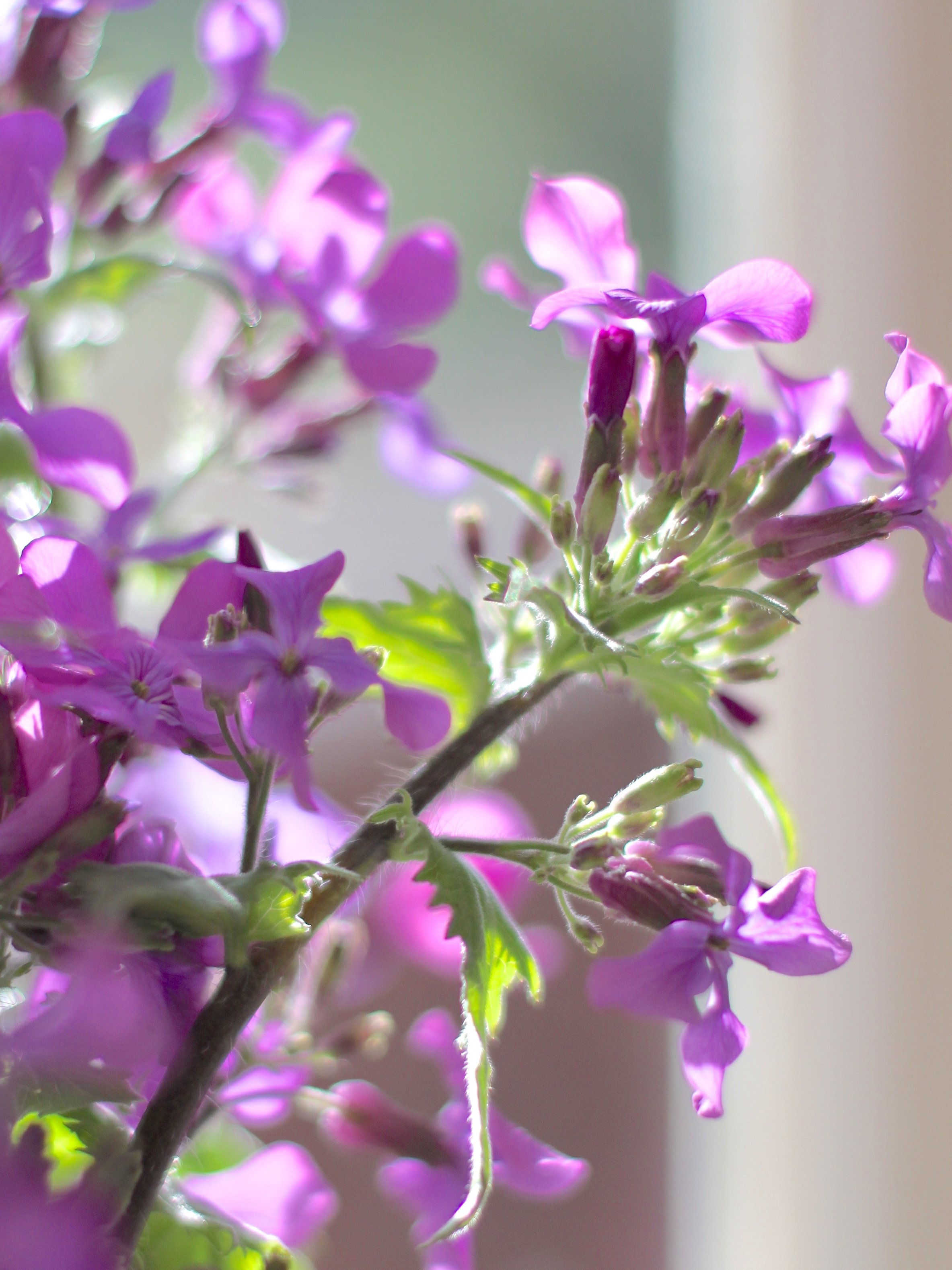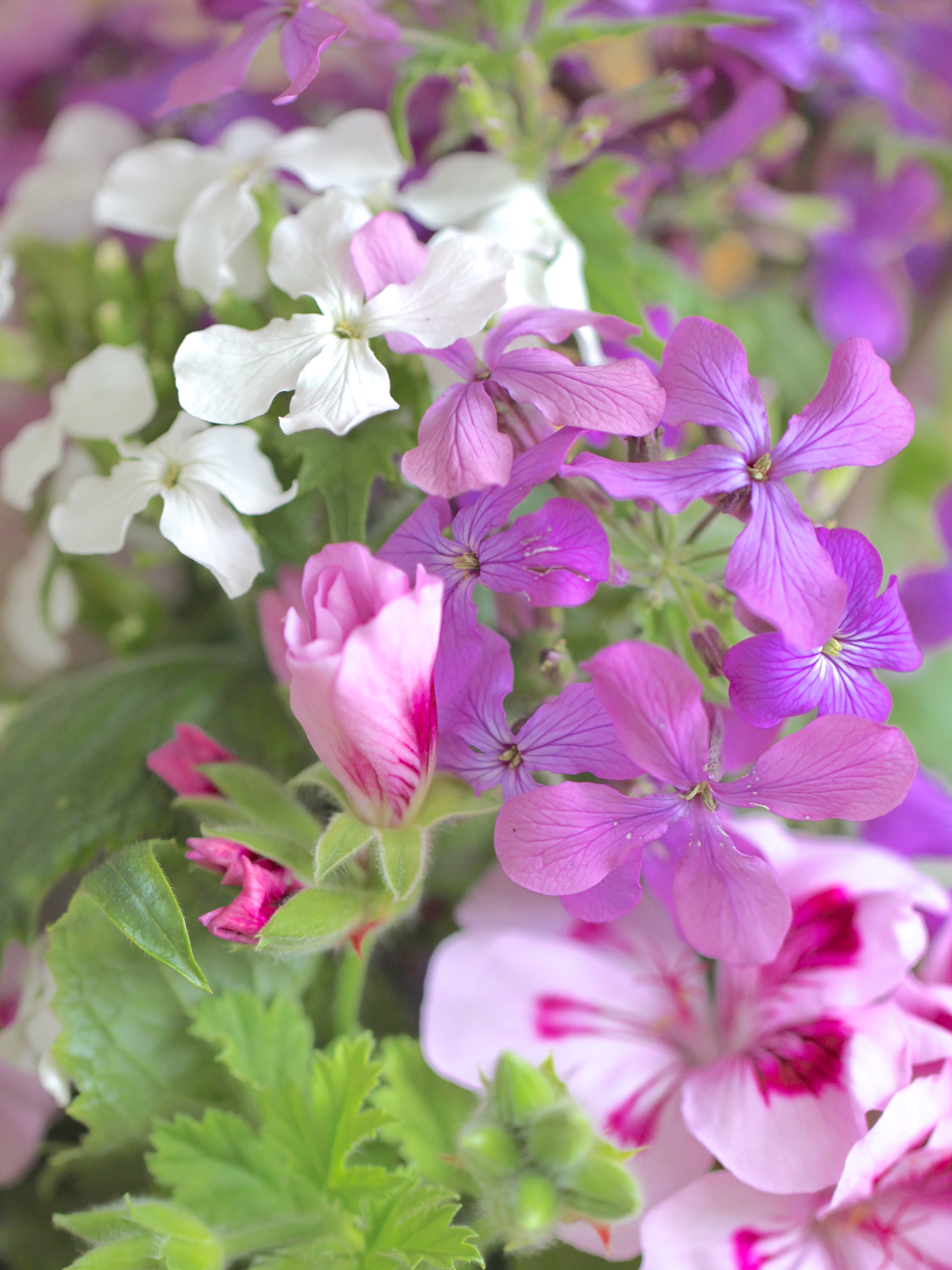 I am so delighted to have such a lovely selection of flowers to compliment all my different tulips, which I am picking on a daily basis.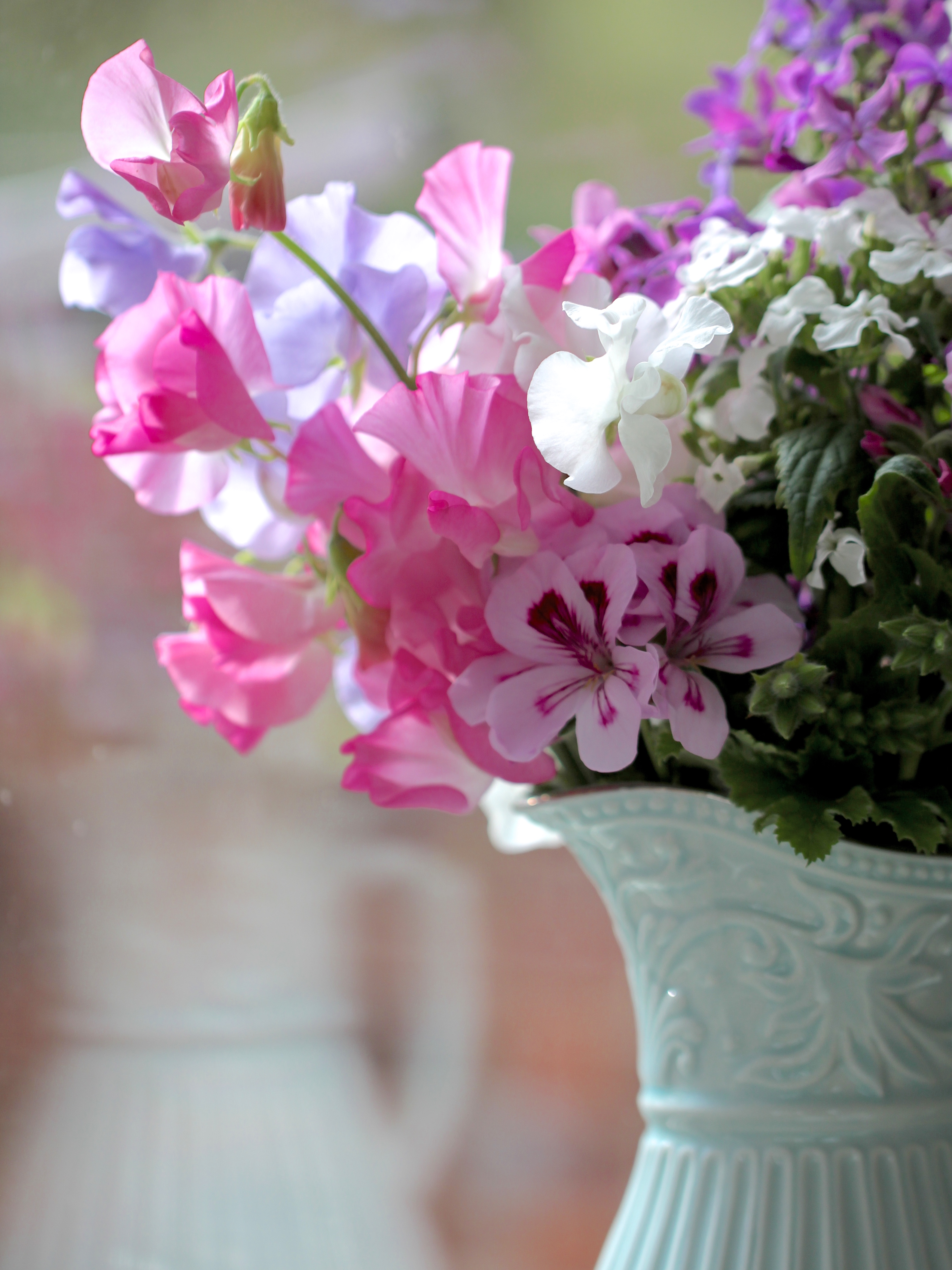 Life in the garden is very hectic at the moment to say the least. I had almost all of last week off doing lots of lovely things – a trip to Kensington Palace and gardens including a delicious lunch in the beautiful Orangery, a visit to the ever inspirational Beth Chatto Gardens with Chloris from The Blooming Garden, a visit to my garden from Christina of My Hesperides Garden, a village coffee morning and lots of lovely evenings out. I went back into the garden today, despairig of the weeds which are germinating and growing at the speed of light, the many trays of seedlings waiting to be pricked out or planted into the garden, the seeds that have not yet been sown – the list goes on! Spring is a madly busy time for gardeners, but when I look at the flowers that I picked today I know that all the hard work and angst is worth it!!
Lastly for today I need to announce the winner of my Cutting Garden Review Giveaway! Thank you all for your lovely comments – I have loved reading about what everyone is up to in their gardens this month and will reply over the next day or two. The winner of the draw is Ivette – if you email me your address Ivette I will get your copy of 'Some Flowers' by Vita Sackville-West into the post later this week – I hope you enjoy it as much as I did!
I hope to be back later in the week with my Big Tulip Review for 2015 – what I grew, what I loved and what will be making it onto my list for next season. This is quite a time consuming post to prepare though, so it will probably be the weekend before I am ready to share it. I also have photos from Beth Chatto's Garden and Kensington Palace to share, so I will be quite busy working on posts here, as well as getting on in the garden. I will keep my fingers crossed for a few hours of rain here and there to water the garden and give me an excuse to come inside and write!
Thank you as ever to Cathy for giving us all a mission on Mondays – I hope that you will pop over to her blog to see what she and the others have made this week.