After my long break I am happy to welcome you all back with my first 'In A Vase On Monday' post in July. It seems like a long time since we departed for America and despite the fog of jet lag I am delighted to be back taking part again in this lovely meme hosted by Cathy from Rambling In The Garden.
This week I needed a very quick and simple vase. Having arrived home late on Friday the weekend has disappeared in a mountain of unpacking, laundry and generally trying to get everyday life back on track. Life is rarely quiet though and by the time you read this post I will be on my way to London for an overnight jaunt with a friend to visit Kew Gardens and the famous Petersham Nurseries in Richmond. With such a quick turnaround there was no time to linger over todays arrangement!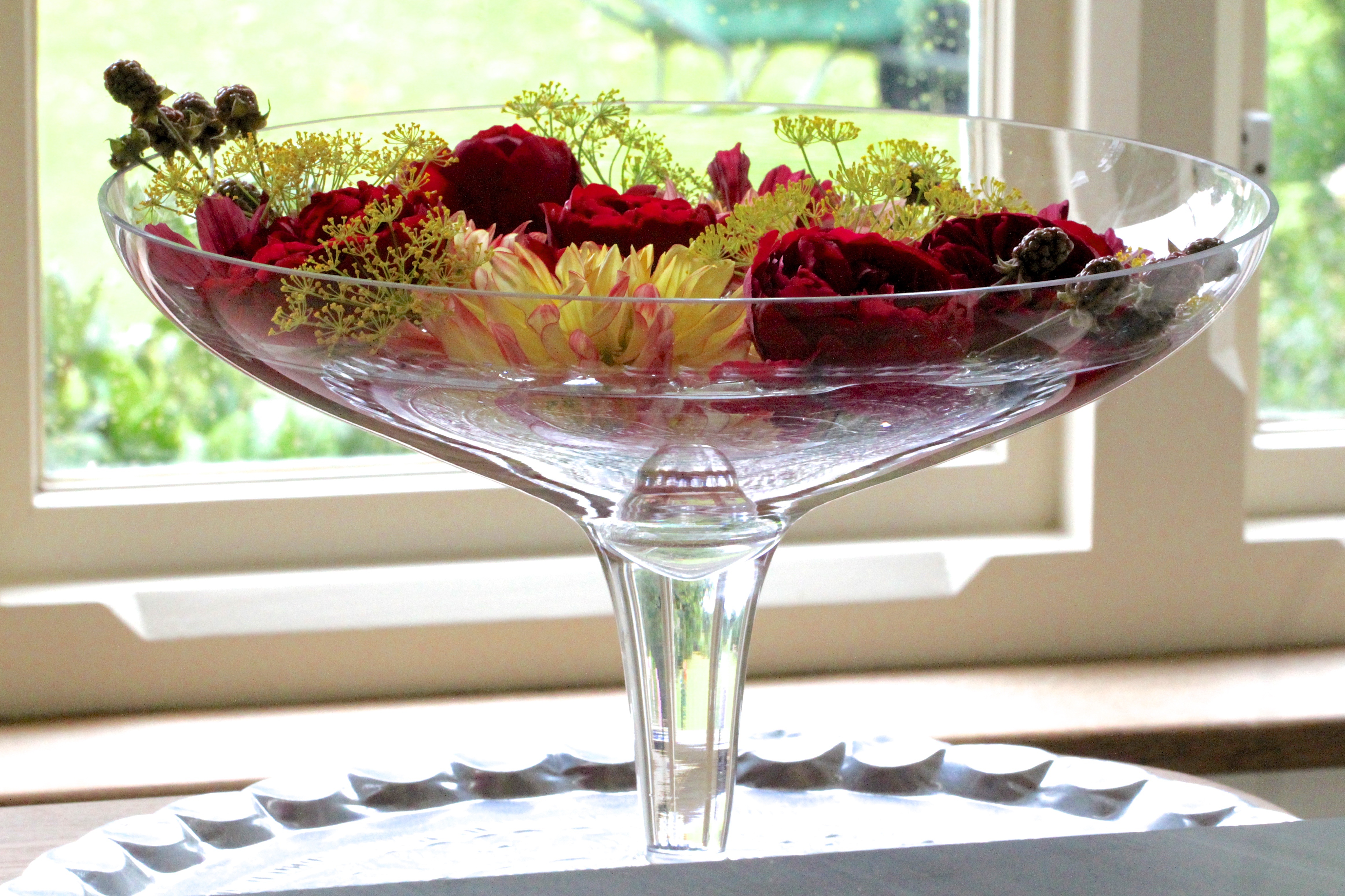 One of the quickest ways I know to cut and display a few flowers is to float them in a bowl so having retrieved my footed bowl from the back of the cupboard I set off to the Cutting Garden in search of something suitable to float.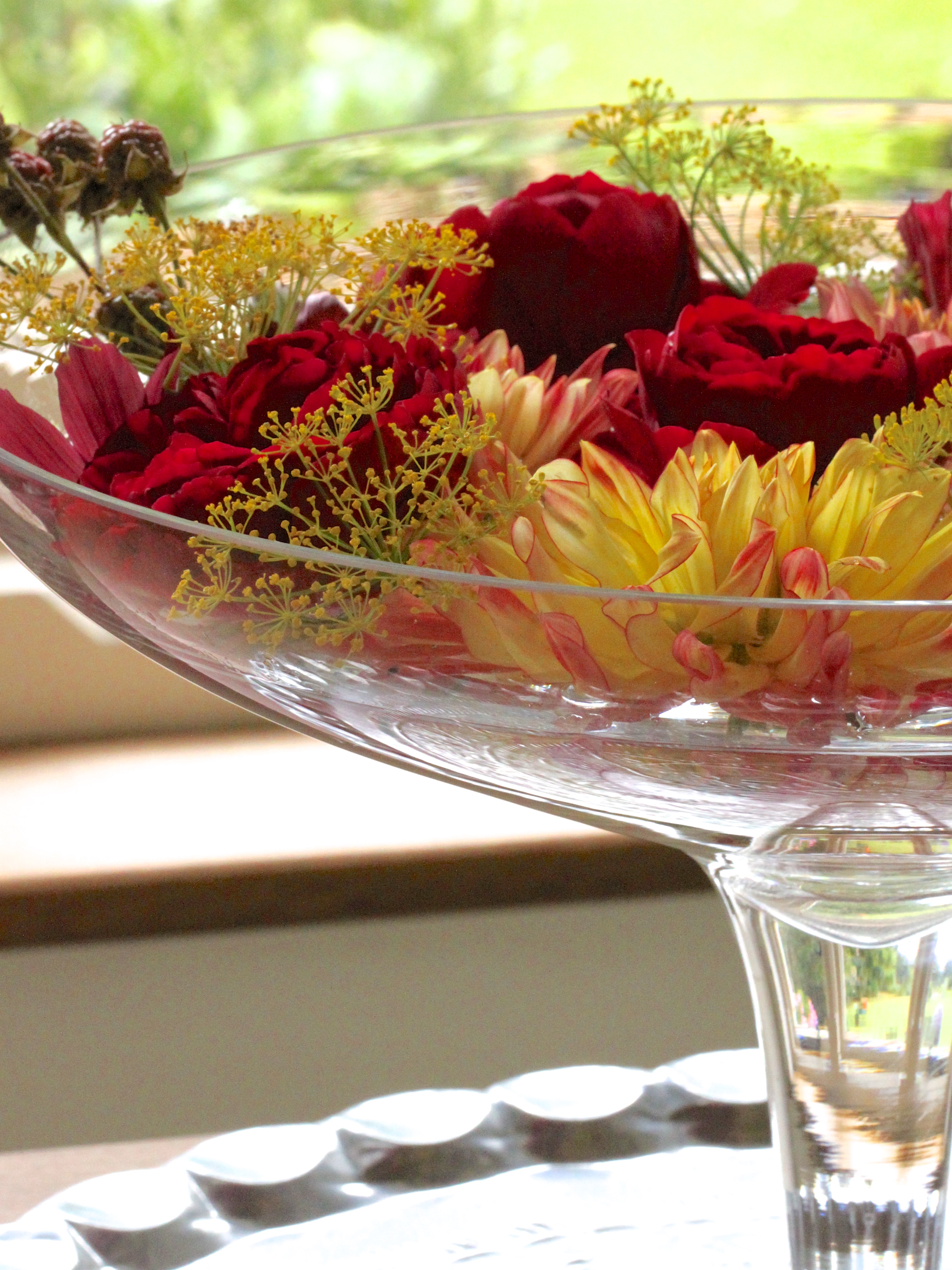 Having been away for three weeks I have to admit that the Cutting Garden is not looking quite as resplendent as I would like for the time of year. All the lovely annuals that I had in flower throughout June are suffering from a lack of deadheading and the dry hot weather, so have either gone over completely or need a severe hair cut to try and encourage them back into flower. I did plant out a few fresh plugs before we left and these should be in flower soon, but for the time being the dahlias are holding the fort. I was delighted to arrive home and find that most of my dahlias are now in bud if not in flower!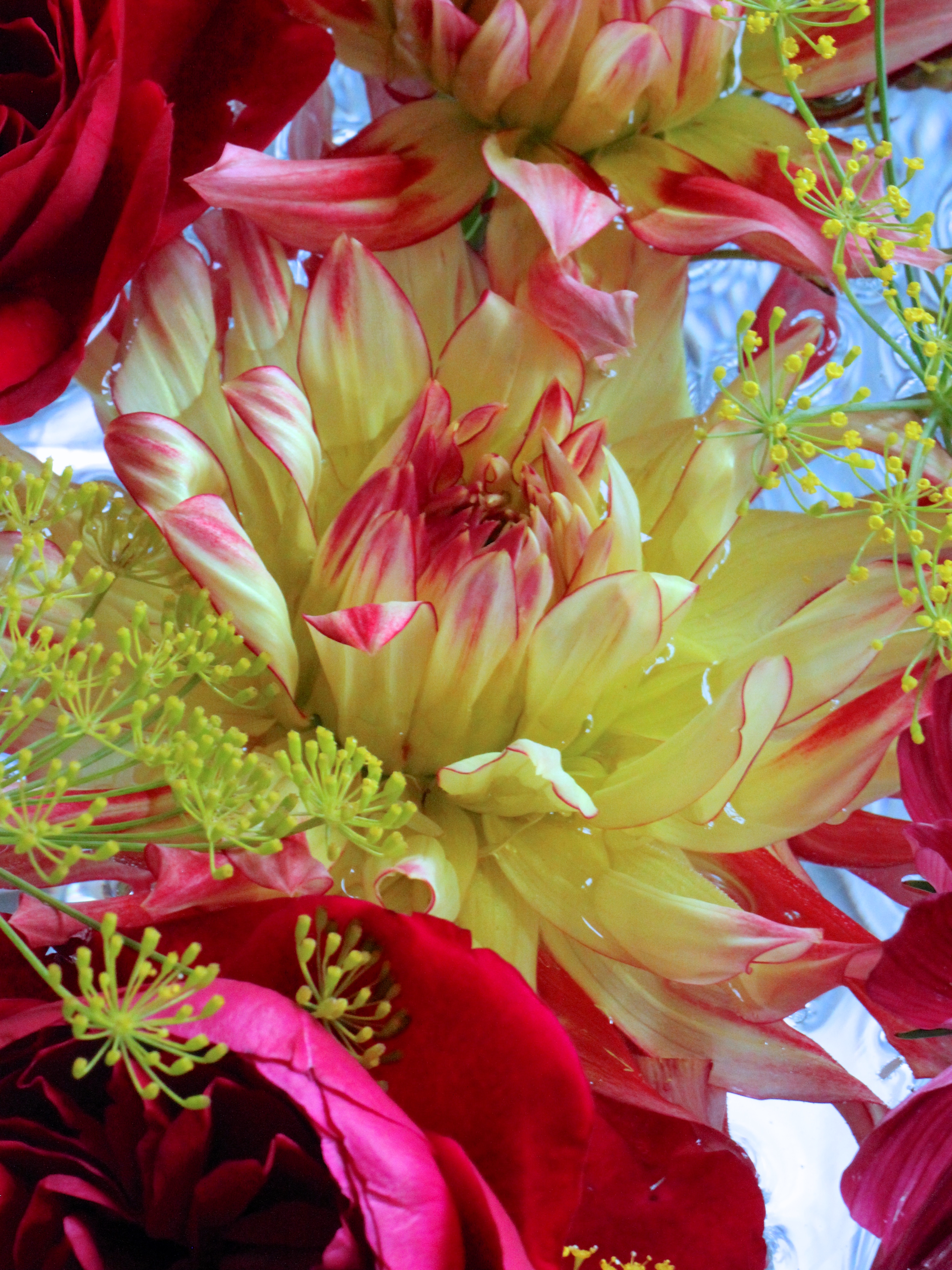 Having said that this stunning pale yellow cactus dahlia with crimson edging is full of flowers and I used that as my starting point today. This dahlia has survived the winter outside and is flowering for its second year. I have tried to identify it, but am struggling to find a match – if anyone knows what it is please do leave a comment.
Most of my roses are taking a break from flowering (sadly I missed the best of them whilst we were away). This rose (the David Austin rose Darcy Bussell) is full of flowers however and these flowers are a perfect colour match to the crimson edging of the dahlia.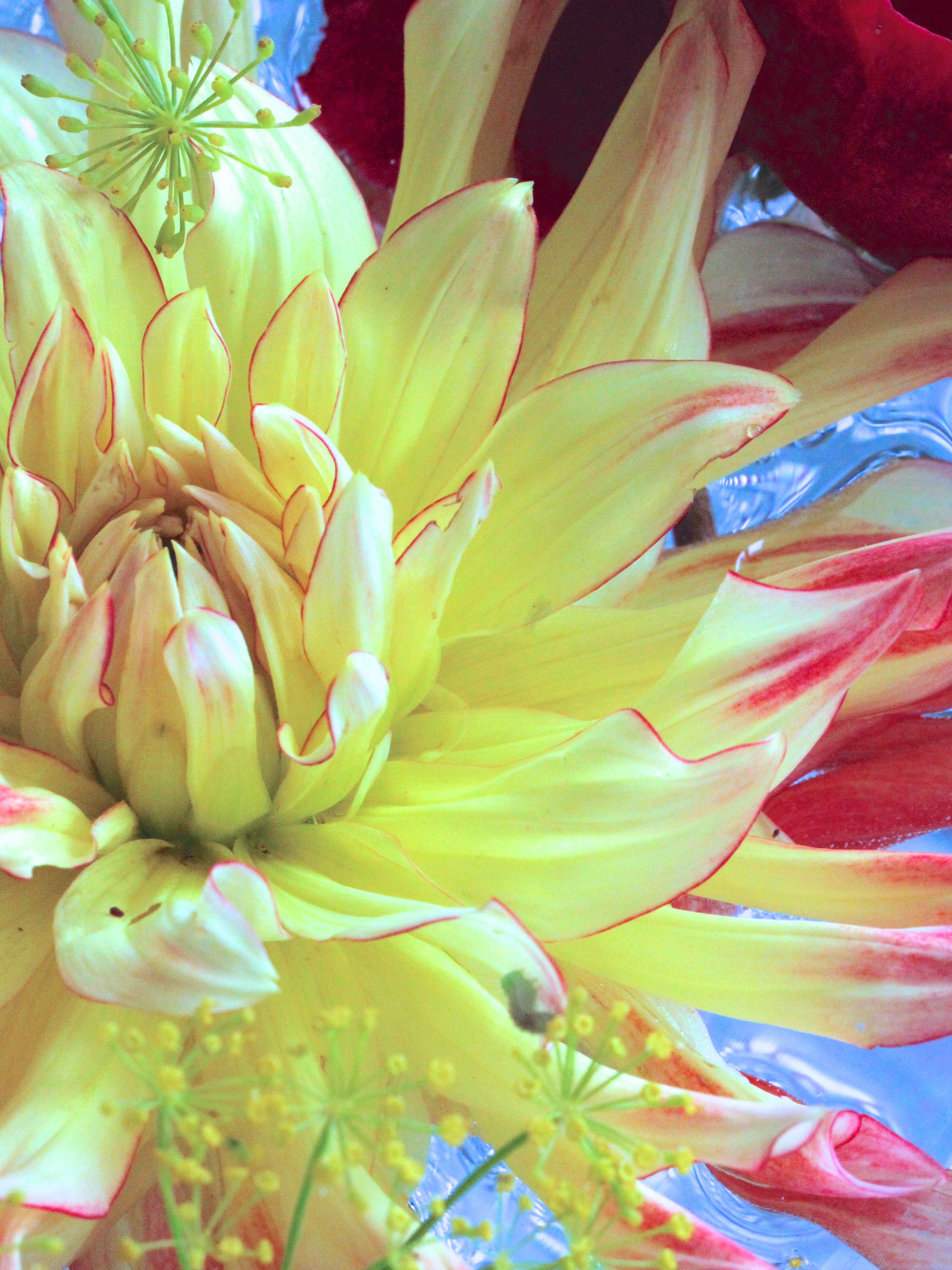 My dill is just surviving although much of it has collapsed in the heavy rain of the last day or two. I love the feeling of lightness that a few heads of dill can bring to a summer arrangement.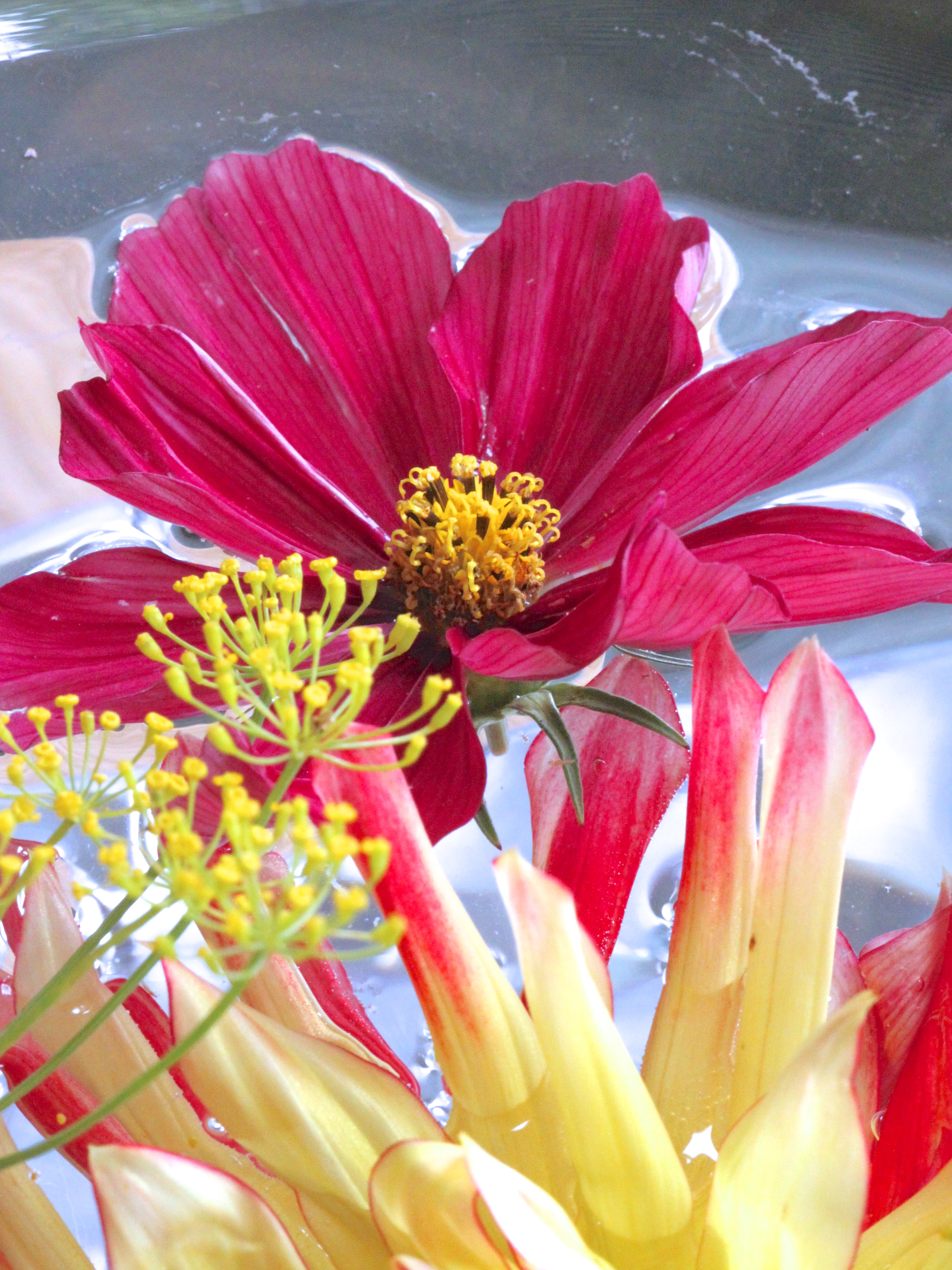 Whilst my hardy annuals are fading the half hardies are getting into their stride and I have cosmos starting to flower all over the garden. In addition to pockets planted in the cutting beds I have also added plenty to my main borders and filled a number of pots with it. The variety that I added to my bowl today is Rubenza the seeds for which I purchased from Sarah Raven.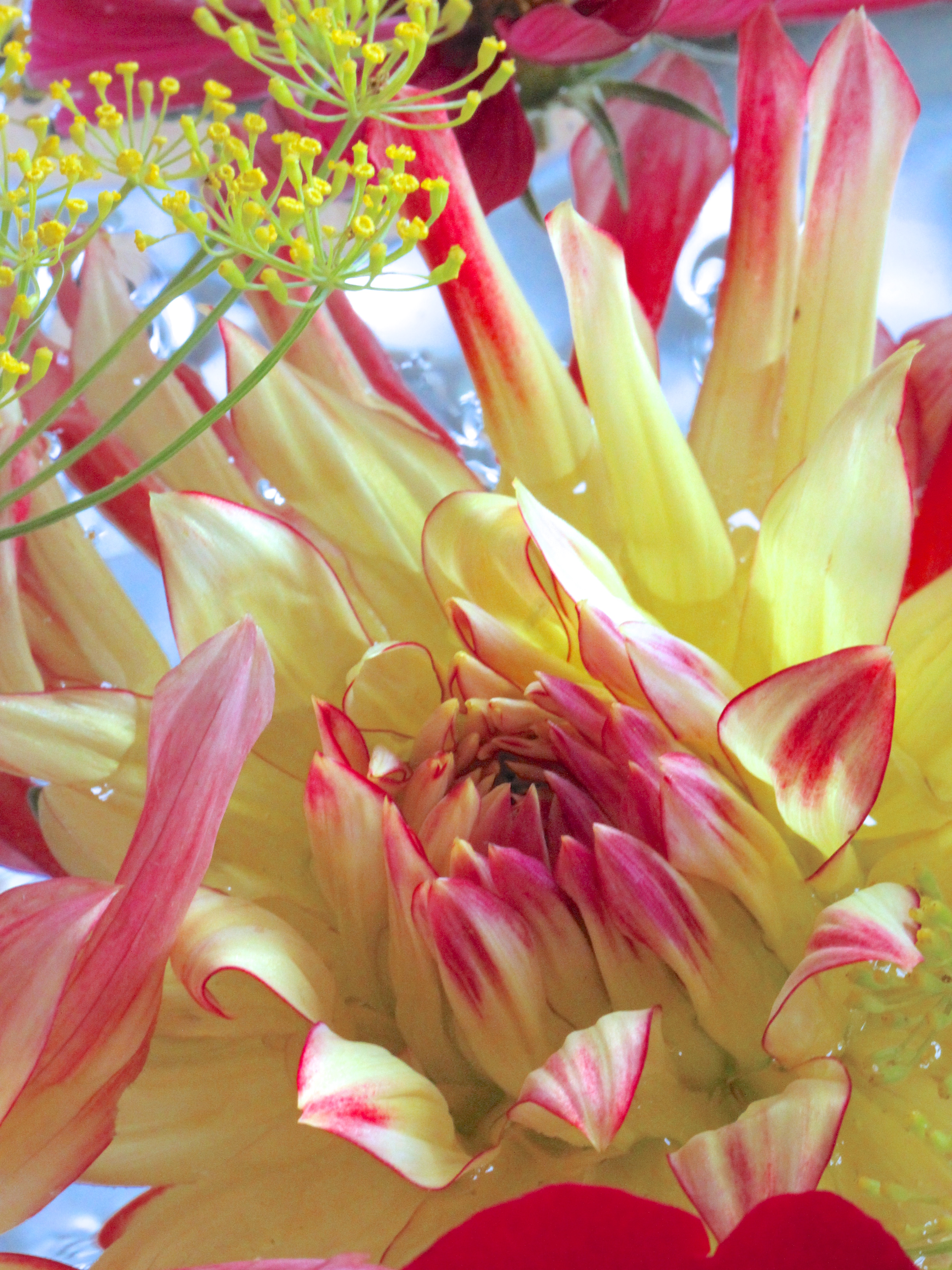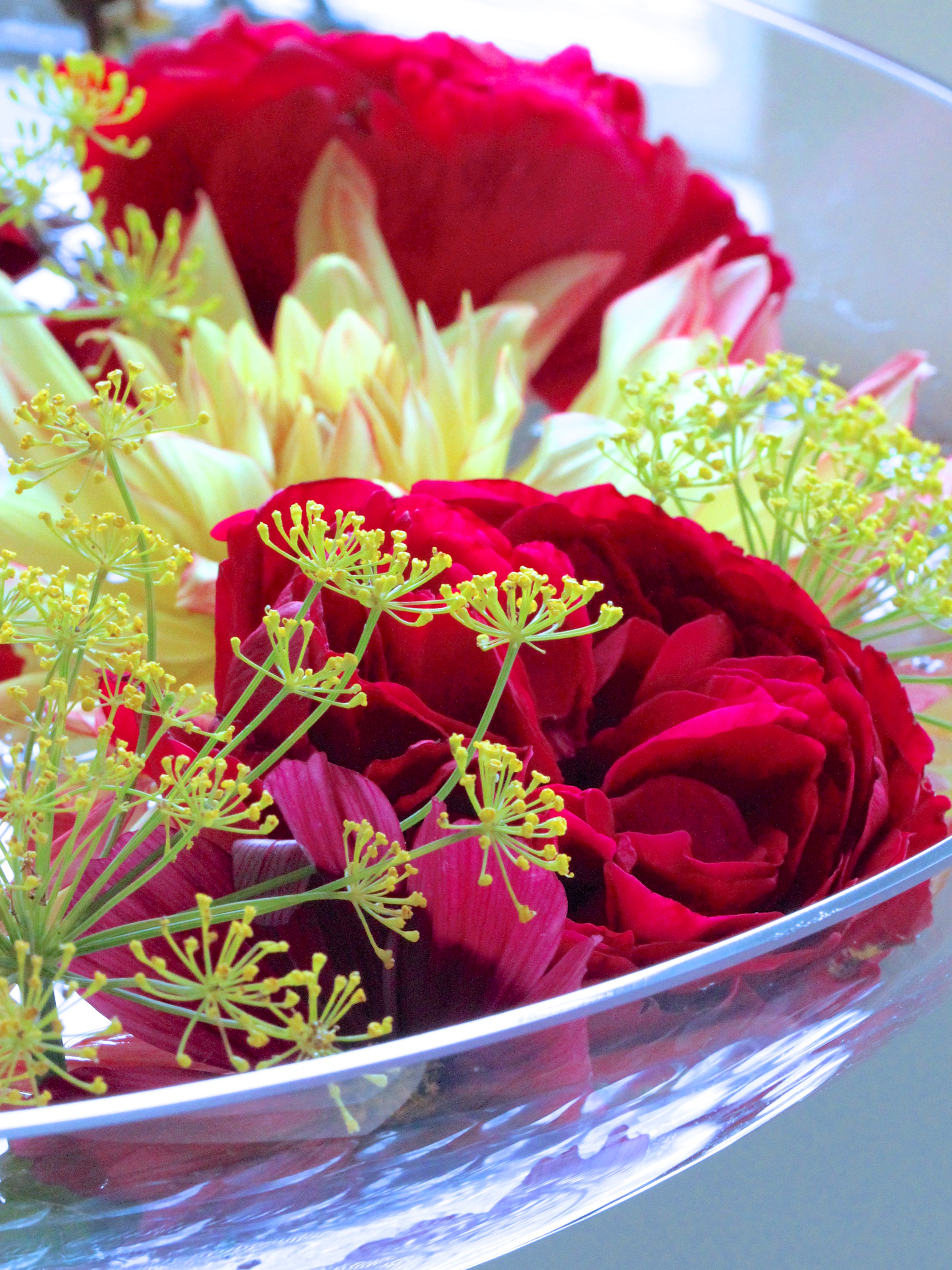 This is proving to be a fantastic summer for fruit and I could not resist clipping a few sprigs of blackberries to add to the bowl. The combination of flowers, herbs and fruit floating in a bowl was for me a lovely welcome home to a new season of flowers.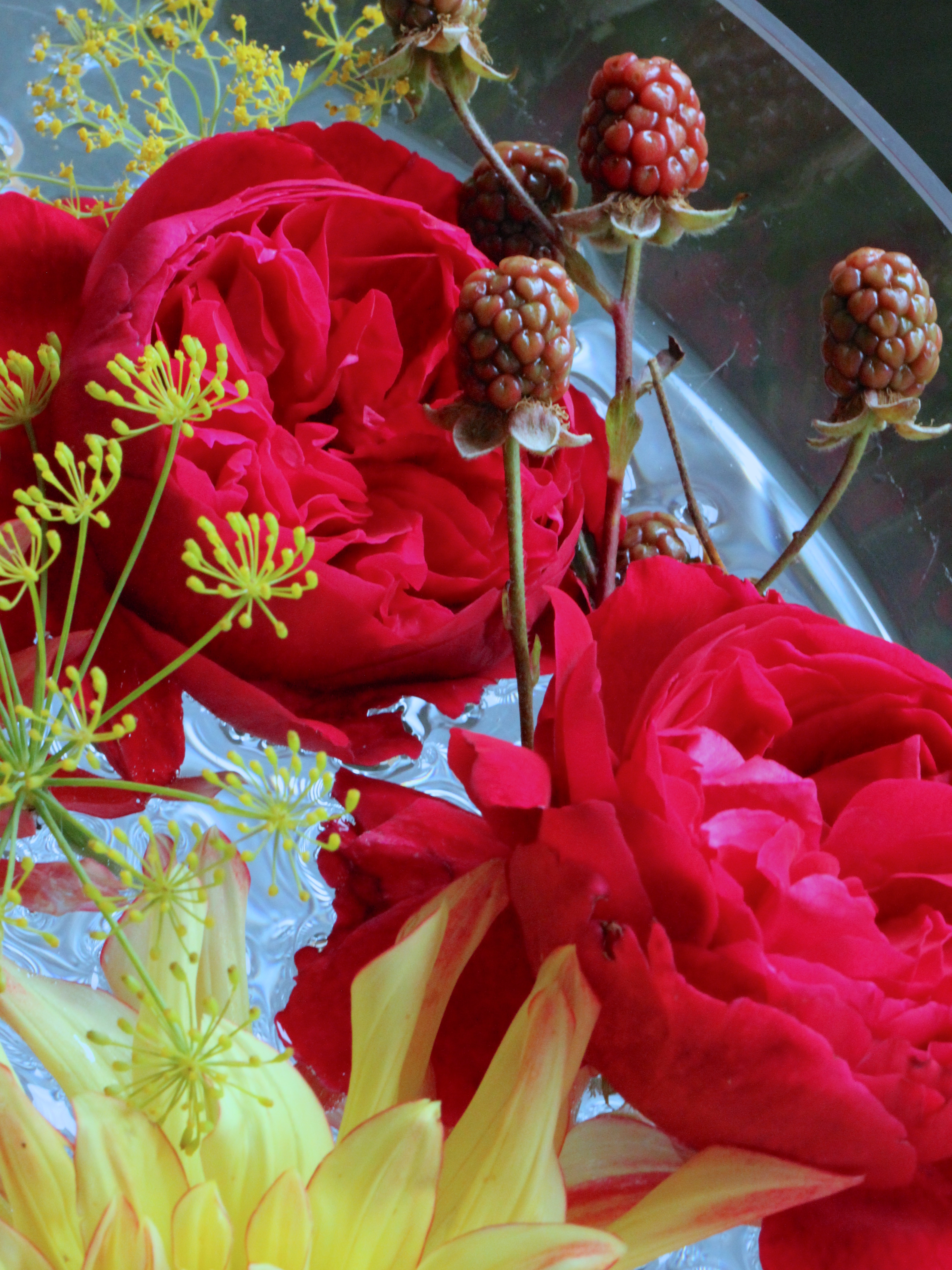 There is a sad ending to this bowl of summer bliss however and a word of warning to you all. After photographing these flowers in the kitchen I decided to move the arrangement to the sideboard in the dining room. I was very careful but managed to catch the foot of the bowl as I lifted it onto the sideboard sending flowers and water cascading everywhere. Perhaps it is best to make floating arrangements in situ!!
As I mentioned I am visiting Kew Gardens and Petersham Nurseries this week – both places that I have never been to before so I will have my camera ready to try and capture some of the spirit of these beautiful destinations. Before I share these with you however I will be posting photos from June outings to the beautiful Spencer's Garden and Royal Ascot ( where the flowers this year were stunning). Also this week I will be here on Friday with my Cutting Garden Review for July.
I wish you all a very happy week and hope that you will pop over to Cathy's blog to see what she and the others have been picking this week.