After a long break I am very happy to be back this week with my 'In A Vase On Monday' post. Today I am linking up with Cathy at Rambling In The Garden to join in with the celebration of her 2nd anniversary of hosting this lovely weekly challenge to make a vase with material from the garden every week of the year.
I had intended to be back with you last Monday as we were due home on Monday morning. After a terrible journey including a canceled flight, delays and a long wait sitting on a runway before our plane finally took off, we arrived home on Tuesday evening – rather travel weary as you can imagine! I am pleased to say that my knee, whilst not perfect, is well on the way to recovery – I think a restful holiday helped no end. I am now able to amble slowly around my wreck of a garden and am making plans to try and catch up with all the jobs I have missed over the last 6 weeks.
I am proud to say that I have been joining in with this meme since the beginning, way back in November 2013 – although I have missed a few vases along the way. As I have not quite got myself back into the swing of things yet, I thought I would make life easy this week and share a few of my favourite vases from the last 12 months to mark this second anniversary.
Winter Flowers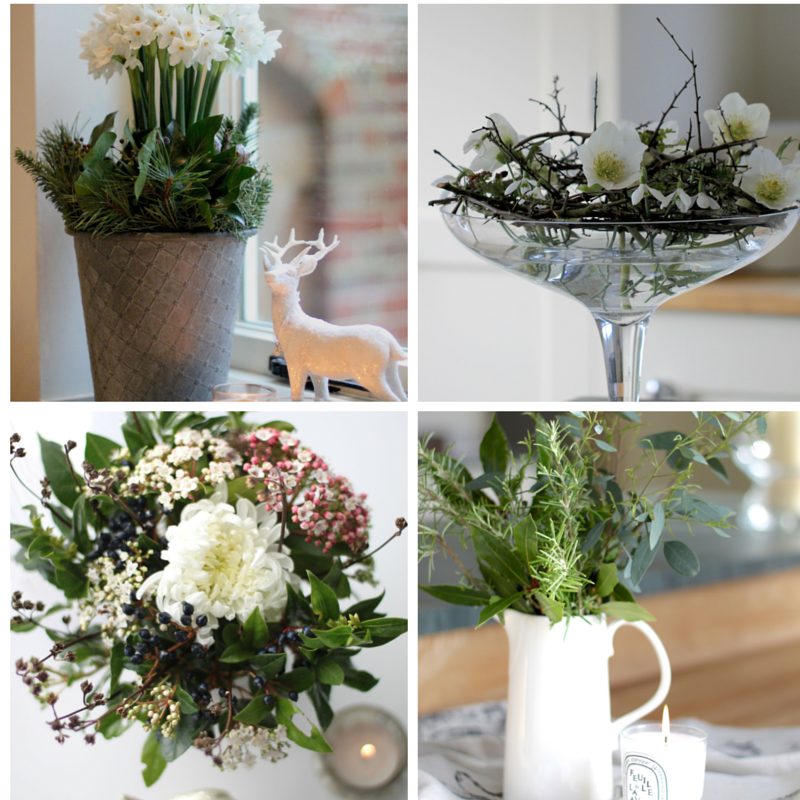 Starting with some vases that I made last winter, you can see that during the lean season I foraged material from both my garden and my greenhouse. In the greenhouse I grow late chrysanthemums that will flower into December and plenty of the very scented narcissi Paperwhite, which I plant successionally in the greenhouse bed to keep me in blooms from before Christmas until well into March. From the garden I rely on rosemary, ivy, skimmia, viburnum and cedar, with any berries I can find and plenty of snowdrops and hellebores. I also love to add bare branches throughout this season.
Early Spring Flowers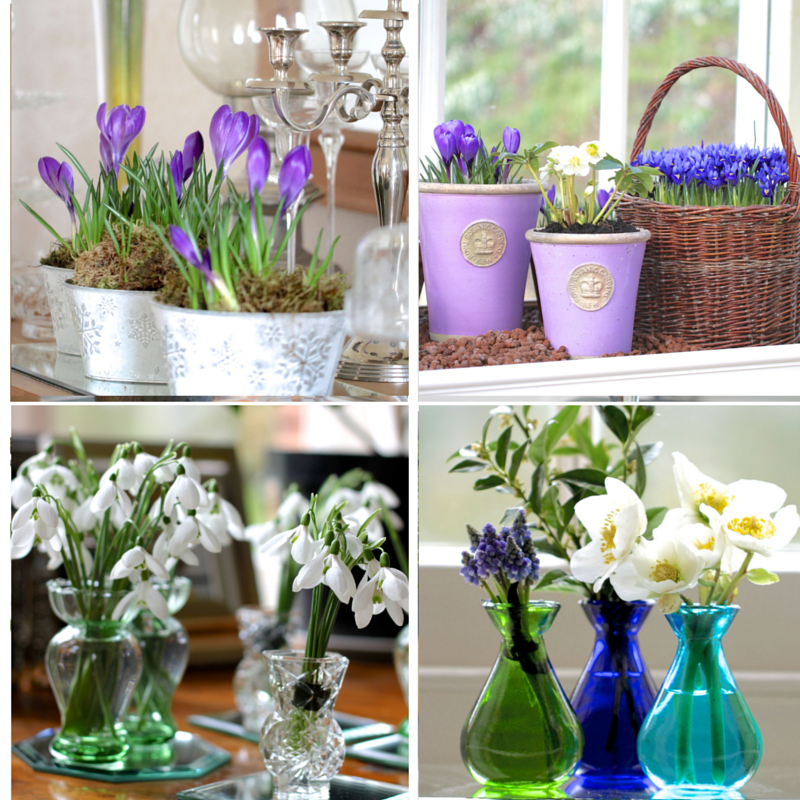 Early spring was full of the delights of tiny flowers, many flowering early in pots in my greenhouse. Looking at these photos makes me so excited for next spring. I do have a handful of snowdrops in flower at the moment (thanks to Chloris from The Blooming Garden, who encouraged me to buy this early flowering variety last February), but the bulk of my snowdrops will flower from about the second week in January onwards until late February. The crocus and iris were forced in the greenhouse to guarantee an early February flowering and the muscari you can see are from a small group that always flower in late January and February. The bulk of my muscari flower in April, so these really are very early.
Late Spring Flowers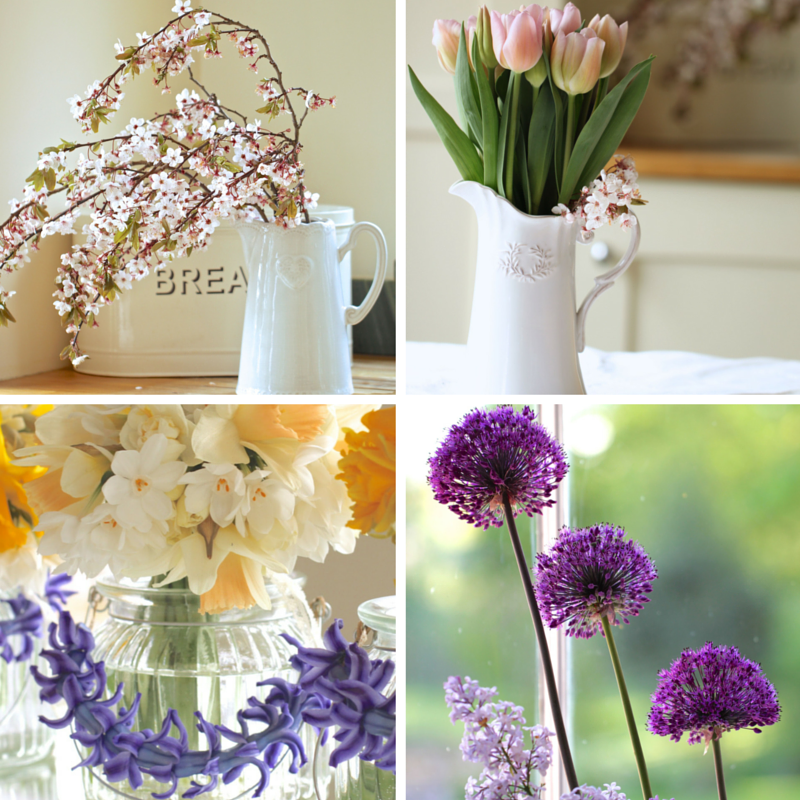 Late spring saw my garden overflowing with blossom and bulbs, ready to be picked. Daffodils, hyacinths, tulips and cherry blossom filled my borders and I just love bringing all the lovely delicate colours into my house to cheer up window ledges, mantles and shelves after the long winter. I have included the beautiful allium Purple Sensation here – is it a late spring or early summer flower? As it is usually in flower by early May I think of it as late spring.
Early Summer Flowers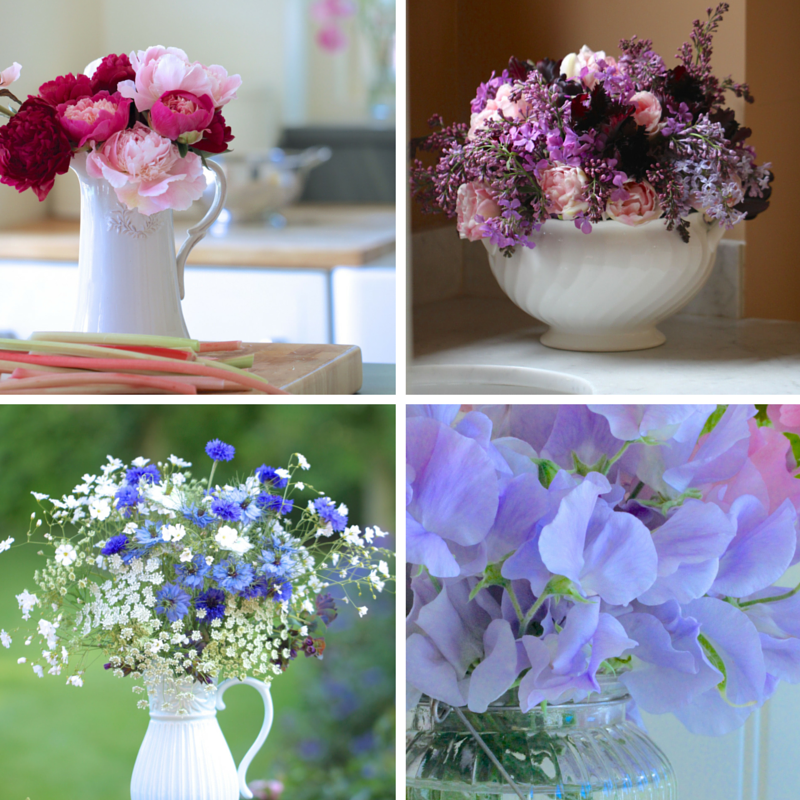 Early summer is my favourite point in the flowering year and saw scented lilac with the last of the tulips, my beautiful peonies, sweet peas from the greenhouse and the first wave of summer annuals.
Late Summer Flowers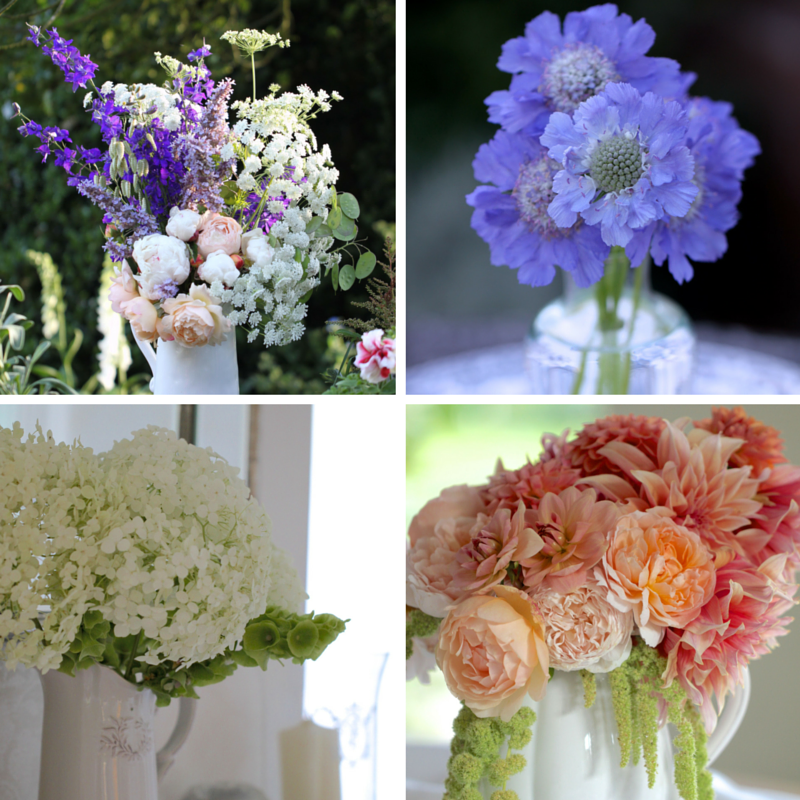 Late summer saw hydrangeas, yet more annuals, roses and dahlias filling my vases. The last photo of the peach roses and dahlias was taken just before we left for Florida in late October, so autumn had not really started then. As I have been away I am missing autumn inspired vases so far this year, but hope to add a few in the weeks to come before autumn sinks into winter.
Props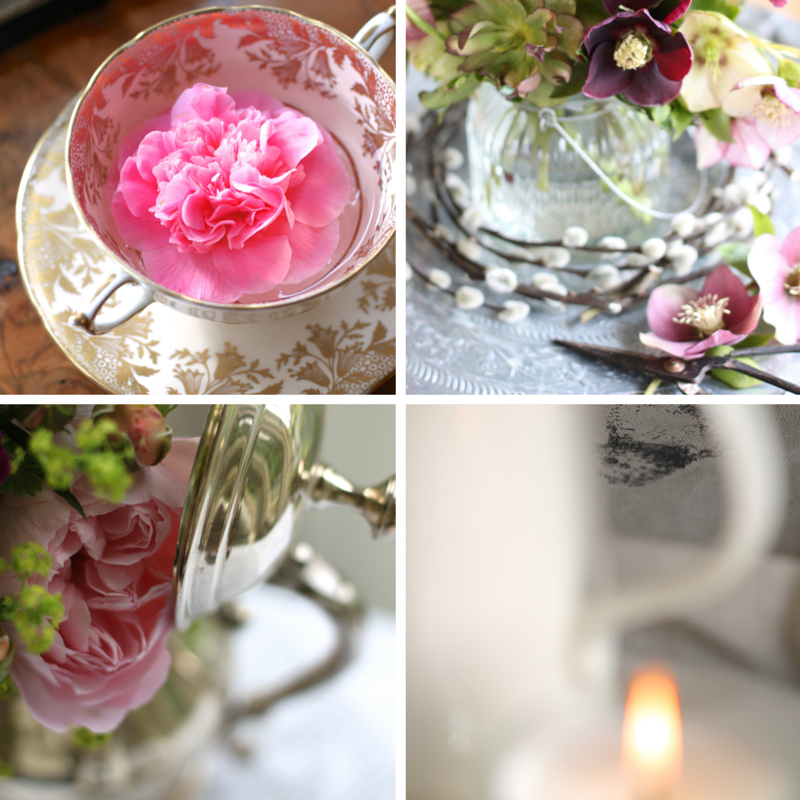 Whilst showing you my vases, I thought I would say a few words about the props I like to use. In addition to the many varied jugs, vases and pots I have collected I will often bring teacups or tea pots into use as a container for my flowers. I also love to include my floral scissors in photographs and find that a metal tray makes a great background. Including a little floral material around the base of a display adds atmosphere to the photo and in winter a burning candle can add a much needed glow. When photographing my flowers I will always turn off the flash and seek out a position in natural light. On dull days this often means photographing outside or in the greenhouse, whilst on a bright day I will choose a position inside close to a window.
Containers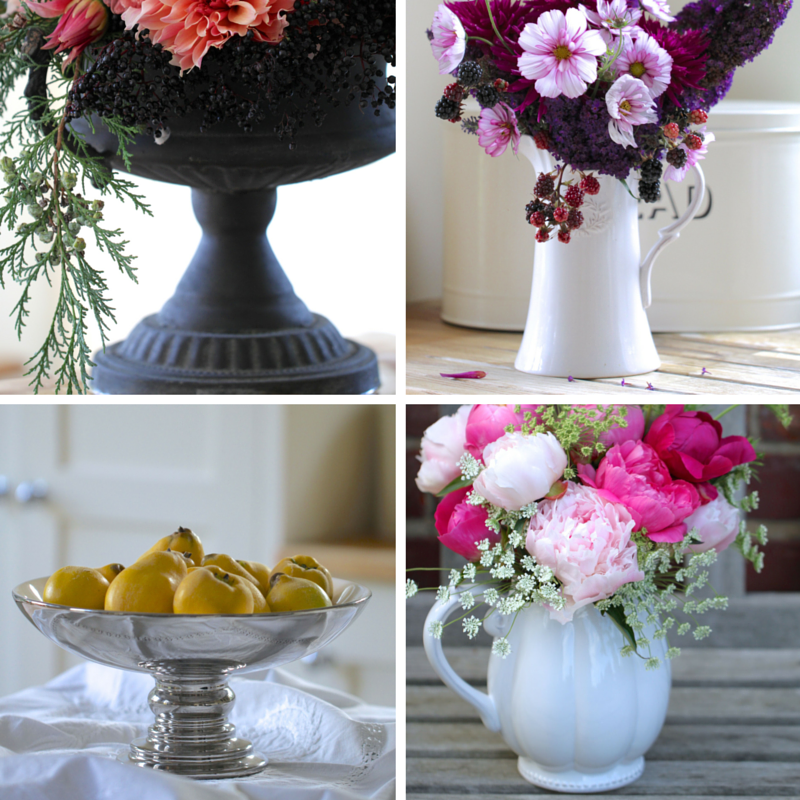 Regarding vases I have an ever increasing variety of containers filling my vase cupboard. So many now that I need to have a big sort out to make sure I make the most of my supplies next year. My favourite containers tend to be jugs, but I also love rusty urns, trios of bud vases, baskets, bowls, old garden containers and anything else that I can requisite into my floral cupboard. I get my inspiration from other bloggers, instagram, pinterest, magazines and my ever increasing selection of floristry books. I can recommend second hand book stalls as a good place to hunt out floristry books.
Looking back over a years worth of vases is a great way to get myself back into the mood for gardening after my injured knee has taken me away from it for so long. I am now very behind on bulb planting and must at the very least pot up my greenhouse bulbs asap if I am to have any blooms for late winter this year. If we have a normal winter I expect anything I plant now will flower at a similar time to my outdoor bulbs – I have missed the window for very early flowers. However, if the predicted hard winter does hit, I will be glad of my greenhouse bulbs as snow and frozen ground will delay all my outside bulbs. I also need to get on with clearing my beds and planting the tulips. I have had to revise my planting plan so that the bulbs can be put into beds that are easy for me to get to as I am still not very agile. Also I have decided to put on hold plans to split and move perennials, order new roses etc – I will just let the garden be this year whilst my knee returns to being fully operational.
I would like to give a big round of applause to Cathy for dedicating 2 whole years to hosting this lovely meme. She has managed to produce a vase of flowers every week, even through her holidays and she works very hard to answer all her many comments – there are now quite a number of us participating on a regular basis. Thank you Cathy for your enthusiasm and commitment in keeping us all producing our weekly vases!! Cathy is hosting a draw this week for a vase related giveaway, so do consider making a vase and then pop over to her blog for a chance to enter the draw.
Hopefully I will be resuming taking photos this week and will be back with another post later in the week. I would like to post my Greenhouse Review for November on Wednesday, but do not want to make any promises yet, just in case!