And so here I am back at the beginning again – with the end of the summer the growing year in my greenhouse has come full circle and it is time to start filling up the empty staging with treats for the cooler months to come. The big spring clean is just about complete – pots have been sorted, tools tidied and the frame pressure washed. Tomorrow my window cleaners are here, so they will add a finishing sparkle to the glass and I can begin to start sowing again.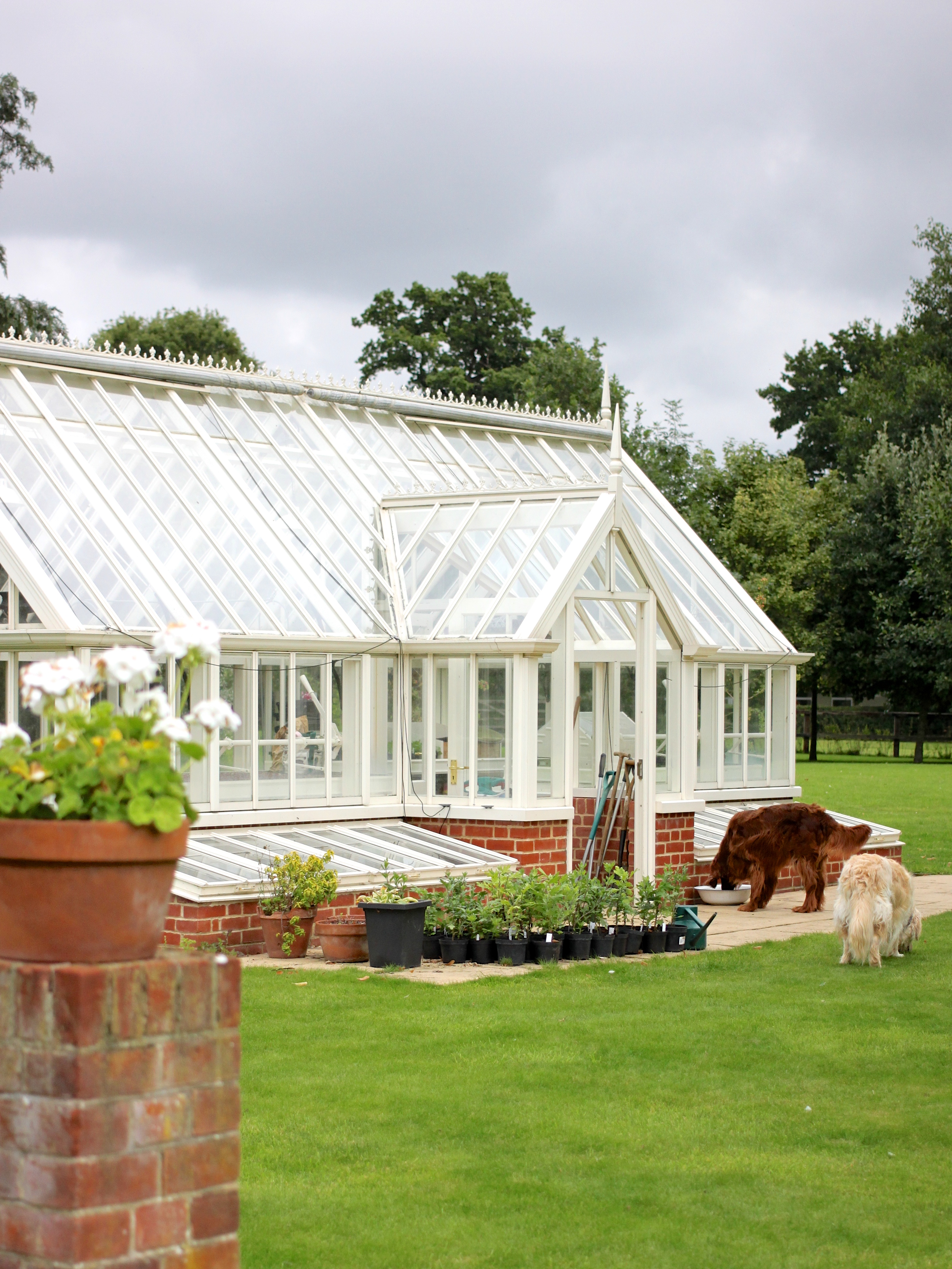 Whilst the inside is nearly empty I still have pots of chrysanthemums standing outside, which will be brought in under cover during October.
You can see that I had company when I went out with my camera – expect a few more shots of my gardening helpers today.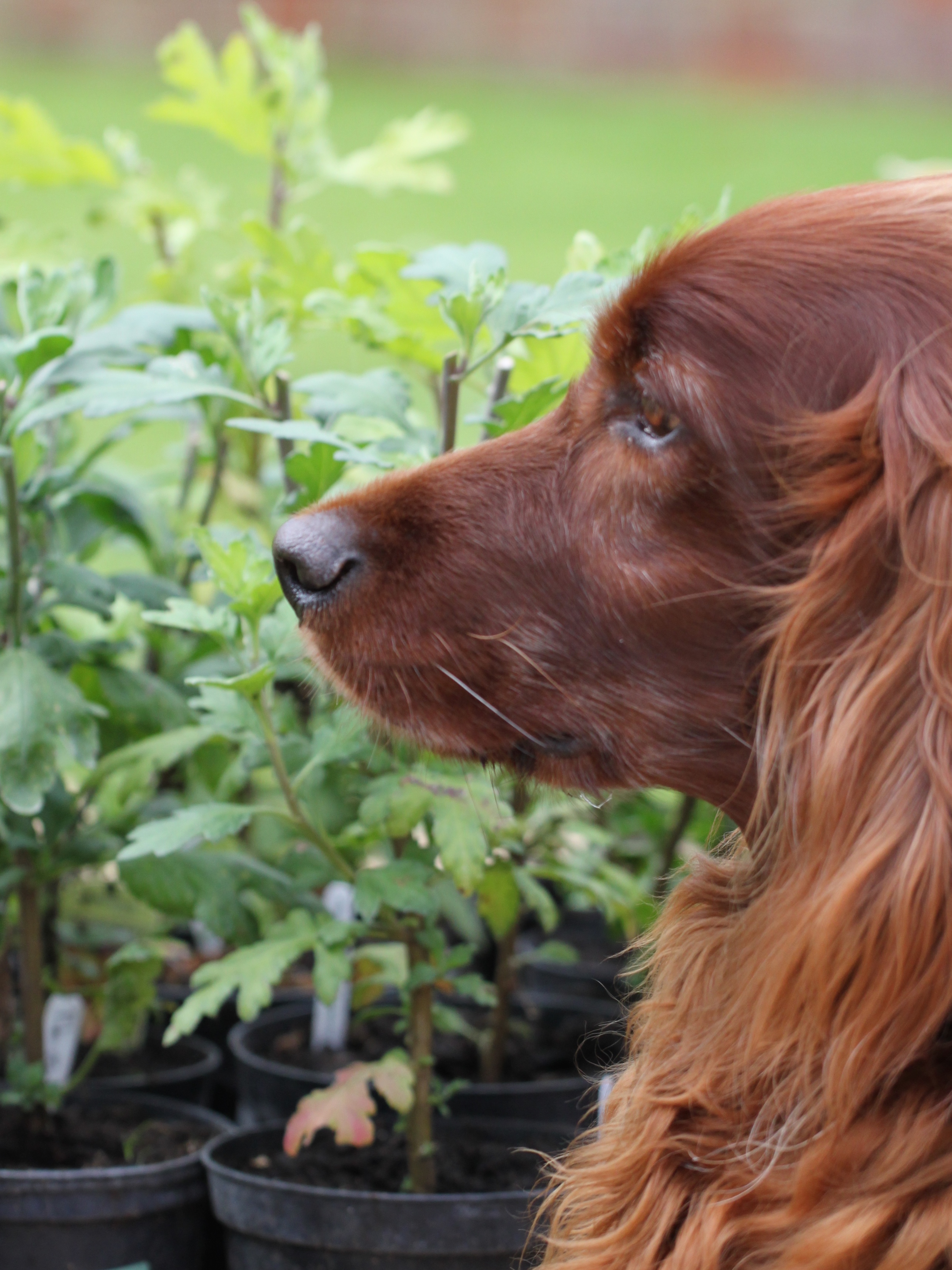 I know that Hardy is looking very handsome in the foreground, but I would like to concentrate on the chrysanthemums behind him for a minute. These are plugs purchased from Chrysanthemums Direct in May. I have had an email from them just this week saying that it is not too late to purchase chrysanthemums to flower this November and December – if anyone is interested do have a look at their website – at £2.50 a plug it is worth buying a few for late flowers if you have the space in your greenhouse. I am tempted to order a couple myself to see how they compare to the ones I have been growing on through the summer – it would save a lot of work if I could order them this late next year. I will let you know how I get on.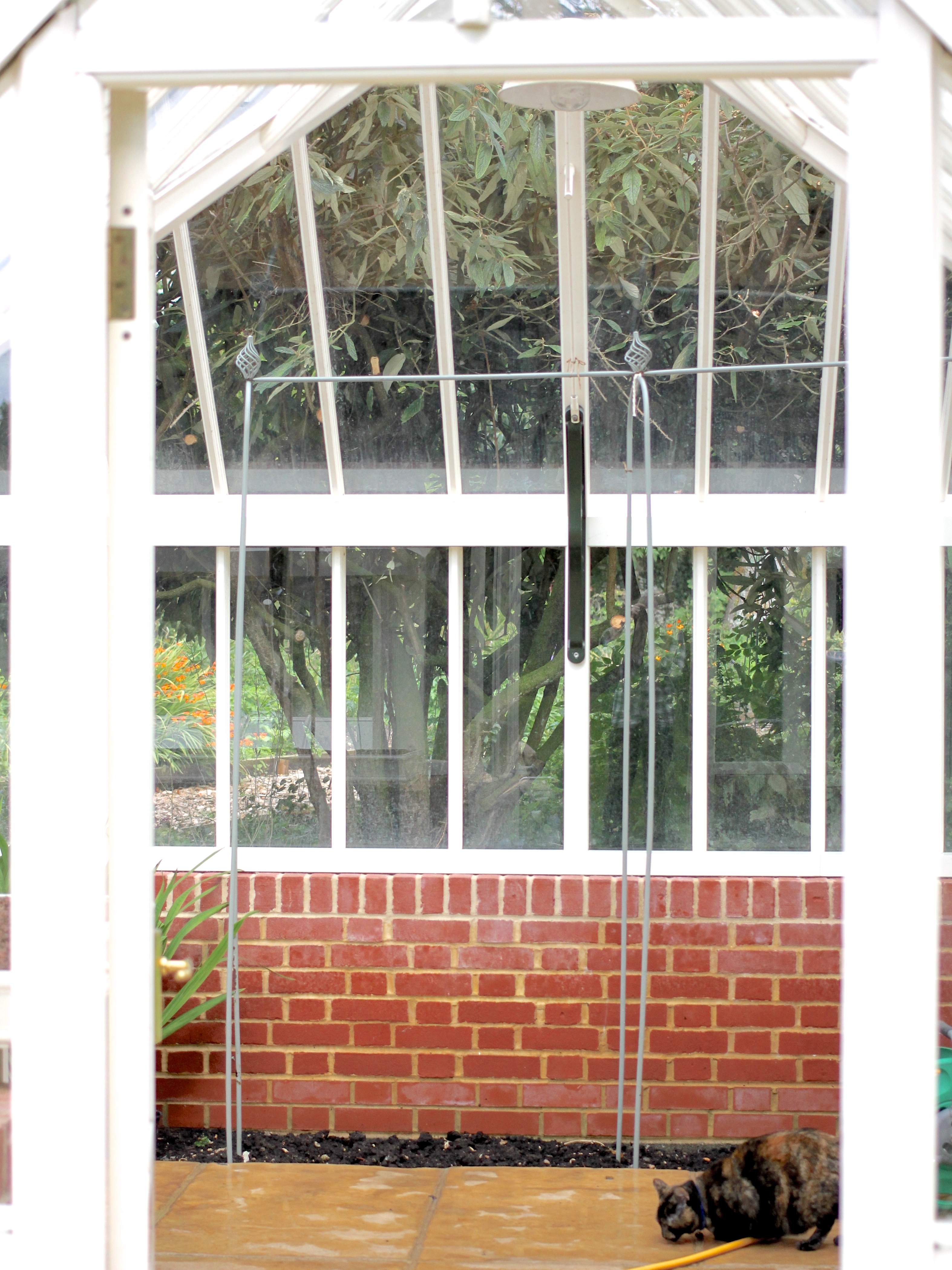 Looking inside, the greenhouse bed is now clear of plants and you can clearly see the frame that I use to support my sweet peas on. I will be sowing the next batch of sweet peas later this week and hope to have them planted in this bed before Christmas. My seeds have arrived from Owl's Acre Sweet Peas and will be initially sown in root trainers. Once the seeds are sturdy young plants I will transplant them into the greenhouse bed. There is a risk that they will be eaten by mice, but I have not yet had mice in the greenhouse so I will keep my fingers crossed that I can avoid that calamity. The frame is from the Elegance Kitchen Garden range by Agriframes – I noticed when searching for the link that it is on sale at the moment. This frame is quite narrow and just the right height for my greenhouse, so it fits perfectly into the narrow greenhouse bed.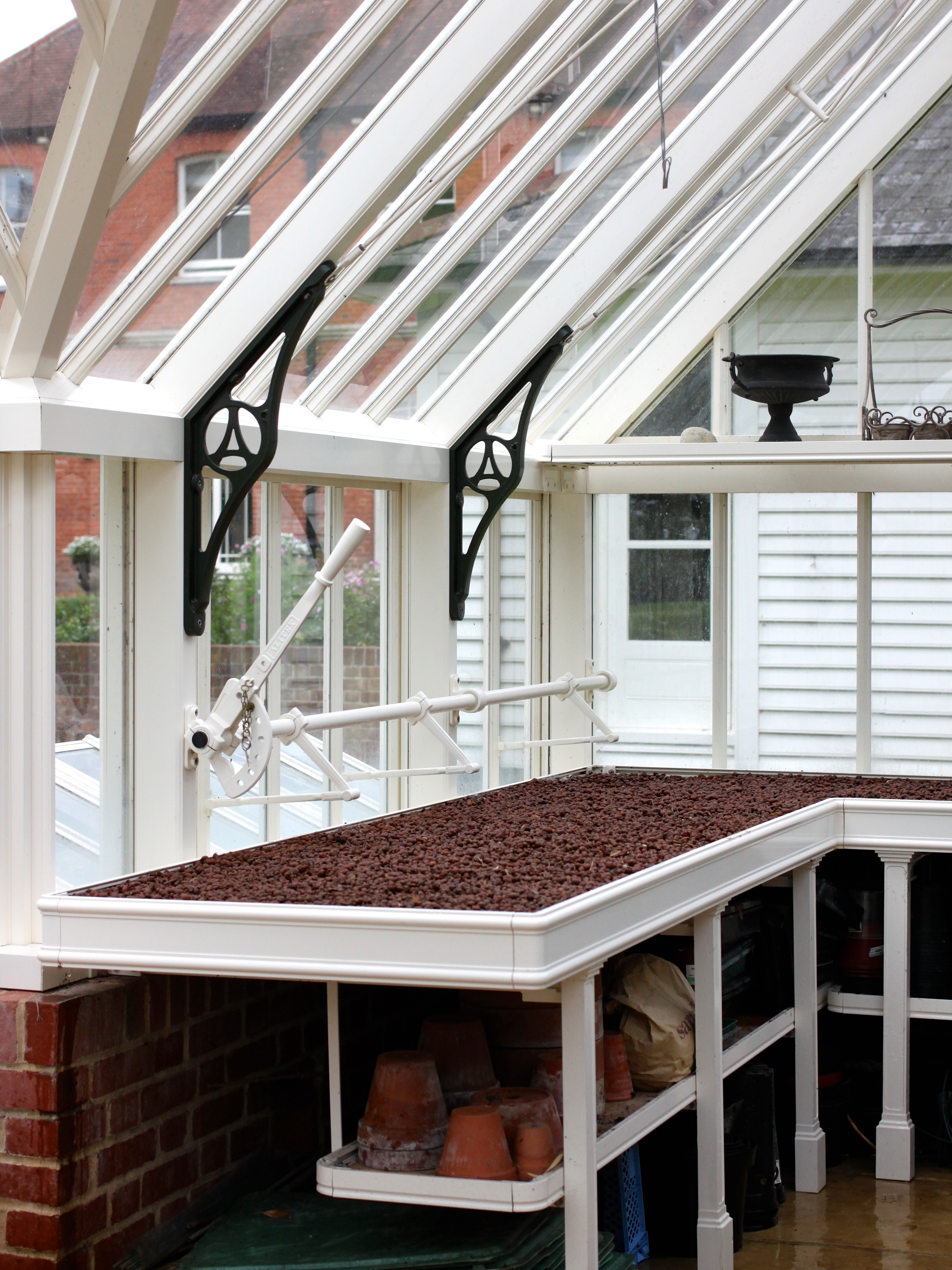 Inside the staging is currently empty, but not for long. I will be sowing winter salads and hardy annuals in the next few days.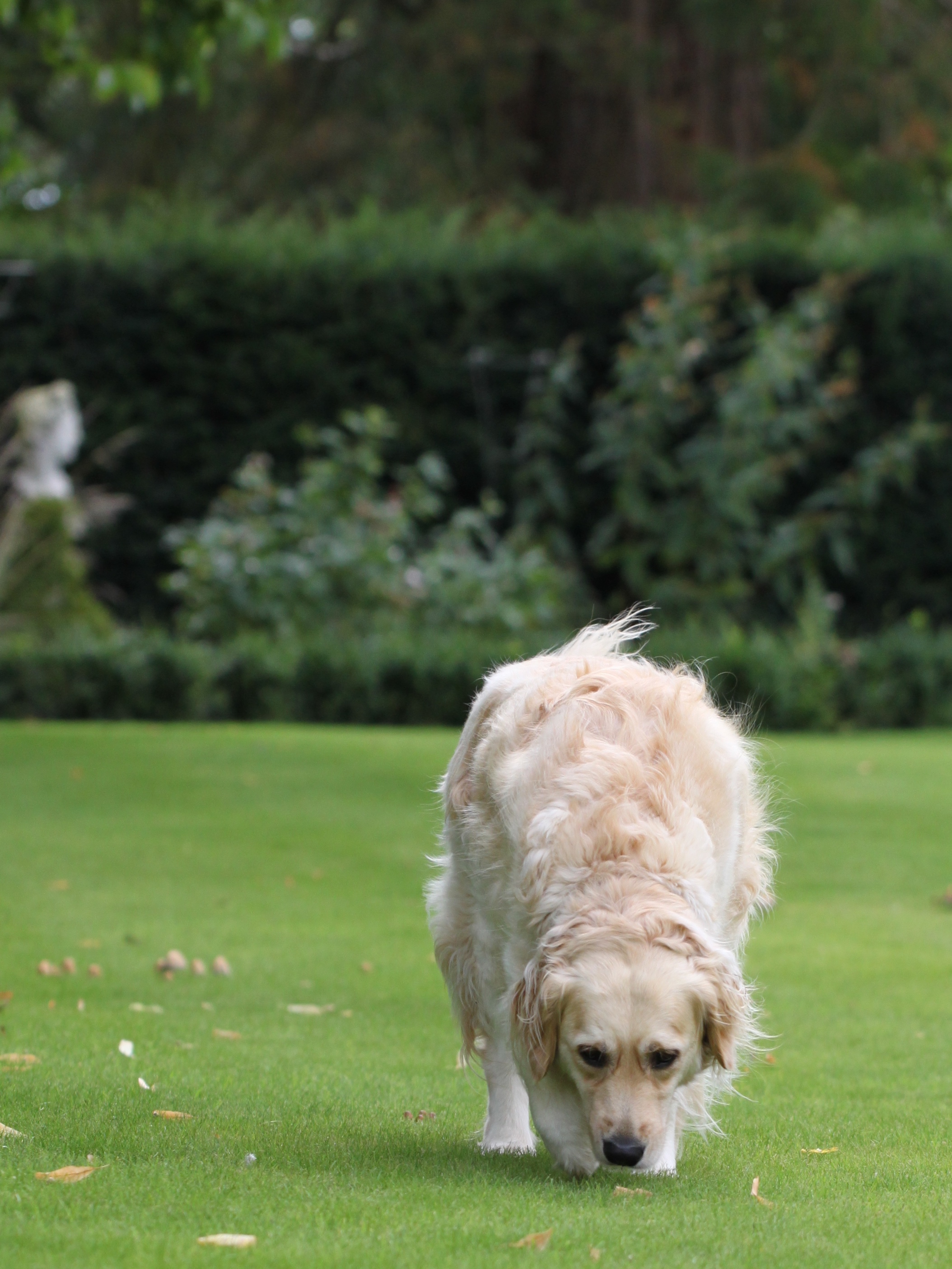 Ruby the cat likes to be in the greenhouse with me and Hardy is usually asleep somewhere nearby, but Nelson is only just three and is still energetic enough to enjoy chasing after the leaves that are just starting to fall.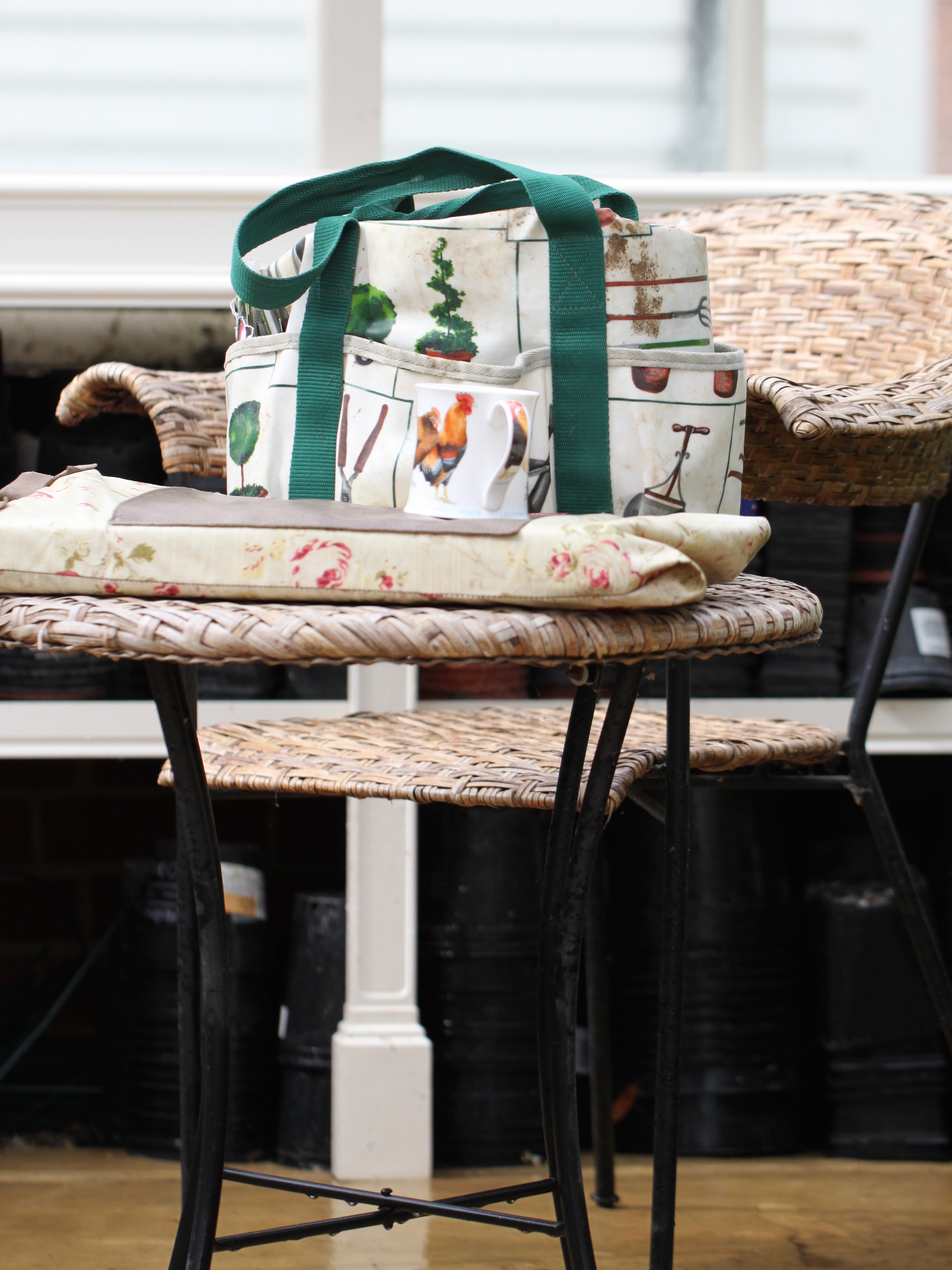 Although the greenhouse is empty I am still enjoying a cup of tea in here – particularly when I need to escape the rain.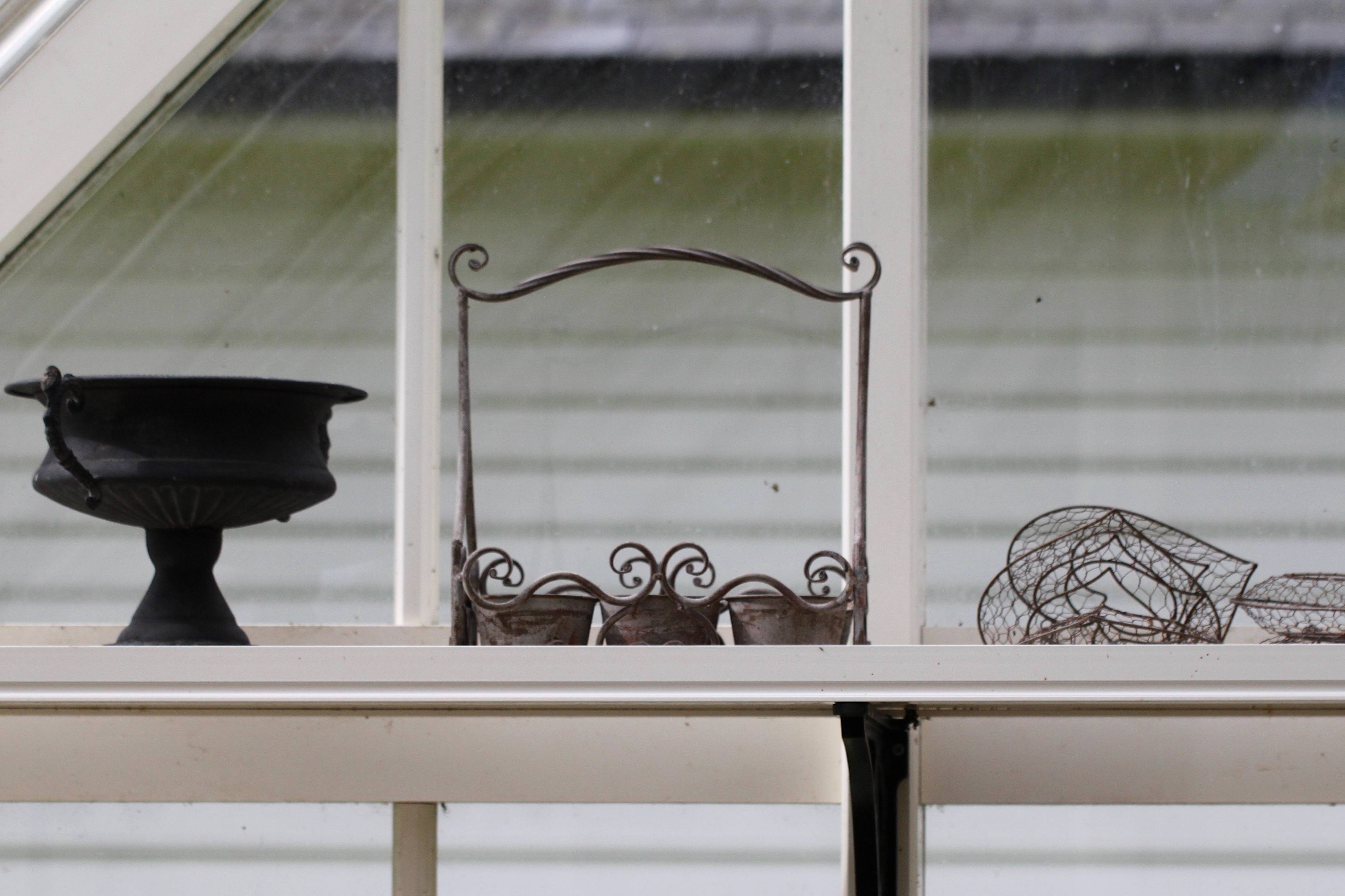 Whilst the greenhouse is empty of plants it is easier to show you how I use the high shelves to store many of my flower arranging containers. I am sure that lots of you would fill these shelves with plants, but as I am not very tall this is quite a stretch for me so is much better used for extra storage.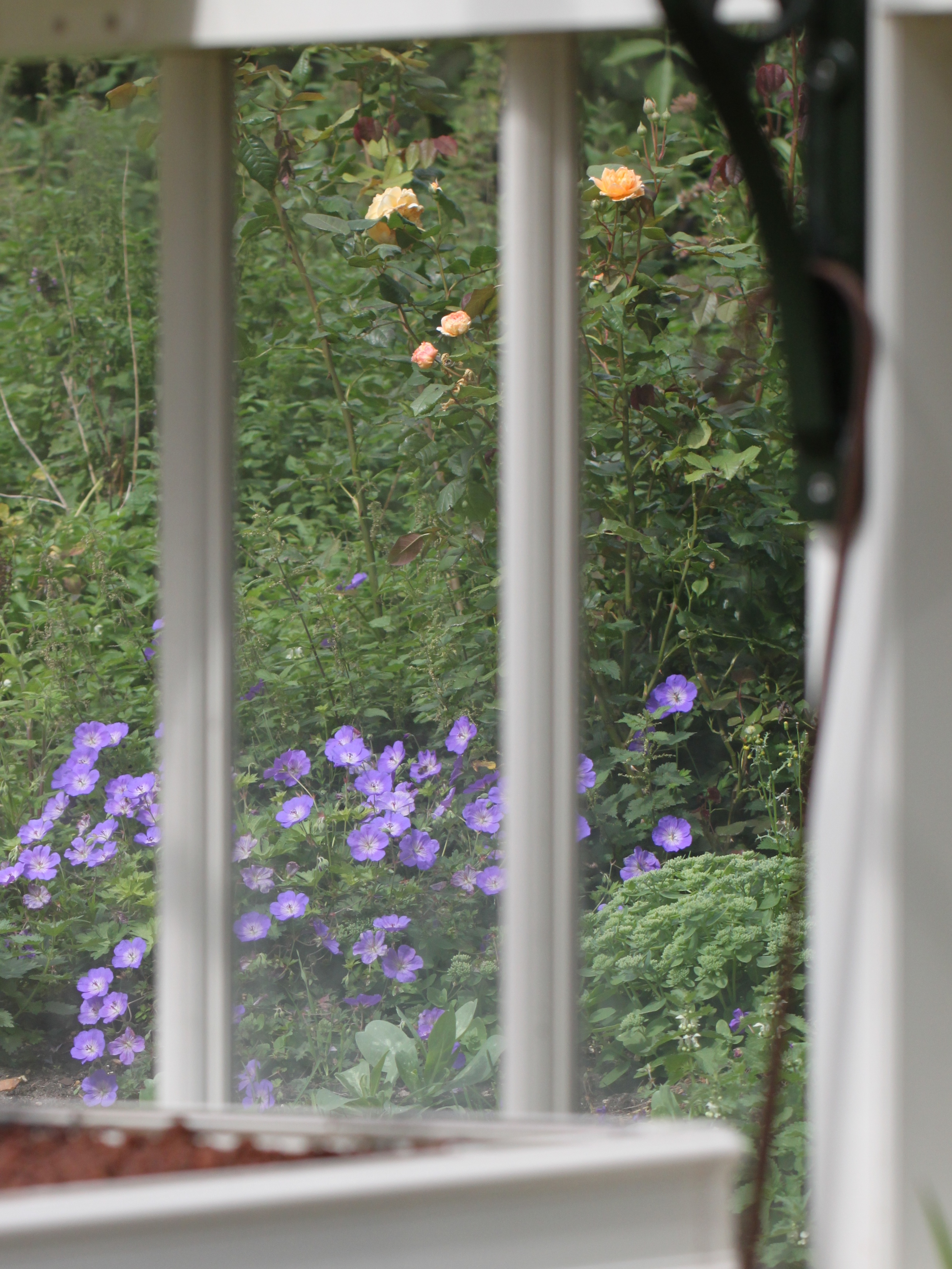 Looking out of the windows you can see rose Crown Princess Margareta and hardy geranium Roxanne in the garden.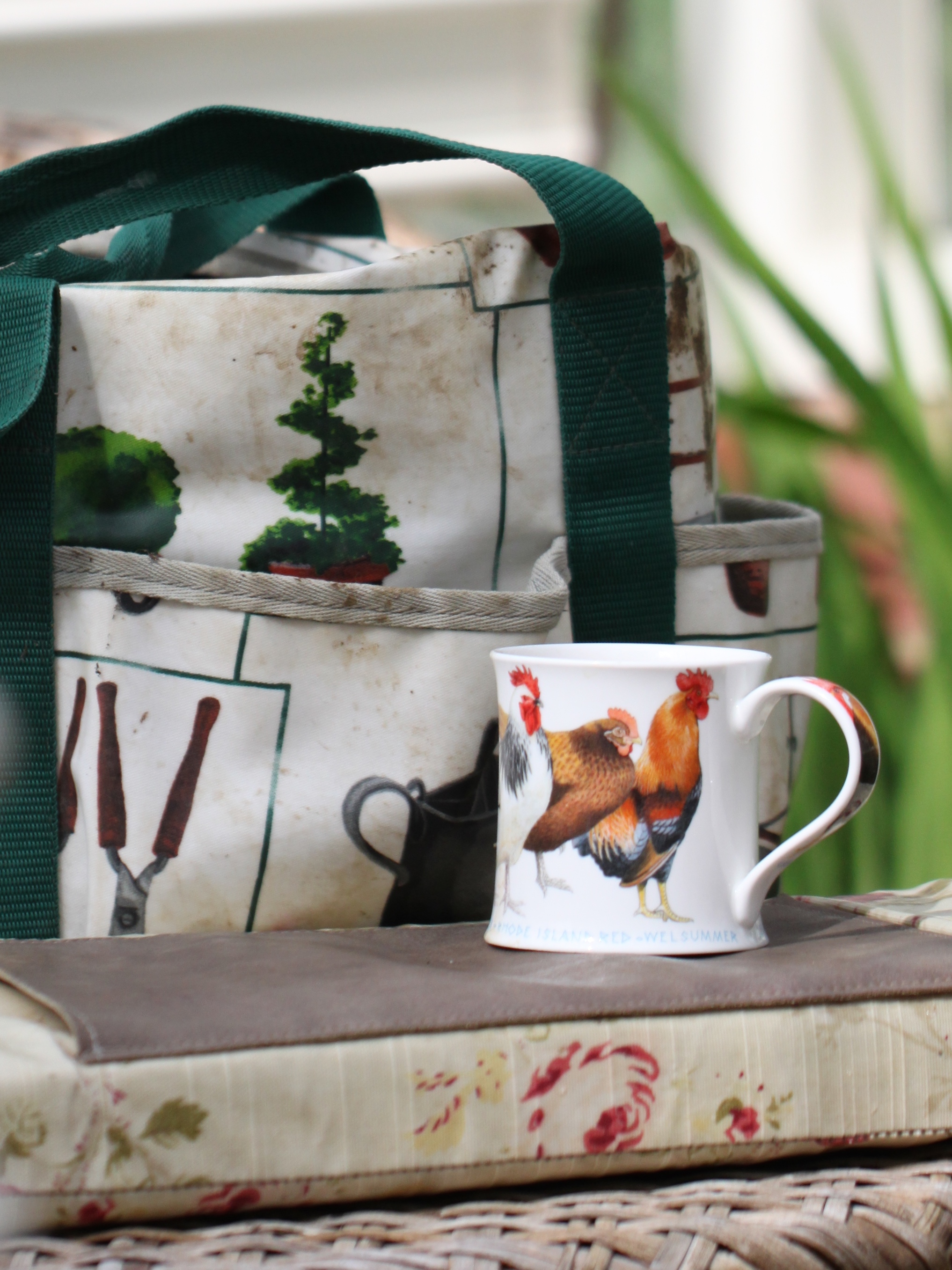 My gardening bag, kneeler and chicken mug go everywhere with me in the garden.
I have started collecting my terracotta pots together ready to start the mammoth bulb planting spree that I undertake every autumn.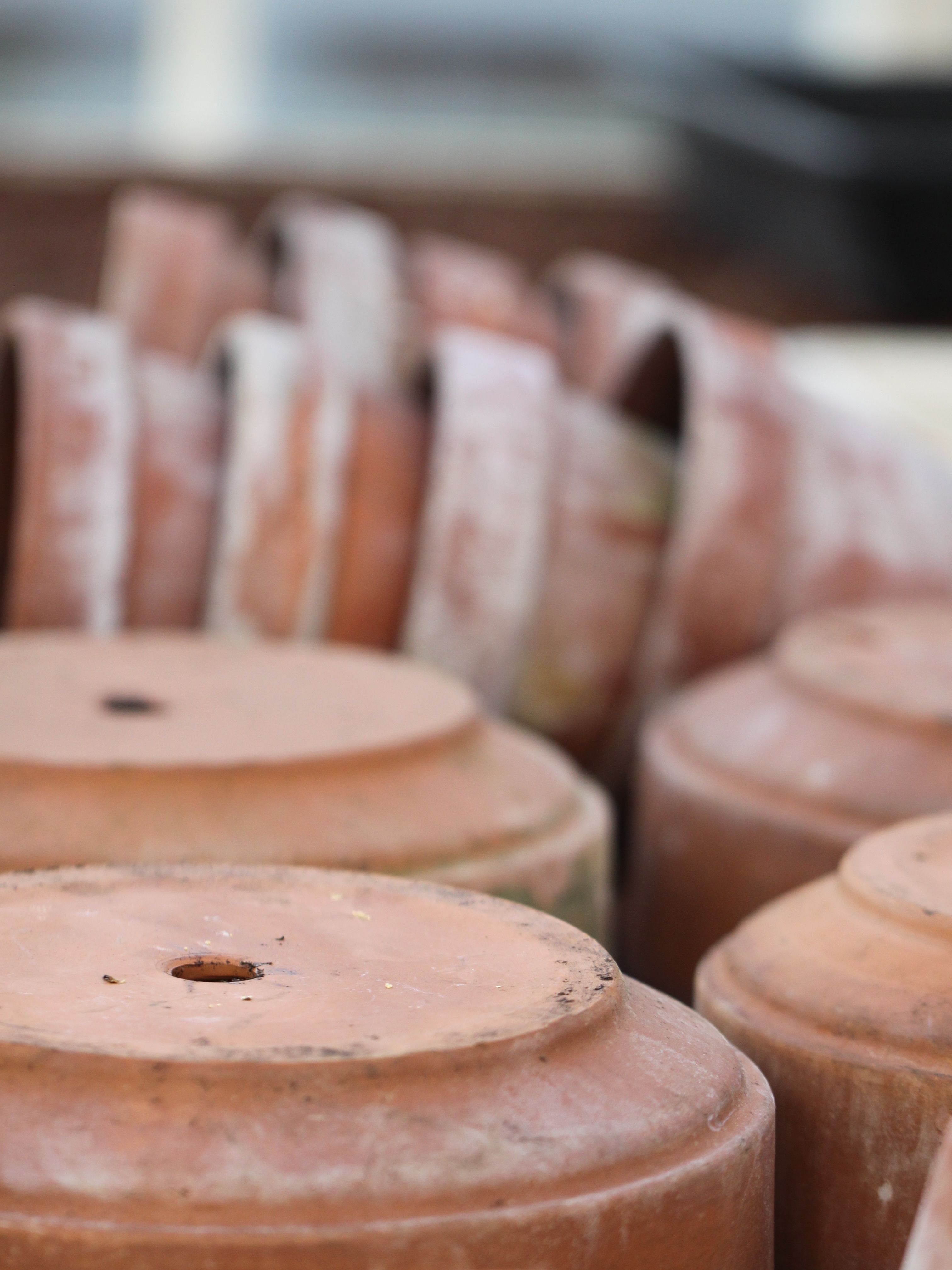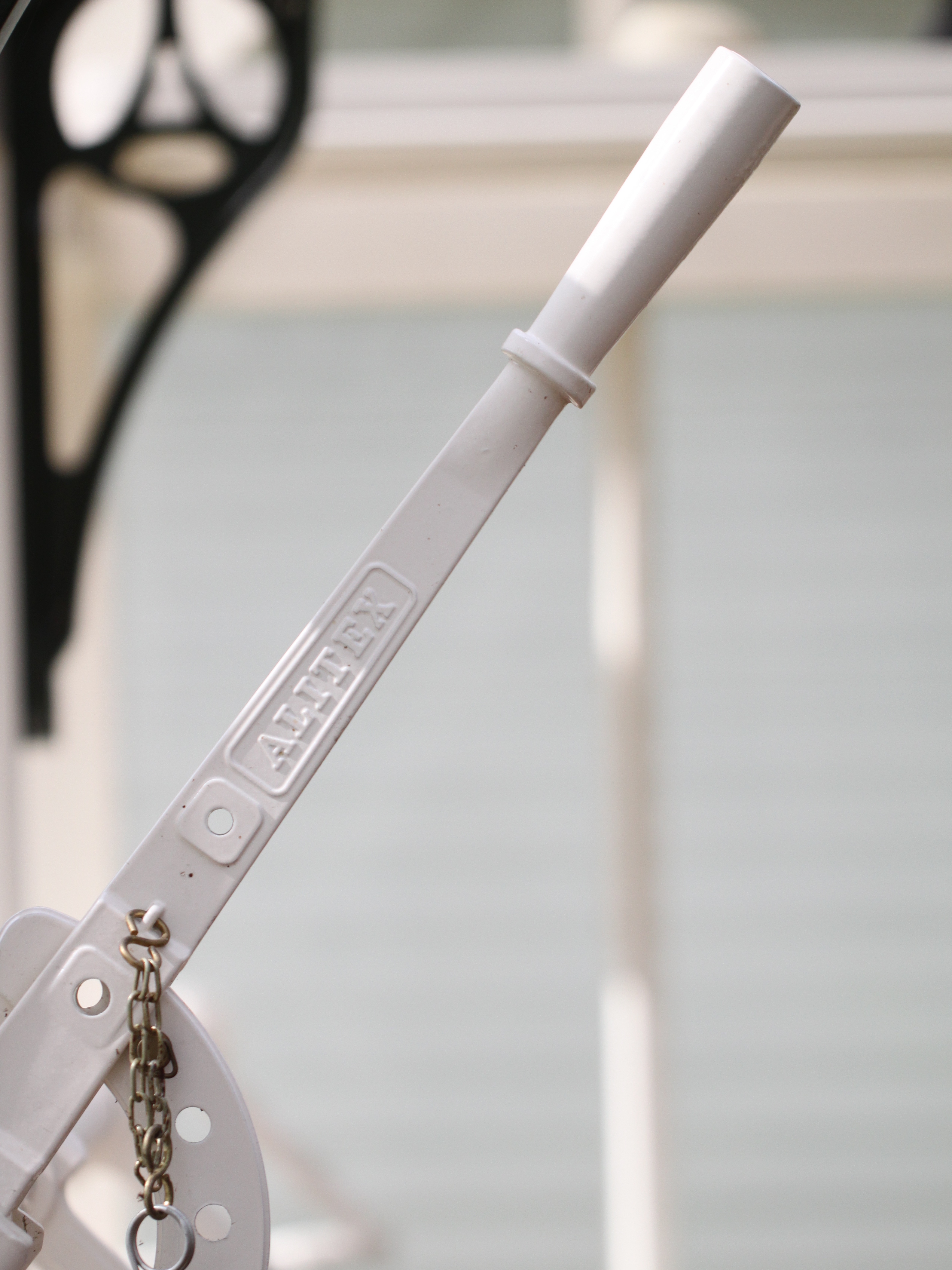 This handle opens the window at the front of the greenhouse – I love these victorian style details. The window has stood open all through the summer to keep the air moving, but has now been closed as night time temperatures are dropping. I will also be closing the door again in the evening as soon as there are plants to be protected back inside.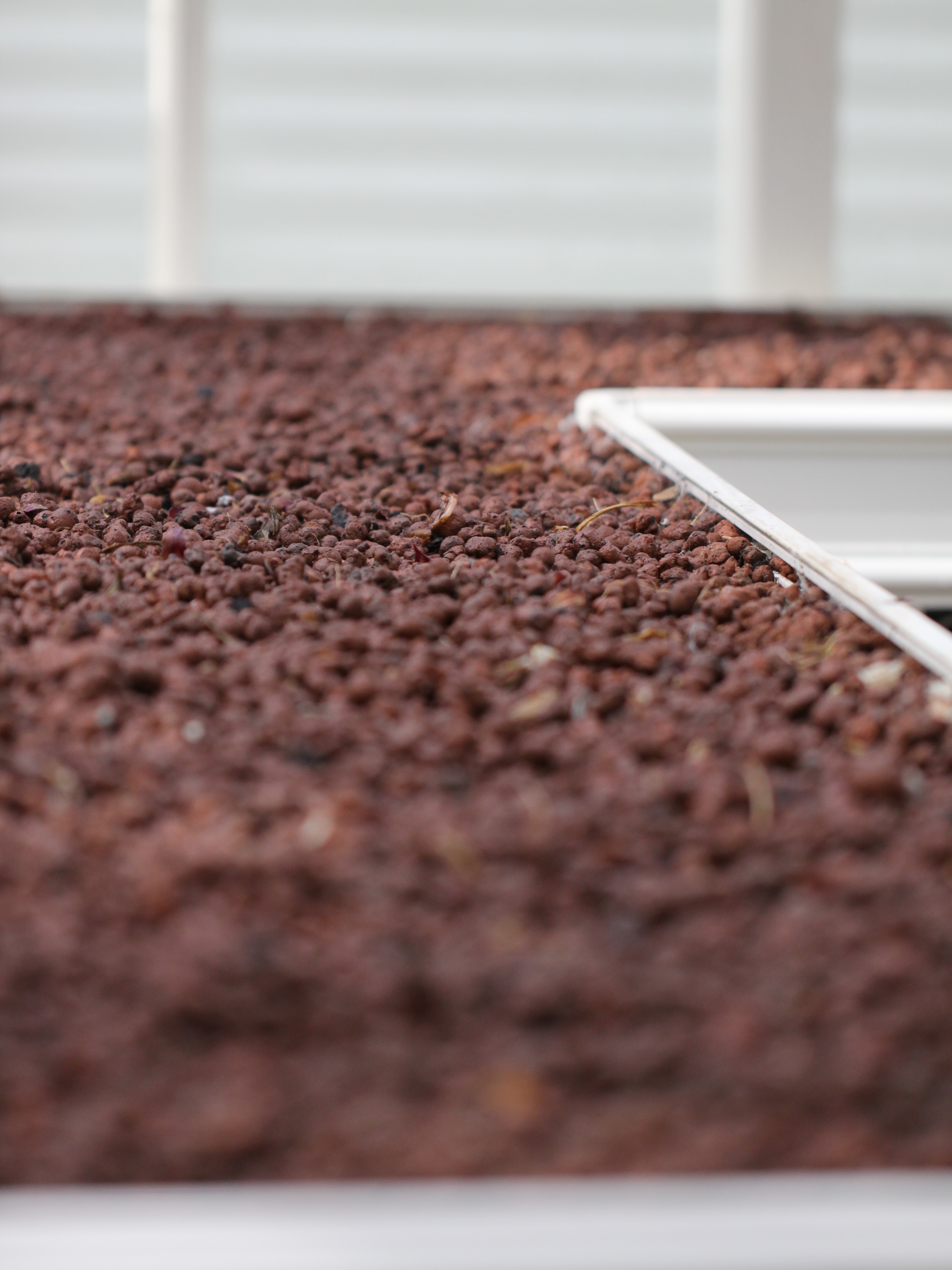 These clay pellets are a perfect filling for the staging. They absorb water as I water the plants and so help to keep the humidity levels high in the greenhouse as they slowly dry out.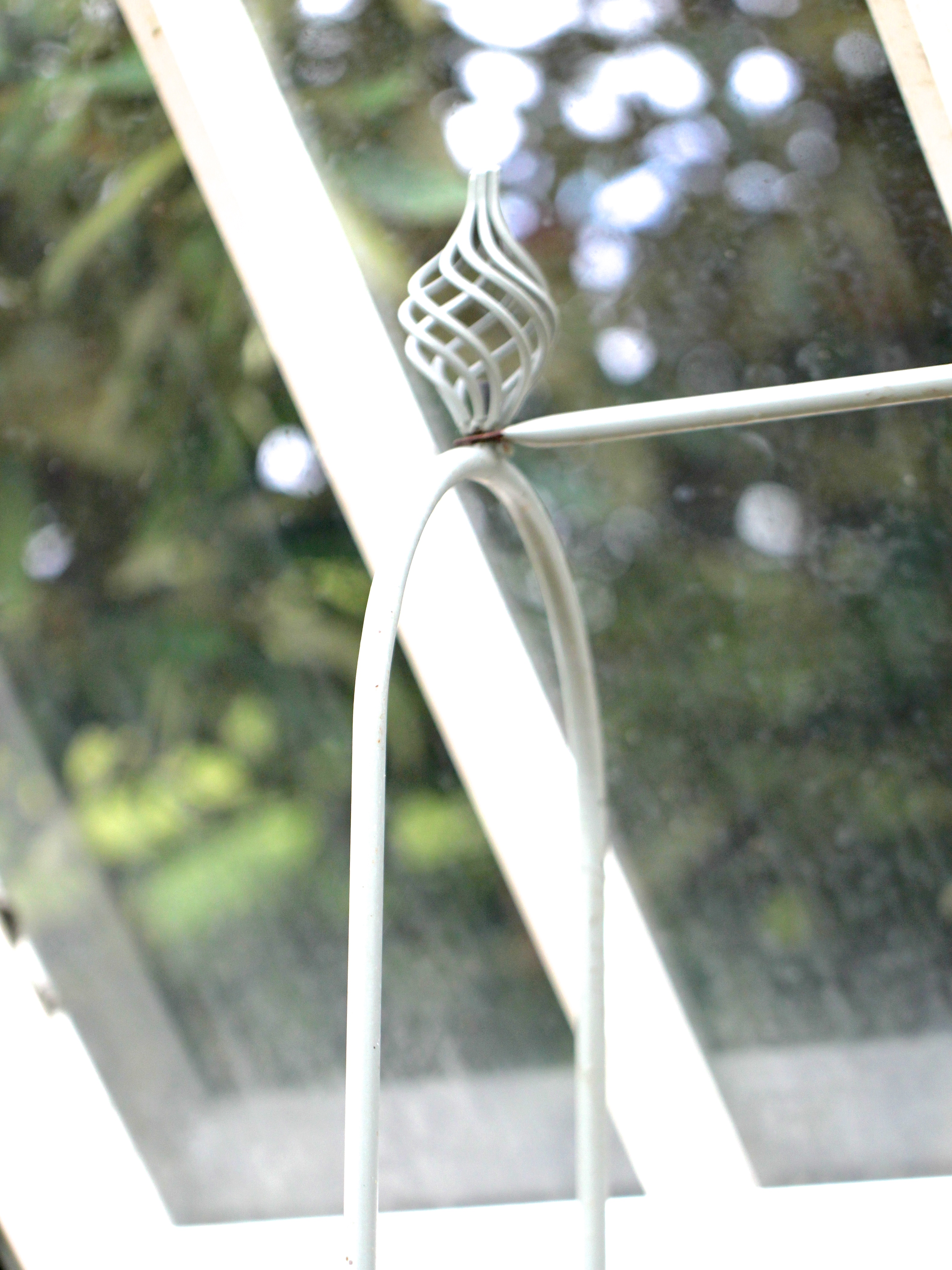 Another shot of the Elegance Kitchen Garden Runner Bean Frame (which I use for supporting sweet peas).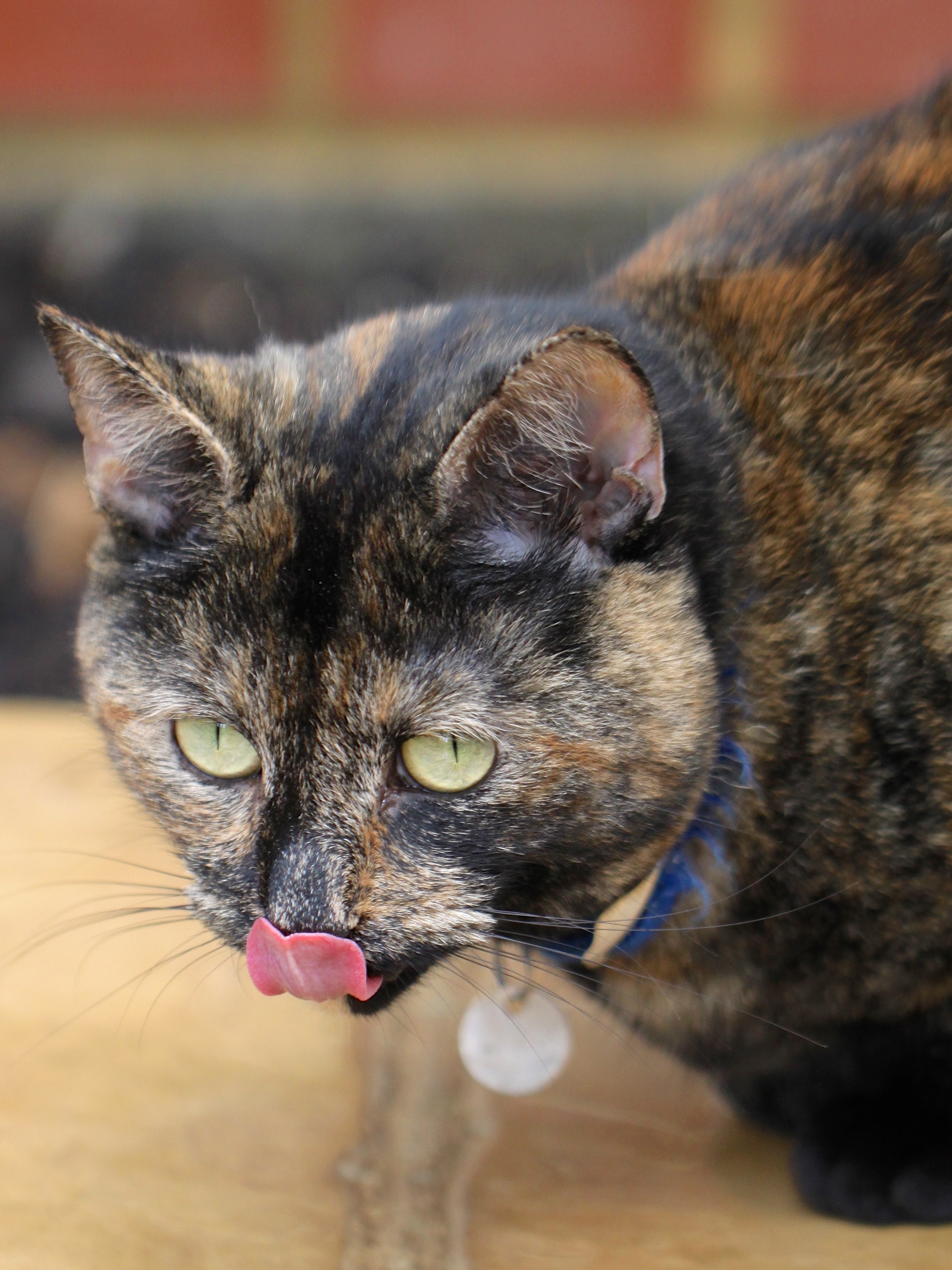 Ruby had been drinking from a puddle on the floor when I caught this shot.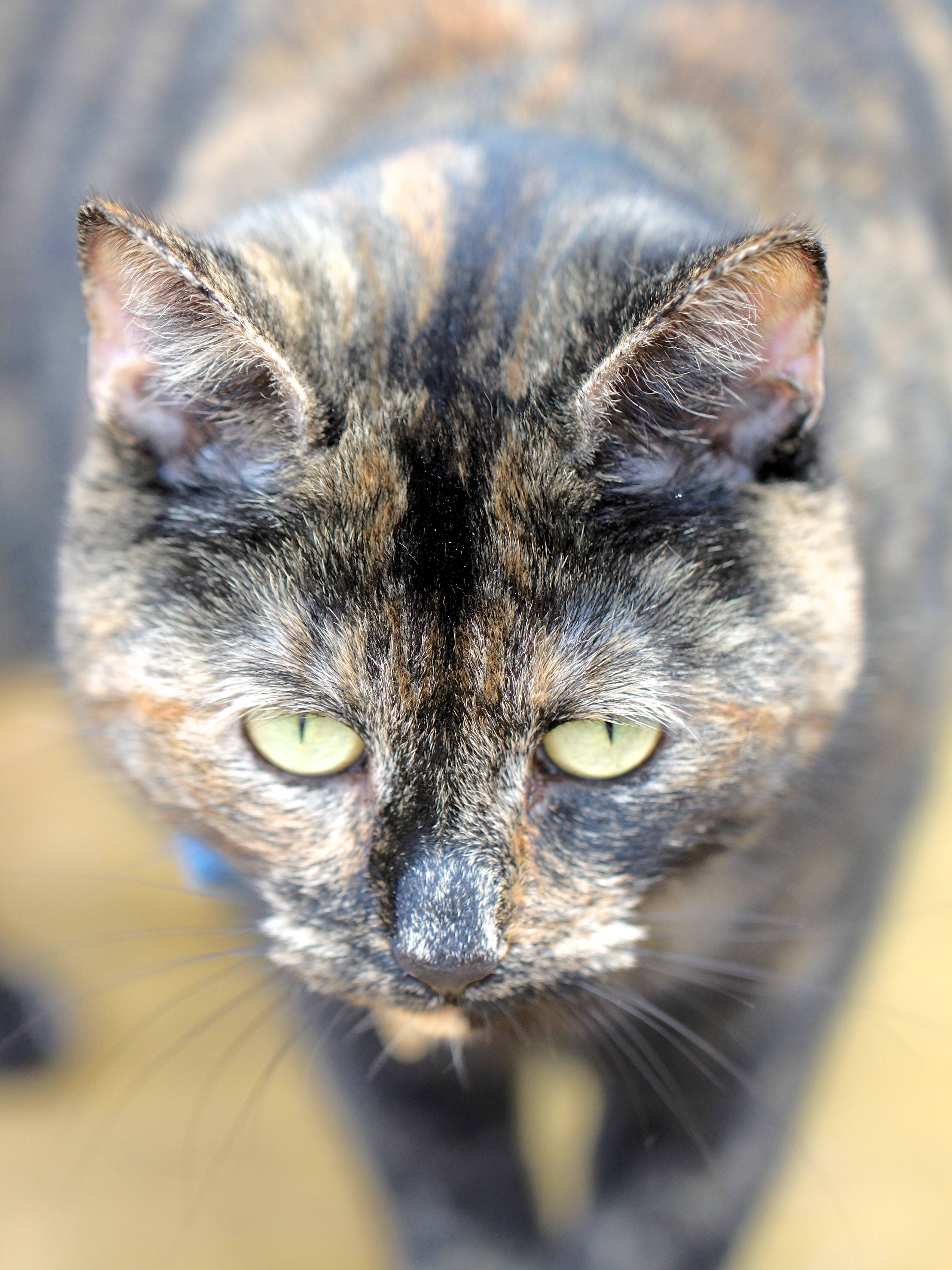 The greenhouse is her favourite haunt in the garden.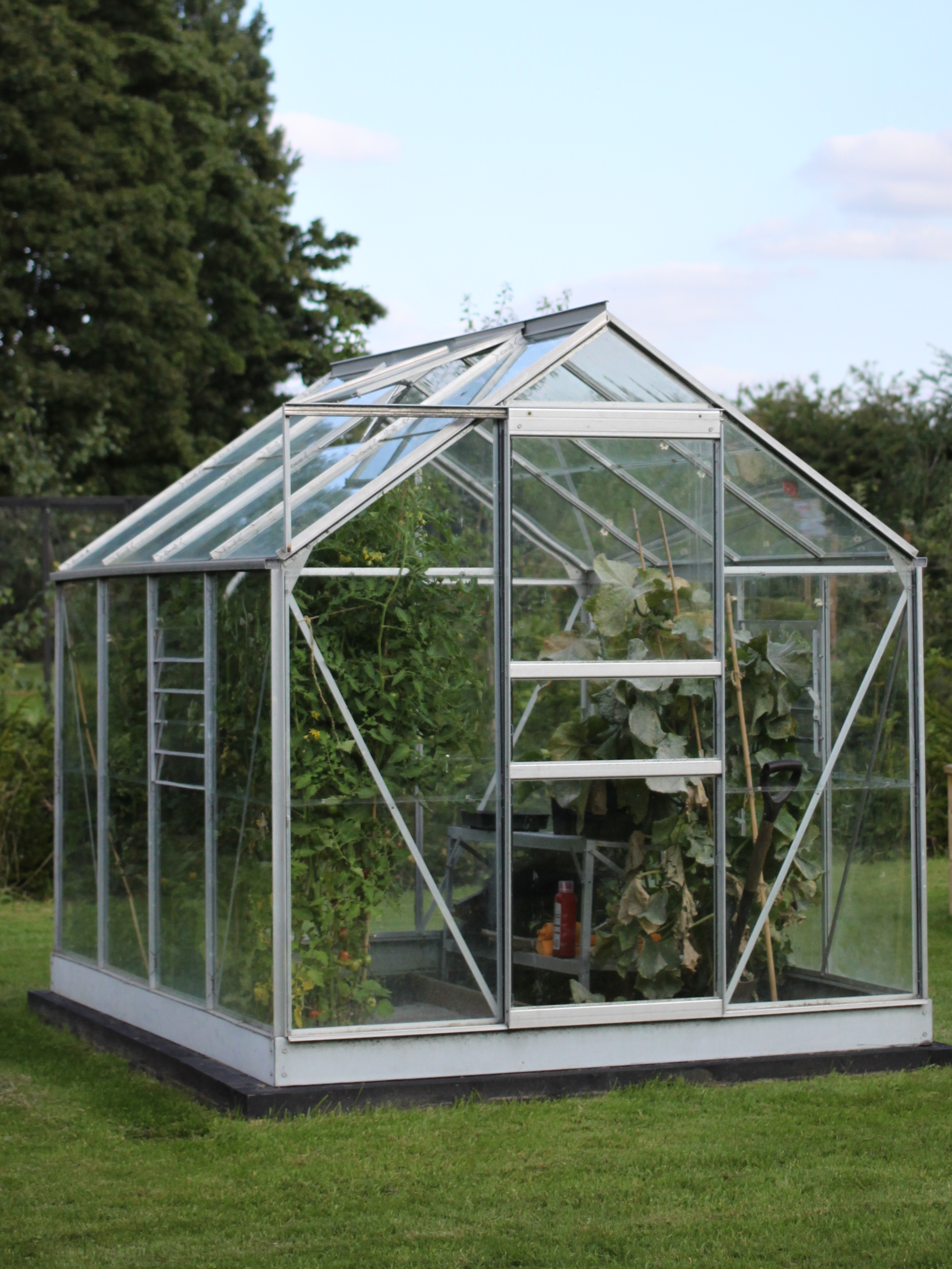 I realise that I made an error in my August review, as I gave you the impression that I had nothing going on in the greenhouse.  Actually, of course, my fathers old greenhouse has been full of crops all summer and I should have included it in last months review..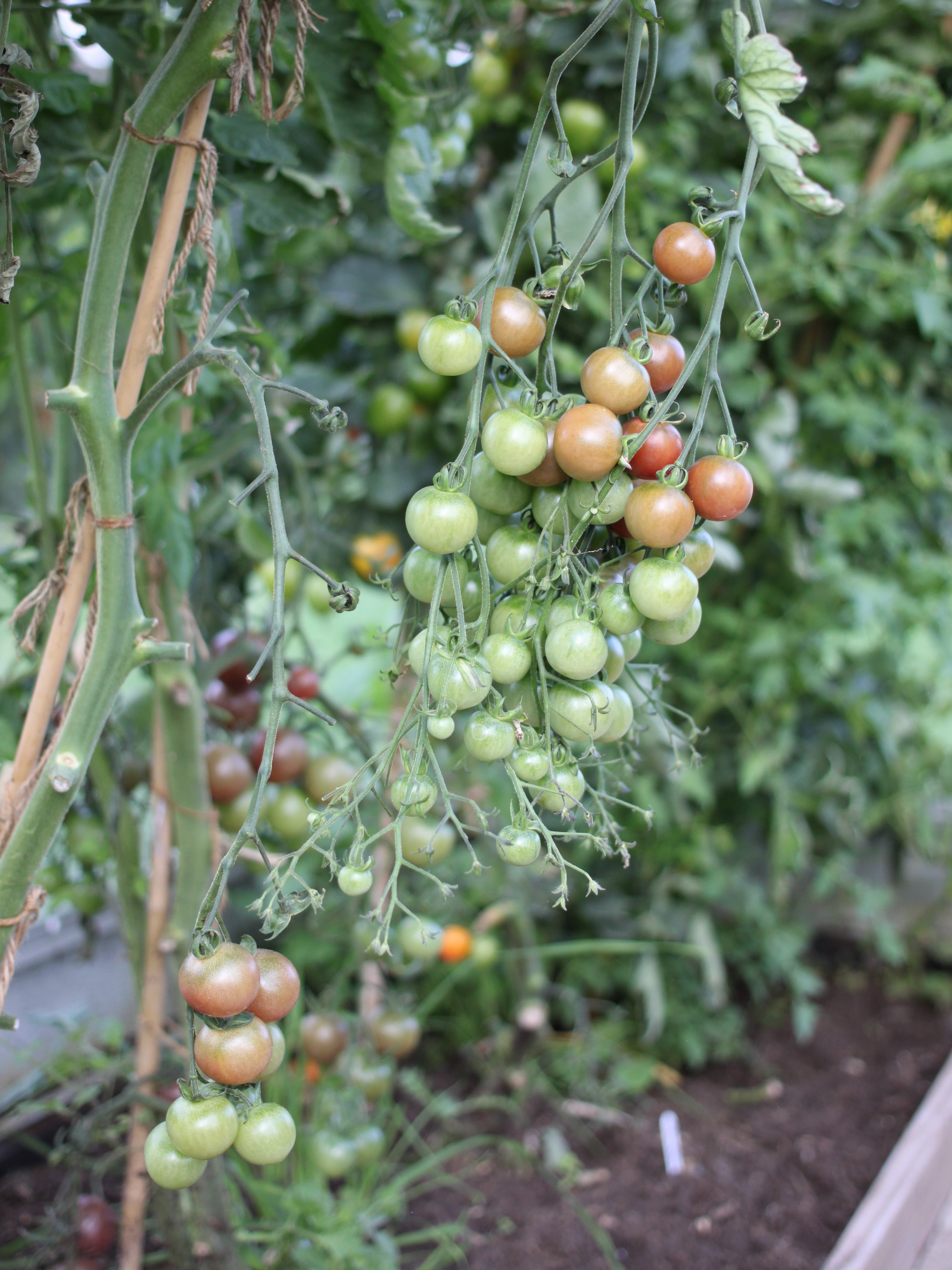 The main crop I grow in here is tomatoes and for their first season I am very pleased. I think I need to enrich the soil further over the winter – it was finished in rather a rush this spring, but the plants are doing well, although the tomatoes are very late ripening this year. I am keeping my fingers crossed for some warm days to come, so that this crop has a chance to develop! I was relieved to hear Monty Don say that it has been a poor year for tomatoes due to the cool temperatures on Gardener's World last week – if Monty is struggling then I have no reason to feel a failure if mine do not ripen.
The cucumber plants have been prolific since early July, although you can see by the leaves that they are exhausted now and will be coming out soon.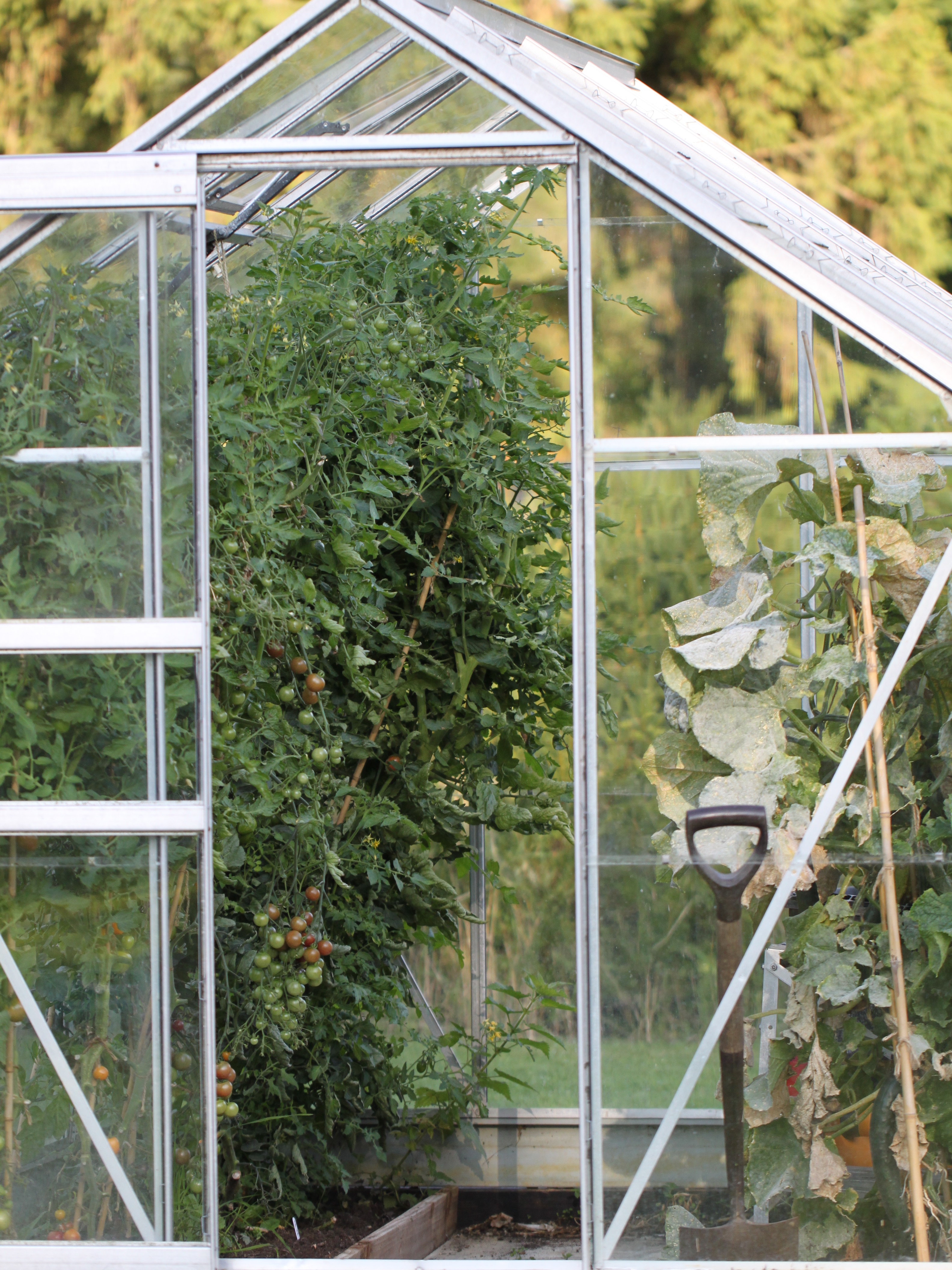 In previous years these crops have been growing in my main greenhouse, giving me no time to give that greenhouse a tidy and a good clean. I am delighted with the way this small greenhouse (it is only 8" by 6") has performed this season and hope for even better things next year. I will probably grow tulips in here over winter and will start next years summer crops with potatoes planted in bags in early March. In the meantime my Alitex greenhouse has been given a good clean and is all ready for a new flower season.
To summarise my key greenhouse jobs for September, I will be:
I. Sowing sweet peas,
2. Sowing hardy annuals (see my post last week for more detailed information),
3. Ordering a few more chrysanthemum plugs to see how late purchased plants compare with the plants I have been growing all summer,
4. Bringing in pots of mint and chives in the hope of keeping them producing through the winter,
5. Sowing winter salad to grow under cover,
6. Planting up pots of hyacinths, crocus and iris which will be kept in the dark in the Potting Shed until mid to late November when they can be moved inside or into the greenhouse,
7. Bringing inside my scented leaf pelargoniums before the weather turns too cold for them.
So what are you doing in your greenhouse this month? Perhaps you have spring bulbs in flower, or is it still too hot to contemplate putting anything inside? Whether you are growing in the temperate English climate, celebrating spring or waiting for cooler temperatures, please do leave your links and comments so that we can all share in your activities. If you are interested in picking up more tips about growing in a greenhouse, you might also want to take a look at Alitex's own blog, The Green Room, which is regularly updated with tips, suggestions and how to's.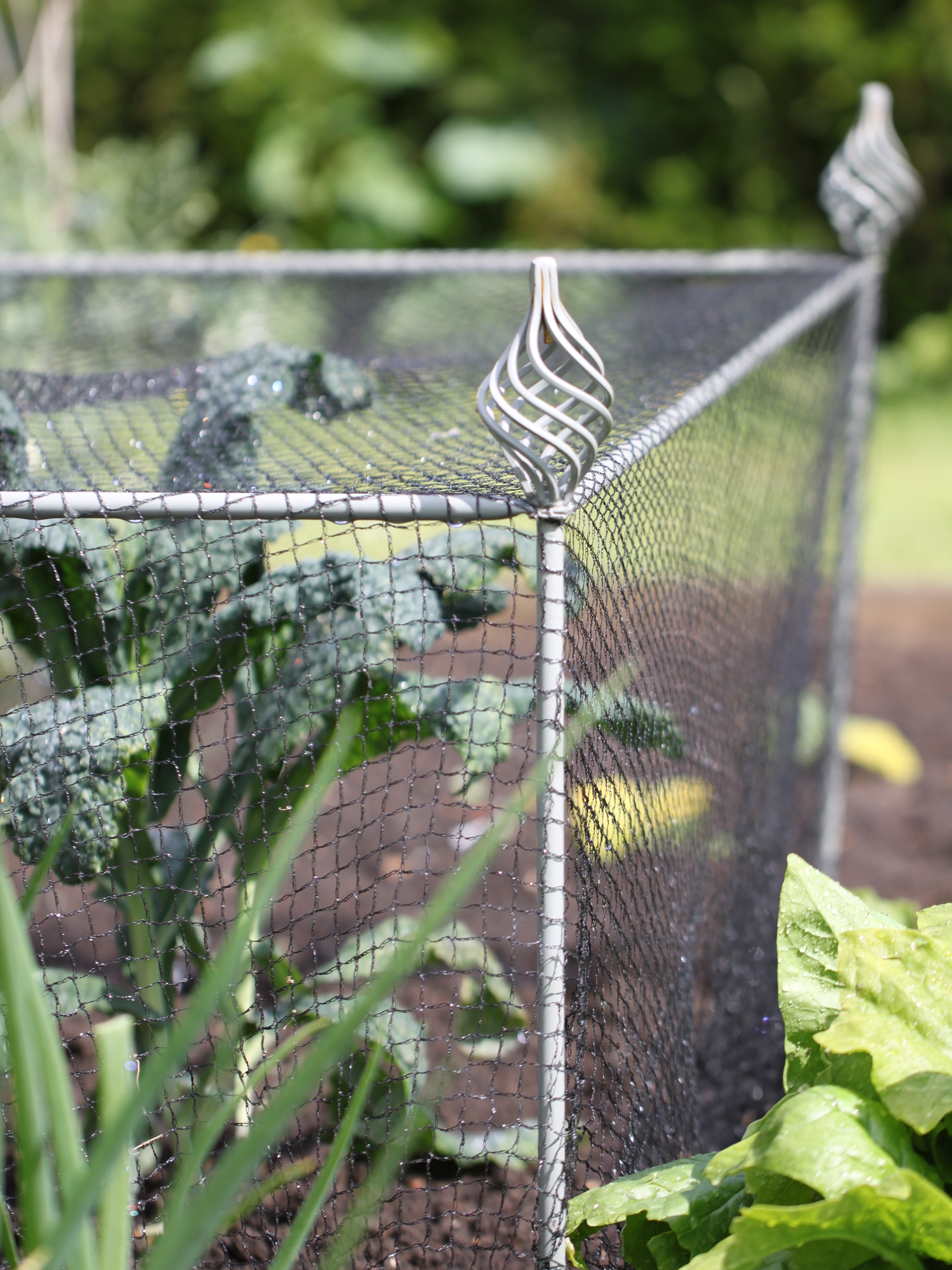 I will be back on Friday with the first in a new series about Growing Vegetables. Whether you are contemplating starting your first patch or have been growing vegetables for years, I hope you will join me as I look at what you can sow, grow and harvest month by month over the next year..