Welcome to this weeks 'In A Vase On Monday" when I am linking up with Cathy at Rambling in The Garden to join in her challenge to find something from the garden to put in a vase every week. It is hard to believe that this is the beginning of my third year of taking part in this challenge!!
Life is very busy here right now – not only am I working hard to clear all my borders before the bad weather sets in (and get the tulip bulbs in the ground), but we have also just started a big decorating project which I am very excited about.
In amidst all this gardening and preparing a room for decorating, I made a discovery about honesty. This year was the first time I have grown honesty (lunaria annua). Whilst I have seen the lovely white seed cases in arrangements I have never had my own to use before. After flowering in early spring I have been leaving the plants in their beds waiting for the seed cases to turn white, but I read last week that it is best to harvest the stems in September or October and then manually pull off the seed case covering. By doing this you ensure you have the lovely white cases without any weather damage. Although a little late, this weekend saw me out in the garden cutting off a few stems of honesty and then spending a relaxing hour peeling the outside coat off each seed case. This produced a surprising quantity of seeds which I will save and sow in June next year.
So todays vase is quite simply the stems of honesty with a few grass heads. Hopefully this collection will last throughout the winter. The remaining stems will be cut from the plants this week and hung in my potting shed to keep them dry until I need them.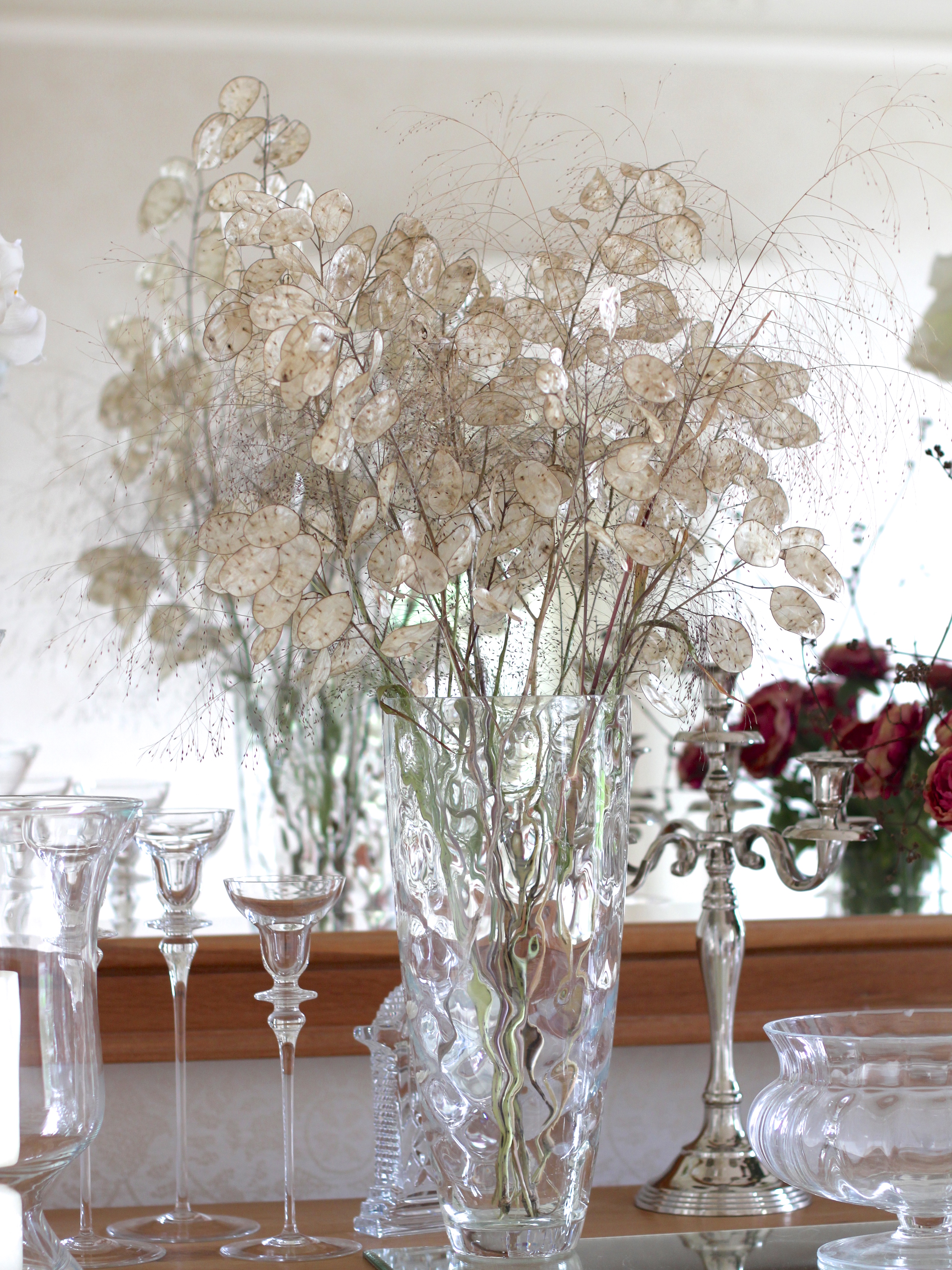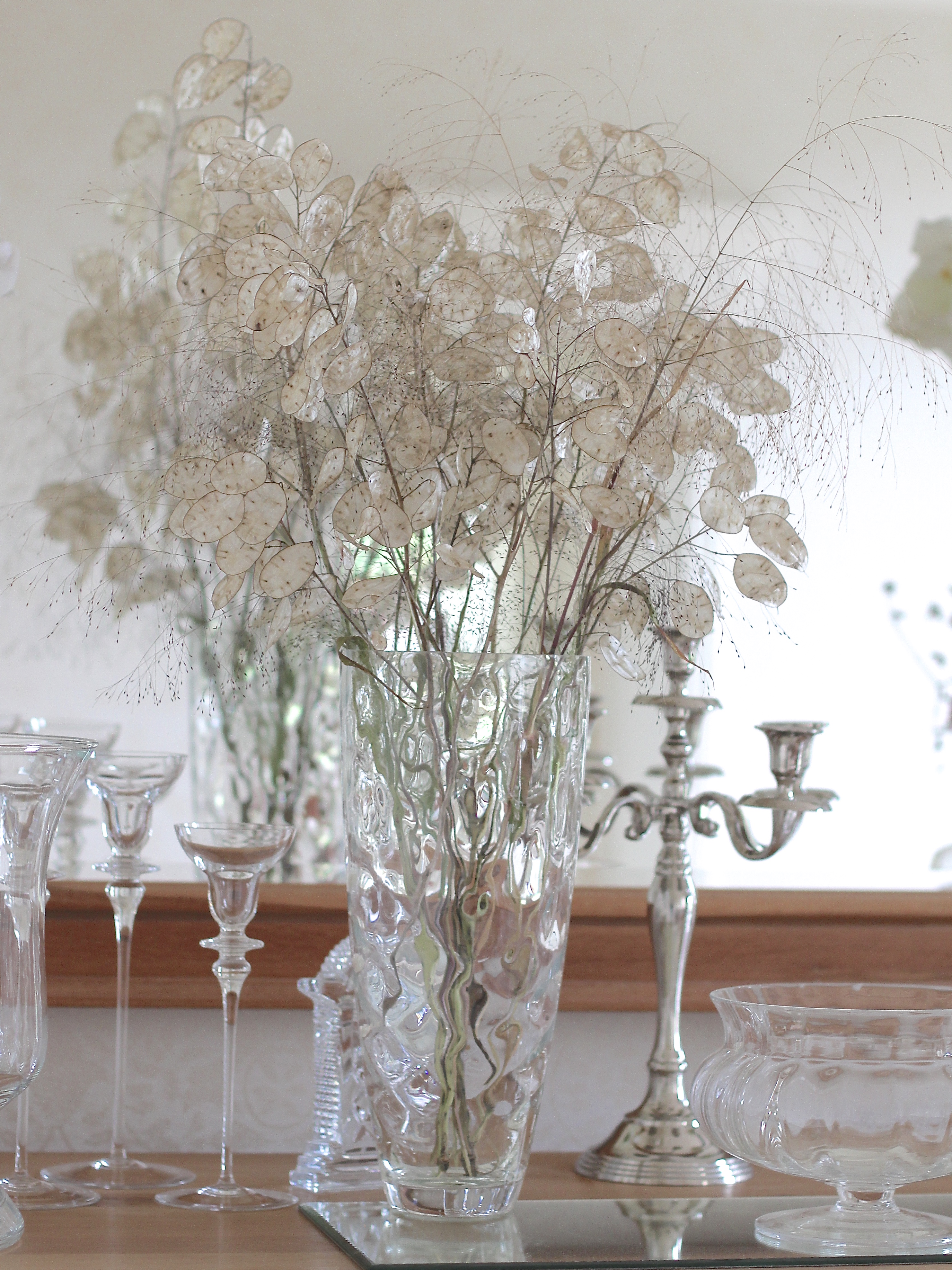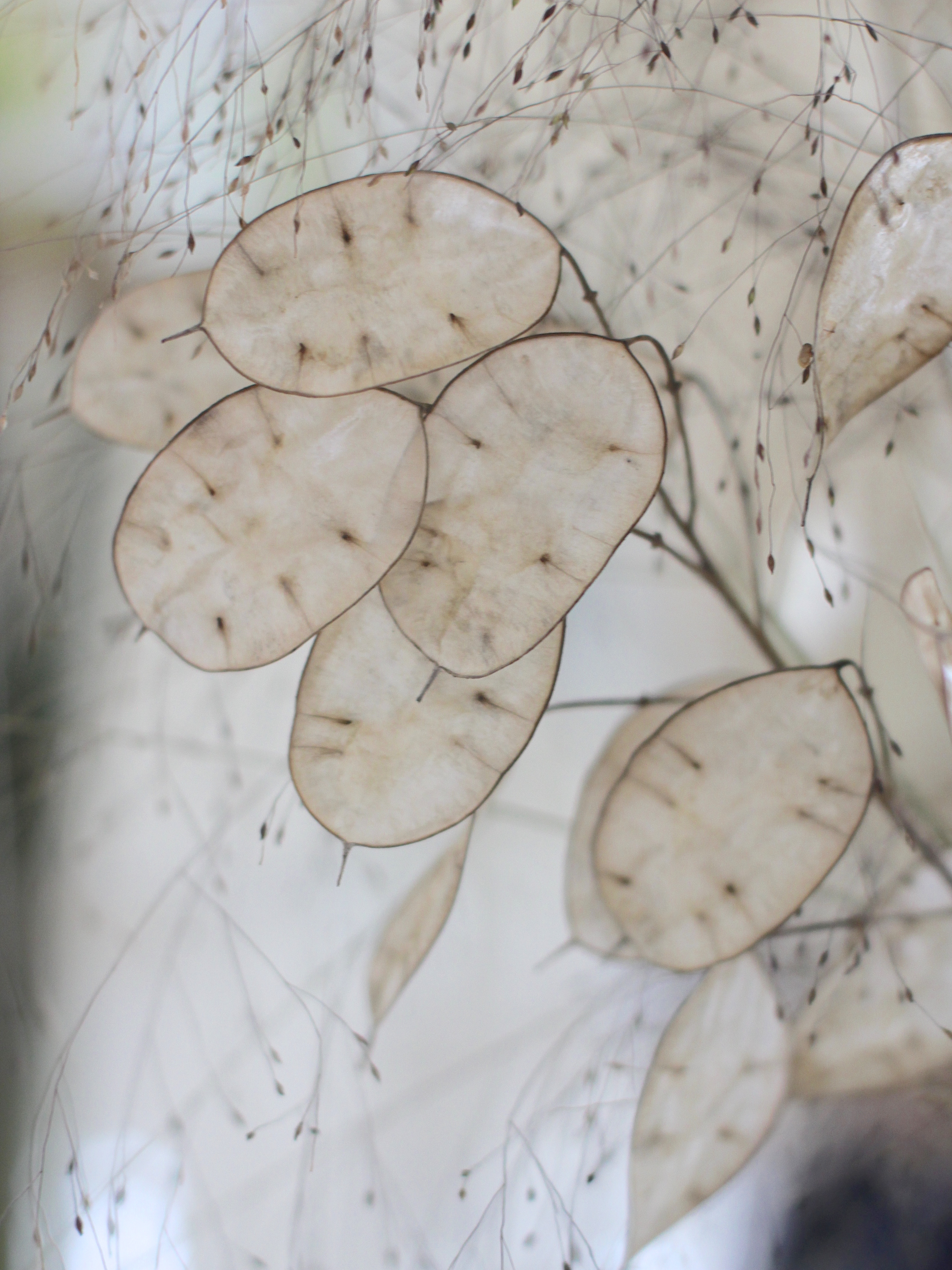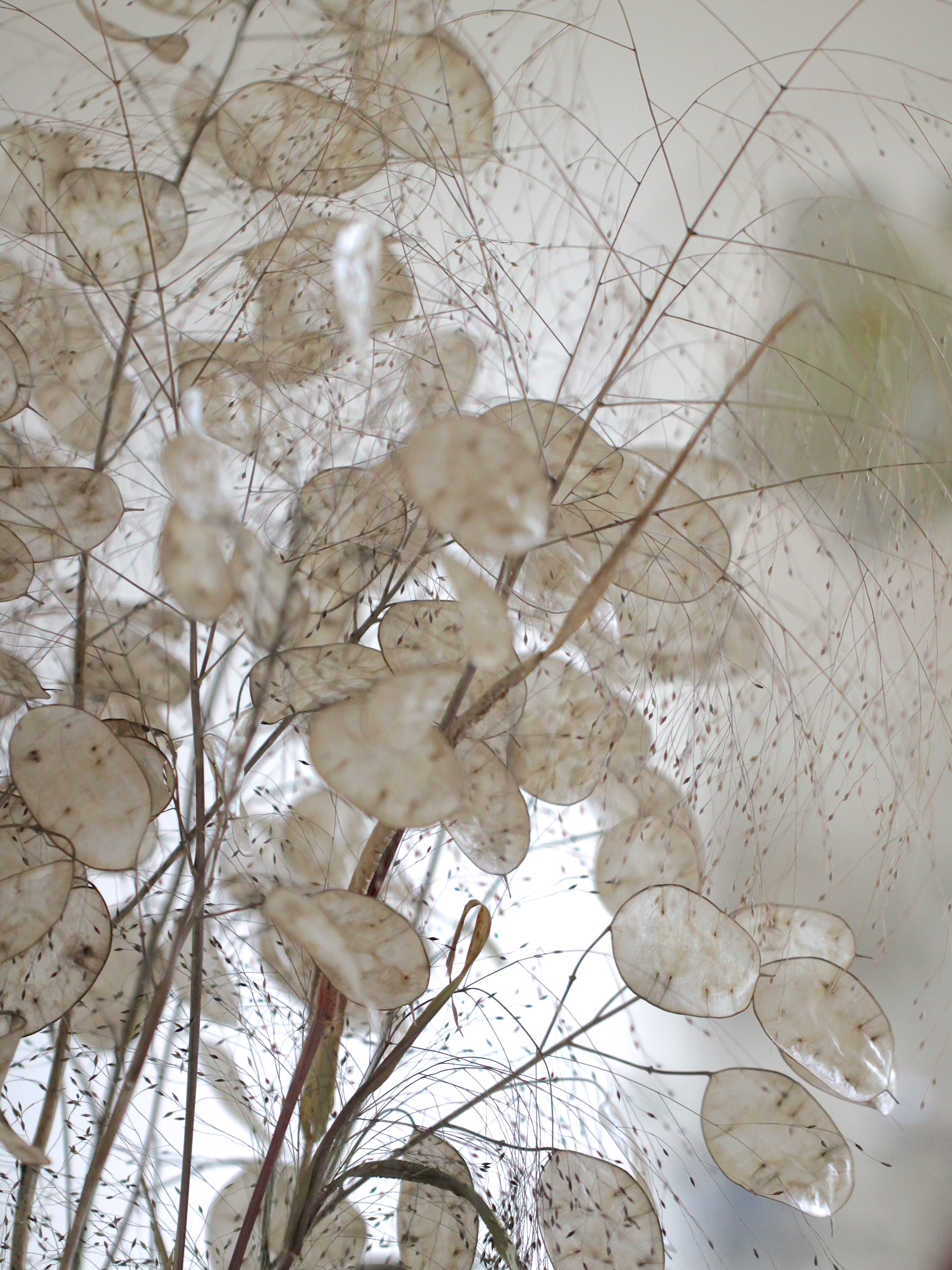 I loved the way the grasses photographed with my macro lens.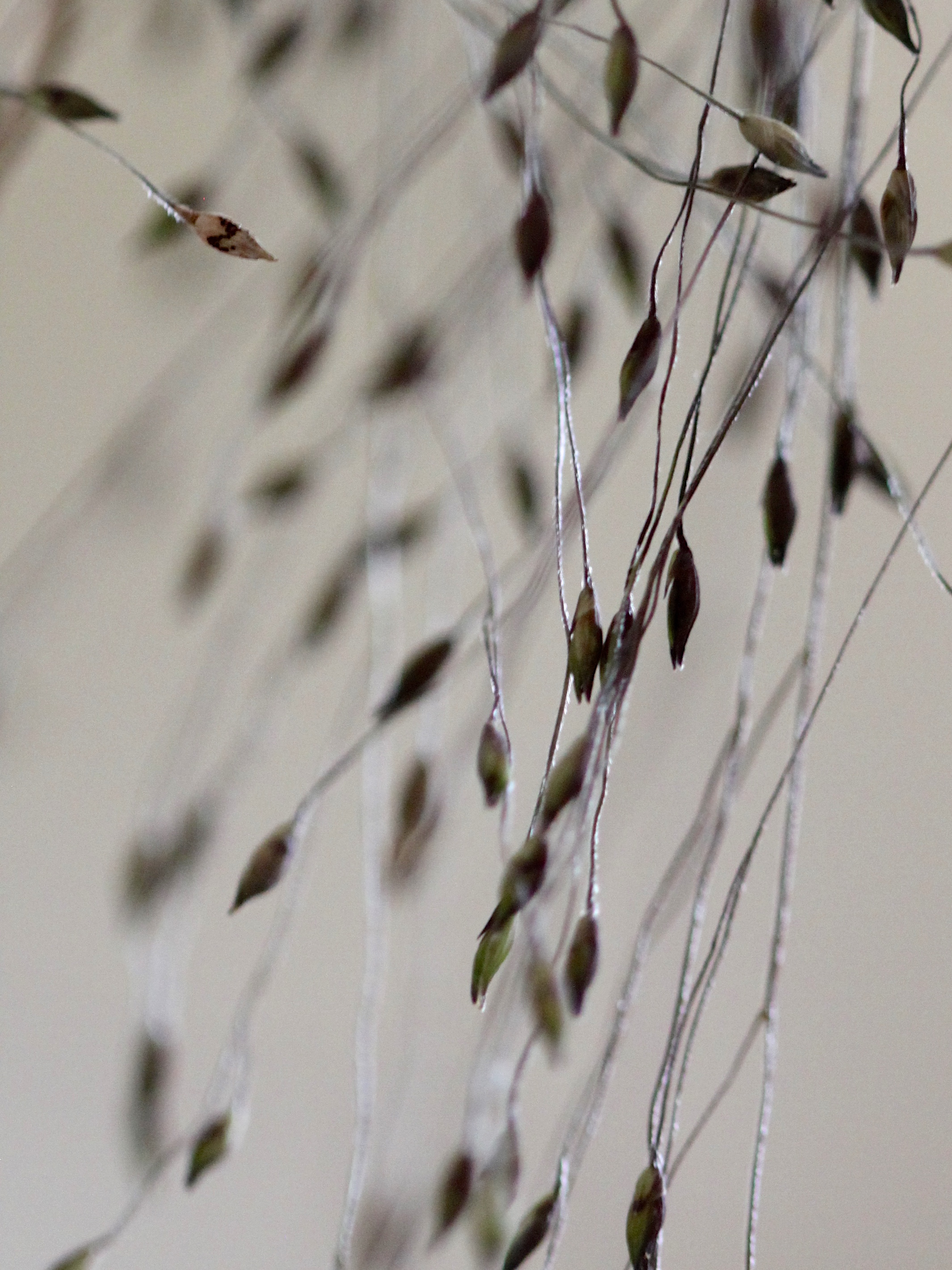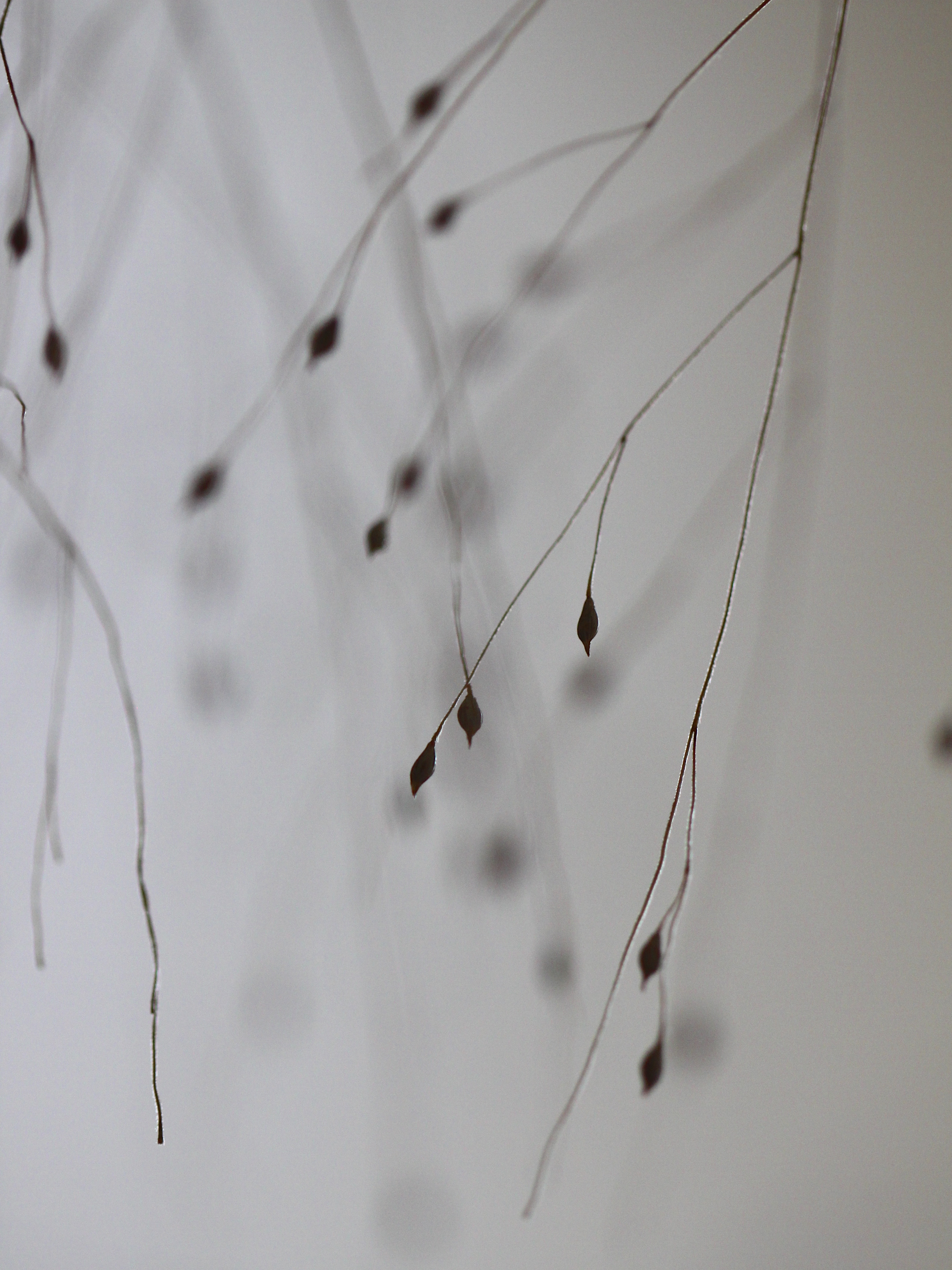 Honesty is a biennial, meaning that seed sown in June or July will provide flowers the following spring. The plant then sets seed over the summer and dies. I have found honesty a very easy plant to grow – as long as you remember to sow the seeds in June in a seed bed or in plugs you will have plenty of plants to add to your flower beds in autumn. Although honesty is primarily grown for its seed cases, the spring flowers are also very pretty – below you can see a close up of the honesty flowers in an arrangement I made in May. They will form large plants – around 2ft tall and almost as wide so give them some space.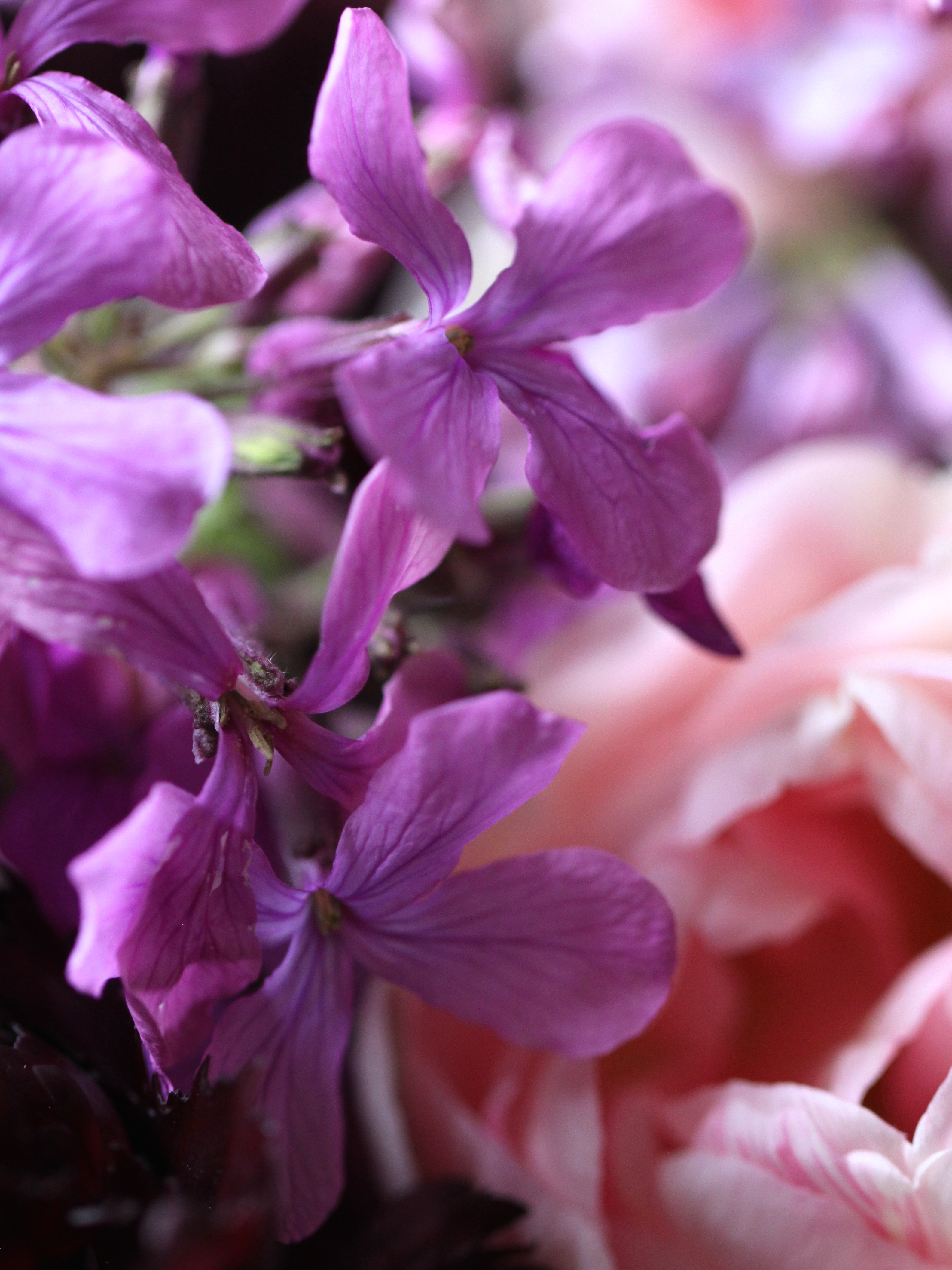 By July the seed cases were developing and were ready to use in summer arrangements. These have gradually dried and browned throughout the summer and are now ready for harvesting.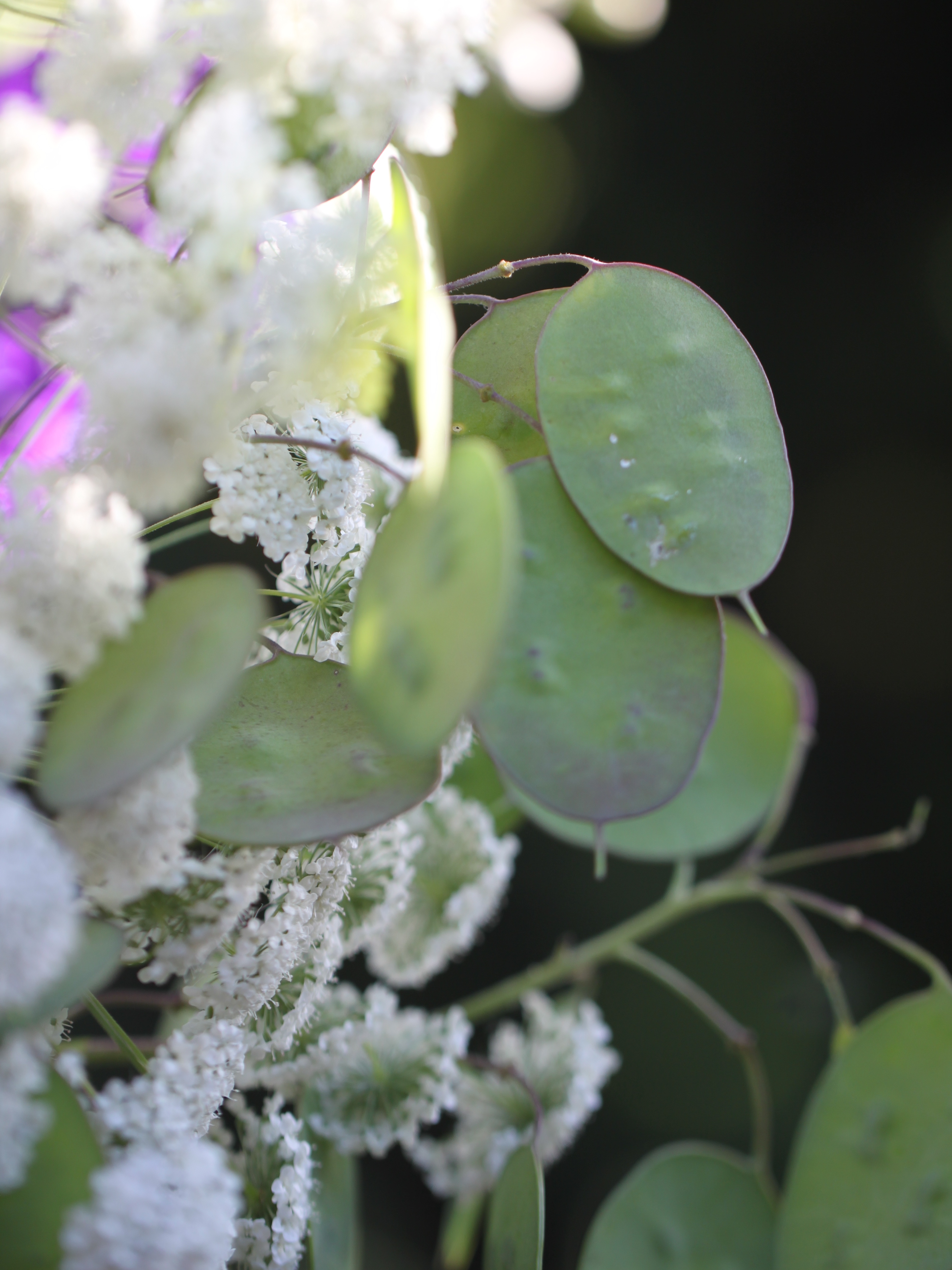 Every year I am amazed by how differently my plants perform in the autumn. This year the garden seems to have shut down very early – the leaves have almost all dropped from the trees and very little is flowering despite the continued warm temperatures – is the garden preparing for a cold winter I wonder or is there a lack of flowers purely because I was not able to keep dead heading in October?
Last year the vase I posted for the equivalent week in November was full of late season colour. The chrysanthemums were from the greenhouse, but they are paired with dahlias, achillea and the annual salvia clary sage – and just look at that sunshine lighting up the kitchen!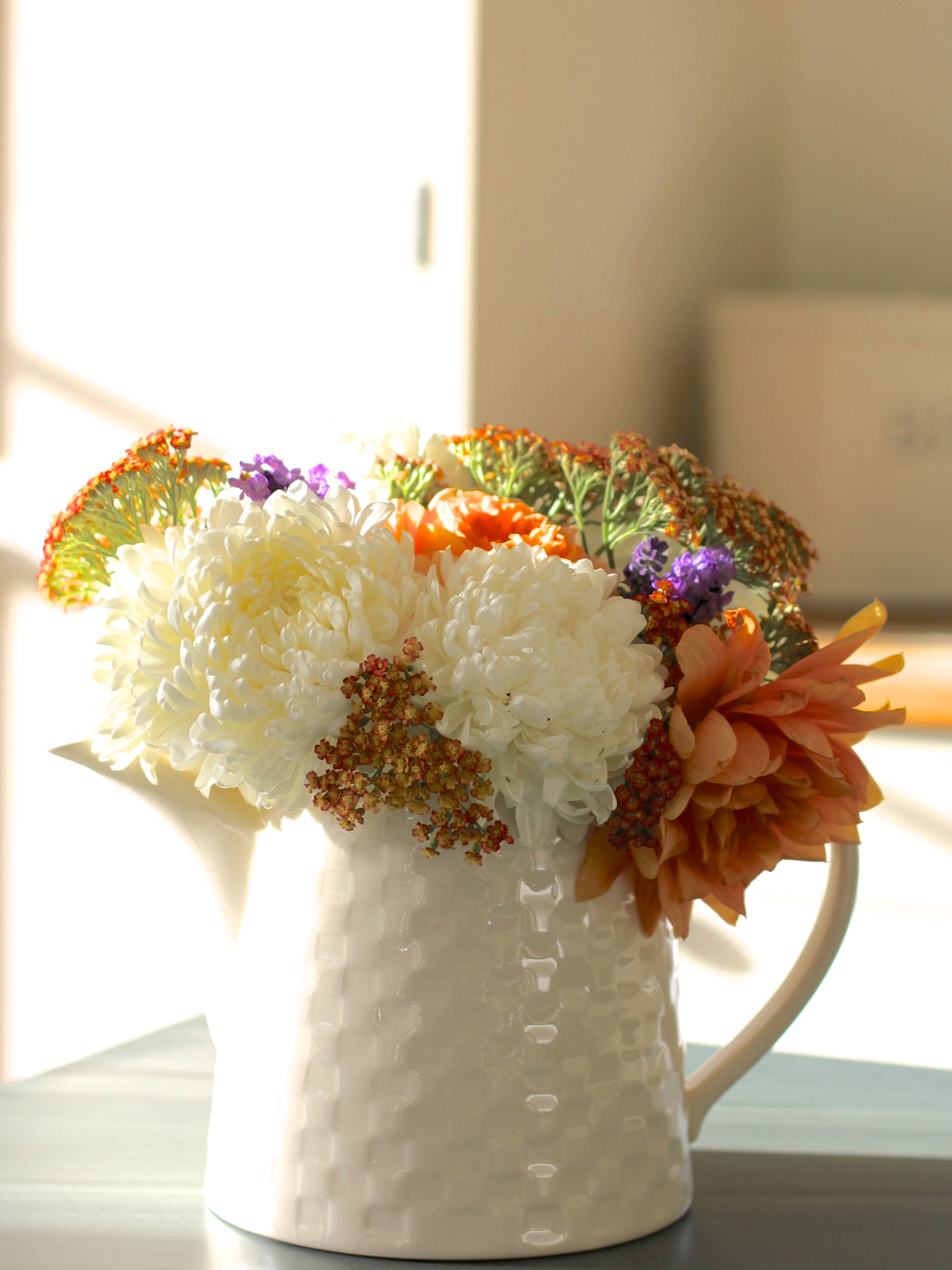 The year before I used fuchsia in my very first vase. This year my annual fuchsia plants stopped flowering a few weeks ago. It is interesting to see how different all three vases made in the third week in November have been.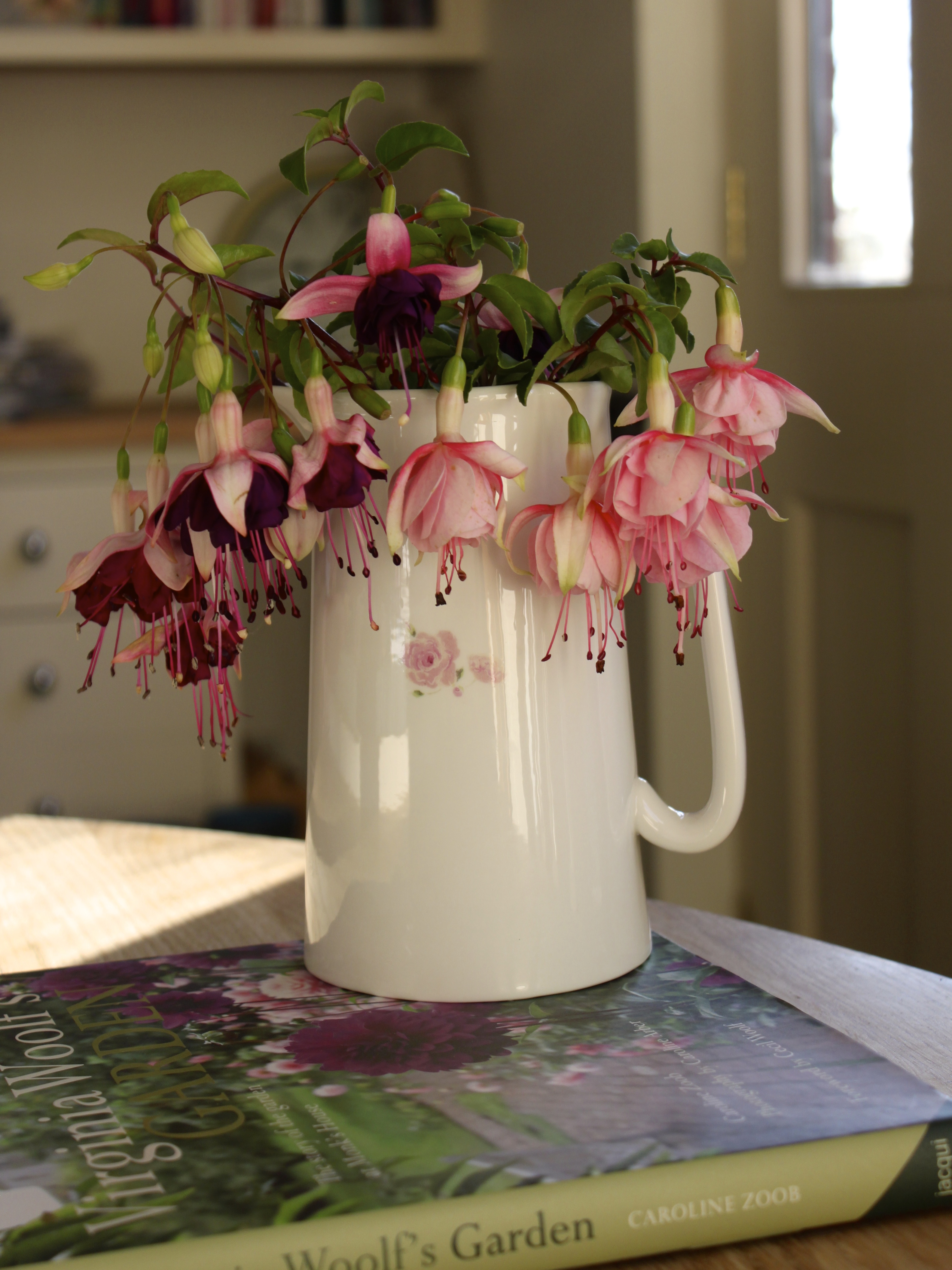 Finally for today I had to share these photos that I took of Nelson this morning – he was not very happy to have the decorators in!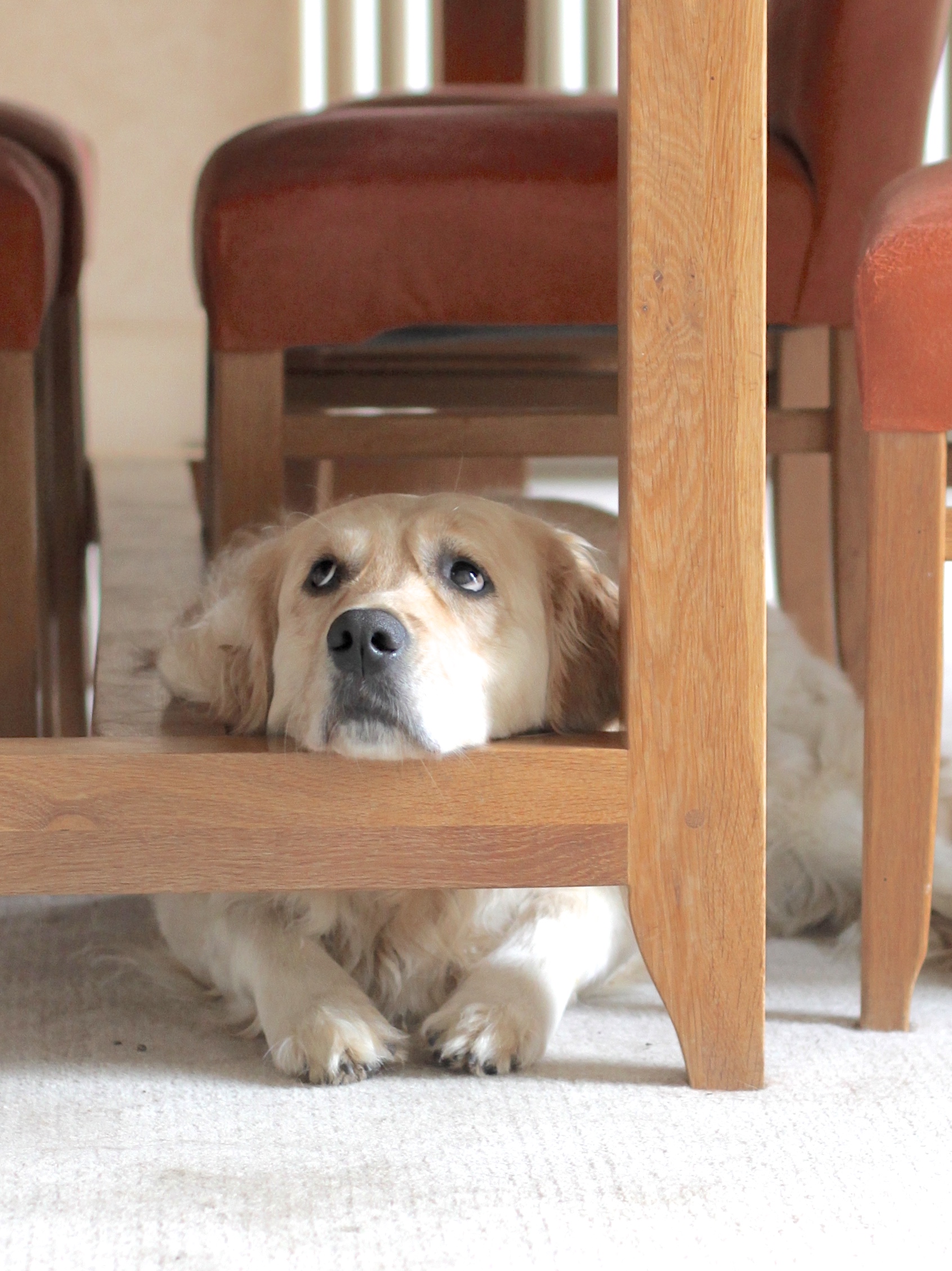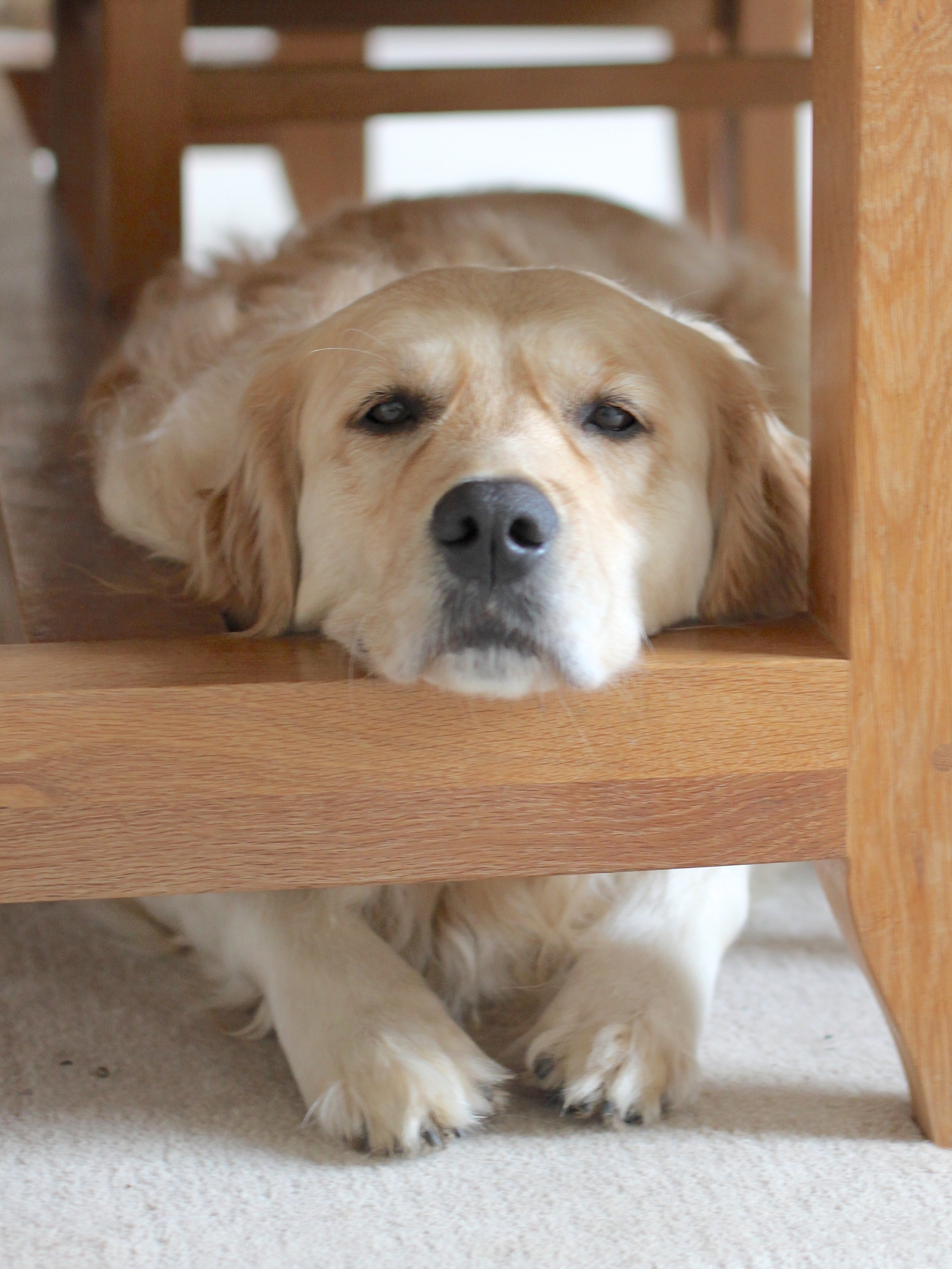 I will be back later this week with the next in my series of Growing Great Vegetables. In case you missed it, you can read the first instalment here. In the meantime I hope you will pop over to Cathy's blog to see what she and the others have made this week.